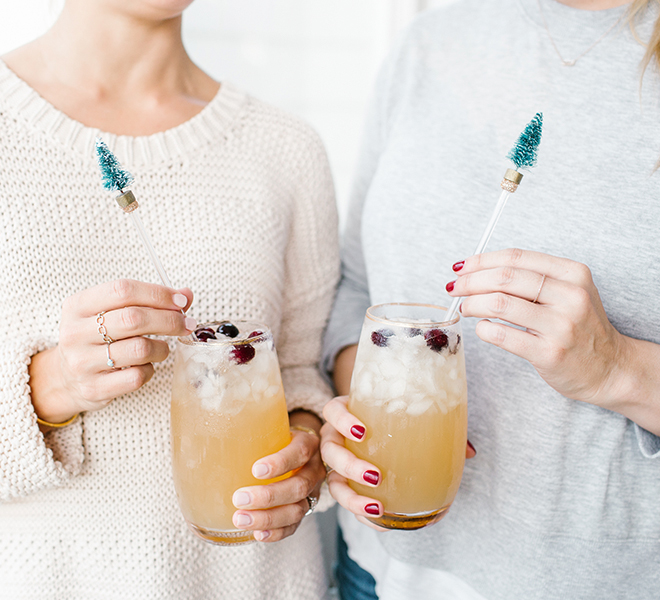 Around here, my team and I like to celebrate the holidays with a pop, fizz and a clink. I don't consider myself a professional mixologist by any means, but it's fun to stir up a creative cocktail or two for each holiday. This time of year is filled with aromatic spices, ripe cranberries, and treats that bring warmth and togetherness. Not to mention all of the holiday parties and get-togethers that call for a festive food and drink menu. If you're looking for some sweet sips to serve up at your next soiree, I think you'll enjoy this post.
When concocting the perfect drink recipes, my team and I decided that it would be a delicious idea to include both a hot and cold cocktail. If you're in the mood for something sparkling and fruit-infused, we mixed up a Sparkling Pear Rosemary Cocktail that you'll find below. And no holiday season would be complete without a warm beverage as well. Whip up our Salted Caramel Spiked Hot Chocolate that will have you warm from head to toe. Mix it all together with some adorable handmade Christmas tree swizzle sticks too! Keep scrolling for both drink recipes and a fun and easy DIY to tie it all together…


DIY Christmas Tree Swizzle Sticks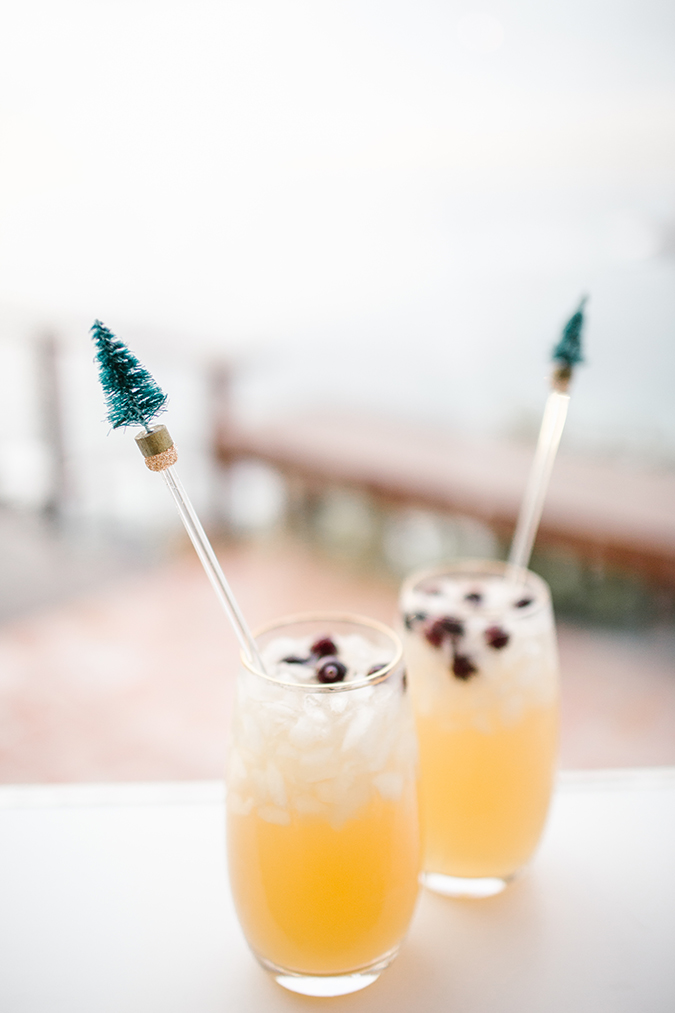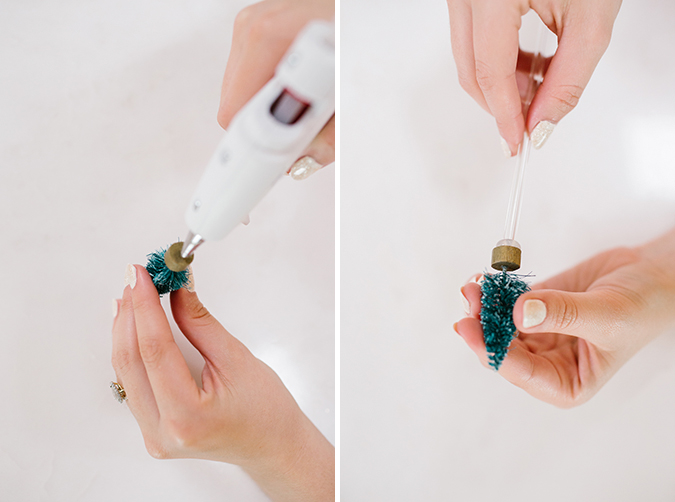 1. Take one of the bottle brush trees and your glue gun and add a little dollop of glue to the bottom.


2. Take one of the glass swizzle sticks and press it into the glue. After the glue has set for several seconds, add a second "ring" of glue around the base of your swizzle stick for extra support.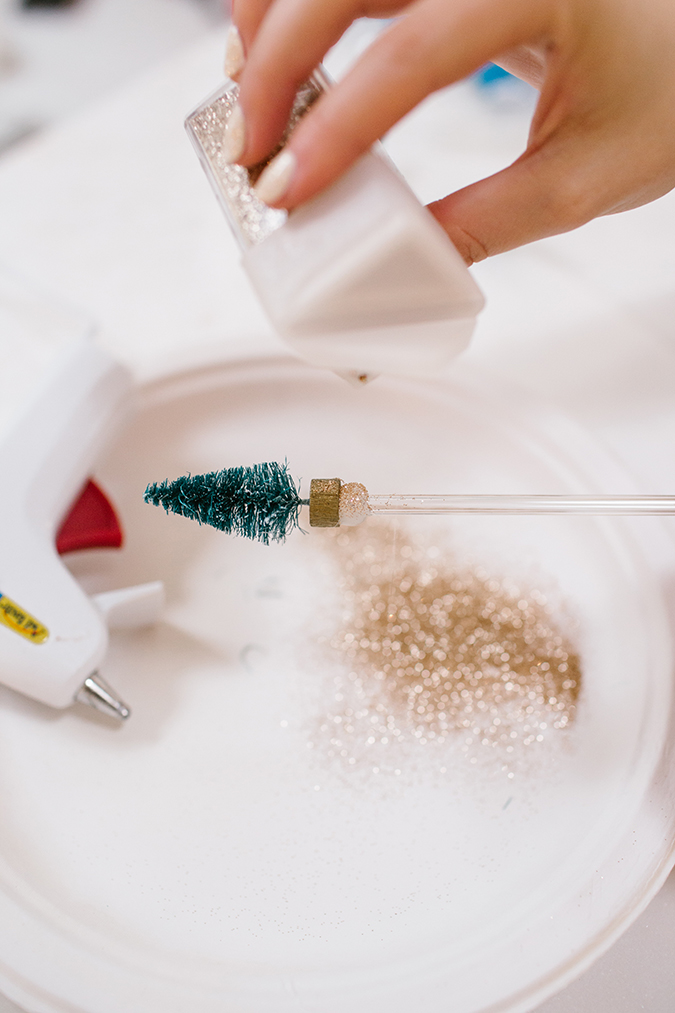 3. While the glue is still slightly warm, sprinkle the dollop with loose glitter.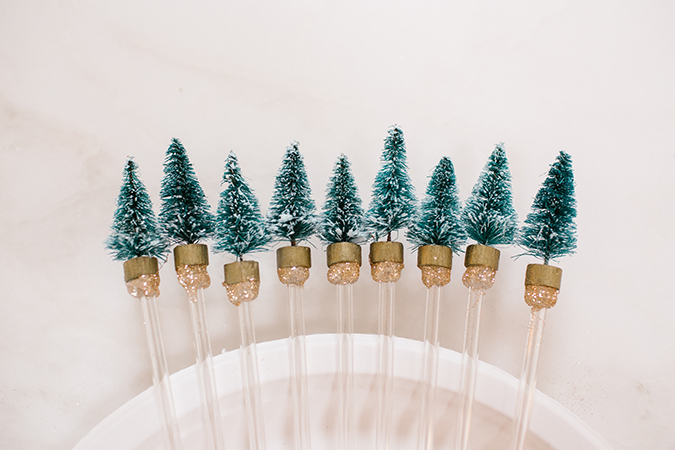 4. Let the trees dry completely before stirring up your favorite cocktail.


Sparkling Pear Rosemary Cocktail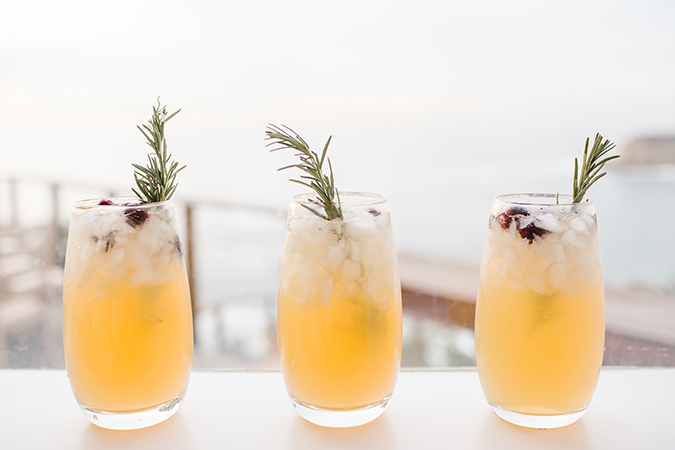 pear juice
champagne
sugar
water
fresh rosemary
cranberries for garnish
1. First, make the rosemary simple syrup by heating your water, sugar and fresh rosemary together in a saucepan. Simmer ingredients to a medium heat. When the sugar has dissolved into the water, remove from heat and let cool.


2. Add one part pear juice and three parts champagne to a cocktail glass of your choice. Add the rosemary simple syrup and stir.


3. Add crushed ice. Garnish with cranberries and fresh rosemary.


Salted Caramel Spiked Hot Chocolate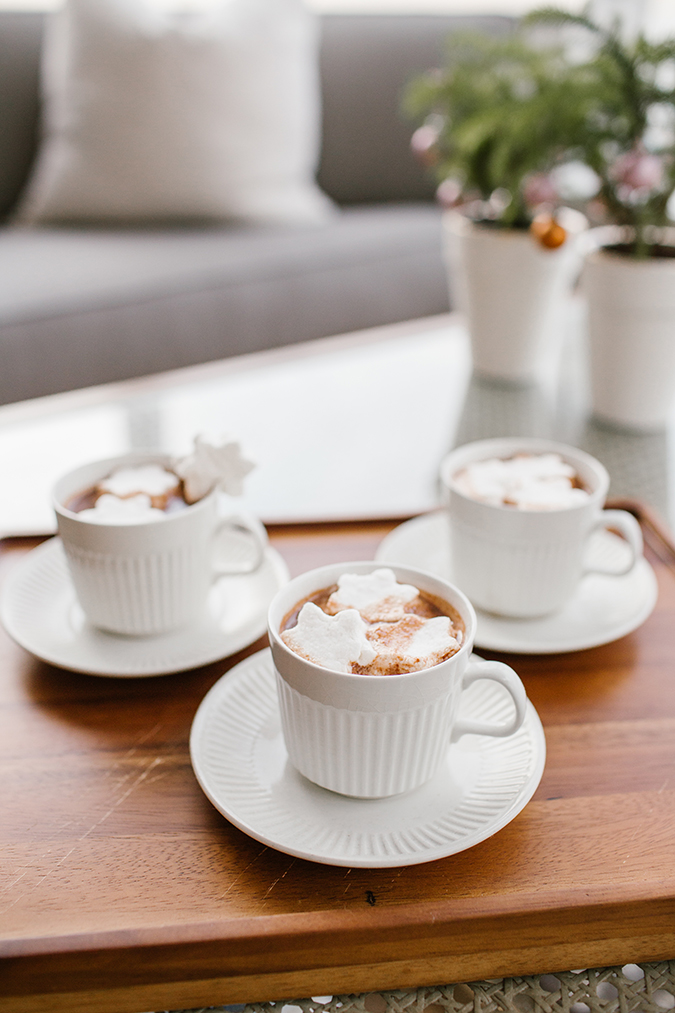 4 ounces rum
a drizzle of caramel sauce
4 cups coconut milk or almond milk
1 cup cocoa powder
1 teaspoon flaky sea salt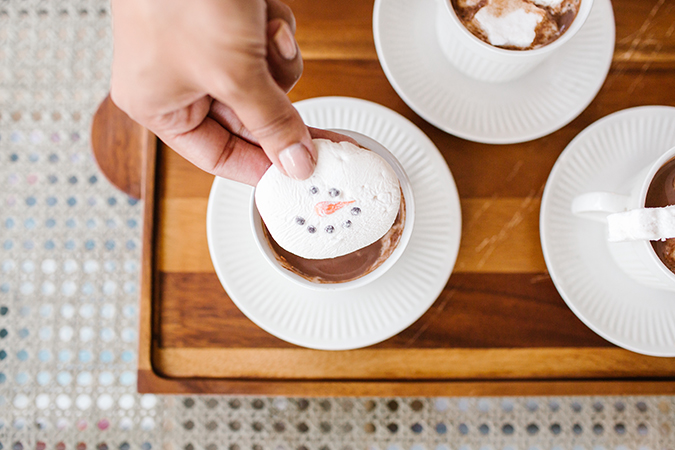 1. Pour about 4 ounces of rum into a small bowl, then drizzle your caramel syrup. Mix together until smooth and set aside.


2. Warm your milk in a saucepan on low heat and pour in your cocoa powder. Once dissolved, pour in your caramel rum mixture and stir until mixed. Add a few teaspoon of flaky sea salt.


3. Remove from heat and pour into mugs. Serve with marshmallows, whipped cream, and one more pinch of flaky sea salt on top.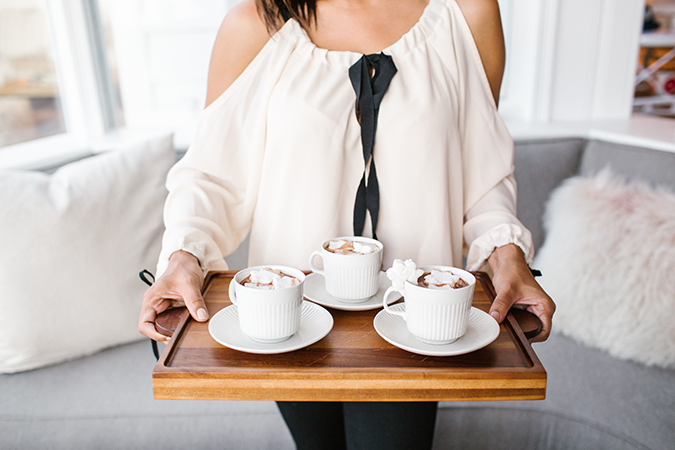 Will you be adding any of these to your holiday parties? 


Let me know if you do in the comments!


Affiliate links may have been used in this post.