Inspired Idea: Mini Trees with DIY Gold Leaf Terra Cotta Pots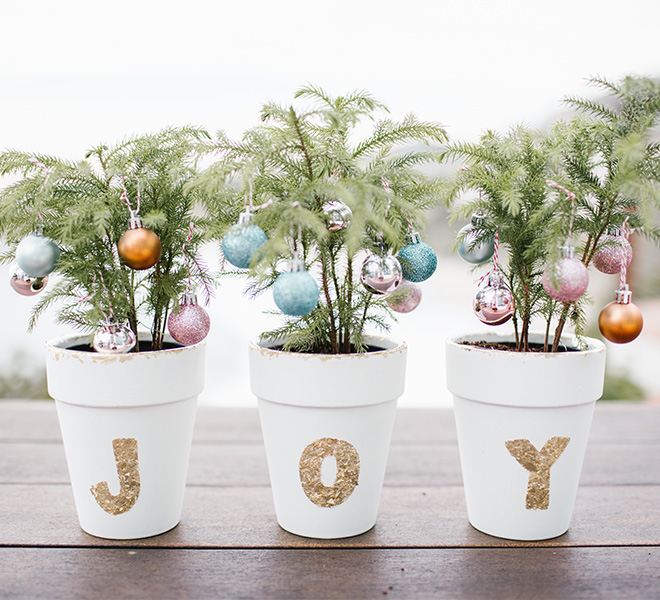 One element of the holiday season that I can't do without is a good DIY. Last year that took the form of advent calendars, ornaments and tree toppers in shimmering shades of gold and blush pink. This year I'm trading in the glitter for one of my new favorite craft supplies—gold leaf. If you're unfamiliar, gold leaf is thin sheets of gold that you can tack to any of your projects using either glue or in this case, paint. My team and I came up with the idea to create simple and chic painted pots help get us into the holiday spirit. Just add miniature trees or plants of your choice and you have yourself a little joyful little setup. Keep scrolling to see how you can recreate your own pots just in time for the holidays…


terracotta pots
white acrylic paint
medium sized paint brush
small flat paintbrush
gold leaf
letter stencils (or you can make them yourself like we did)
mini trees, plants, or herbs of your choice
mini ornaments


1. Start by painting each pot with three coats of white acrylic paint. Make sure to leave a few minutes between each coat to give them time to dry!


2. Next, create a stencil (or use a pre-cut one from the store) for your letters. We made ours by sticking a few pieces of painter's tape on a cutting board, then outlining my letters and cutting them out with an X-ACTO knife.


3. After your white paint has completely dried, peel your stencil off of your cutting board, and carefully apply them to your pots.


1. Squeeze a dab of Elmer's glue onto a disposable plate and dip a clean, flat paintbrush into the glue.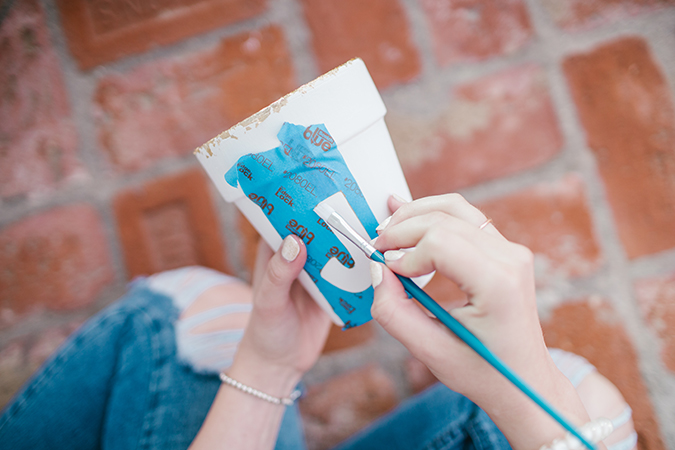 2. Paint a thin layer of glue on the area you'll be applying the gold foil. Tip: I recommend starting with the rim of your pot, so you can have freedom to hold your pot without messing up your letters.


3. After you've laid down your glue, pick up your gold foil and gently press it onto your pot using your fingertips. You may need to work in small sections if your glue dries too quickly.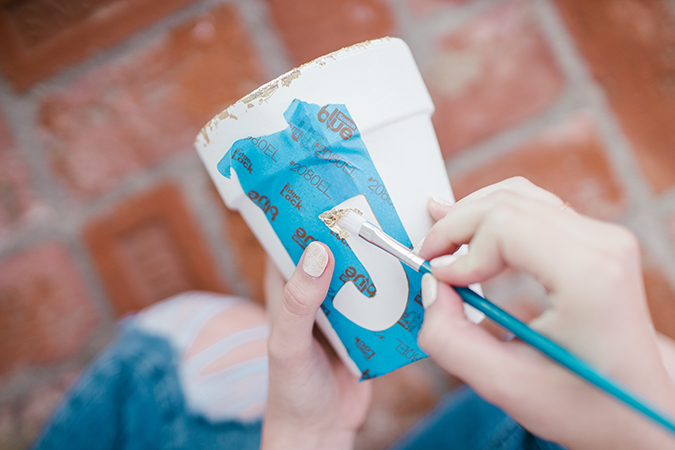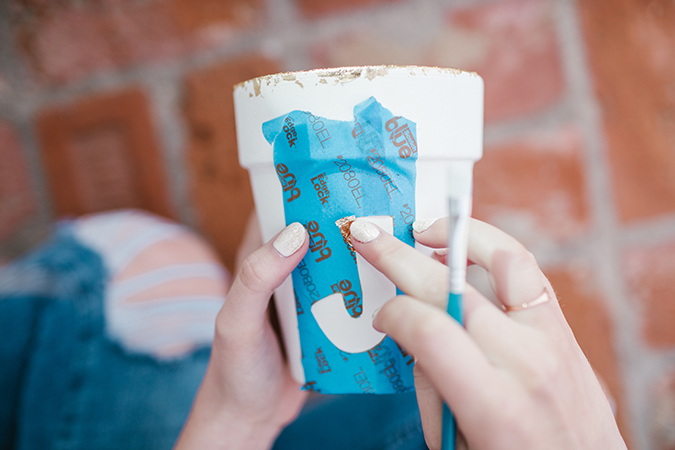 Tip: If you're having trouble keeping the edges of your gold leaf down, you can re-apply a very small amount of glue over the edges with your paintbrush. It will look cloudy at first, but will dry clear when you're finished.


4. After you've applied your gold leaf to cover your stencils for your letters, take your X-ACTO knife again, and very carefully trace the edge of your stencil to make sure none of your gold leaf lifts when you remove the tape.


5. Peel your painter's tape off each pot, and gently press down any pieces of gold leaf that may have lifted.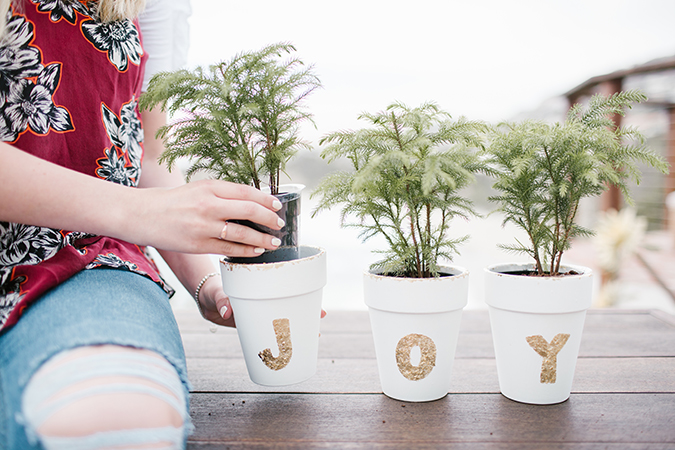 6. Place your plants in each pot, and add your mini ornaments to the branches. Voila!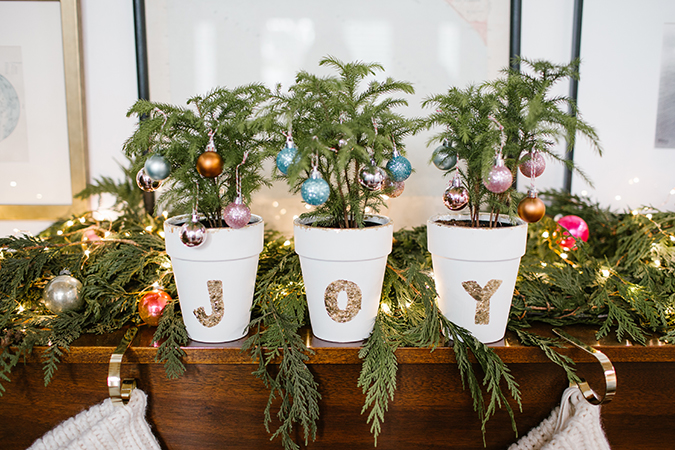 Not only does this DIY work well for the holidays, but can also easily translate into your home on a regular basis. Opt for an evergreen word or saying such as "home" or "love." That way you can keep them on display all year long.


Will you be recreating these gold leaf terra cotta pots?


Let me know if you do in the comments!


Affiliate links may have been used in this post.