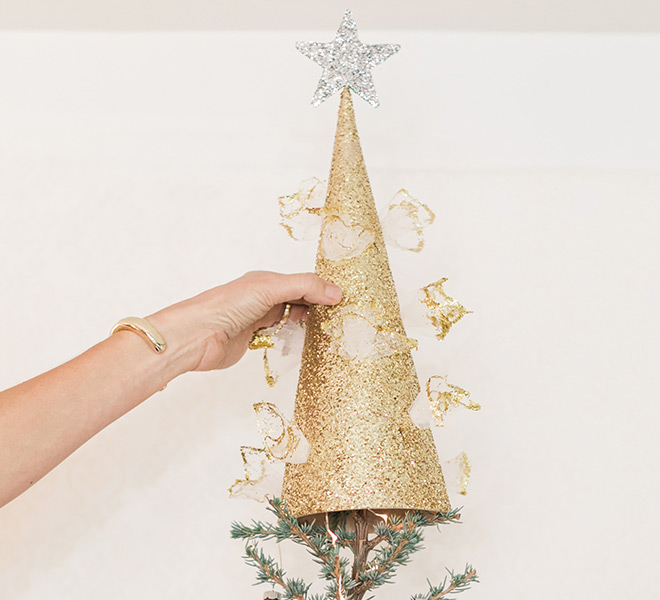 In case you haven't noticed, today's theme here on LaurenConrad.com is our pink and gold glittery Christmas tree. I had a blast decorating it and crafting our advent calendar ornaments (find the tutorial for making those right here). To top off the whole tree, I made a fabulously glittered tree topper, complete with a silver star and poufs of tulle. Today, I'm showing you how to make this tree topper to finish off your feminine pink and gold Christmas décor…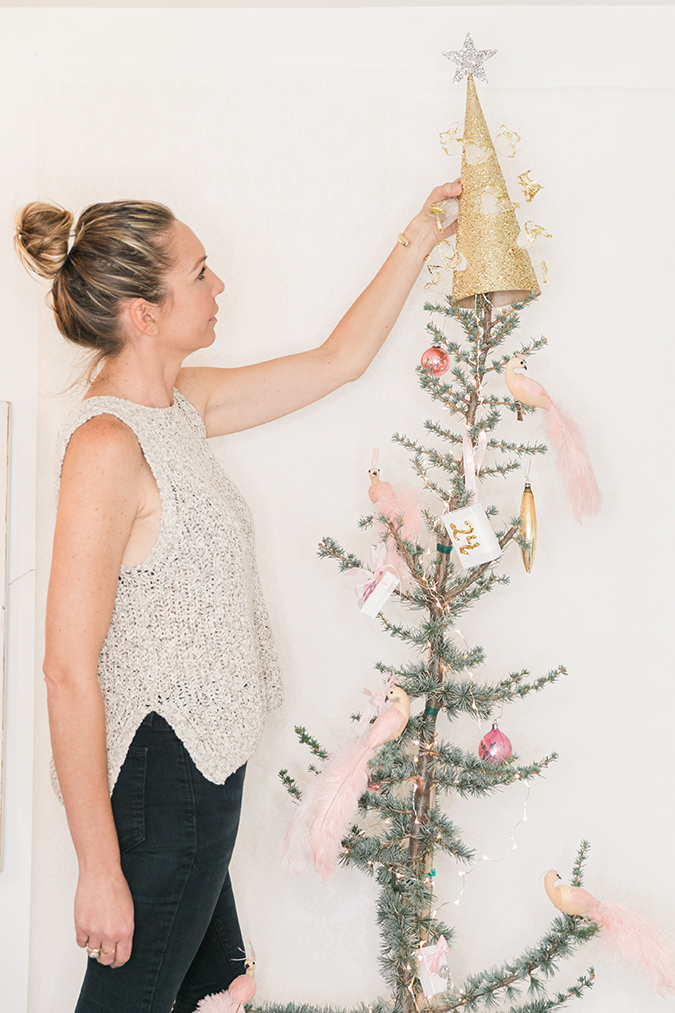 The inspiration behind this Christmas tree came from the idea of vintage wallpaper. As a prop stylist, I'm constantly frequenting flea markets, antique shops, fabric shops—you name it. And I often come across some pretty amazing wallpaper patterns in my treasure hunts. When I recently spotted a pink and white feminine design (that just screamed LaurenConrad.com to me), I wanted to find a way to decorate with it. I ended up making my own little "Christmas corner" by taping my pretty wallpaper on the wall behind my Christmas tree. I also wrapped my gifts in this pattern and used touches of it in my DIY Advent calendar ornaments (more on those over here). This gold glittered tree topper ties everything together with a bit of sparkle and a fun, unexpected conical silhouette. Ready to make one of your own? Here we go…


1 cardboard cone (you can find these at your local craft store)
loose gold glitter
loose silver glitter
tulle (about 1-2 yards)
Elmer's glue
ice pick or sharp kitchen object used for poking holes into the cone
1 piece cardstock paper
1 toothpick


1. Start off by brushing the cone with an even layer of Elmer's glue. Then, dust glitter all over the cone to completely cover it (I recommend doing this over a trash can—it gets messy). Let dry.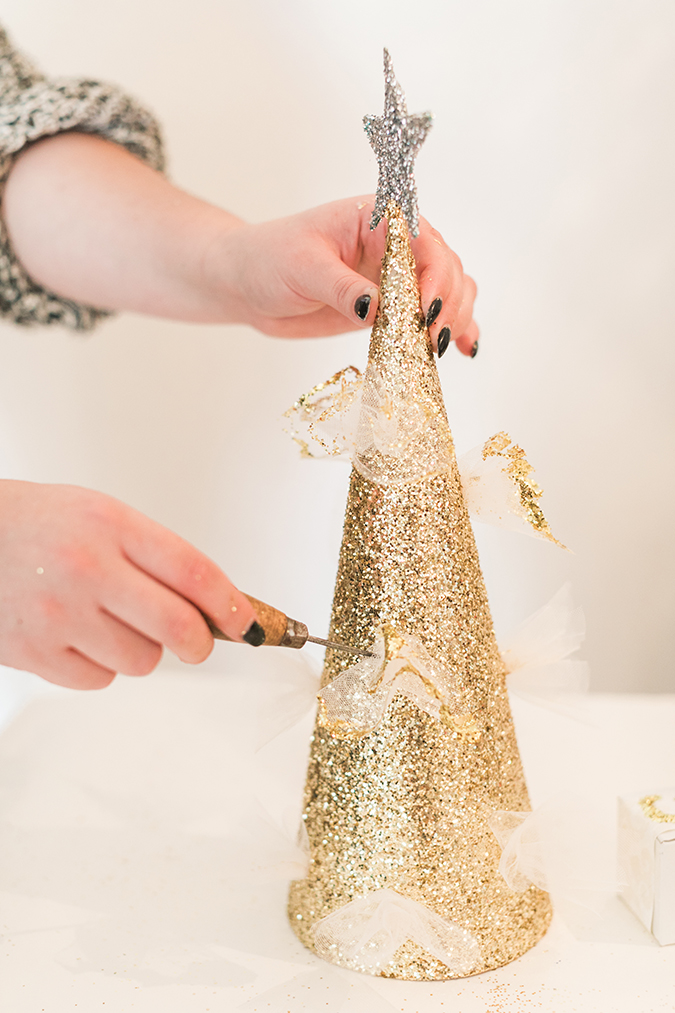 2. Now it's time to poke the holes in the cone. I found an ice pick in my drawer which worked perfectly, but you can basically use anything sharp that will make a small, 1/16-inch hole. Poke holes at random places all over the cone.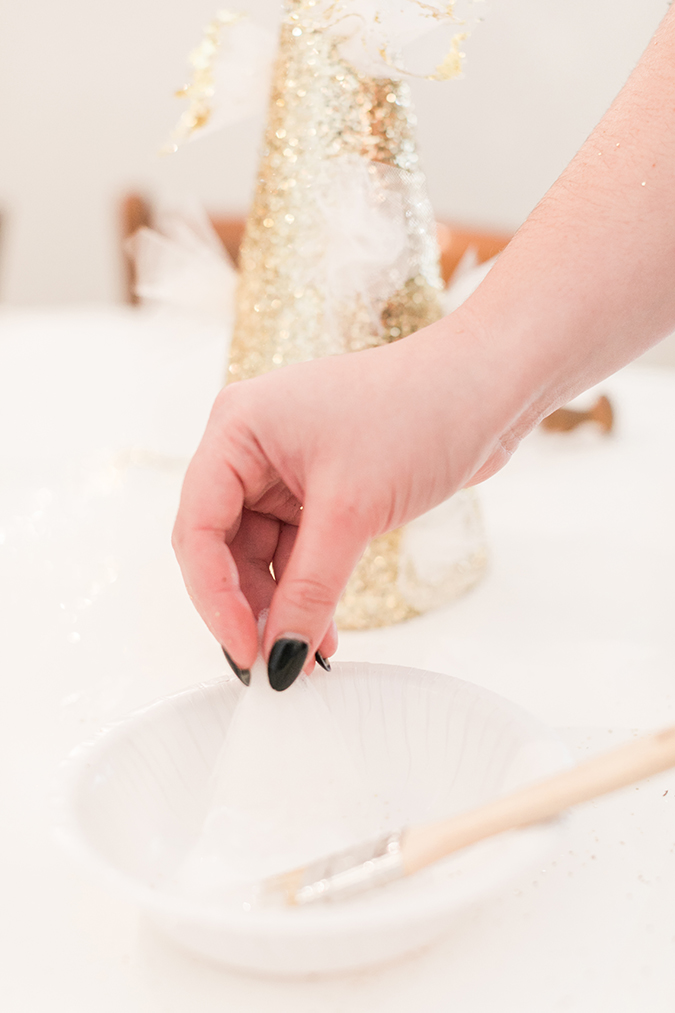 3. To make the tulle poufs, cut 10 2-inch by 2-inch squares and 10 3-inch by 3-inch squares so that you have 20 total, in two different sizes. If you want to cut more, go ahead—we did ours sporadically but you can cover your cone in as many tulle poufs as you'd like! Take one of your 2-inch pieces and one of your 3-inch pieces and fold them in half together diagonal-wise, corner to corner. Repeat this fold three times, then hold at the corner. Pour some Elmer's glue onto a paper plate or napkin and dip the raw edges of the tulle pour in the glue. Then, dust loose glitter completely over the glue.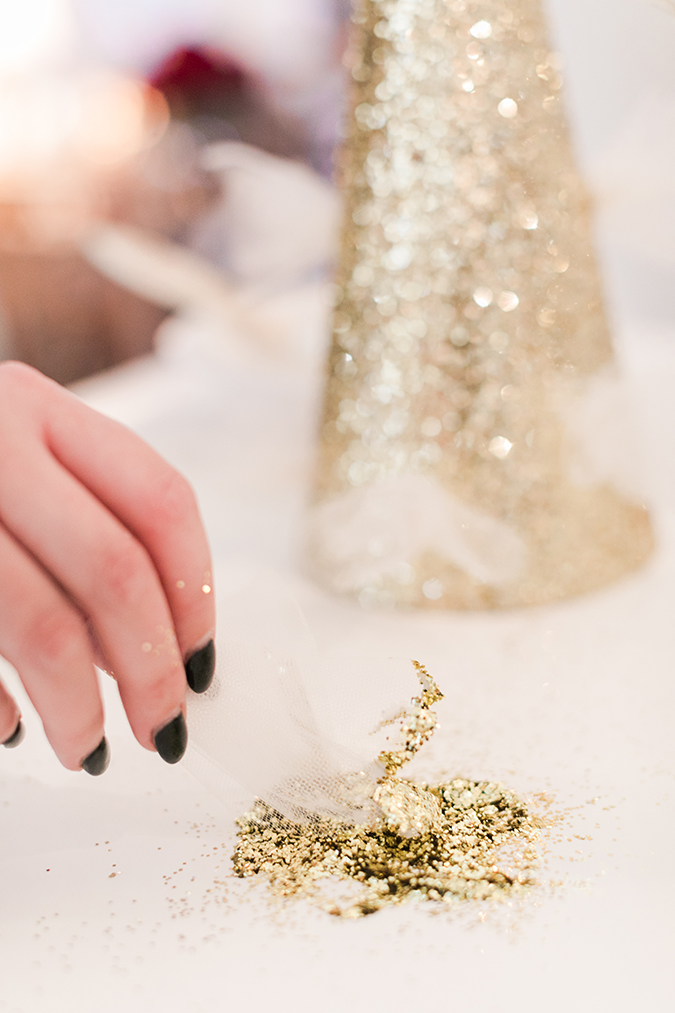 4. Fold over a tiny bit of the corner of your pouf, then stick into the hole of the cone. You can let the glue and glitter dry here. Repeat until your cone is covered with as many poufs as you would like.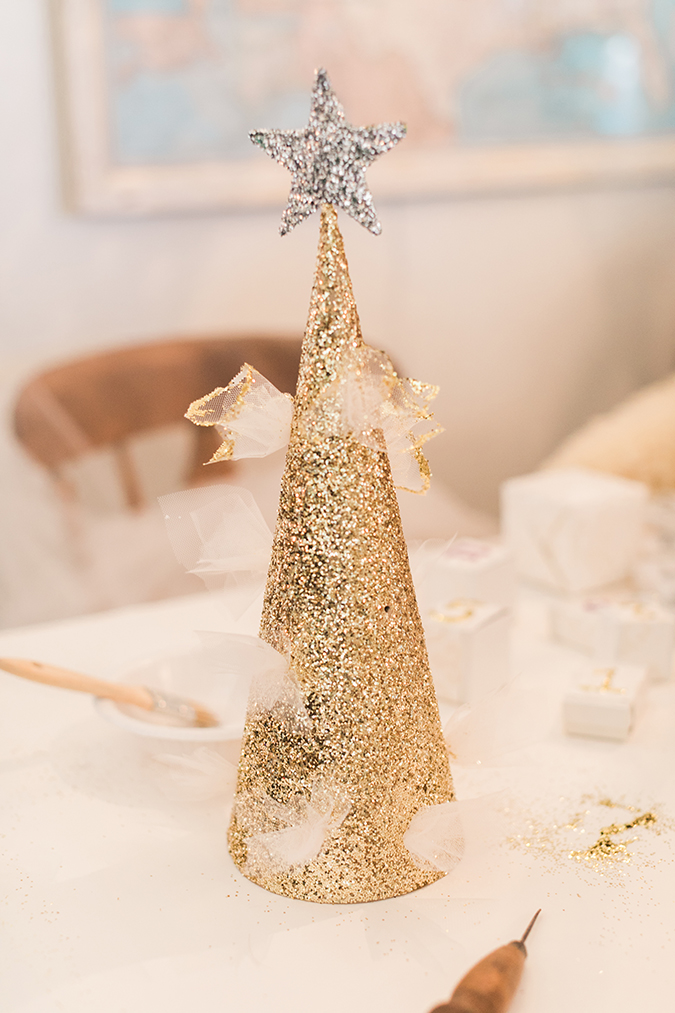 5. For the finishing touch—the star! Simply cut out two star shapes out of a piece of cardstock. Glue both stars together, putting a toothpick in the middle so that it looks like a little sign. Brush both stars with glue, dust with glitter, and let dry. Then stick the end of the toothpick through the point of the cone. Tip: Stars are hard to draw and cut out freehand. I recommend tracing a star shape if you can find one. I traced a star-shaped gift tag and it really helped.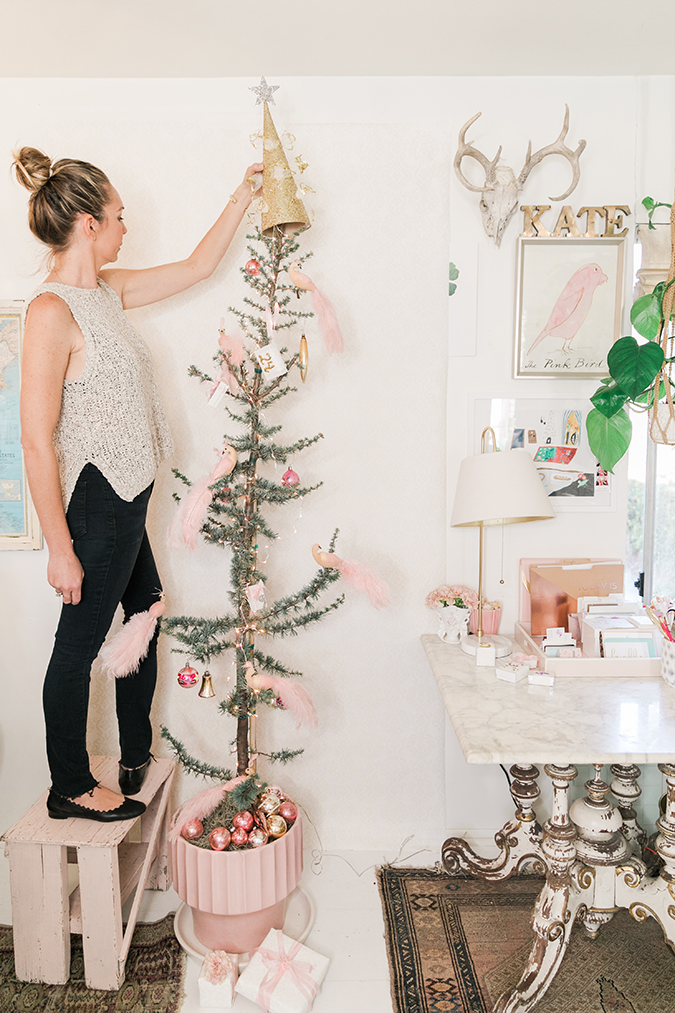 And there you have it. Pretty easy right? You can customize yours any way you want keeping these guidelines in mind.


Have you ever made a DIY tree topper? If so, what was it?


Share your stories in the comments below so that I can read them!