Recipe Box: Mini Pies in Cast Iron Skillets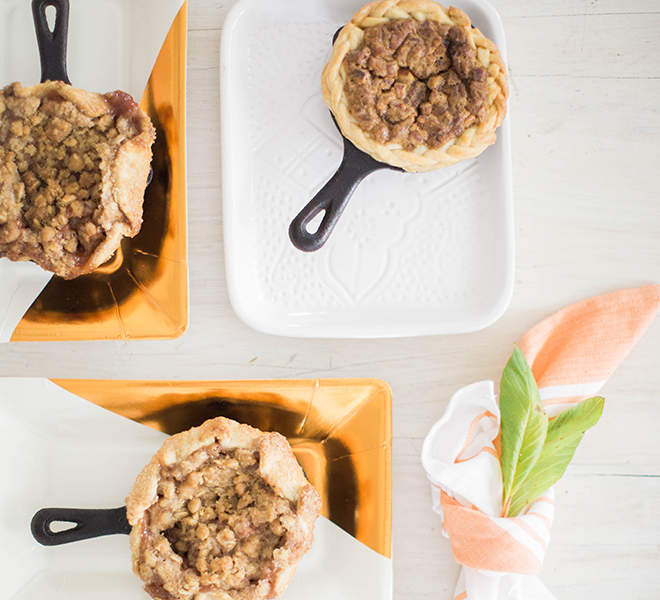 When it comes to sweets, I prefer mine on the smaller side. Why is it that miniature treats are so much more appealing? If you share the same kind of love for mini desserts, today's post will surely get your sweet tooth going. This year I'm revamping my Thanksgiving dessert table and adding in a new twist on everyone's beloved pumpkin pie. To make my vision come to life, I enlisted the help of my favorite baker, Lauren Lowstan. She truly outdid herself when she whipped up some mouth-watering (and utterly adorable) mini pies in cast iron skillets.
Apple, pecan, and pumpkin pies, oh my. These mini pies make for the perfect place setting for your Thanksgiving guests. Not to mention they taste even better than they look, which is hard to believe. If you want to make a statement and wow your table guests or hosts this month, I highly recommend taking a stab at the next three pie recipes. Keep scrolling to snag them for your own recipe arsenal…


1/4 c butter melted
1/4 c canned dulce de leche
1 3/4 c brown sugar
3 eggs
1/2 tsp salt
1 tsp vanilla
1 1/4 c pecans


2 granny smith apples
2 pears
1/4 cup granulated sugar
1/4 cup brown sugar
1 tsp cinnamon
pinch nutmeg
pinch salt


1 c flour
1/2 c oats
1/2 c brown sugar
1/4 tsp salt
1/4 tsp cinnamon
1/2 c melted butter


1 1/4 c pumpkin puree
1/3 c brown sugar
1/4 c granulated sugar
1/4 tsp salt
1 tble cinnamon
1 1/2 tsp ginger
1/2 tsp nutmeg
pinch cloves
3 eggs
1/2 c heavy cream
2 tble milk
1 tsp vanilla


For the marshmallow fluff:
3 egg whites
1/2 tsp cream of tartar
2 tble granulated sugar
1/3 water
3/4 c cassava or corn syrup
2/3 c granulated sugar
1/2 tsp vanilla


Instead of making the pate brisee into two circles as suggested in Step 3 of the Martha Stewart recipe, roll out your your dough on a lightly floured surface,


Lightly place a cast iron skillet upside down on the dough. Trace the outline of the skillet (go about 1″ wider than the skillet) with a pairing knife.


Take that circle and make 11 more just like it. (Set the extra dough aside).


Line all skillets with the dough circles, and let the excess dough hang off the edges. Place all of the skillets in your freezer.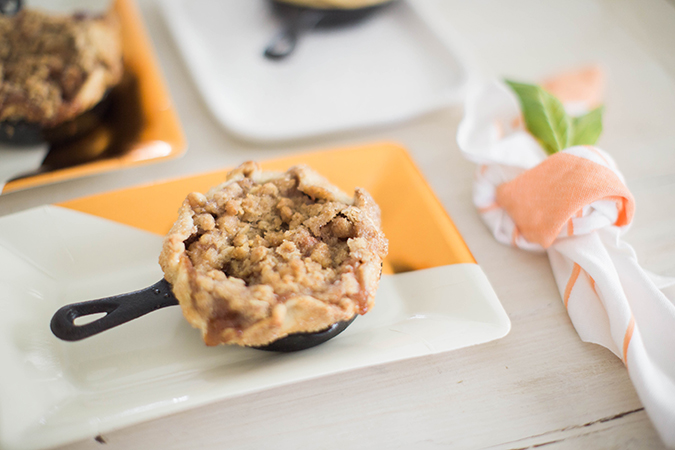 For the mini apple pear pies:
Peel, core, and dice your apples and pears.


Place in a bowl and add the sugars and spices. Mix together until every piece of fruit is covered in sugar.


Set this aside for a couple minutes to let the juices start to form. You will notice a little sugar pool at bottom of your bowl.


In the meantime, make your crumble.


Melt the butter and add in the rest of the ingredients. Mix with a spoon or your hands until little crumbles form.


Add the fruit to your pies, letting the fruit overflow from the top. You want it to be completely filled.


Generously top with the crumble.


Gently fold up the pie dough, that hanging off the edge, onto the crumble. This will be rustic looking.


Bake in a 375 degree oven for 35-40 minutes, until you can see the juices bubbling under the crumble.


Remove from oven and let cool for at least 20 minutes.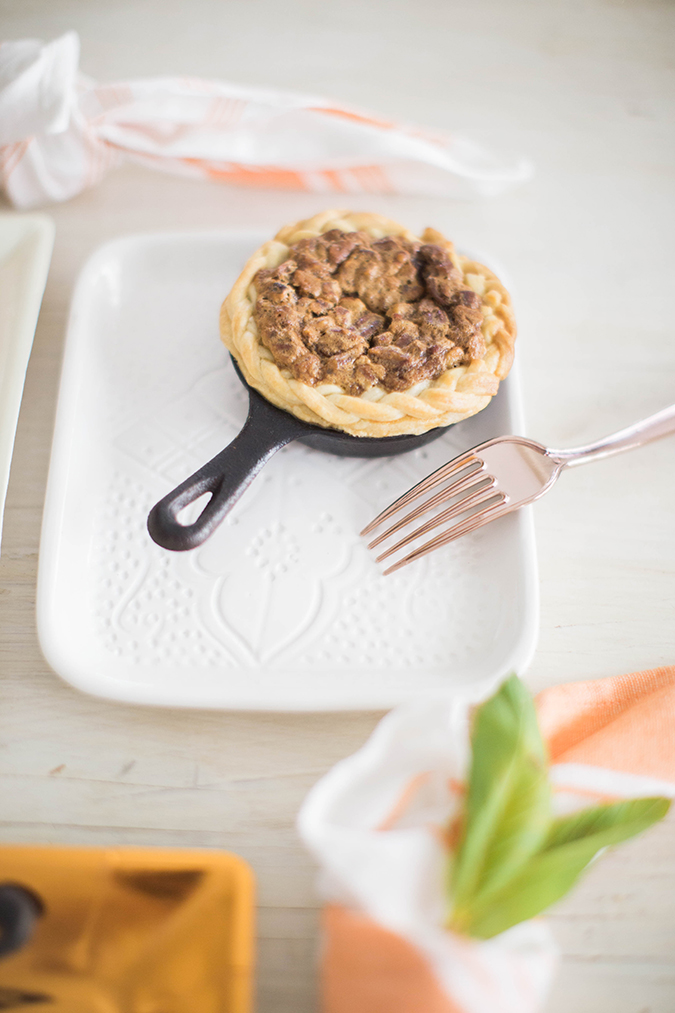 For the mini salted caramel pecan pies:
Preheat the oven to 375 degrees.


Whisk, by hand, all of the ingredients together, except for the pecans. Once thoroughly mixed, stir in the pecans.


Pour the mixture into the chilled skillets and fill to the very top. Cut off any extra dough hanging off the sides.


Roll out some of the excess dough. Cut into 3 tiny strips and lightly braid the dough together.


Lightly press the braids along the edges of the pie.


whisk together the egg wash and lightly brush the tops of the braids.


Bake in your preheated oven for 35 minutes, or until the top looks set and no longer jiggly.


Remove from oven and let cool to room temp.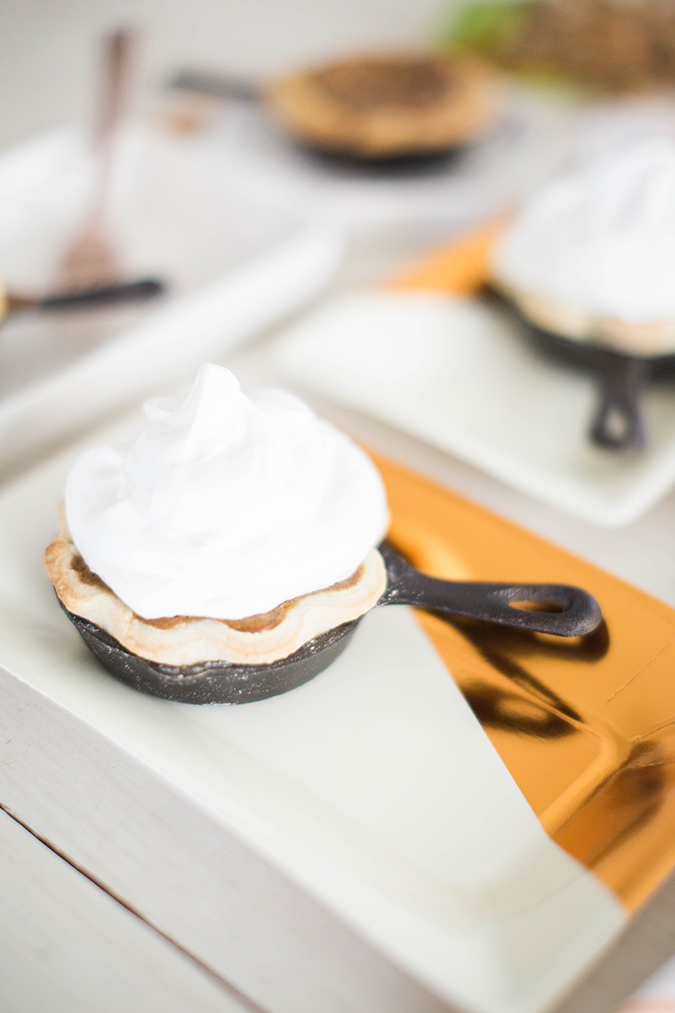 For the mini pumpkin cinnamon pies: 


Combine all of the ingredients in a large bowl and whisk everything together.


Pour the filling into the chilled skillets.


Cut off the excess pie dough and crimp the edges with your fingers.


Bake in a 375 degree oven until pie is not longer jiggly, about 30 minutes.


While the pies are baking, make your marshmallow fluff.


In a saucepan, add 1/3 cup water, corn syrup, and 2/3 cup sugar.


Cook over medium heat, without stirring, until the mixture reaches 248 degrees on a candy thermometer. This step will take about 10 or so minutes.


Meanwhile, In a stand mixer, fitted with a whisk attachment, beat the egg whites and cream of tartar until foamy.


Add 2 tablespoons of sugar and beat until soft peaks form, set aside.


Once the corn syrup mixture has reached firm ball stage, turn the mixer onto medium and in a slow steady stream, pour the corn syrup mixture into the beaten egg whites.


Once all of the corn syrup mixture has been added, beat on high for 5 minutes.


Add vanilla extract and beat on high 1 minute


Top your cooked pumpkin pies with a generous heap of fluff.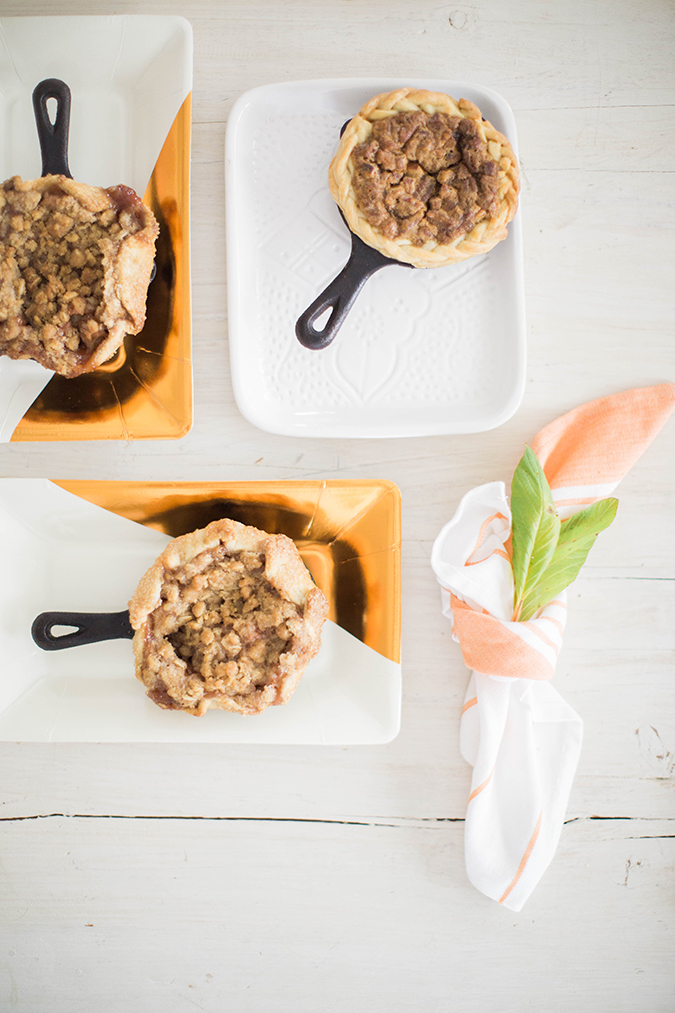 If you asked me to pick a favorite, I'd have to say all three of these mini pies tie for first.


Will you be recreating these mini pies in cast iron skillets?


Be sure to let me know if you do in the comments! 


Affiliate links may have been used in this post.