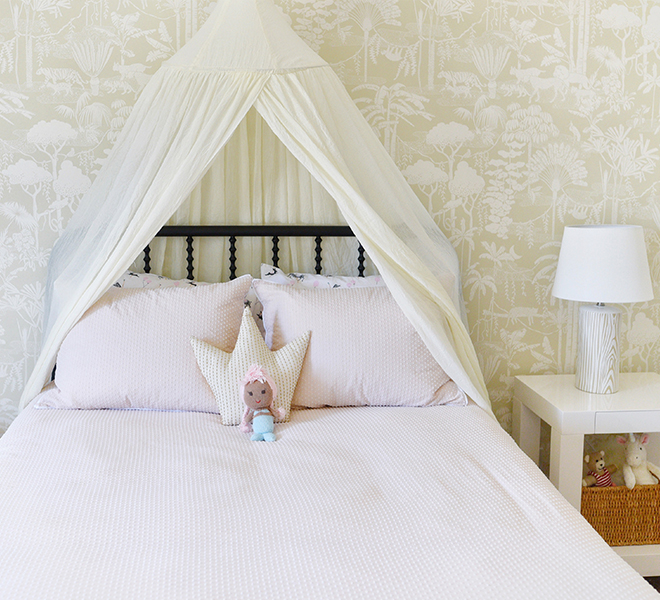 Hi everyone, it's Leslie from Unpacified. Like most things having to do with kids, there isn't a "one size fits all" approach when moving your toddler from a crib into a bed. As the parent, you probably have a good idea of how to best incentivize your child (translation: bribe), but no matter how you approach the change, it's a pretty big milestone for a family… especially for mamas, like myself, who were committed to keeping their little ones in a crib until college. That being said, there are definitely some tried and true tips to keep in your back pocket when making the switch.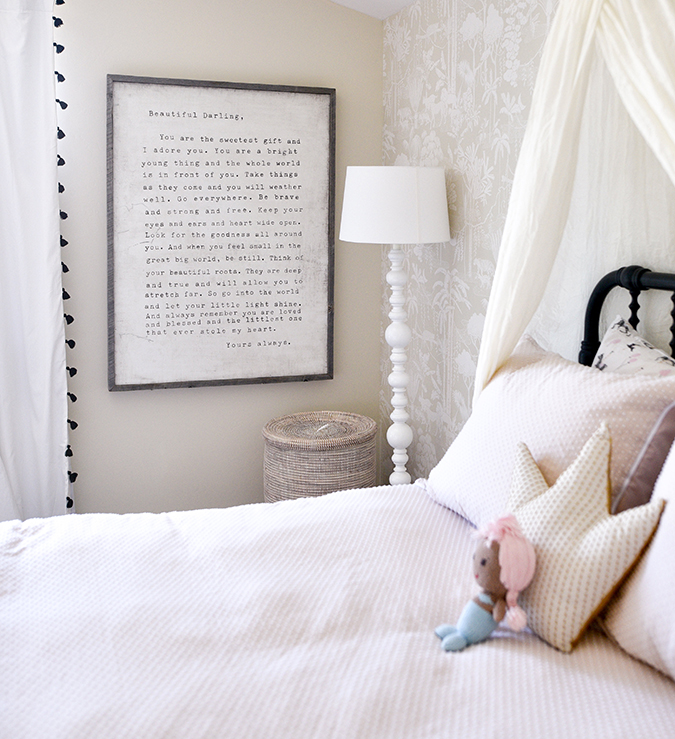 1. One transition at a time.
Avoid making the transition at the same time as any other big change (moving, potty training, new sibling, etc.). I clearly don't take my own advice, because when it was time for Tallulah to say goodbye to her crib, we were in the middle of a move. I wanted her to be excited about this new chapter, so I decided to surprise her with a brand new "Big Girl Room." While our decision broke the cardinal rule of any big change, it worked to our advantage because she had been asking about a new bed for a while, and finding out that she had one in the new house was a great way to introduce the move.
Word to the wise: If you are making the transition in order to free up the crib for a new sibling, you'll want to do it at least three months before or after baby arrives. Otherwise, your toddler may have a hard time "sharing" the crib, since he or she will already be sharing so much with the new baby… including your attention.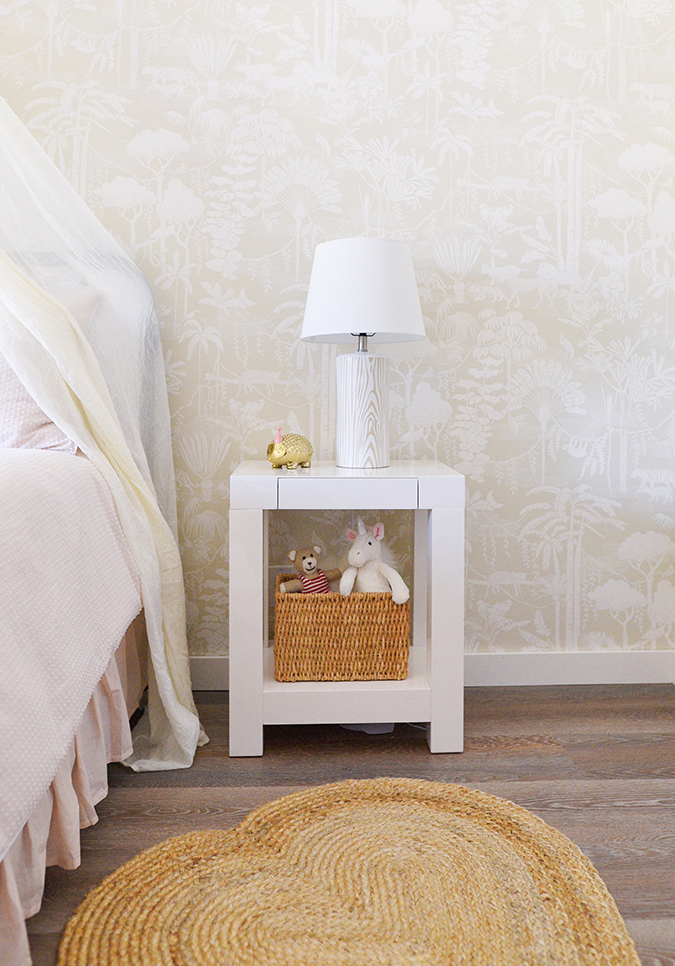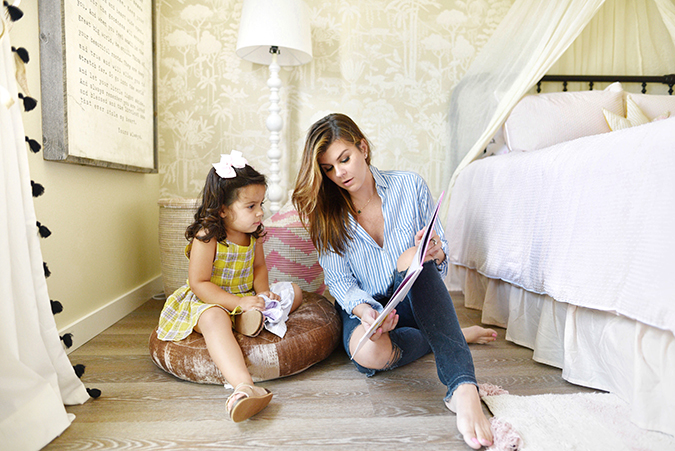 Children respond best to situations when they can anticipate them, so while Tallulah couldn't wait to start sleeping in her new bed, it was about a week before she actually did. Every night before bedtime, we would snuggle in her new bed and talk about the "responsibilities" she would have as "a big kid in a big kid bed," and how it would be different than her crib. I wanted her to spend time feeling comfortable in her new bed, before making the actual jump.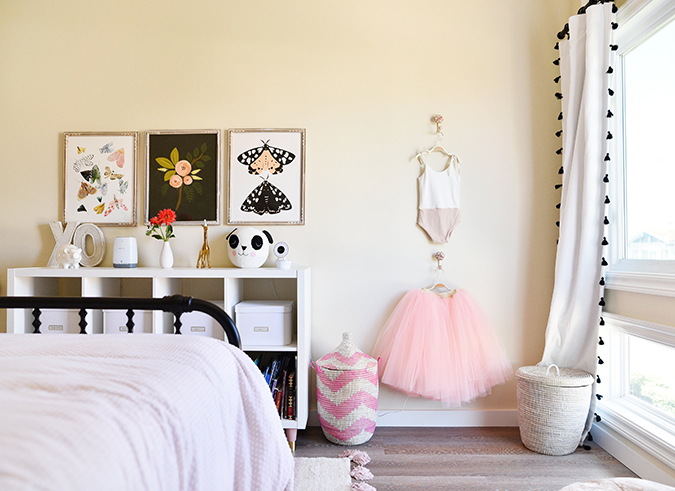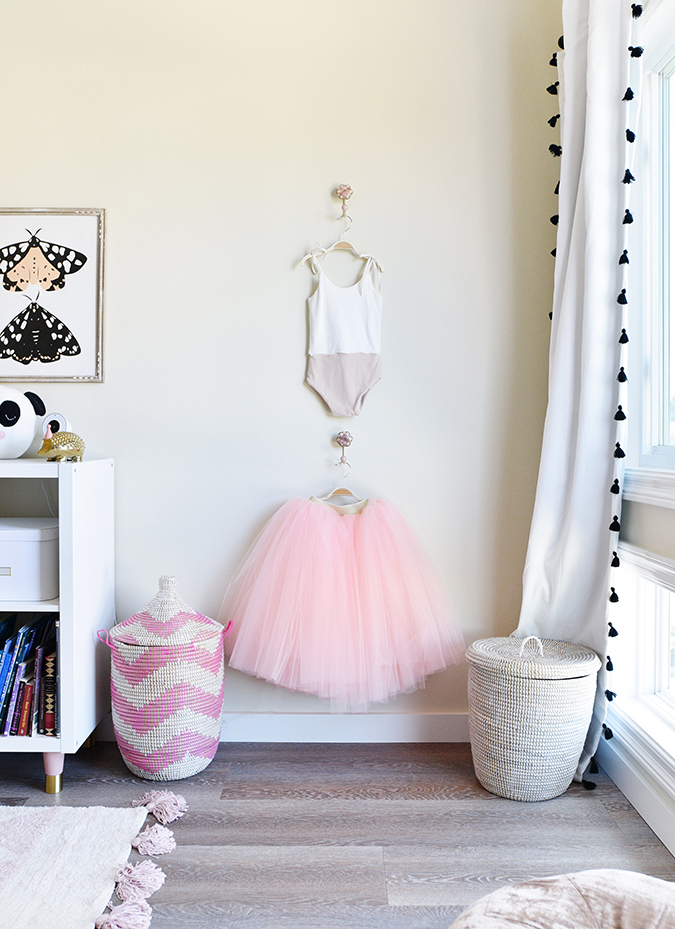 If your child is still taking naps, it's a great first step (also, yay for having a napping toddler!). My biggest fear was that she would get up or roll out of bed while I was sleeping, so letting her take a nap in her new bed was a way for me to keep an eye on her while she got used to it. Basically, it was for my own peace of mind.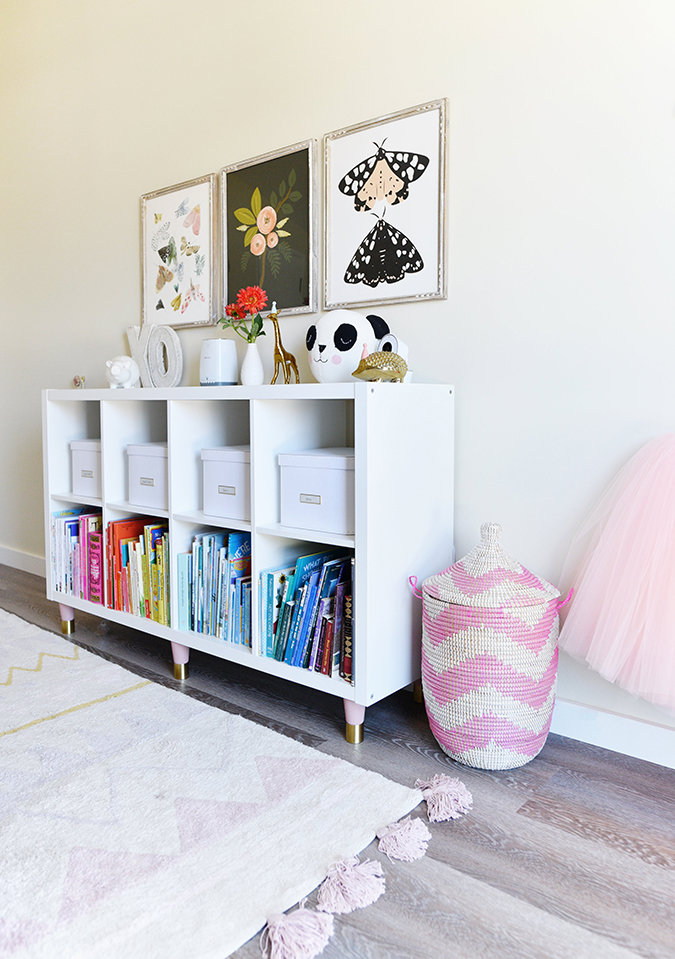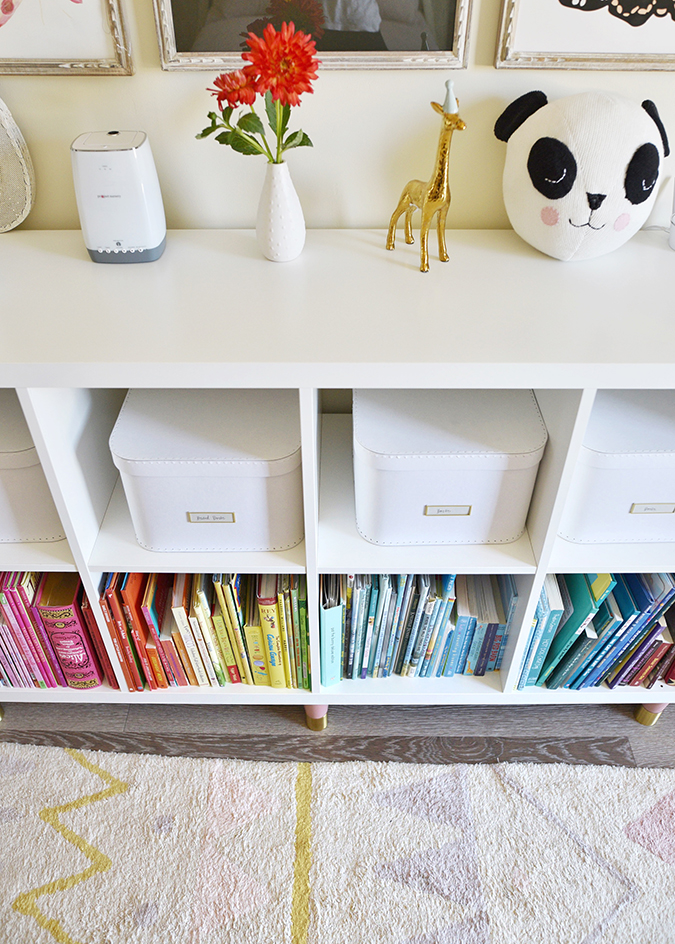 4. Find a security feature that works for your child.
I didn't love the look of toddler railings, so I opted for foam pads that slide in under a fitted sheet to frame the sides of the bed and create a sort of bumper bowling alley for kids. While they had worked well for many of my friends, it only took a few days for Tallulah to tumble out and get a black eye (Mom of the Year, over here!). The next morning, I got some super heavy duty, most unsightly railings I could find. She hasn't fallen out since, but they are not pictured here…for obvious reasons.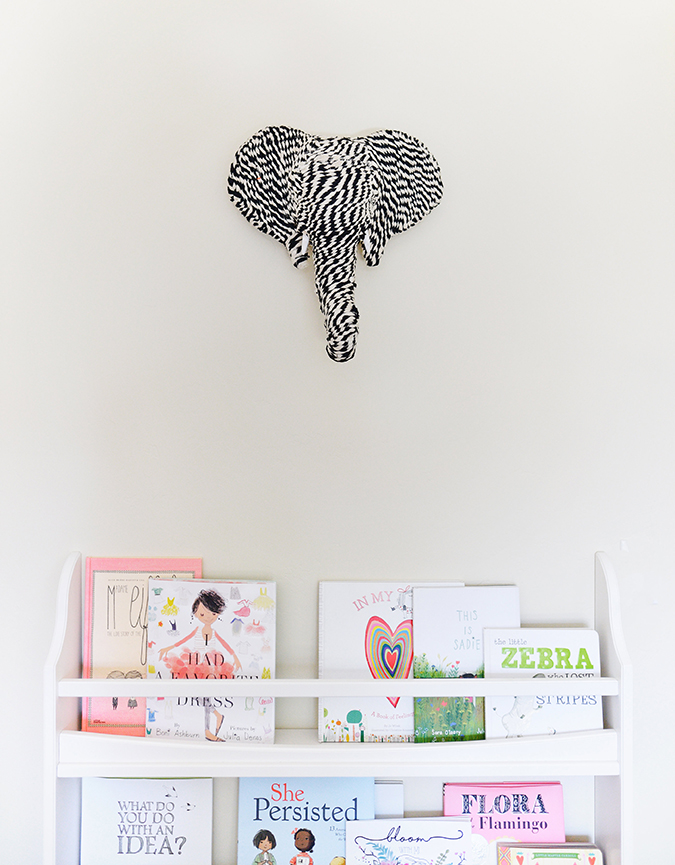 5. Don't be above threatening your child.
Regardless of which parenting philosophy you subscribe to, I think we all agree that certain actions have consequences. I kept Tallulah's crib in her room for a few weeks post transition. I told her that if she got out of bed before mommy or daddy came to get her, she would go back in the crib for her next nap or nighttime. It was a non-negotiable. I explained to her that it wasn't safe for her to walk around at night when we were sleeping, and that if she needed help, she could call for us and we would come help her. (I still have a monitor in her room and it's staying there until she's 18). It took her one night back in the crib for her to get the idea.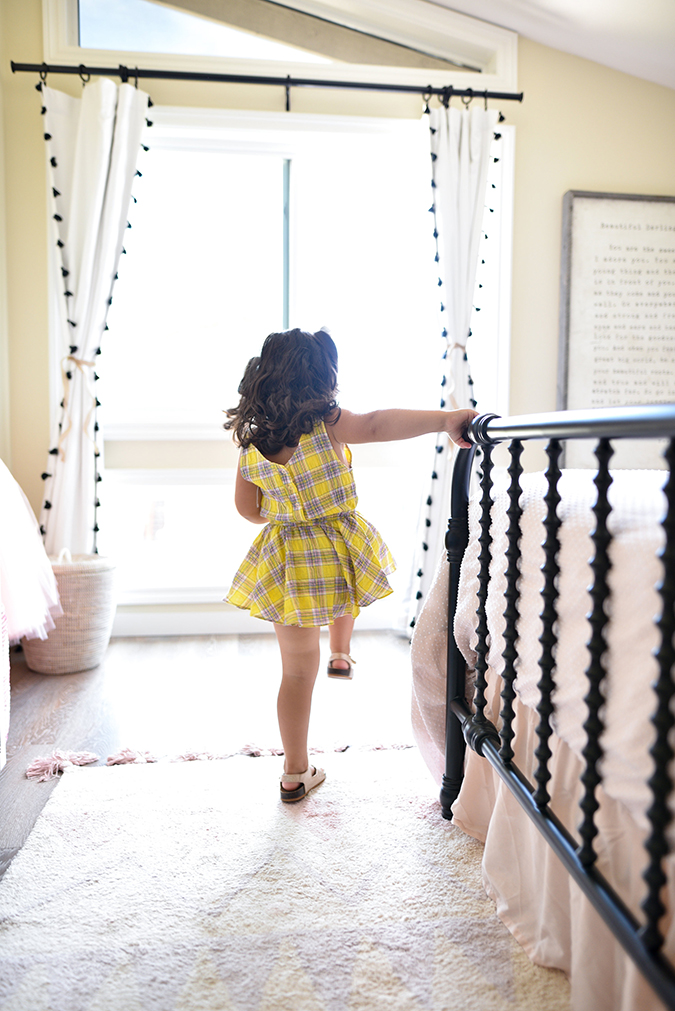 6. Celebrate the milestone!
It's a big moment for every family, so make it special! For us, it meant saying goodbye to her nursery (which felt very "baby") and hello to a bedroom she could grow up in. We plan to be in this home for years, so it was important to create a space that Tallulah could be in throughout her childhood. Since I was already in the middle of designing the rest of house, I asked my friend Jesse (of Jette Creative) to help me come up with an idea that was kid-friendly but one she could also grow with her. Tallulah loves elephants, so when we found this beautiful "Jungle Dream" wallpaper, we let the rest of the room develop from there. I really wanted the room to feel special and personal to her, so when I told Tallulah that Baby Liam's mommy designed the bedding for her big girl bed (Swiss Dot in Blush by LC Lauren Conrad) she thought that was the coolest thing ever…although I'm pretty sure she now thinks she's literally the only one on the planet with that bedding. Oops! And since I am unabashed about living vicariously through my child, I've always wanted a canopy bed and thought adding a cool "safari tent" to hang over it would make the room feel extra special and cozy. So the good news is that even Tallulah does happen to outgrow her room, I know I won't.


I'd love to hear your tips and tricks for making the big switch!