Edible Obsession: Rose Madeleines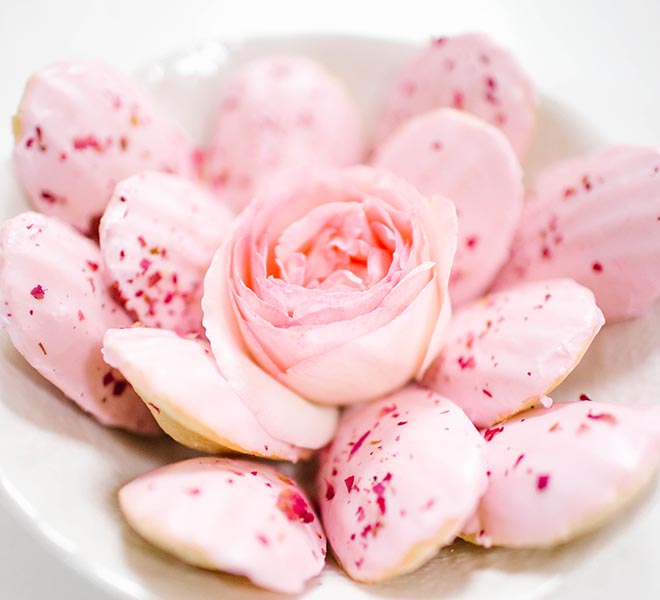 Summer is the perfect time to host sweet little soirées, backyard BBQs, and afternoon hangouts. Blame it on the weather, but there's nothing else I'd rather do than cool down with my closest friends over drinks and bite-sized treats. Thanks to LaurenConrad.com's resident baker, Lauren Lowstan, I'm totally hooked on a classic dessert that pairs well with my favorite mid-afternoon sip. These rose madeleine cookies were made for dunking in coffee or tea and are almost too pretty to snack on. Almost…
Madeleines are everything you want in a cookie. They're light, elegant, and delicious…And have I mentioned adorable? I love that these particular madeleines have a hint of rose, making them the perfect pairing to your afternoon iced coffee. Like the rest of the recipes we showcase here on the blog, these dainty cookies are easy to recreate so that you can enjoy them whenever your sweet tooth strikes. Let's get started, shall we?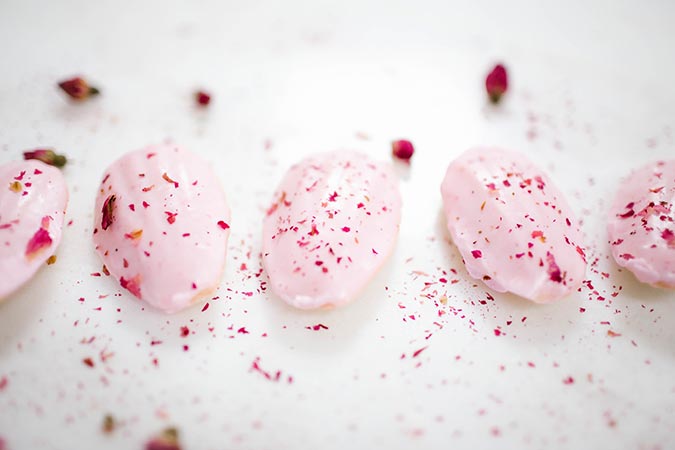 3 eggs
2/3 cup granulated sugar
1 teaspoon vanilla
1 teaspoon rose water
1 drop pink gel food coloring
1 ¼ cup flour
½ teaspoon baking powder
½ teaspoon salt
¾ cup butter, melted and cooled to room temperature, plus a little extra for the pans


2 ½ cups powdered sugar
2 tablespoons milk
2 teaspoons rose water
pink gel food coloring
crushed rose petals for sprinkling on top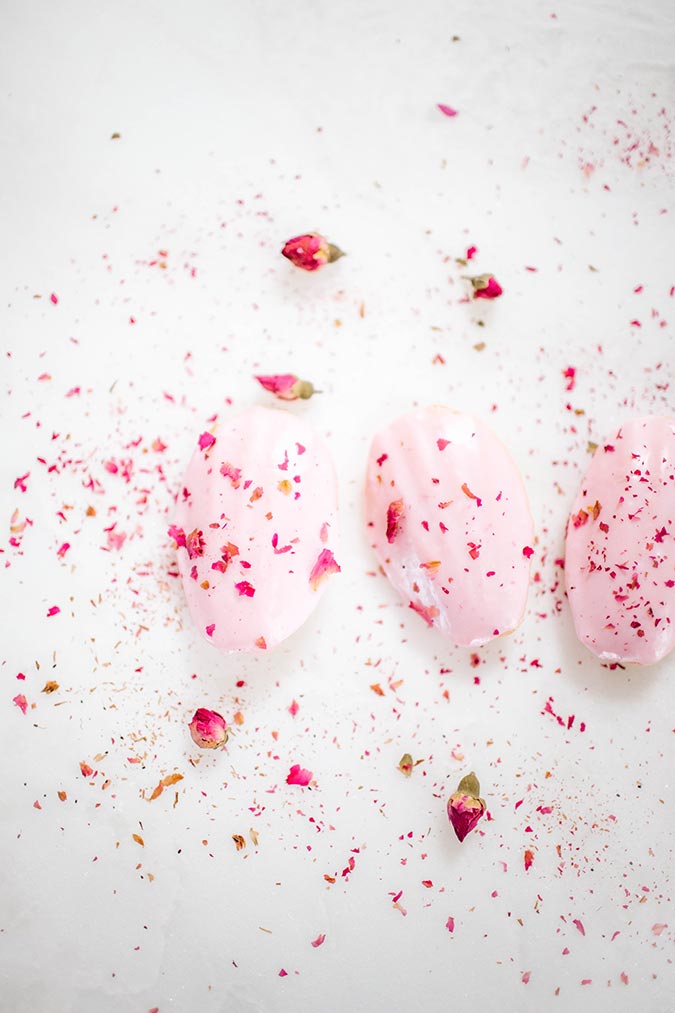 Note: This batter is best when made the night before, so plan ahead!


1. In a stand mixer fitted with a paddle attachment, beat the eggs and sugar together on high for 3-4 minutes, until thick and creamy.


2. Add in the vanilla, rose water, and pink food coloring and beat just until combined.


3. Whisk the flour, baking powder and salt in a separate bowl. Add to the wet ingredients and fold in with a spatula until combined. Tip: Do not over mix! Add in the butter and fold it in with the spatula until there are no butter streaks remaining.


4. Cover your batter with plastic wrap and chill in the refrigerator overnight, or minimum 6 hours.


5. Brush some melted butter onto your pans and place them in the freezer until you're ready to use them. (You can do this the night before as well)


6. Preheat your oven to 350 degrees.


7. Add a generous tablespoon full of batter to each cavity. Once your pan is filled, tap it lightly against your work surface to smooth out the tops of the batter and to release any air bubbles.


8. Bake around 8 minutes, until the tops are light golden in color, have a nice little bump in the center of them, and when a toothpick is inserted and comes out clean. I tend to err on the side of caution and under bake for 30 seconds to 1 minute. I would rather keep checking on them. You don't want to over bake these because they can become dry very easily. You want to keep them moist.


9. Immediately unmold the madeleines by flipping the pan upside down and tapping onto your work surface. Let them cool while you make the glaze.


1. Whisk the powdered sugar, milk, and rose water together until there are no more sugar clumps. If you need to use a rubber spatula at first, that's okay too. Dip a toothpick into the food coloring and add just a dot of coloring to the glaze. Remember, a little goes a long way and you can always add more until you get your desired pink. Tip: Make sure to keep your glazed covered with plastic wrap when you're not using it so that it doesn't form a crust on top.


2. Dip the non-bump side of each madeleine into the glaze and set onto a parchment lined baking sheet, letting the excess glaze drip off. Immediately top each glazed madeleine with some crushed rose petals before the glaze hardens.


3. Let the glaze harden and enjoy!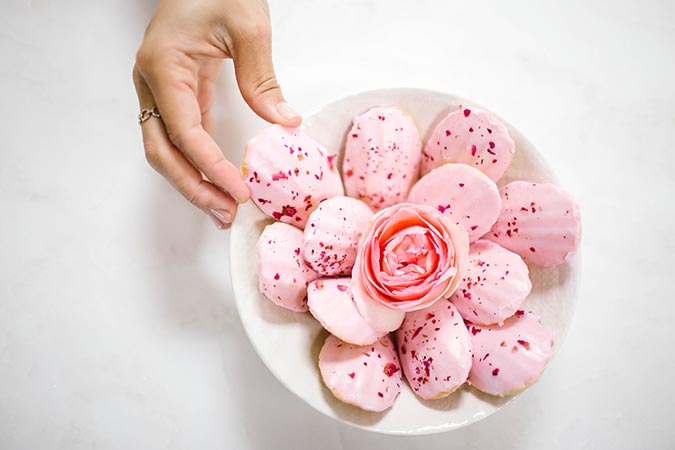 The sprinkled rose petals on top of these cookies are the perfect finishing touch, don't you think?


What's your favorite kind of cookie?


Let me know in the comments! Who knows, I may have to try a new recipe or two.