Lovely Libations: Iced Coffee, 3 Ways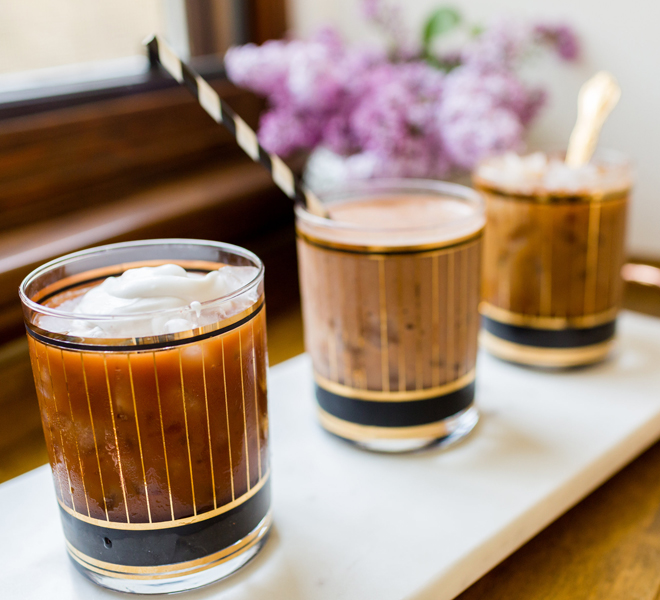 When the days get warmer, I like to swap my steaming morning cup of coffee for something a little more refreshing. Preparing my own cold brew is the perfect cool down and still gives me the pep in my step that I need to conquer the day. I usually add a splash of almond milk and a pinch of sweetener to my iced coffee, but lately I've been making my routine cup of joe a little more decadent…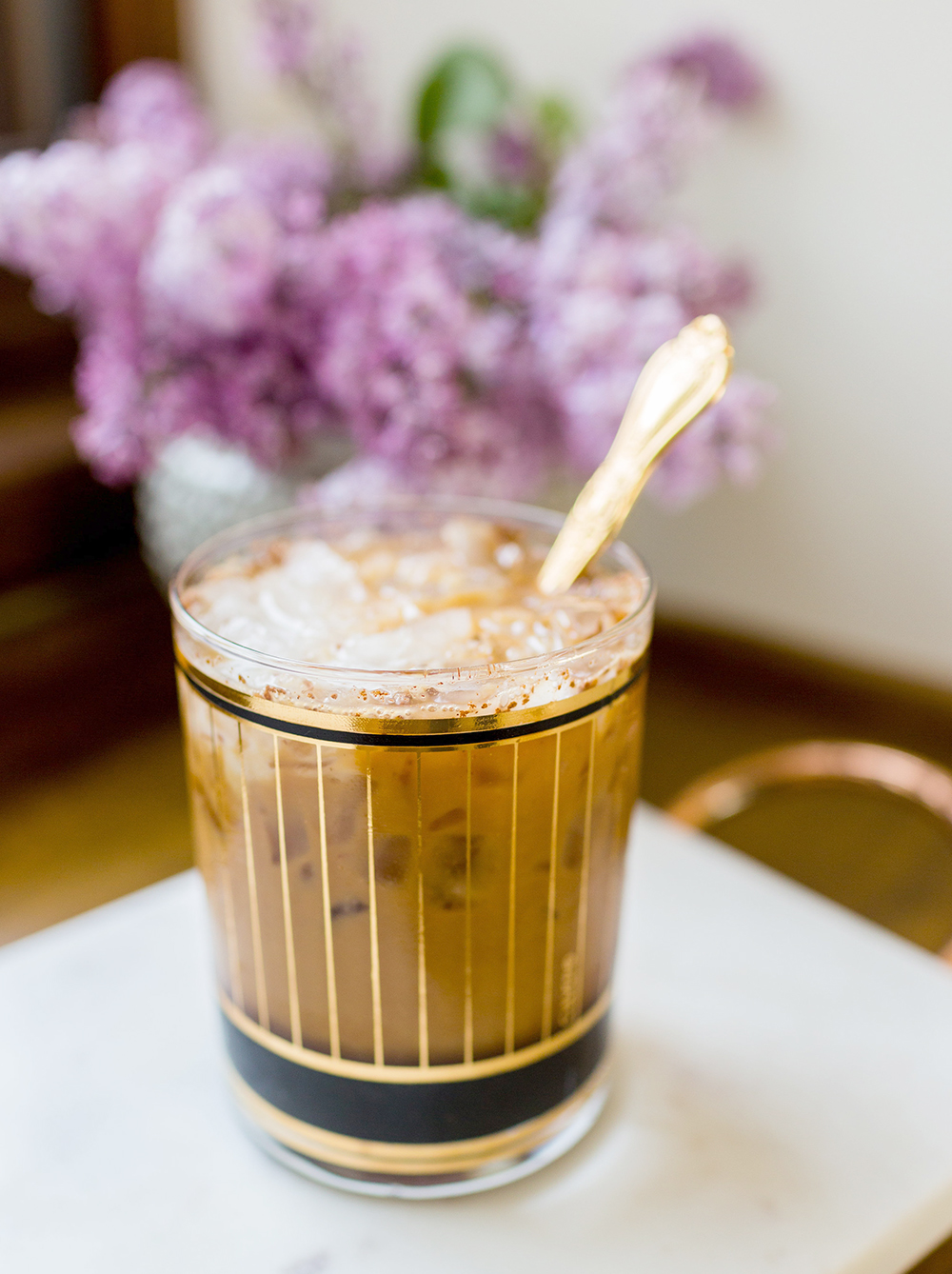 If you're a fan of almond milk, whipped coconut cream, and a dash of cinnamon, then these lovely libations are for you. As much as I love a sweet drink, I wanted to keep these recipes flavorful yet health-conscious (meaning not too much added sugar). Keep scrolling to see how my team and I concocted delicious iced coffee, three ways…



Dark Roast Almond Milk Latte with Sea Salt and Cinnamon
This almond milk latte is perfect for those of you that want a coffee drink that packs a punch but still delicious and smooth. The pinches of sea salt and cinnamon are the ultimate flavor combination.


dark roast coffee
almond milk
ground sea salt
cinnamon
ice cubes


1. Pour dark roast coffee over ice.
2. Add a splash of almond milk until desired creaminess.
3. Add just a pinch of sea salt and mix.
4. Sprinkle a dash of cinnamon to garnish.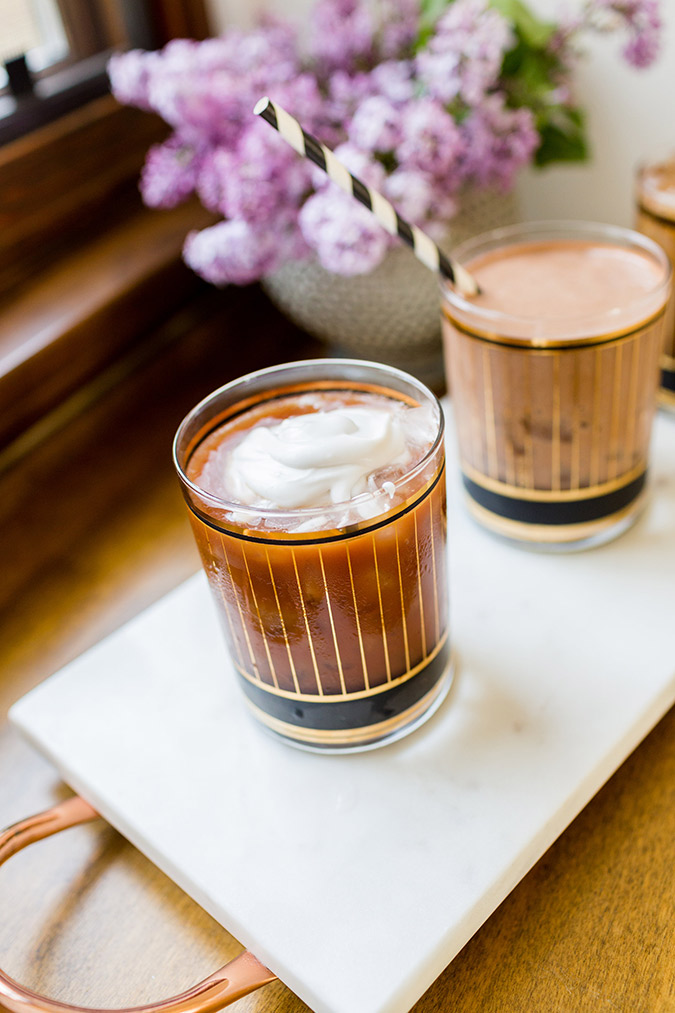 Cacao Mocha with Coconut Cream
I only have one word to describe this cacao mocha: delicious. The rich chocolate flavor pairs perfectly with the creaminess of the whipped coconut cream. This cup of coffee is a chocolate and coconut lover's dream.


coffee
whipped coconut cream
ice cubes
cacao powder


For the whipped coconut cream:


1. Start by refrigerating a can of coconut milk overnight as well as a metal mixing bowl so that they are both extra chilly in the morning.


2. Pour the coconut milk into the mixing bowl and beat until the coconut milk turns into a cream.


1. Begin by adding a spoonful of cacao powder to the bottom of your glass.


2. Pour coffee over ice and mix the three ingredients together.


3. Top your cacao mocha off with a dollop of coconut cream and you're ready to enjoy.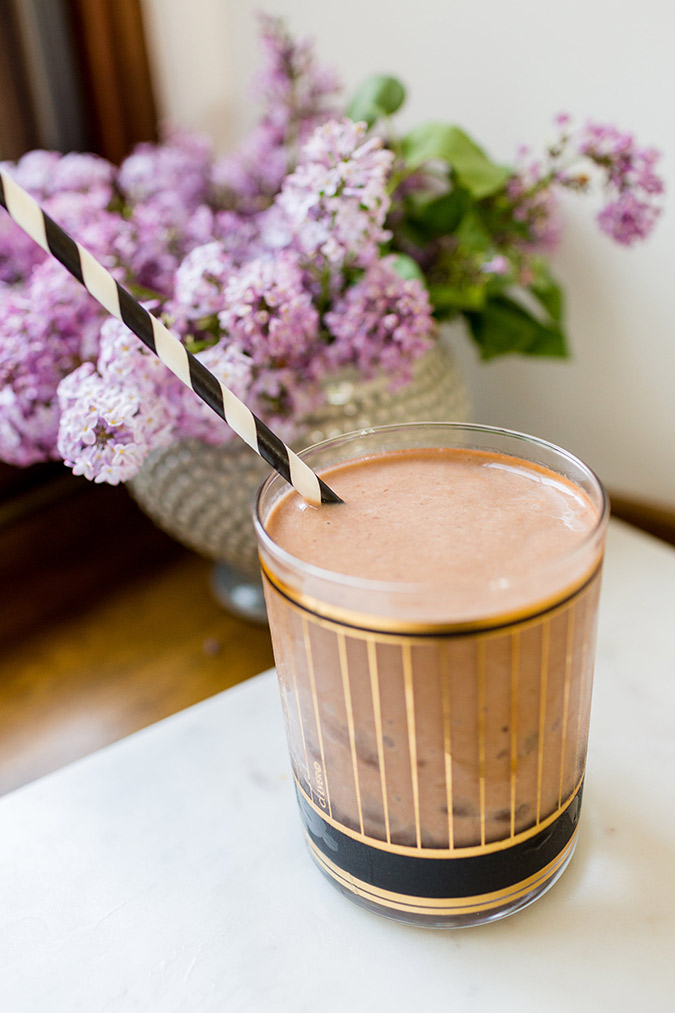 Ice Blended Coffee Protein Shake
This ice blended coffee protein shake is will help you conquer those hot summer days. Not to mention it's a great refresher for after those morning workouts.


1. In a blender, add together one scoop of protein powder, a handful of ice cubes, and your iced coffee.


2. Blend until smooth and creamy. Enjoy!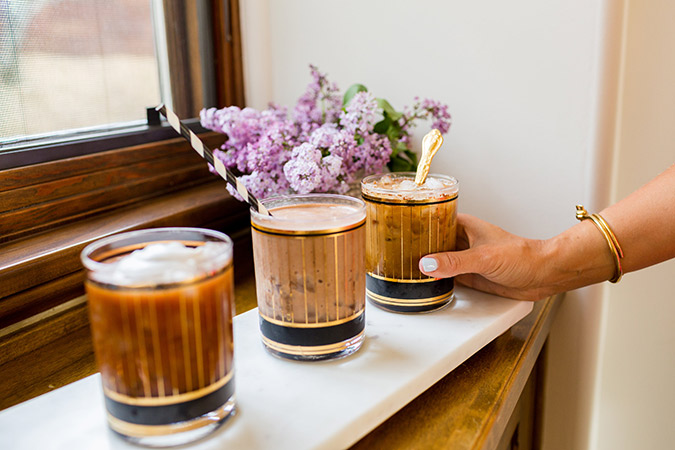 How delicious do all of these iced coffee creations sound? I know that you'll be just as hooked on them as I am once you give them a try.


Which one of these iced coffees sound good to you?


Let me know your favorite in the comments!