We started in Santa Monica, moved onto West Hollywood, and now we're traveling farther east today in our series of L.A. Neighborhood Guides. I'm an L.A. native but I've lived in Silver Lake for eight years now—and I've only fallen more and more in love with the area. It's been touted as America's hippest neighborhood by Forbes, and is known for its creative energy, artistic community, multiculturalism, and celebrated modernist architecture. As a resident, one of the other things I love most is the close-knit community feel within the sprawling city of Los Angeles. It's also pretty centrally located to just about everywhere but the beach. From Silver Lake, you're just a hop, skip, and a jump away from downtown L.A., Hollywood, Los Feliz, Echo Park, and even the valley. Unlike Santa Monica and Weho, this hipster enclave doesn't attract a ton of tourists, so you really need an insider to show you around—which is where this list of recommendations come in. From shopping to dining to sightseeing, read my Silver Lake recommendations below…
What To Do (The Sights):
Neutra VDL House
Griffith Park
Less than a 10-minute drive from Silver Lake, Griffith Park is an absolute must for anyone visiting L.A. Within the 4,000-plus acre park, you have the Griffith Observatory; tons of hiking trails with incredible panoramic views of the city and the Hollywood sign; picnic areas galore; The Greek Theatre (an incredible outdoor concert venue nestled in the woods); and The L.A. Zoo. If you're craving a post-hike coffee, pastry, or sandwich, I recommend The Trails Café (which is both vegetarian- and kid-friendly). And if you're visiting Griffith Park with littles, make sure to stop by the train and pony rides.
The Silver Lake Reservoirs
Built at the turn of the 20th century, these two manmade lakes are the heart (and namesake) of the Silver Lake community. The two side-by-side reservoirs (which are no longer used for drinking water) are surrounded by a 2.2-mile walking/jogging path, a dog park, a playground, a rec center, and the grassy park area known as the Silver Lake Meadow. The reservoirs themselves are currently drained for pipe repairs, but are supposed to be refilled by 2018.
Neutra VDL House
If you're interested in architecture, make sure to stop by the Neutra VDL House on Saturdays from 11 a.m. to 3 p.m. when it is open to the public for tours. Originally built by renowned architect Richard Neutra as his own residence, this marvel of midcentury modern architecture is now owned by Cal Poly Pomona College, who has made it accessible to the public. It's located right across the street from the Silver Lake Meadow if you want to time your visit with a stroll around the reservoirs.
Secret Stairs Walk
L.A.'s historic "hidden staircases" are a remnant of a time before cars, when public outdoor staircases were the only practical way for residents of certain hillside neighborhoods to get down the hill to school, the supermarket, or to public transit including trolleys and streetcars. There is a huge cluster of these staircases in hilly Silver Lake, which nowadays makes for a great urban hike through one of the oldest parts of Los Angeles. A few of the walks are listed for free on the Secret Stairs website (The "Music Box Loop" is in Silver Lake), or you can grab yourself a copy of this book by the same title for a complete map of staircase walking tours in L.A.
Where to Shop:
Sunset Junction
Sunset Junction (the corner of Sunset and Sanborn) and the surrounding blocks offer a cluster of hip boutiques and higher end stores. Plan to walk around and browse shops like the Clare V. flagship, French label A.P.C., Shinola, Mollusk Surf Shop, The Odells, Dream Collective, and for the cutest kids items, Sweet William. On the other side of Sanborn from the other shops, you will find Mohawk General Store, a mecca for hip indie labels; better known brands like Rachel Comey, Mansur Gavriel, Mara Hoffman and Isabel Marant; and a selection of midcentury modern home décor and furnishings.
Silver Lake Blvd.
A little mellower than Sunset, Silver Lake Blvd. still boasts several great shopping spots with that quintessential Silver Lake vibe. For truly unique gifts, jewelry, and an incredible selection of coffee table books, check out OK. Then, head a couple of blocks north to Yolk, which is also great for gift shopping but has more of a playful vibe than OK (and a larger kids' section). A couple doors down from Yolk are Lawson Fenning, a splurge worthy furniture and décor store, and Lake, a clothing boutique with a feminine feel and a good selection of European labels.
Rowena
Rowena isn't exactly a shopping mecca, but it has a couple of spots you shouldn't miss during your trip to Silver Lake. (Parking also tends to be much easier here than other parts of the neighborhood, so it's worth making a quick pit stop.) First, hit up Clover for everything from clothing to coffee table books to kitchen accessories to baby gifts to an incredible selection of candles. Then, walk a few blocks down to Broome Street General Store, which is part coffee shop and part gift boutique, with an especially great selection of gourmet foodie finds and indie beauty products. Across the street is its sister store, Broome Street Registry & Atelier, which features larger décor items and furnishings.
Off the Beaten Path
Should you find yourself with a couple minutes to drive to the outskirts of Silver Lake, don't miss The Social Type's brand new store on Sunset and Rampart. Along with their own collection, this paper shop has the most amazing selection of cards, stationary, and all sorts of paper goods by other brands and designers. I also recommend a visit to Twig & Twine on North Virgil Avenue (near Sqirl), which is both a florist and a gift shop.
Where to Dine, Caffeinate, and Sip:
Lamill
Lamill is known for some of the best coffee in L.A., but its brunch and lunch menu are nothing to scoff at either. Whether you're just popping in for a quick cappuccino or eating a full meal, grab a spot on the sidewalk for optimal people watching or enjoy the beautiful Instagram-worthy interior filled with natural light.
Intelligentsia
Silver Lake now has its fare share of hip coffee shops (Alfred, Broome Street, Dinosaur Coffee), but Intelligentsia was the first big one to hit the neighborhood almost a decade ago, and it still remains a Silver Lake mainstay. Grab a shot of espresso and don't forget to take a shoe selfie on their famous blue patterned tile floors.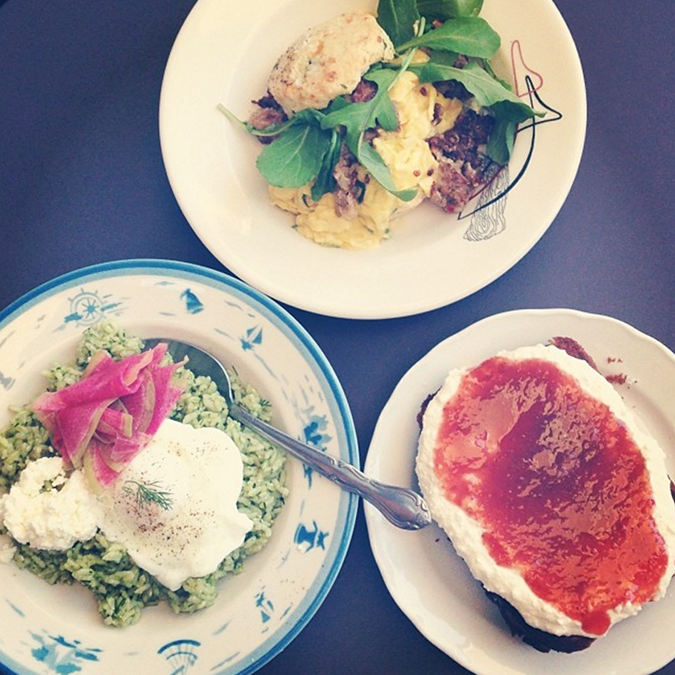 Sqirl
Sqirl
This hole-in-the wall brunch spot is in a somewhat random location, has limited seating, and doesn't look like anything special—but it also has some of the most inventive and flavorful breakfast dishes you'll ever eat. Sqirl is known for their house-made sauces and preserves (which are also available for purchase in jars). Try the Sorrel Pesto Rice Bowl with preserved meyer lemon, lacto fermented hot sauce, and a poached egg or the Brioche Toast with your choice of jam and/or freshly milled hazelnut butter.
By CHLOE.
by CHLOE.
This quick and casual spot serves up fresh and delicious vegan "fast food, ranging from smoothies to salads to the best veggie burgers around. With several locations in NYC and Boston, the Silver Lake by CHLOE is the restaurant's only West Coast outpost so far.
Home
If you're looking for a casual, family-friendly spot for brunch, lunch or dinner, Home is an old standby. The food is classic American cuisine with a healthy twist—think lots of salads, soups, sandwiches, burgers, and the like. Both indoor and outdoor seating is plentiful so you never really need reservations, and if it does happen to be crowded, kids will love looking at the koi pond while you wait.
Salazar
After receiving food critic Jonathan Gold's seal of approval, Salazar became a serious East Side hot spot. Don't let their ironic '90s style website fool you—Salazar takes their menu very seriously and every dish is cooked to perfection. You can sit out on their expansive patio and enjoy a full meal or head to the bar area for drinks with friends. While the food menu tends toward traditional Mexican fare with the little twist, the colorful cocktails are totally inventive (and also make for quite the Instagram shot!).
Café Stella and Bar Stella
This romantically lit French bistro at Sunset Junction does a great brunch and is also a delicious date night-worthy dinner. If you're simply looking for a drink, head to the adjoining bar for a cozy spot to sip on craft cocktails.
Little Pine
Little Pine
Whether you're a vegan yourself or not, you'll enjoy the plant-based menu and woodsy cabin décor at Moby's restaurant, Little Pine. Go with friends to take full advantage of the small plates/sharing menu, and be sure to try the broccoli arancini and the stuffed shells.
Speranza
Speranza is barely visible from the street and has little to no signage, making it a literal hidden gem in Silver Lake. But if you know where to look, you will find the most incredible handmade pasta and other Italian dishes, which you can enjoy on their cozy patio adorned with twinkle lights.
Alimento
Alimento has been praised by everyone from the L.A. Times to Bon Appetit to Conde Nast Traveler, and it's easy to see why. Chef and owner Zach Pollack whips up some of the most creative and fresh Italian food, with menu items like Yellowtail Collar Affumicato, and Fusilli with Clams, Arugula, Serranos, and Smoked Butter. The seating is small and limited, so be sure to make a reservation.
L&E Oyster Bar
This cute Silver Lake spot is great for a date night dinner or food and drinks with friends. Along with plenty of oysters, there is a full seafood-centric dinner menu and an extensive wine list. There is casual bar seating upstairs or full dinner service in the downstairs area.
Cliff's Edge
The food is absolutely delicious, but the magical, two-level patio with a huge fig tree running through the middle is just as much of a reason to dine at Cliff's Edge. The menu features focuses on rustic meets elegant cooking with an emphasis on fresh produce, and the inventive cocktail list should not be missed.
Silver Lake Wine
Not only is this wine shop a great place to pick up a bottle, but they have $15 tastings every Monday and Thursday evening (no reservations needed for these ones), plus $25 tastings one Sunday a month featuring a four-course food menu from a local restaurant.
Magpies Softserve
Magpies Softserve
This new-ish ice cream spot has quickly become a favorite amongst Silver Lake locals. Try flavors like Sweetened Cream, Carmelized Banana, or Corn Almond with some equally delicious toppings.
Where to Sweat:
Walk, Jog, or Hike
You really can't beat an outdoor workout in sunny Los Angeles, so why not get your heart pumping on one of the many trails or paths in this neighborhood? Whether you choose a Secret Stairs walk, a jog around the reservoirs, or a hike in Griffith Park (see 'What To Do' section above for details on all three), you can't go wrong.
Silver Lake Yoga
This yoga studio tends toward the traditional (you won't find any classes on their schedule set to hip-hop or Top 40), but is also known throughout L.A. for it's terrific prenatal and parent-and-me classes. Whether you're looking for a family friendly workout or just a classic hour-and-fifteen-minute flow, this is the spot. 
PopPhysique
PopPhysique has since expanded to all corners of L.A., San Francisco, Atlanta, Toronto, and NYC, but the Silver Lake location is the flagship. This popular barre workout is all about long, lean lines and compact muscles.
The Bar Method
Small, independent studios outnumber big workout franchises in Silver Lake, but PopPhysique is one exception. This is another favorite barre workout that intensely stretches each muscle worked to make it look and feel longer and more graceful.
YAS Silver Lake
YAS stands for Yoga and Spinning, with a program of classes dedicated to a combination of those two workouts. Whether you prefer one over the other or like to mix it up, this studio will tone and sculpt every muscle group while getting your heart rate up.
Where to Relax:
The Raven Spa
The Raven is a boutique Thai massage, bodywork, and healing center right in the heart of Silver Lake. It feels like a true oasis and offers everything from acupuncture to yoga.
The Barai Day Spa
The Barai is definitely not anything fancy, but they offer some of the best cheap massages that will work out all your knots and kinks (we're talking $45 for 60 minutes). Thai massages are their specialty, but they offer all types from Swedish to aromatherapy massages, along with facials and other skincare treatments. For a lovely finishing touch, they serve you a cup of hot green tea and some fruit in the lobby following your treatment.
Where to Stay:
Airbnb
Silver Lake is definitely not a major tourist destination (which is really the beauty of this part of town), so the best way to stay in the neighborhood is to book an Airbnb and live like a local for a few days. If you're looking for a spot with character, Silver Lake is full of cool, midcentury bungalows with interesting architecture. Choose a home in the hills for gorgeous views of the reservoirs, the Hollywood sign, Griffith Observatory or Downtown L.A.
Hotel Covell
This small, boutique property in neighboring Los Feliz is the closest hotel of any sort you will find to Silver Lake. Each of the five suites has the amenities of an apartment, making it a good pick for families or longer term stays too. The décor is especially chic and worthy of some good photo opps, and the charming Bar Covell is right downstairs should you want to end your night with a drink.
Downtown L.A. or Hollywood
If you're looking for a major hotel in relatively close proximity to Silver Lake and it's surrounding neighborhoods of Echo Park, Atwater, and Los Feliz, Downtown L.A. or Hollywood are your best bets. Downtown you may want to book a room at The Standard or The Ace, and in Hollywood The W is a popular spot to stay.
Do you have any Silver Lake spots you would like to add to this list?
And, do you have any requests for where we should do our next city guide?
xo Ilana
Team LC