In case you missed it, last week on the blog we shared a Santa Monica city guide, put together by our very own Westside resident, Allison. And today, I'm here to share all of my favorite spots in the part of Los Angeles that I call home: West Hollywood. After living here for 10 years, and being right in the center of Weho for six of those years, I've accumulated quite the list of recommendations for visitors or those who just moved to the area.
And today, I'm sharing my absolute favorites! From food to fitness to shopping and everything in between, this is a city guide that you don't want to miss if you'll be spending time in West Hollywood. That said, I'm always looking for more recommendations, so make sure to leave your favorite spots in the comments, too!
What To Do (The Sights):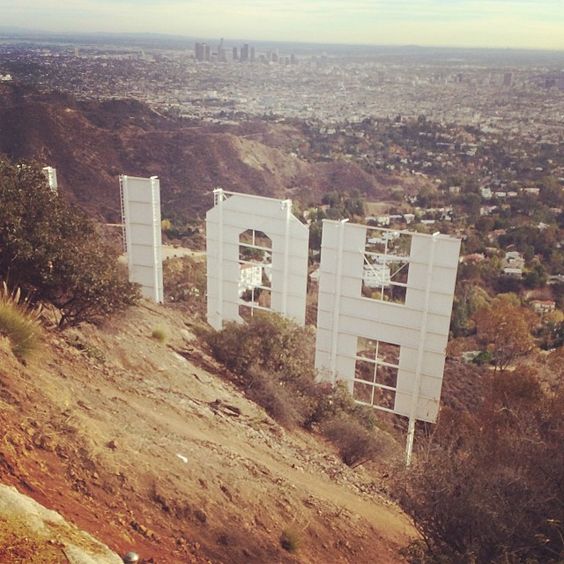 Hollywood Sign Hike
If you're coming to Los Angeles and want to see some sights and get in a workout, you must hike up behind the Hollywood sign! There's nothing quite like seeing the entire city from behind those big white letters. If you can, try to go with someone who's been before, as the instructions on getting there can be a bit confusing. But the end result is worth it!
LACMA
The Los Angeles County Museum of Art is the largest art museum in the Western United States, and is something you don't want to miss if you're in the area! Check their site to see which exhibitions are currently there, and make sure to take some photos of Urban Light, which is a collection of 202 restored cast iron street lamps… I'm sure you've seen it on Instagram!
Rodeo Drive
It wouldn't really be a trip to Los Angeles without a stroll down Rodeo Drive, would it? Now this famous strip is technically in Beverly Hills, which is West Hollywood's neighbor to the west. It's pretty fun to walk around the area, do some window shopping, and see what Rodeo is all about.
Hollywood Walk of Fame
For the ultimate tourists out there, make sure to stop by Hollywood Blvd. and see the most famous sidewalk there is. You can also make a stop at Grauman's Chinese Theatre to see a movie and see handprints, footprints and signatures from your favorite stars.
Where to Shop: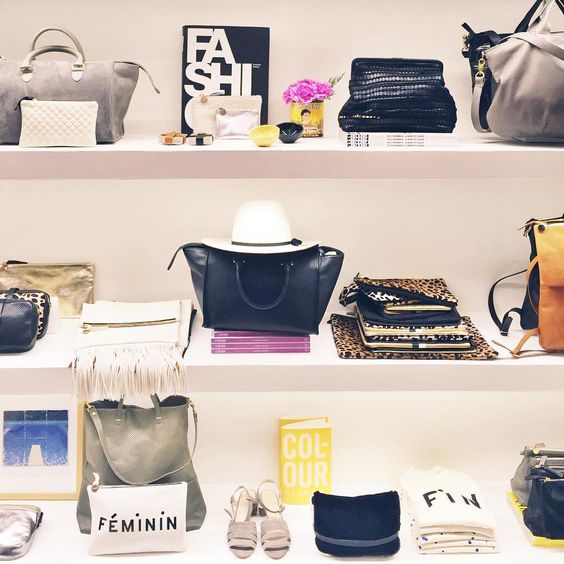 The Grove
It can get a bit crowded (especially on the weekends), but The Grove on 3rd and Fairfax has a pretty incredible selection of stores. Pop into Nordstrom, J.Crew, Anthropologie, Madewell, the Nike Store, the Apple Store, Laduree, Zara, TopShop, and so many more. Plus, you'll want to walk around the Farmer's Market at The Grove, which is full of fun spots to eat and shop.
West 3rd Street
This is one of my favorite streets to shop on in West Hollywood. Start at 3rd and Orlando and make your way East, and you'll find so many adorable boutiques and shops! My personal favorite is Polka Dots and Moonbeams, but if you walk up and down this street there's really something for everyone.
Melrose Trading Post Flea Market
If you're in West Hollywood over the weekend, I highly recommend heading to the Melrose Trading Post Flea Market on Sundays! It's held at the Fairfax High School, on the corner of Fairfax and Melrose, and is an amazing spot to do some serious treasure hunting. I have so many vintage finds in my home from that flea market, and whenever I bring out-of-towners there they love it!
Where to Caffeinate: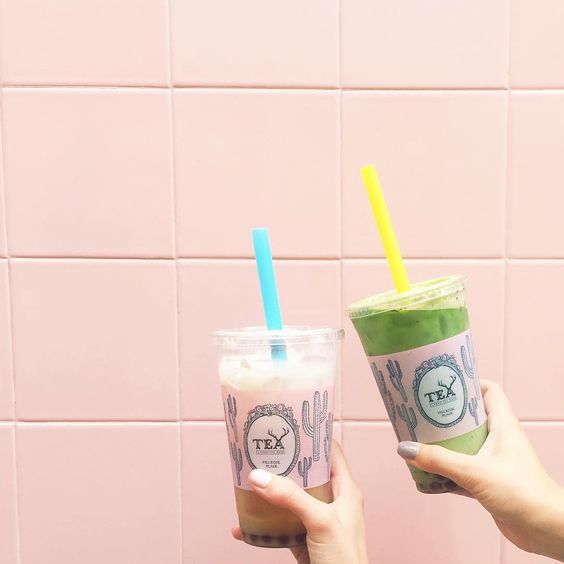 Verve Coffee Roasters
This cute coffee shop is a new favorite. It's a great place to meet up with friends or colleagues, and is also a good place to bring your laptop and get some work done. They also have really delicious baked goods and small bites, which is nice if you're stopping there for a morning coffee meeting.
Alfred Coffee (and Alfred Tea)
If you're a true coffee lover, Alfred Coffee on Melrose Place is one spot that you don't want to miss. If you're feeling fancy, try their $10 latte, which is 4 shots of espresso with Pressed Juicery almond milk. It's delicious, and will keep you wired for hours! Alfred also opened a tea shop around the corner, which is equally as good. Their boba is delicious, and if you're a tea person you'll be impressed by their selection. Plus, everything inside is pink, which is always a plus.
Urth Caffe
Urth has a great selection of organic coffee and teas, and is also a really fun people watching spot. It's just west of Melrose Place, and if you need coffee but you're hungry too, they also serve great food and desserts.
Where to Dine: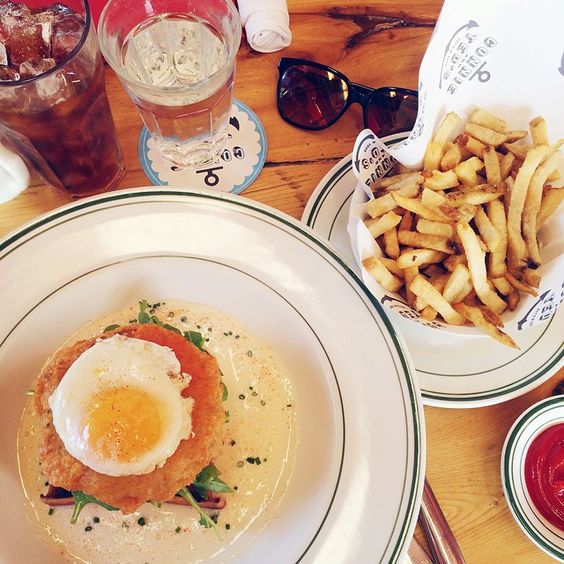 Connie & Ted's
If you love seafood, then you're going to want to make a reservation at Connie & Ted's. It's a good spot for brunch, lunch or dinner, and they also have a good happy hour. In addition to having delicious oysters and lobster rolls, Connie & Ted's also has really good cocktails and lots of craft beers to choose from.
Night + Market
This one is for the spicy food lovers out there… Night + Market serves spicy Thai food, so if you can handle a serious kick to your food, you won't want to miss this spot. They are also really accommodating to vegan and vegetarian diets, and can make many of their traditional dishes to suit your dietary needs. However, they won't make your food mild… so if you can't handle the heat, don't go here!
Zinque
Like many of my favorite restaurants in West Hollywood, Zinque is a great spot for brunch, lunch or dinner. They have a pretty outdoor patio, which makes dining there even lovelier. My personal favorites are Le Bowl, Tuna Tartare Tartine, and any of their pastries.
Gracias Madre
If you follow @LaurenConrad_Com on Instagram, you've probably seen your fair share of snow cone margaritas… which come from Gracias Madre! The cocktails are great, but the food is pretty special, too. Gracias Madre is a Mexican restaurant with an entirely vegan menu. It also boasts one of the prettiest patios in Los Angeles.
Izakaya by Katsuya
If you're heading to West Hollywood from out of town and are looking for exceptional sushi, you should probably make a reservation at Izakaya on West 3rd Street. From the spicy tuna on crispy rice to the baked crab hand rolls, it really doesn't get better than this spot.
Where to Sip: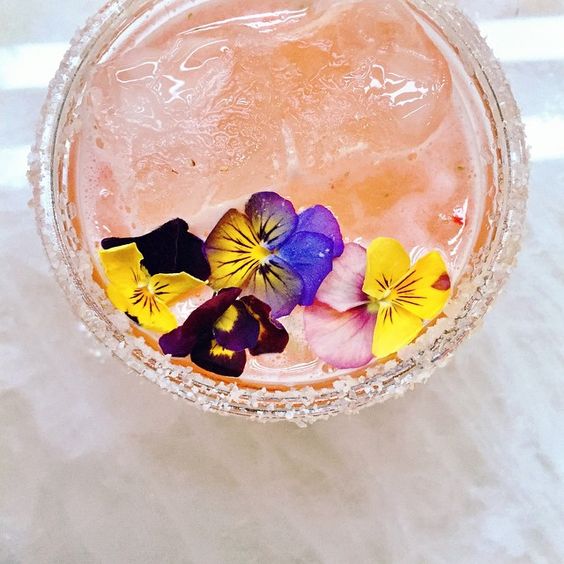 The Roger Room
Roger Room is a speakeasy that is a little hard to find (it's right next to Largo on La Cienega), but once you're in it's hard not to love. This spot is mixology at its best, and has a retro vibe that's pretty fun. Just don't get there too late… this place is small, so it gets packed pretty quickly.
Petty Cash Taqueria
For the best margarita, paloma and boozy agua fresca, head to Petty Cash. Their food is absolutely delicious too, so come for the cocktails but stay for the guacamole, ceviche and cauliflower nachos.
The Hudson
If you're searching for a spot in West Hollywood to drink bottomless mimosas while brunching, The Hudson is the place for you. It's a fun spot in the daytime and also at night, which is always a plus.
Eveleigh
Go to Eveleigh for the gorgeous views of Los Angeles, and also for their tequila lemonade. You won't be disappointed by either! This is another spot that also has really good food, so grabbing a bite to eat here is also recommended. Just be sure to make a reservation!
Where to Sweat: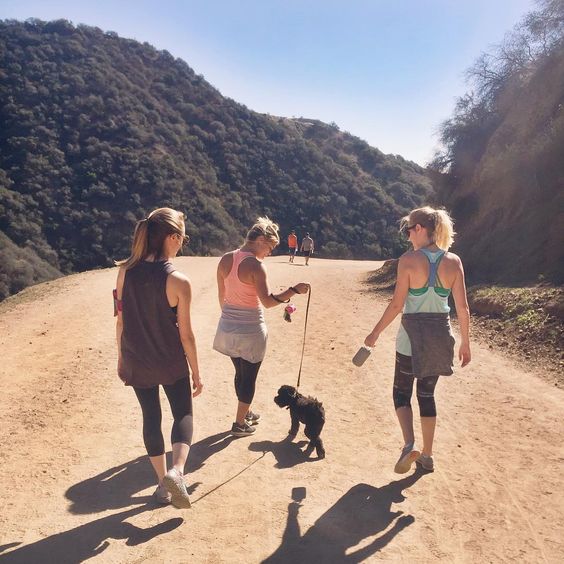 Runyon Canyon
If you're looking to get in a sweat sesh and also spend some time outdoors, Runyon Canyon is the best. It's located at the base of the Hollywood Hills, and has a few different trail options. It's super dog friendly, and is usually packed with Angelenos who are getting in a workout. On a clear day, you can see the entire city, in every direction. It's a pretty incredible view!
Sweat Garage
For an intense workout, my favorite spot is Sweat Garage. Their 60-minute High Intensity Interval Training classes are the absolute best for building endurance and muscle. The classes are super tough, but you'll feel amazing afterwards! Check out Kara or Beka's classes… they're the best!
Rise Nation
Classes here are only 30 minutes, and once you try it you'll see why. The entire class is done on a climber machine, where you're using your arms, legs and abs to climb as many feet as possible. It's not easy, but because it's only 30 minutes it's totally doable. Adam is my favorite instructor there… make sure to try out his class!
Modo Yoga
The only problem with this place is that it will get you addicted to hot yoga! Try a Modo Music or Modo Flow class, and you just might extend your trip so you can come back for more. Just make sure to bring a yoga mat, a towel, and plenty of water. And try booking classes with Angela, Alice or Erin. They are incredible!
Where to Relax: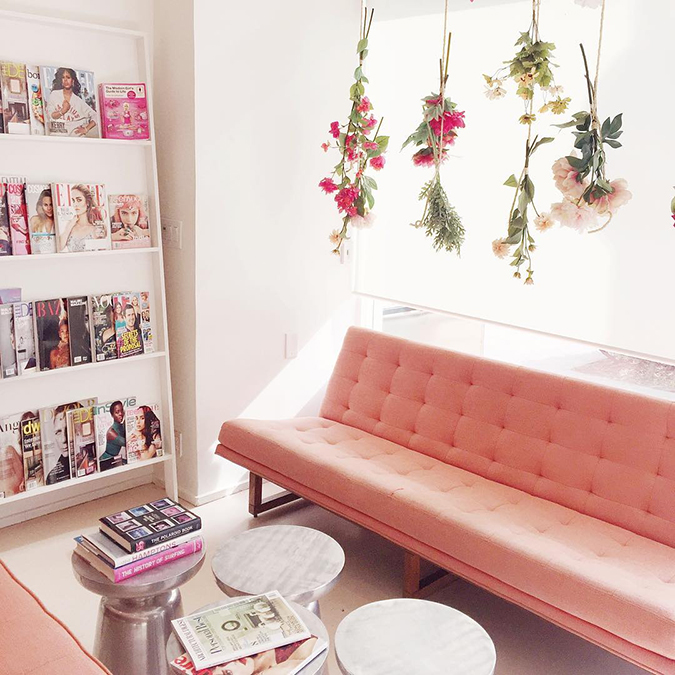 Olive & June
If you're visiting Los Angeles and are in need of a mani/pedi, there's only one place to go; Olive & June. If you're in West Hollywood, their Beverly Hills location is super close by. This salon is not only the prettiest out there, but you will also leave with the best manicure and pedicure you've ever had. Every single nail technician I've had there has been exceptional, so you really can't go wrong. And if you want some nail art, ask for Sam. She's so good!
The Now
Bright, airy, and oh-so-Instagram friendly… that pretty much sums up the waiting room of The Now, a massage studio on Beverly! But even better than the décor, the massages there are epic, too.
The Den Meditation
Head to The Den on La Brea (right next to Modo Yoga) for some serious zen. They have meditation classes focused on healing and mindfulness, and they also have workshops. If you're into meditation, give this place a try!
Where to Stay: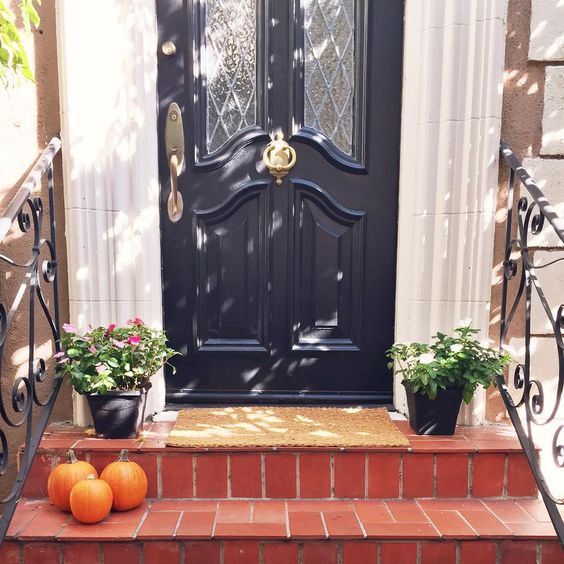 The Chamberlain
This is a super sweet boutique hotel right in the heart of West Hollywood. It was an old apartment building that was converted to a hotel, and it comes complete with a rooftop pool. This is where my parents stay when they come to visit, and they love it because of the amenities, but also because of the prime location.
Petit Ermitage
Petit Ermitage is also a boutique hotel in Weho. It's incredibly charming, and has a pool, a spa, and a gym. The rooftop is the perfect place for brunch or dinner overlooking the Hollywood Hills.
Chateau Marmont
If you want to go all out, then stay at the Chateau Marmont. This luxury hotel features bungalows, cottages and suites with an Old Hollywood vibe.
Airbnb or VRBO
Sites like Airbnb.com or VRBO.com have become really great options when traveling. You can find an adorable apartment or guest house to rent for a few nights at a price that's much less than most of the hotels around here.
And there you have it! If I missed any of your favorite spots, please share them with me in the comments.
What's your absolute favorite spot in West Hollywood? I'd love to know!
xo Rachel
Team LC
Photos: LaurenConrad.com