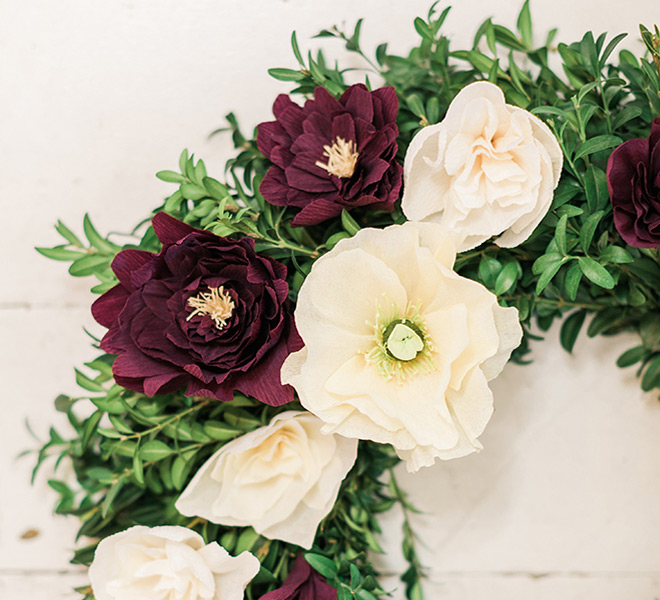 You might have noticed by now that when it comes to crafting, I go through little obsession phases with certain crafts. From knitting blankets and hats for my family and friends to painting an entire mini holiday village in pastels, I find it soothing to have a crafty project to constantly be working on. And, it's a great way to stay busy with my own hobby when William is watching sports TV. I call that a win-win! I became inspired to start my latest craft project when I stumbled across the crepe paper flower account @apetalunfolds on Instagram. As you can see, the entire feed is made up of delicate and intricate crepe paper flowers of all varieties. I could just picture these pretties adorning a holiday wreath this season, so I bought supplies and set out to do just that.
Today I'll be showing you the simple steps it takes to create your own crepe paper flowers, and how to attach them to your holiday wreath. This DIY isn't the type I recommend doing in a pinch—it's one that I find relaxing and enjoyable when I have a long, lazy afternoon of down time. Without further ado, here's how to make a DIY crepe paper flower wreath…


How to Make Crepe Paper Flowers
crepe paper in colors of your choice
small styrofoam balls (you can find these at your local craft store)
elmer's glue
floral wire (for attaching to wreath)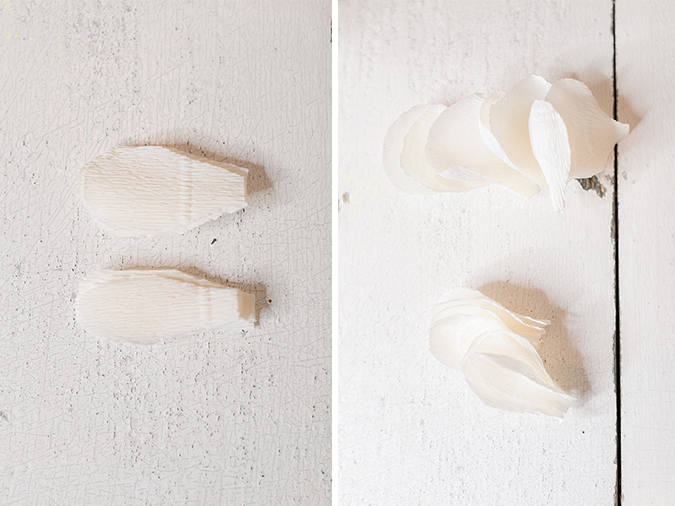 1. Cut your crepe paper into small petal-shaped ovals (like above). You will want two different sizes—one rounder and one longer—and about 25 petals in each size.


2. Now, there are two different types of flowers I like to make. The first uses the Styrofoam ball I mentioned above and the second does not. The steps for both are quite simple…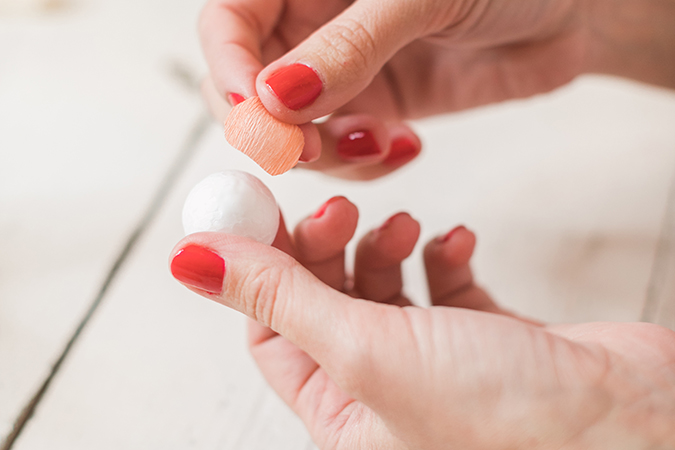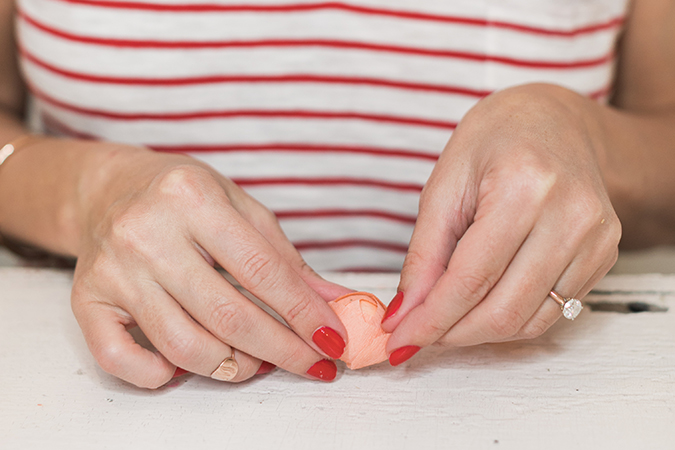 3. To make a flower using the Styrofoam ball, draw a line of glue onto your ball. Then, take one of your petals and stick it on the glue. Repeat this until the entire ball is covered in petals, and make sure all the tops of the petals are facing one direction and moving around the ball in a circle (just as the petals on a real flower would all "open up" from one center point). Keep layering petals on top of petals, beginning to glue just the bottom point of the petal, until you have a layered-looking flower.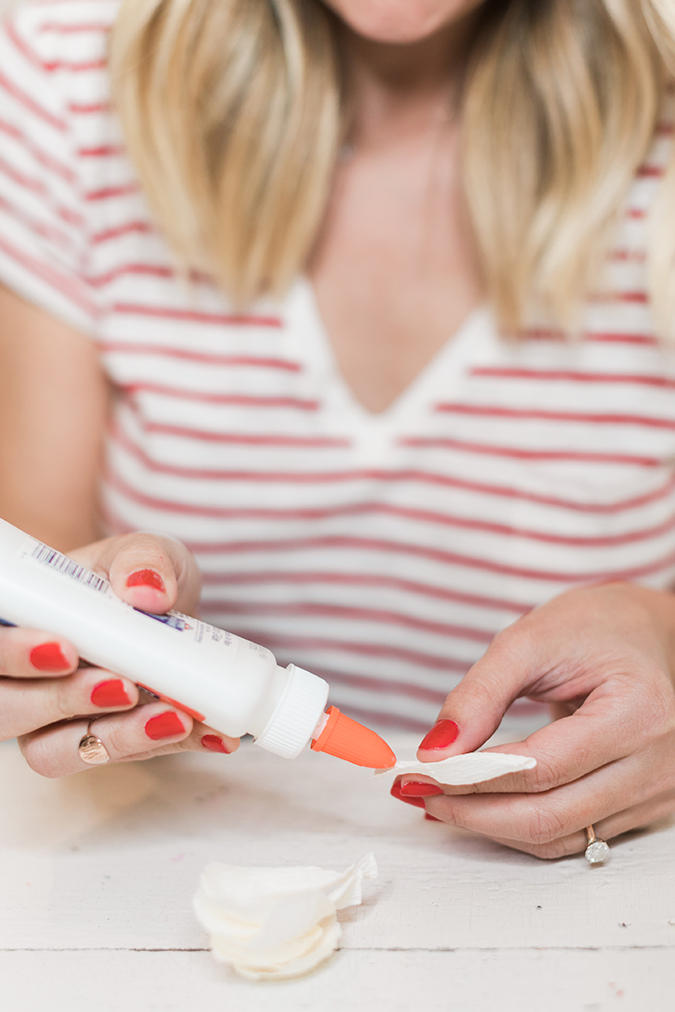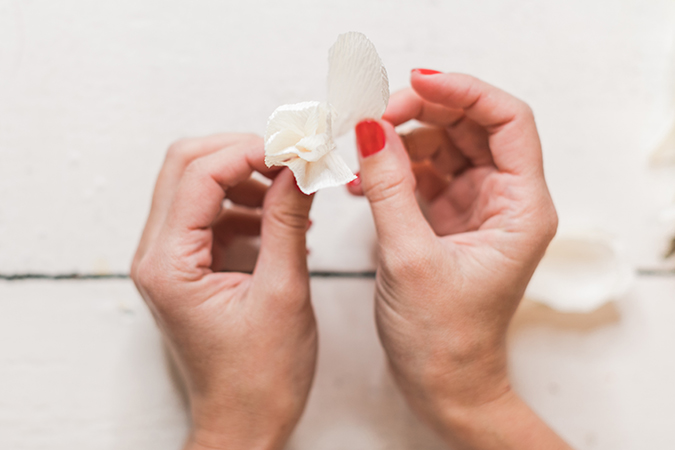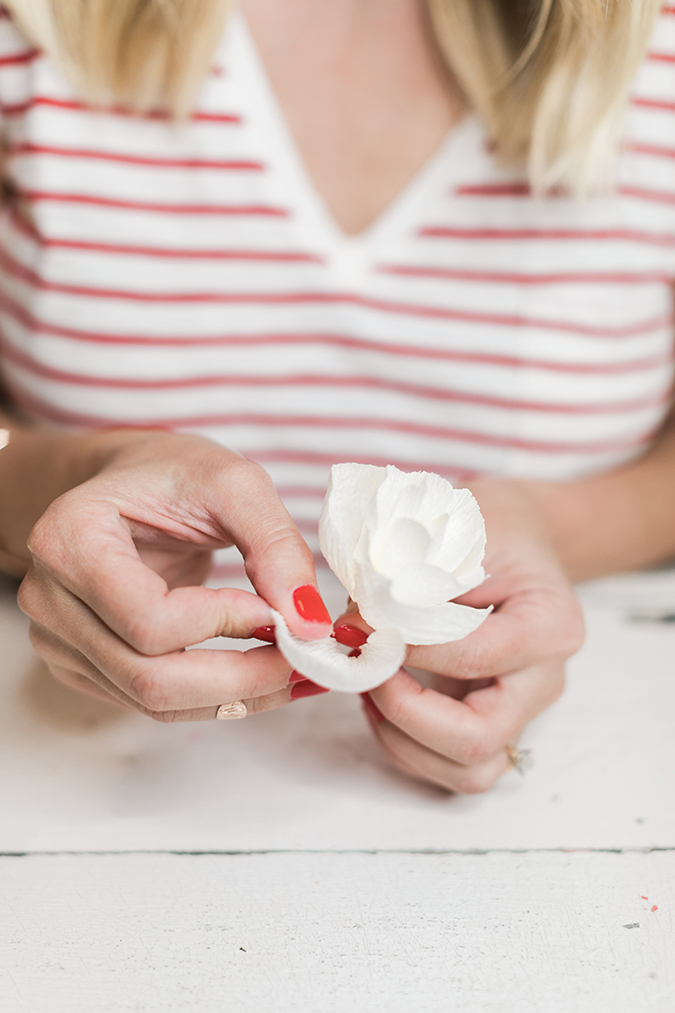 4. To make a flower without using the Styrofoam ball, start by gluing the bottoms of your petals to each other at the point. Continue layering petals by gluing their bottom points to the larger bottom point of all the petals, and make sure they all "open up" at one center point. Keep gluing and layering until your flower is as large and full of petals as you'd like it.


5. Once you have finished making your desired amount of crepe paper flowers, simply attach them to your holiday wreath of choice by wrapping a little floral wire around the stem and then wrapping it on the wreath. You can get creative with the placement, but I think it adds a little character to make little clusters on one side of the wreath so that it's asymmetrical and not so perfect. I also used green and yellow colored papers to make little stems and stamen in side of the middle of the flower, which I think adds a fun touch. But these flowers are just as pretty without it. My best advice for this craft? Just have fun with it!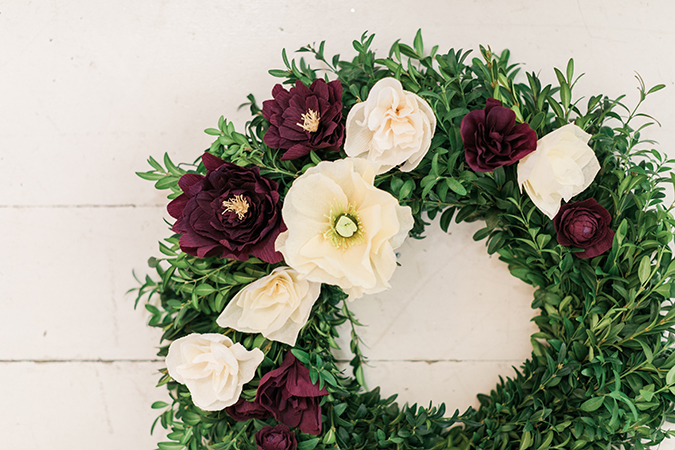 What types of flowers will you make when you try this tutorial?


Get some inspiration by looking at @apetalunfolds. The options are endless! I think I'm going to have to try those festive poinsettias next time. And stay tuned—I might be doing more crepe paper flower tutorials in the new year! It's one of my favorite crafts of the moment right now.