Recipe Box: Healthy Homemade Granola Bars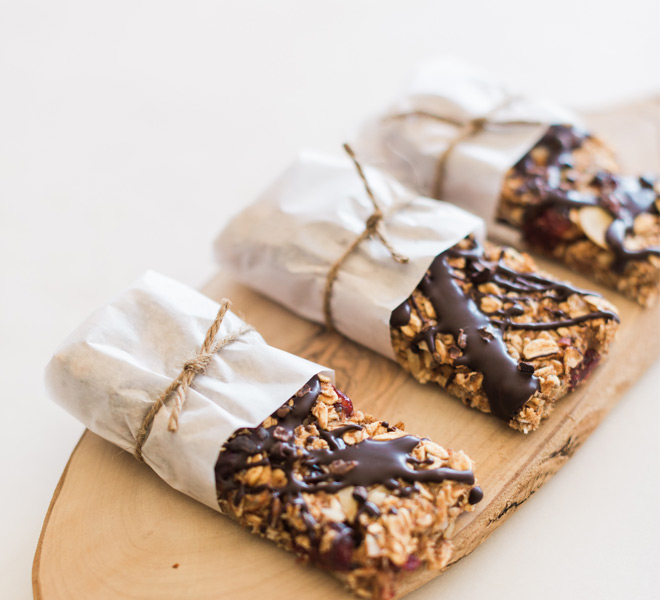 As all of you who read the site regularly know by now, I am a do-it-yourself girl at heart. Whether it's creating a recipe from scratch, making a craft, or planting a garden—you name it—I like to roll up my sleeves and give things my own touch by doing it myself. The latest project that fell into this DIY category are none other than healthy granola bars. I hear so many things about how packaged granola bars from the grocery store have too much sugar, too much processing, too much salt… and so on. So, I thought I'd get together with my friend Lauren Lowstan and take a shot at making a healthy on-the-go granola bar with ingredients I knew for a fact were healthy and wholesome. The recipe Lauren came up with was delicious and healthy, so I wanted to share it with all of you today… Check it out below. Enjoy!


Healthy Homemade Granola Bars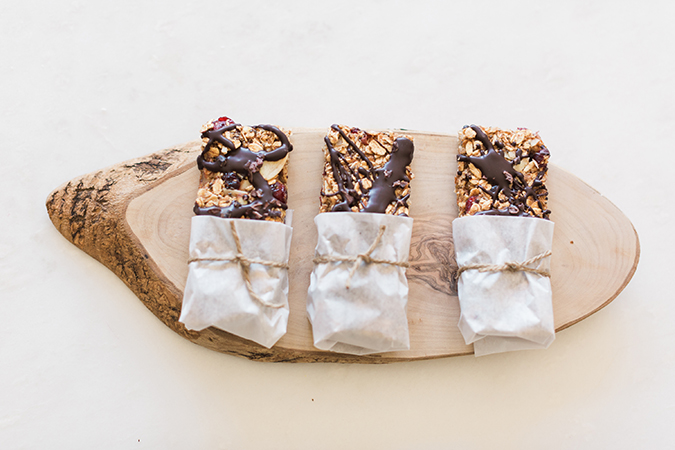 1 ½ cup old fashioned rolled oats
2 tablespoons chia seeds
½ scoop protein powder (we used this one)
¼ cup slivered almonds
¼ cup dried cherries
1 ½ tsp cinnamon
½ tsp salt
1 tablespoon coconut oil, melted
½ cup raw honey
¼ cup + 2 tablespoons almond butter
1 tablespoons vanilla
8 oz. dark chocolate (in any form you want)
¼ cup cacao nibs


1. Preheat your oven to 325 degrees. Spray a 9-inch pan with nonstick spray and line it with parchment paper. This will make it super easy to take out the cooked bars! Set aside until ready to use.


2. In a large bowl combine oats, chia seeds, protein powder, slivered almonds, dried cherries, cinnamon and salt. In a separate, smaller bowl combine the coconut oil, raw honey, almond butter and vanilla and whisk until combined. Add the wet ingredients into the dry ingredients and with a spatula, completely combine all ingredients.


3. Pour your mix into your lined pan and firmly press the mixture with your hands or spatula so it's packed in tight.


4. Bake in your preheated oven for 15-20 minutes. You will want the top to be a nice light golden brown. Let the bars cool for 10 minutes and then pop them in the freezer to chill faster. Once the bars are nice and firm, you can cut them into whatever shape you want.


5. Melt the dark chocolate in a small glass bowl in a microwave or in a double broiler. Take a fork and splatter or drizzle your bars with the chocolate. I like using a fork to get a more rustic chocolate design on the tops. Before the chocolate hardens, sprinkle to top with cacao nibs.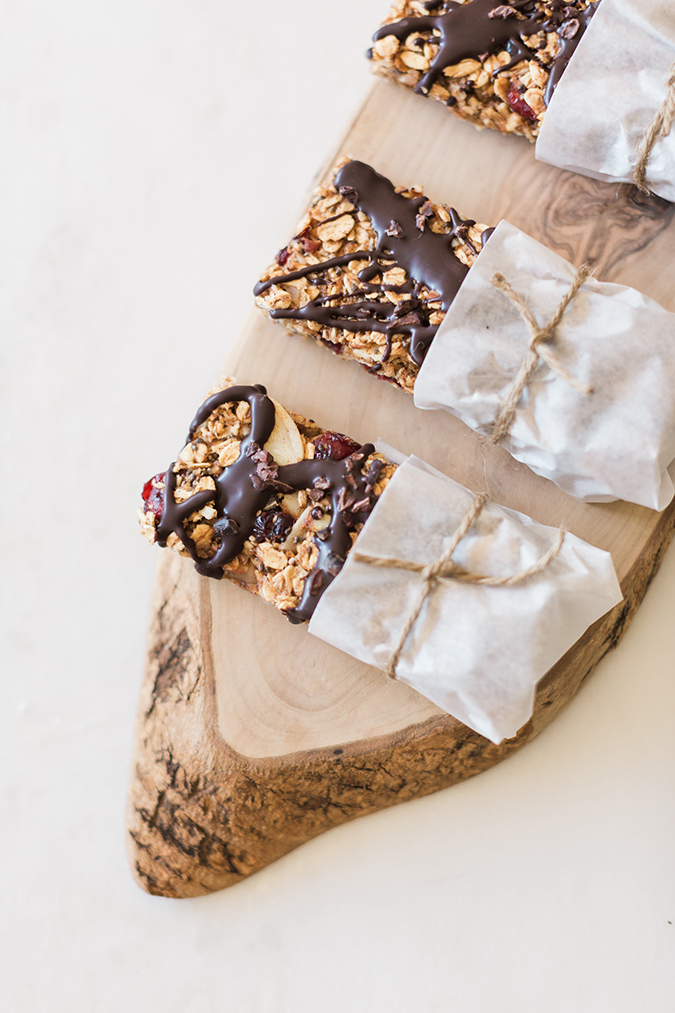 And there you have it! Pretty simple right? Enjoy these granola bars as a healthy midday snack. Or, if you have little ones, pack them in their lunch for a healthy twist on a homemade dessert.


What fun ingredients will you add into your granola bars?


The options are endless, so have fun with it!