Green Thumb: The Easiest Houseplants to Keep Alive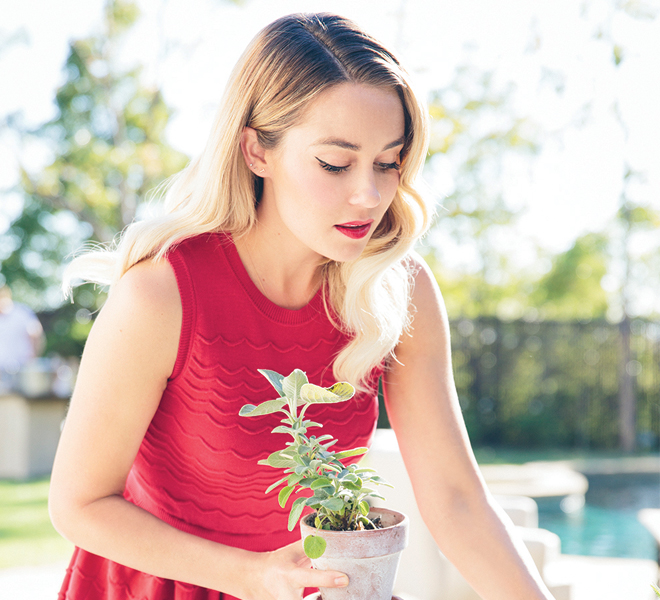 Let's be honest: When it comes to gardening, not all of us are blessed with a green thumb. While I haven't always been particularly gifted when it comes to keeping my plants alive, I have always loved being in a garden. For my 12th birthday, I asked for my own rose bush to plant in our yard. Even today, I grow roses in our yard and keep a couple raised beds to grown simple herbs and vegetables. That said, I do still struggle with the plants that grow (or that I try to grow) inside our home. More often than not, we find that our green thumbs just don't live up to our expectations… Especially when it comes to indoor plants, which can be tricky to keep alive. So today, with the help of one of our favorite LaurenConrad.com illustrators, Alexz Fajardo, I'm going to break down which houseplants are the easiest to keep alive and some tried-and-true tips for caring for your indoor plants. This little gardening hack is sure to have your next guests thinking your green thumb is in full force!
Ready to add a little life to your space? Here we go…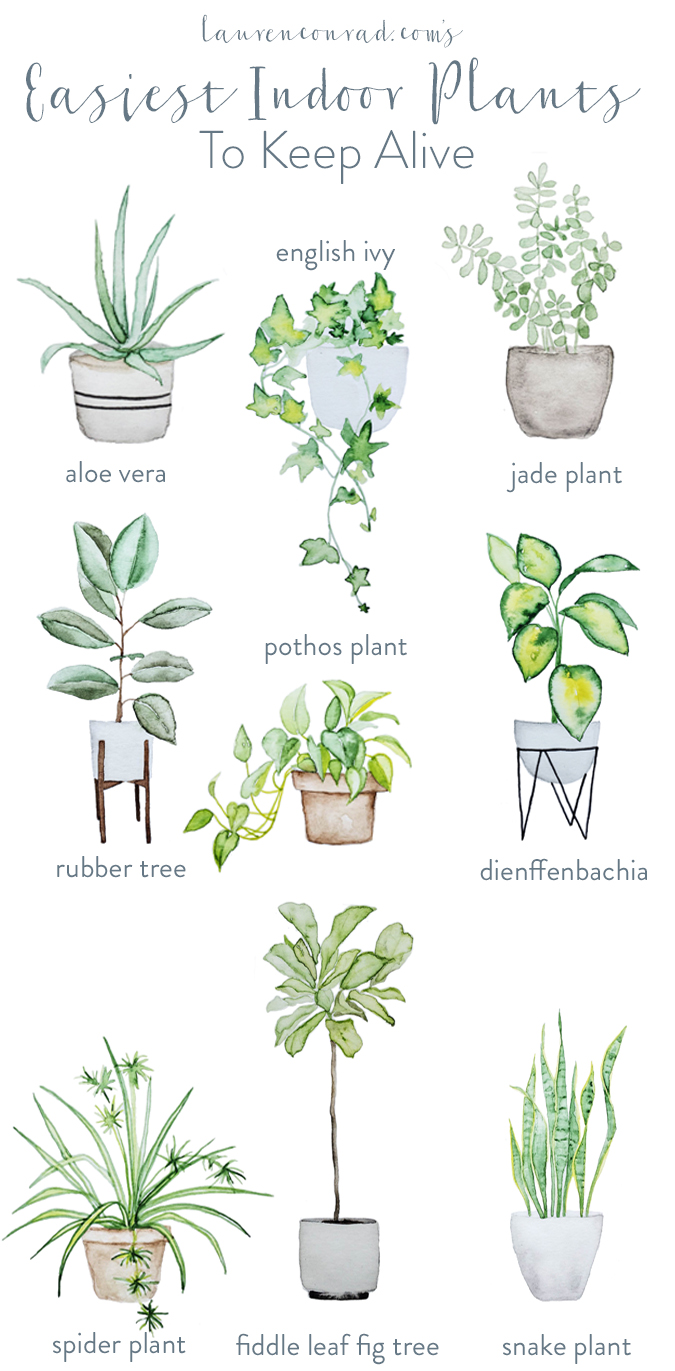 As you can see above, each of the plants above adds a gorgeous touch of life and nature to any room. Now, after seeing which plants are easiest to grow indoors, I'm going to answer some frequently asked questions I often hear about how to keep houseplants alive and thriving…


How much sunlight should it get?
I always find that my houseplants do best when they're placed in direct or indirect sunlight. This means placing them close to a window that lets in a lot of natural light. I have fiddle leaf fig trees in several rooms in my home, and the more sunlight they get, the greener the leaves appear. It's also important to find where the south-facing light is coming into your house. South-facing windows often provide the brightest stream of all-day light, whereas north-facing windows have the lowest light. East- and west-facing windows aren't the best place for your plants as they won't get light all day long, and west-facing windows will actually add more heat.


How often should I water it?
Watering houseplants is a tricky balance—you of course don't want to underwater them, but you also want to be careful of overwatering. Giving your plants too much water might seem like you're taking care of them, but it's actually one of the easiest ways to lose your plants. The easiest test to see if your houseplant needs water? Stick your finger about an inch or two into the soil near the edge of the pot, and if the soil is dry, your plant is thirsty. Make sure the pot you have your plant in has drainage holes so that the roots stay healthy, too. When watering, give your plant enough so that it soaks the soil, but then make sure to pour out any excess water about 30 minutes later—that water will no longer be absorbed by the plant. I like to water my house plants once every 3-4 days, but you will really need to just get used to your plant to see when the soil has dried out. 


Should I fertilize my houseplant?
Houseplants, unlike potted or ground-planted plants, do not require fertilizer in order to thrive. In fact, many houseplants will never need fertilizer. So, in short, you do not need to fertilize your indoor plant. But if you have one that has been growing in the same pot and soil for several years (like my 4-year-old fiddle leaf fig tree), talk to an expert at your local nursery who might recommend a mild fertilizer to get those vitamins and minerals back into the soil.


How will I notice if my plant is struggling?
If your plant is growing at an extreme tilt, you might have root rot and will need to first let your soil dry out, and later practice watering less. A little lean toward the sunlight is OK, it just means your plant is attracted to those sunbeams! If you notice your plant leaning, rotate it every so often.
Another dead giveaway for root rot is if you notice a rotten egg smell coming from your plant. This is tricky to fix, as you will have to cut the parts of the root that are rotted in order to save your plant. My best recommendation in this case is to take your plant into your local nursery and have them work some magic.
If you notice a white crust or buildup on the leaves of your plant or the pot, no need to worry—that's just a sign of mineral buildup from your water. I like to use filtered water for my indoor plants as it prevents this mineral buildup. I have a little trick I use—any time I have a guest over who pours themselves a glass of filter water but doesn't finish it, I pour that water into my plants after my guest has left. That way, I conserve water and water my plants. It's a win-win!
If notice that your plant's leaves are falling off or appear pale green or yellow, you need to put it in a place with more light (and probably less water). Fallen or misshapen leaves are a sign of not enough sunlight, and yellowing is a sign of overwatering.
And lastly, if the green leaves of your houseplant appear dirty or dusty, it's a good idea to wipe them down with a soft damp cloth. I find that old cotton T-shirts work perfectly for this! Dust can interfere with how well the plant "breathes" through its leaves, and could cause problems down the line. Plus, your plant will look so much more vibrant with clean, shiny leaves.
Which of these easy-to-grow houseplants will you add to your home décor?