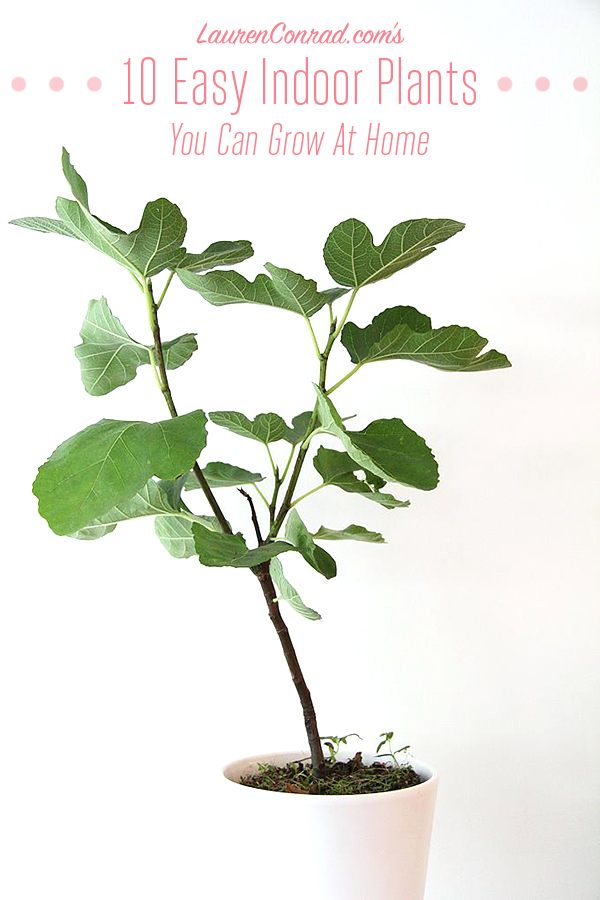 I'm a big fan of having a few indoor plants in my home. Not only are they decorative, they also add life to my space, and can come with some pretty great benefits too. Houseplants can increase oxygen levels in your home and can remove harmful chemicals found in cleaning solvents like benzene, formaldehyde, and trichloroethylene. They're also quite easy to grow, so for those of you who have more of a brown thumb than a green one, these plants are a great place to start.
I love the plants I've grown in my home. (I've grown a little attached to them at this point!). So today I thought I would share a list of the 10 easiest indoor plants you can grow yourself. Get ready to be inspired by these interior décor showstoppers…
1. Fiddle Leaf Fig Tree
This one is probably my favorite out of the whole bunch. I have had a gorgeous fiddle leaf tree in my living room for years. It's been fun to watch it grow (they grown pretty fast), and become so tall that it almost reaches my ceiling. The dark green leaves have a lovely, rubbery texture. This plant loves bright, indirect light, so place yours near a window and allow soil to dry in between watering. (Be warned that these trees are poisonous to pets. Luckily, the leaves really won't drop unless the plant is not being taken care of properly, but just be mindful of this if you have pets.)
2. Succulents
Succulents are a very "trendy" plant right now and it's no mystery why: They come in a rainbow of greens, purples, yellows and blues, and they are nearly impossible to kill. They don't need much water, so allow the soil to be dry most of the time and place them somewhere they will get plenty of sunshine. 
3. Snake Plant
Snake plants can have a very cool, modern look in a house—especially when they're planted in gorgeous copper pots like the repurposed ones above! The variegated leaves grow upright and can have yellow or white edges. You can grow these guys in pretty much any lighting condition; just be sure to keep the soil pretty dry most of the time. 
4. Cacti
Cacti, like succulents, are also having a moment right now. They give off instantly cool California vibes when they're added to modern, minimalistic décor. They do best planted in pots that allow for a lot of drainage, and when planted with southern-facing lighting. You don't need to water cacti often. Give them a little drink when the top ½ inch of the soil or moss is dry.
5. Aloe Vera
This plant of the succulent variety can grow up to three feet high, making it quite a statement plant. Keep it at room temperatures of around 70 degrees and give it lots of sunlight, watering infrequently.
6. Rubber tree
Rubber trees are probably my next favorite indoor plant, after fiddle leaf trees. The leaves are a beautiful oblong shape and they have a gorgeous texture to them. Bright, indirect sunlight is best for these trees, so place them next to a window that has blinds, shutters or sheer curtains. And allow the soil to dry slightly in between watering.
7. Shamrock Plant
A sweet shamrock plant is a great variety of greenery to place on your mantle, console or kitchen windowsill. They will even bloom little white flowers on their stems. Give yours indirect or filtered light and water the soil once a week, allowing it to dry thoroughly in between.
8. Fiji Palm
The dwarf version of this tropical Fiji palm adds a really colorful and bold touch to any home. I love how the palm leaves look like rounded fans—different than the usual feathered leaves we often see around Southern California. This plant thrives in warm temperatures, and most are shade tolerant, if not shade loving. Infrequent watering is recommended.
9. Calathea
This dark purple and green-leafed plant will look great in any corner of your home in a bright white planter. Just make sure it has moderate shade to indirect light (they don't do well with strong sunlight). And keep the soil moist at all times.
10. English Ivy
The cascading greenery of an English ivy is the perfect, subtle touch of nature for your home. And according to WebMD, it's one of the most air-purifying indoor plants. It's also a great hostess gift when presented in a pretty basket or vase. English ivy is also easy to care for in your home. They do best in cooler temperatures, and with moist soil.
Now, I just want to know one thing…
Which of these indoor plants will you add to your décor?
Sound off in the comments below!
XO Lauren