Edible Obsession: Palm Tree Beach Donuts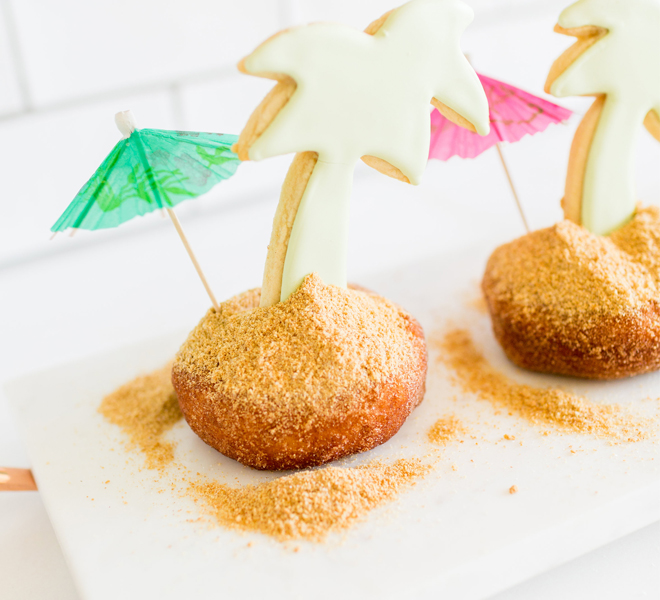 Nothing says sweet summertime quite like some rest and relaxation on the beach. Unfortunately, not everyone lives next to a sparkling body of water and you may have to do some improvising. If beating the heat requires you to stay indoors this season, bring a little beach to the kitchen with this adorable dessert recipe from my friend Lauren Lowstan. Feeling inspired by the recent heat wave in Southern California, Lauren and I thought it would be fitting to create a dessert to match the weather. The result? One of my absolute favorite desserts, ever.
Trust me when I say that you're going to want to recreate these palm tree beach donuts. Not only do they make you want to go on a tropical vacation, but they're as sweet and delicious as can be. Plus how cute are the edible sand and beach umbrella garnishes? Roll up your sleeves ladies, and let's get baking!


2 cups cake flour
2 teaspoons baking powder
1 teaspoon salt
¾ cup granulated sugar
¾ cup buttermilk
2 eggs
1 tablespoon vanilla
1/4 cup melted butter


For the cinnamon sugar coating:
2 cups granulated sugar
1 tablespoon cinnamon
½ cup melted butter


1. Whisk flour, baking powder and salt in a medium bowl. In a separate large bowl, whisk sugar, buttermilk, eggs, and vanilla and ¼ cup butter. Add your dry ingredients into your wet and whisk just until combined. Try not to over mix or else your batter will be tough.


2. Butter or spray your donut pan and preheat oven to 350 degrees. Add some donut batter into a large piping bag and fill each donut cavity until ¾ of the way full. If you don't have piping bags, don't worry—use a spoon instead. Piping bags just give you a more even distribution. Bake the donuts for about 7 minutes, or until a toothpick comes out clean when inserted.


3. Let the donuts cool in the pan for about a minute, then flip onto your work surface and let cool. Repeat until all of your batter is baked.


4. Once your donuts are all baked and popped out of the pans, it's time to cover them in a cinnamon sugar. Melt ½ cup of butter in a small bowl. In a separate small bowl, whisk the cinnamon and sugar until combined.


5. Working with one donut at a time, dip each side lightly into the melted butter, and then dunk into the cinnamon sugar. Make sure the entire donut is covered in cinnamon sugar. Repeat this process until all of the donuts are covered. Set aside until you're ready to assemble the donuts.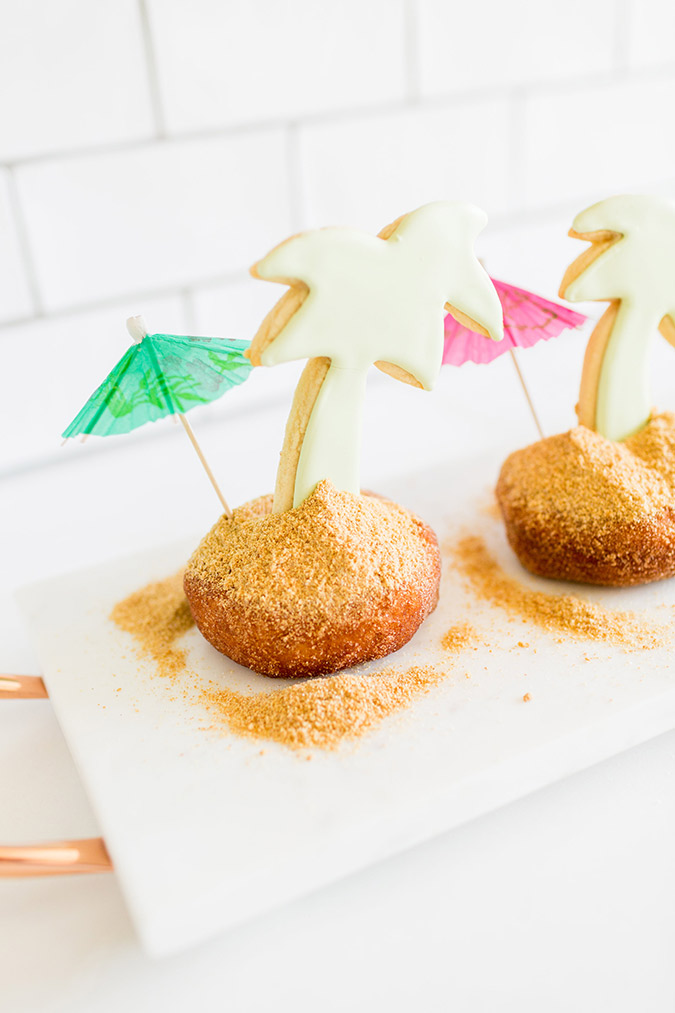 2 cups sweetened shredded coconut
2 cups graham cracker crumbs
1 cup brown sugar
1 cup granulated sugar


1. Preheat oven to 350 degrees.


2. Place coconut on a baking sheet and bake in preheated oven for 10 minutes, or until coconut is a nice golden brown.


3. Combine toasted coconut, graham cracker crumbs, brown sugar, and sugar in a food processor. Process until everything turns into fine crumbs, like sand. Set aside until you're ready to assemble the donuts.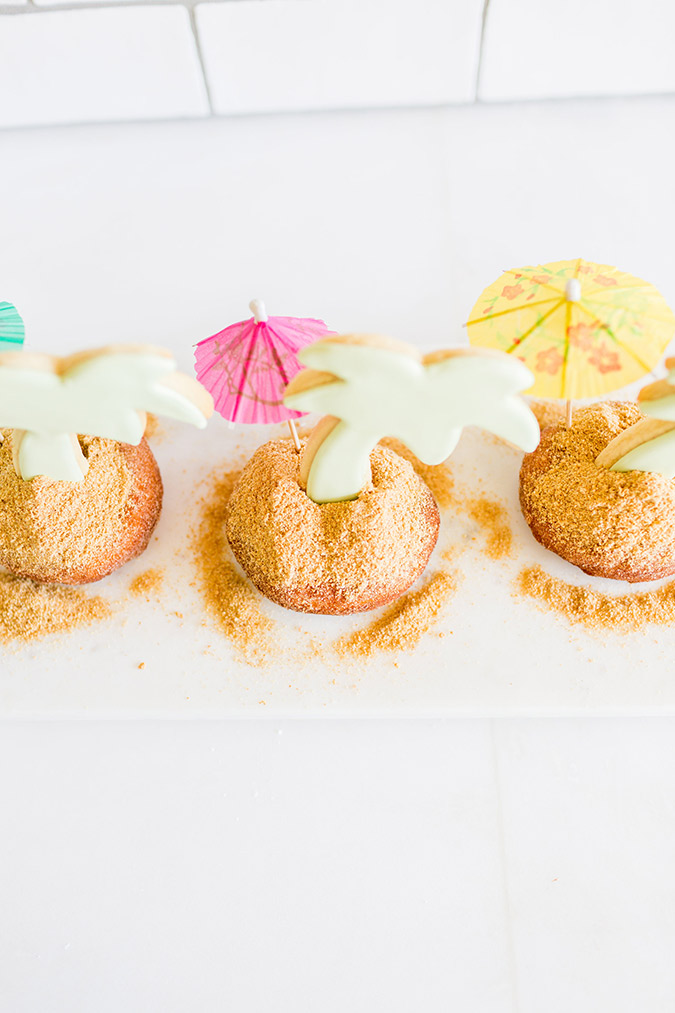 Be sure to make the palm tree cookies a day in advance so that the icing has time to completely harden.


1 ½ cups unsalted butter, room temperature
1 cup granulated sugar
1 cup powdered sugar
2 eggs
1 tablespoon vanilla
3 ½ cups all purpose flour
½ teaspoon salt
½ teaspoon baking powder
palm tree cookie cutter


2 tablespoons meringue powder
¼ cup + 1 tablespoon water (plus more if needed)
4 cups powdered sugar
1 drop green gel food coloring


1. In a stand mixer fitted with a paddle attachment, beat the butter and both sugars until creamy, about 3 minutes.


2. Add in the eggs and vanilla and beat for one minutes, until thoroughly combined. Make sure to scrape down the sides of your bowl occasionally.


3. Add in your flour, baking powder and salt, and mix just until combined.


4. Form your dough into a disk and cover with plastic wrap. Refrigerate until lightly chilled, about 20 minutes.


5. Roll out your chilled dough, on a lightly floured work surface, until it is about ¼ – ½ inches thick. I prefer mine of the thicker side.


6. Cut out your dough with a palm tree cookie cutter, and them onto a parchment lined baking sheet, spacing about 2 to 3 inches apart.


7. Place your baking sheet in the fridge or freezer, and keep in there until cookies are nice and hard.


8. While cookies are hardening, preheat your oven to 350 degrees.


9. Once the cookies are hard, bake for about 10 minutes, or until the edges are completely cooked and a light golden brown.


10. Let your cookies cool completely on a wire rack.


11. While your cookies are cooling, make your royal icing. In a small bowl, whisk the meringue powder and water together, until light foam forms. Add this mixture into a bowl of a stand mixer fitted with a paddle attachment.


12. Add in the powdered sugar and green gel food coloring and mix until the icing becomes fluffy and light. This will take a good couple of minutes. Don't skimp on this part! If the mixture seems too thick, add in a couple drops of water. Remember, a little water goes a long way when making royal icing. Test your icing to see if it's at the desired thickness. Take a spoonful of the icing and let it run back down into your bowl. You want the icing to fall down into an even stream, not big clumps of thick icing. You also don't want it as thin as water. Make sure to keep your icing covered with plastic wrap at all times, or else it will create a crust.


13. Fill a large piping bag with royal icing (no piping tip) and cut off the smallest amount off the corner of the bag. Outline each cookie with the royal icing and then fill it in with a generous amount of icing. Smooth it out with a small offset spatula or a toothpick. Lightly tap the cookie onto your work surface to get any air bubbles out and to even out the icing.


14. Let your cookies cool completely overnight.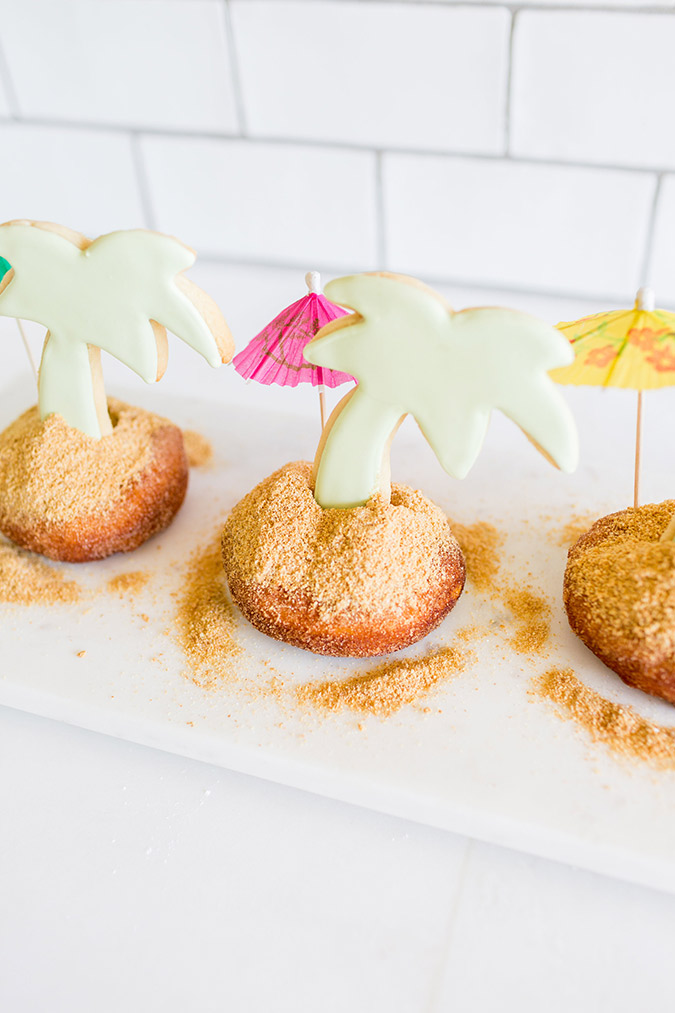 Palm Tree Beach Donut Assembly
1. To assemble your palm tree beach donuts, take a palm tree cookie and insert it into the center of your donut. Repeat this step until all of your palm trees and donuts have been paired up.


2. Sprinkle your coconut sand on top of the donut and around the donut hole. Be sure to thoroughly coat your confection so that you cover up where the palm tree cookie meets the donut.


3. For the finishing touch, add a cocktail umbrella to each donut to create the ultimate beach set up!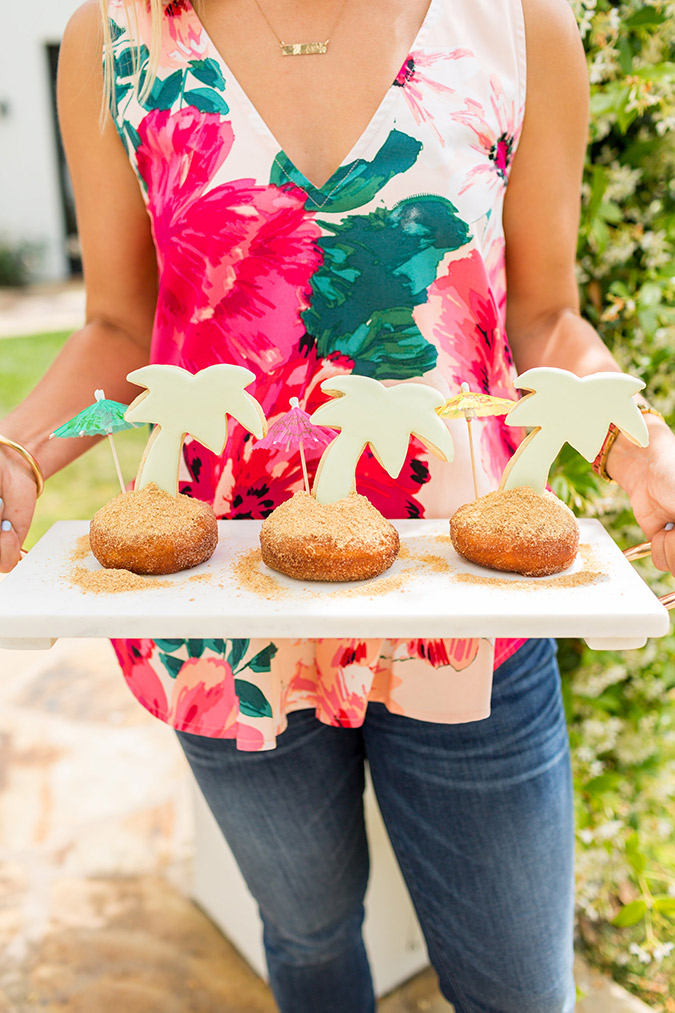 These have to be the cutest desserts we've ever made for LaurenConrad.com, don't you think?


Will you be recreating these palm tree beach donuts?


If you do, don't forget to snap a photo and tag @laurenconrad_com on Instagram or hashtag #lcdotcomloves!