Edible Obsession: Mini Strawberry Shortcakes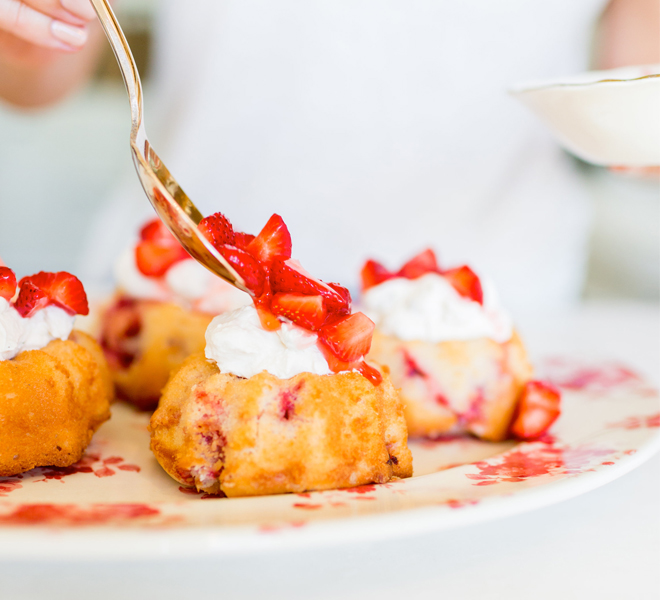 The Fourth of July is just a few short days away, and in my house that means I am already prepping my menu for the occasion! I have to say, our friend and resident baker, Lauren Lowstan, always does an amazing job with the recipes she whips up for us, but she really outdid herself with these sweet Strawberry Shortcakes. They pretty much scream summer, and will easily complement any main course you're grilling up this Independence Day. (Plus, how patriotic do these fiery red strawberries look?)
I know that when I'm craving a summery treat, I tend to want something that won't make me feel sluggish and full of sugar, and that's exactly why I love this recipe. These shortcakes are so fresh and light that they don't slow me down when I'm trying to enjoy the party. Anyway, don't just take my word for it. Try your hand at them with this super simple recipe…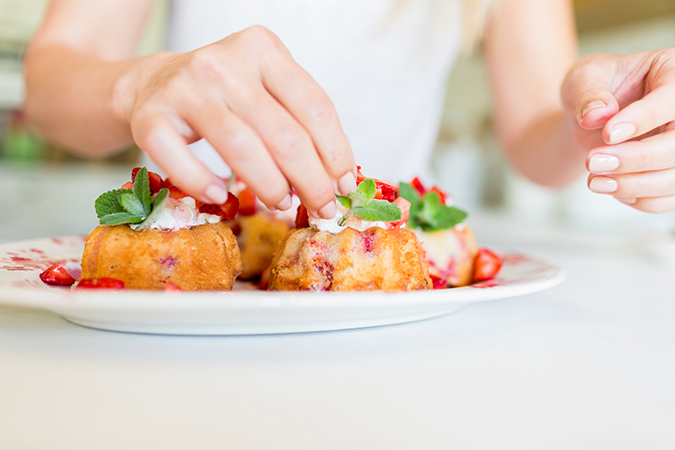 Mini Strawberry Shortcakes
3/4 cups salted butter, room temperature
1 cup + 2 tble granulated sugar
2 egg whites
2 tsp vanilla extract
1 1/2 cups cake flour
1/8 tsp baking soda
1 1/4 tsp baking powder
1/8 tsp salt
3/4 cup buttermilk
1/2 cup fresh strawberries, chopped small
1 Tbsp fresh mint, finely chopped


1 cup heavy cream
1/4 cup powdered sugar
1 tsp vanilla
1 Tbsp fresh mint, finely chopped
2 cups fresh strawberries, chopped small
1 Tbsp granulated sugar
Mini bundt pan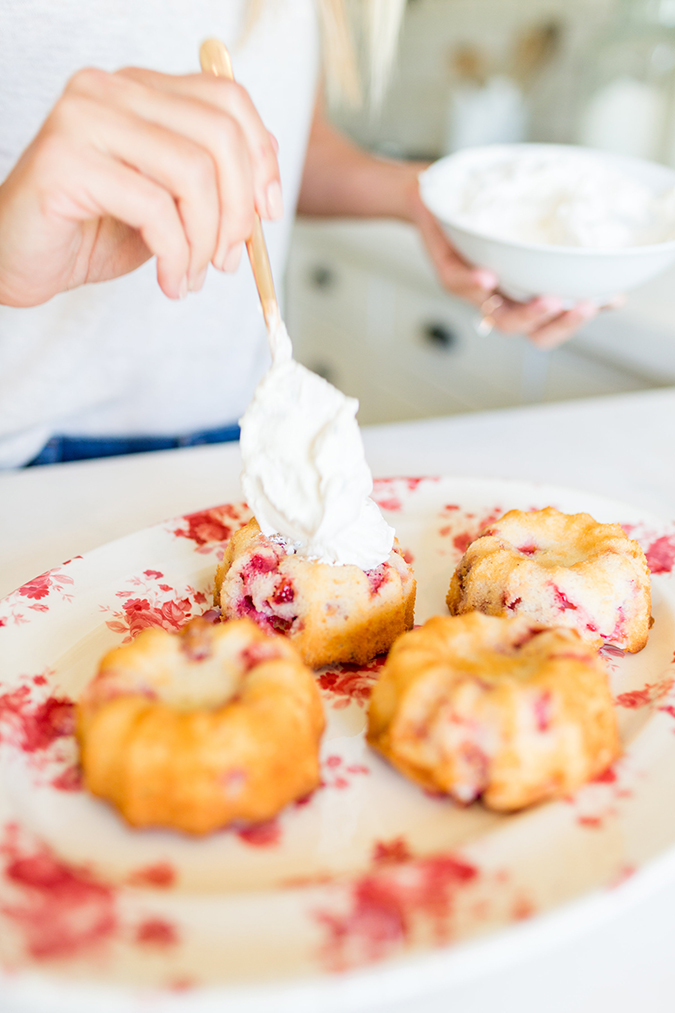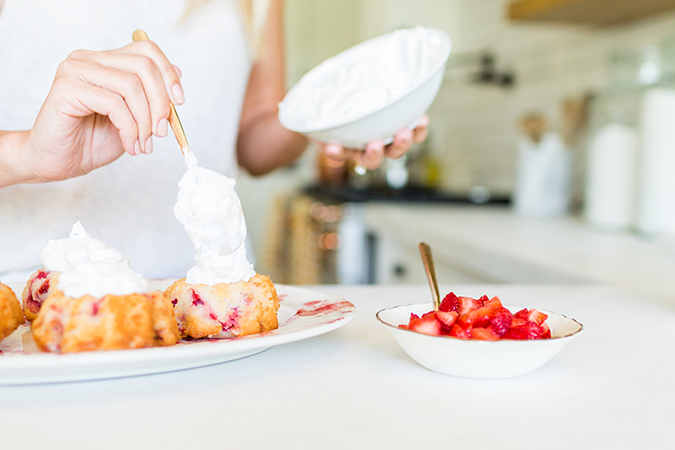 1. Preheat the oven to 350 degrees.


2. Spray your mini bundt pan with cooking spray and set aside until ready to use.


3. To make your batter, beat the butter and sugar in a mixing bowl fitted with a paddle attachment, on medium speed for about 2 minutes, until light and fluffy. Scrape down the sides of the bowl a couple times.


4. Add the egg whites and vanilla and beat until they are completely incorporated into the mix.


5. Whisk the flour, baking soda, baking powder and salt in a separate bowl.


6. Add the buttermilk and beat only for a few seconds until slightly incorporated. Add the dry ingredients and beat on medium speed for about a minute. The batter will be nice and glossy. Add in the strawberries and mint and fold in with a spatula.


7. Fill each cavity 3/4 of the way full and bake in your preheated oven for about 25-30, or until a toothpick inserted comes out clean.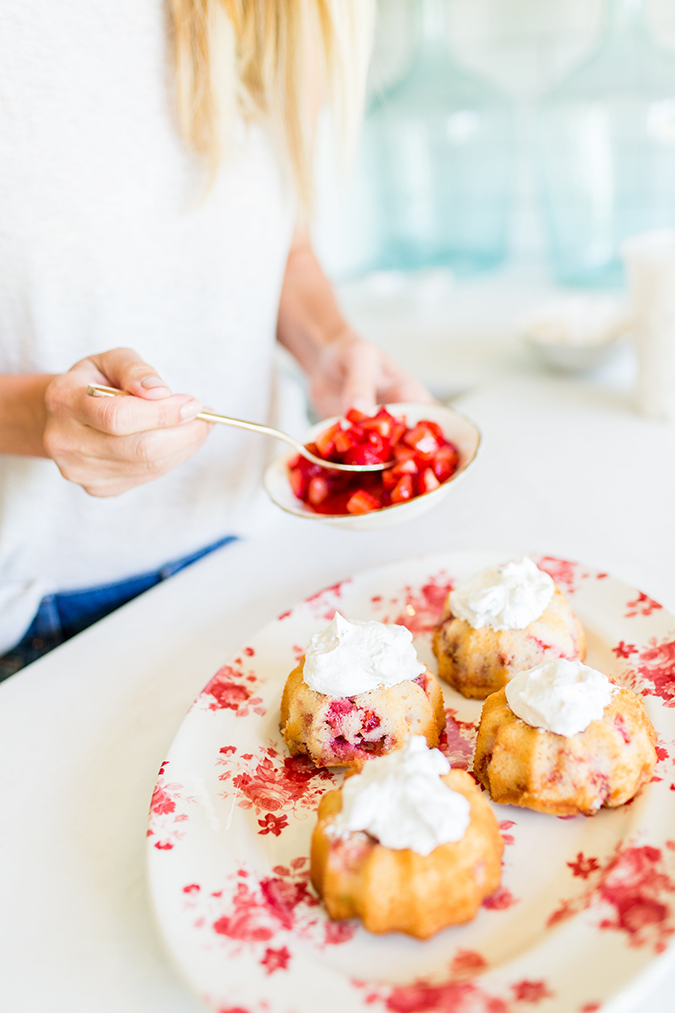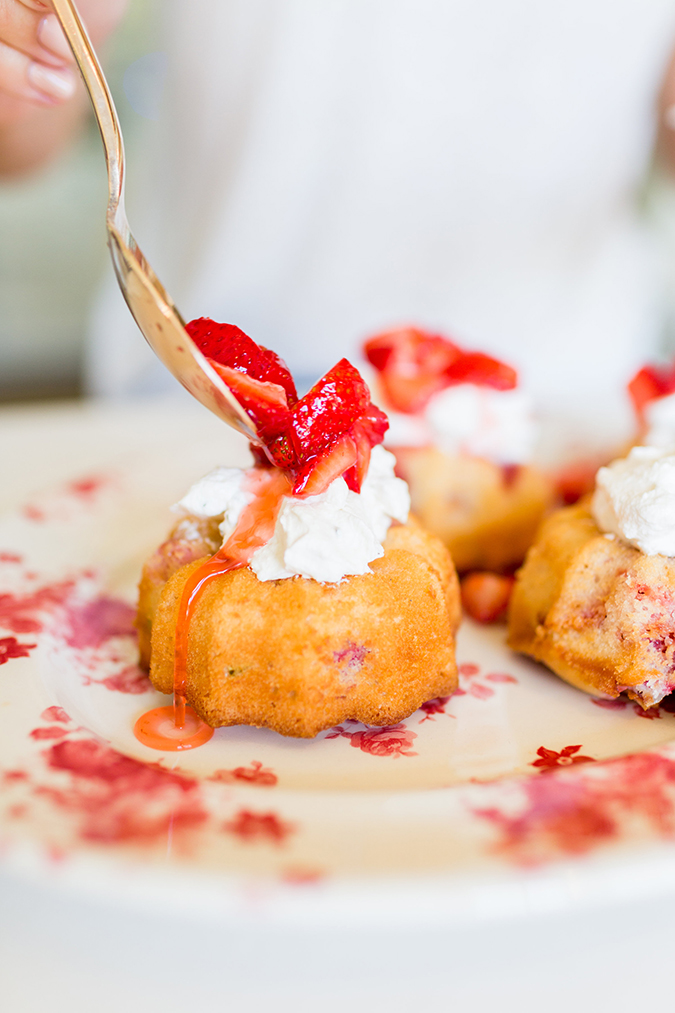 8. Let your mini bundts cool on a wire rack for about 30 minutes, or until cool enough to handle.


9. While your bundts are cooling, prep your whipped cream and macerated strawberries.


10. To make your whipped cream, add the whipping cream, powdered sugar and vanilla Into a bowl of a stand mixer. Whisk until stiff peaks form. Add in your mint and lightly whisk just until distributed throughout the cream. Set in the fridge until you're ready to assemble your cakes.


11. Stir together strawberries and sugar In a small bowl. Let stand at room temperature until the strawberry juices are releases, about 20 minutes.


12. When you're ready to serve them, add your bundts to a plate and top each with a dollop of whipped cream and a spoonful of macerated strawberries.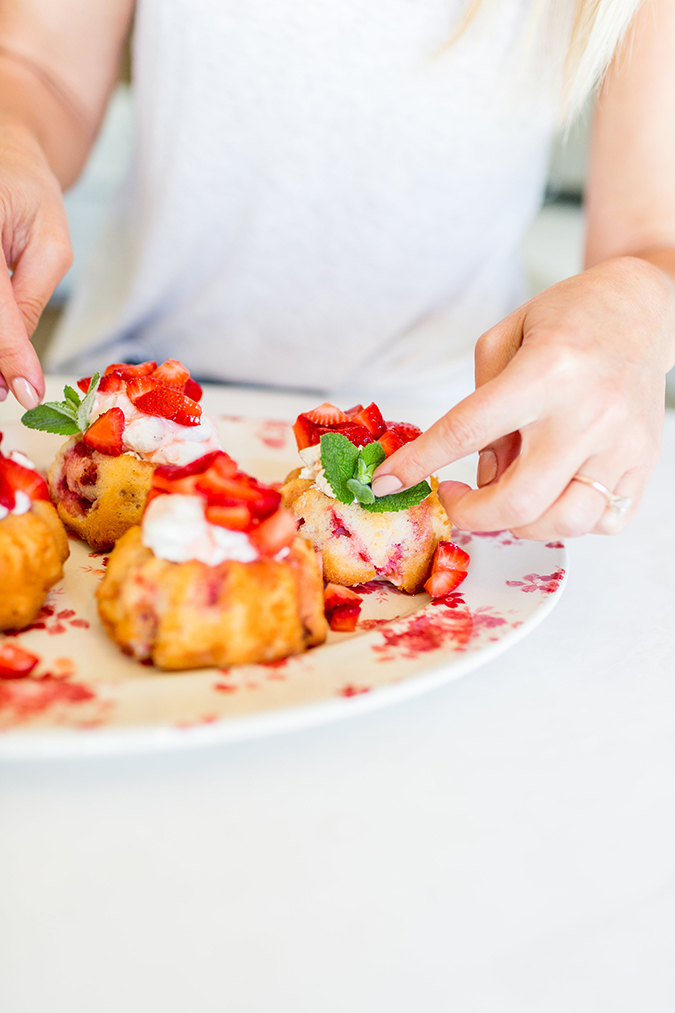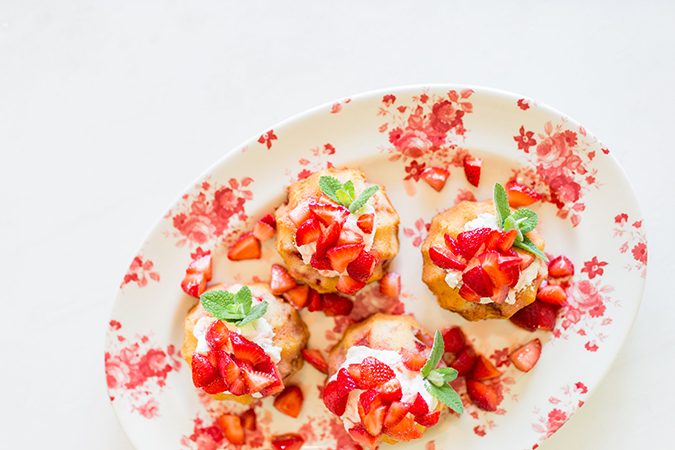 Aren't they gorgeous? I promise they taste even better!


Are you going to be trying this recipe at home?