Recipe Box: How to Make Homemade Chicken Stock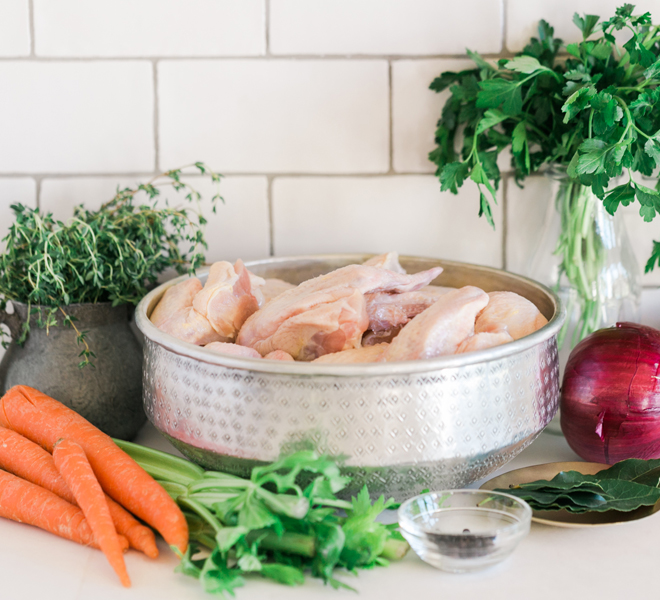 When it comes to comfort food, soup is at the top of my list. If you're
under the weather
or trying to warm yourself up after a chilly day, there's nothing better than curling up with a hot bowl of homemade soup. Instead of sharing a specific soup with you today, I decided to get back to the basics: homemade chicken stock. I like to make a huge pot of chicken stock and then use it as the base of all my favorite soup recipes from chicken noodle to chicken pho. I will make enough that I can stick some in my freezer and defrost it a couple weeks later.
This batch of homemade chicken stock not only contains less sodium than store-bought broth, but reaps plenty of other health benefits as well. According to holistic nutritionist Kelly LeVeque, slowly simmered bone-in chicken releases amino acids that aid in regulating weight, strength and overall wellness. Homemade bone broths are a cut above the canned and boxed broths at your local grocery store since they are easily digestible and are loaded with healthy minerals. If that isn't enough to have you making your own broth from now on, I don't know what is!
Keep scrolling for a delicious and comforting homemade chicken stock. You're going to want to add this one to your recipe box…
Homemade Chicken Stock
Ingredients:
4lbs bone-in chicken
4 medium carrots
2 medium red onions
4 celery stalks
2 bay leaves
2 tsp peppercorns
10 sprigs fresh parsley
10 sprigs fresh thyme
2 gallons water
cheese cloth to strain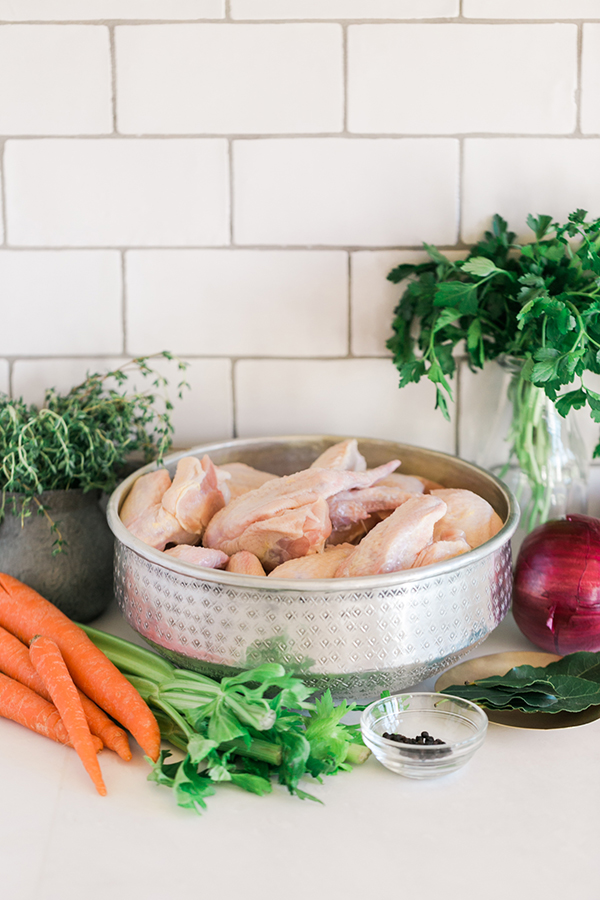 Instructions:
Place all of your ingredients into a large pot.
Slowly bring your chicken stock to a boil. Once it begins to boil reduce the heat. Cover and let your chicken stock simmer for 2 hours. Tip: Throughout the stock's cooking time, skim the top of the liquid removing excess fat.
Remove chicken stock from the heat and strain over a large bowl or pot with cheesecloth.
Remove chicken from the bone and set aside if you're planning on using it in soup later. Discard all of the bones and vegetable mixture.
Place in refrigerator for at least 8 hours or chill overnight.
The best thing about this chicken stock recipe is that you can use it as the base for lots of different kinds of soups. These are the ones that I love to make with chicken stock:
I know what I'm making this weekend…
Will you be trying this chicken stock recipe?
Let me know in the comments!
XO Lauren