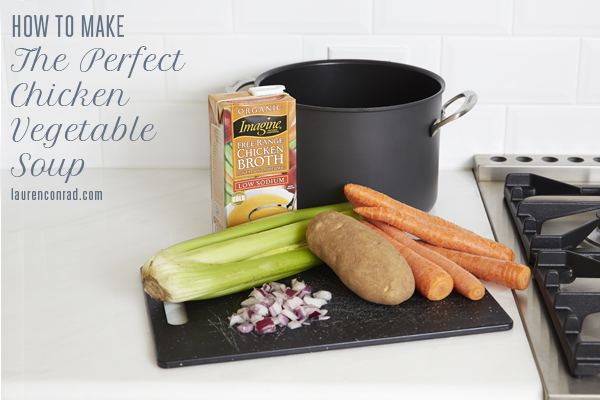 Most of you probably know by now that one thing I can't stand when it comes to buying groceries and cooking is letting good food go to waste. Especially during the holidays when I am baking and cooking for parties or get-togethers, I try to be very mindful of the amount of food I buy. And when I do realize I've bought too many veggies to eat up, I usually turn to an easy recipe that allows me use up what I have leftover.
This soup started as a simple solution for using up unwanted veggies, but it has become a favorite comfort food that I look forward to eating this time of year. And since it's full of wholesome veggies and protein from the chicken, it's a great way to get all of your vitamins and boost your winter immunity. The concept is simple: Just take veggies and chicken that you didn't use up in your other holiday recipes and add them to chicken or vegetable broth to make a soup! You can throw anything you want in your soup. Zucchini, corn, black beans—you name it.
Here's the recipe I usually find myself making…Enjoy!
Clean Out Your Fridge Soup
Suggested Ingredients:
4 tablespoons olive oil
2 cups cubed carrots
2 cups chopped celery
2 cups peeled and diced potatoes
2 cups diced red onion
2 tablespoons minced garlic
2 quarts chicken or vegetable broth
3 cups roasted chicken, shredded
1 pinch salt and pepper
Instructions:
Heat your olive oil in a large pot over medium heat. Once it's hot, add your onions, garlic, and salt and pepper. Cook for about 7-8 minutes.
Add your carrots, celery and potatoes to the mix, letting them cook for about 4-5 minutes. Stir occasionally.
Add the shredded chicken and chicken or vegetable broth. Bring to a simmer.
Reduce heat to low, cover, and let your soup cook for about 25-30 minutes more, or until vegetables are tender.
Season with salt and pepper to taste.
Besides being so incredibly easy to make, this recipe is also wallet friendly. It makes about 6 to 8 servings, so you can eat it for dinner or lunch throughout the week. And, since soup is one of the easiest foods to freeze and reheat later, this is the perfect zero-waste recipe.
What will you put in your Clean Out Your Fridge Soup?
Sound off in the comments below!
XO Lauren
P.S. If you often find yourself throwing away sage, rosemary and other herbs, feel free to throw those into your soup too.