Edible Obsession: Baked Pumpkin Crumble Donuts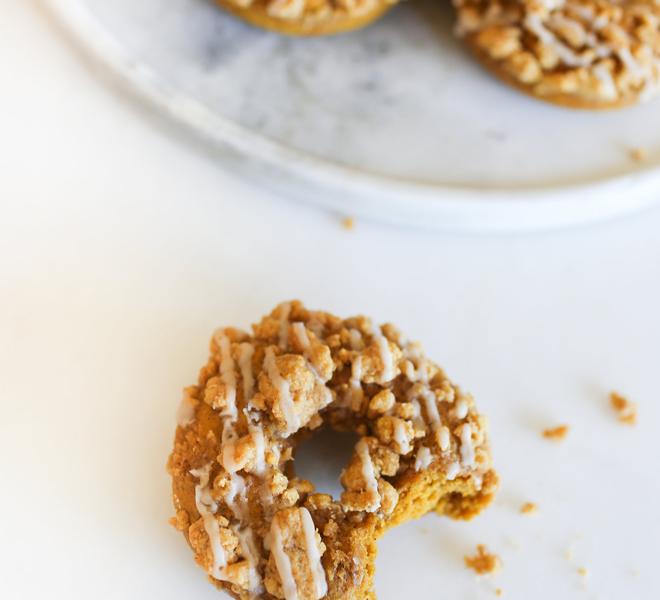 Every time we have one of our LaurenConrad.com baking photoshoots, we find ourselves doing a little group poll about which baked good of the day is the popular favorite. And when our friend and baker
Lauren Lowstan
gets involved (with her
almost
too-cute-to-eat confections), the decision can be nearly impossible. At our last baking shoot, Lowstan whipped up some delicious
Caramel Apple Cake Pops
,
Marbled Candy Apples
, and
Mini Pumpkin Pies
, to name a few. And while these were all equal parts cute and delicious, the hands-down winner was her
Baked Pumpkin Crumble Donuts
.
Personally, I prefer the taste and texture of baked donuts to fried ones—and they're healthier when prepared this way, too. These tiny treats have a cakey pumpkin bread base with crunchy crumbles and a drizzled glaze to top it all off. Heaven? We think so. Here's how to make a batch of your own…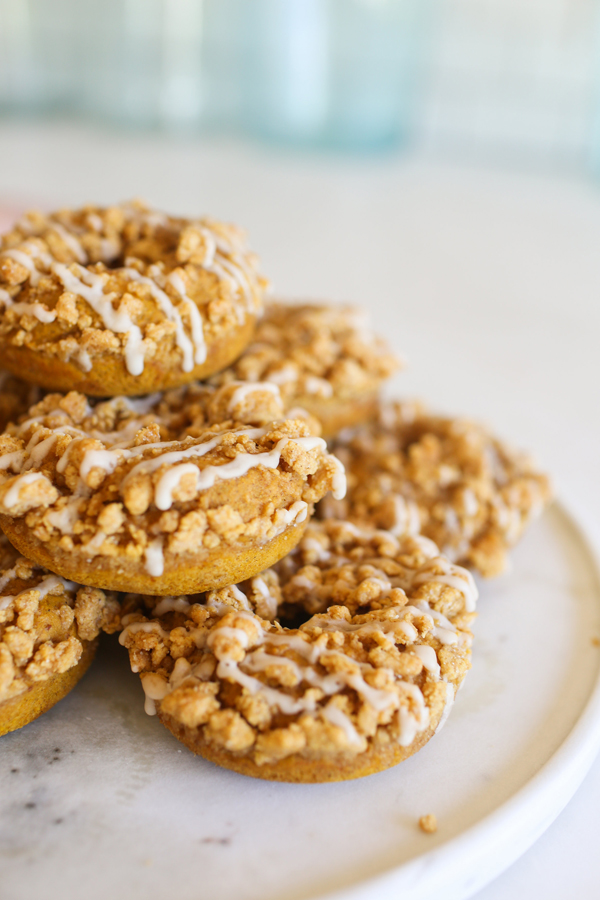 Baked Pumpkin Crumble Donuts
Ingredients:
For the Batter:
2 cup flour
1 ½ tsp. baking powder
½ tsp. baking soda
1 tsp. cinnamon
¼ tsp. nutmeg
¼ tsp. allspice
¼ tsp. ginger
Smallest pinch of cloves
½ cup brown sugar
¼ cup melted butter
¼ cup buttermilk
1 cup pumpkin purée
2 tsp. vanilla extract
For the Crumble:
½ cup cake flour
¼ cup brown sugar
1 cup sugar
1 tsp. cinnamon
1 tsp. baking powder
1 tsp. salt
1/4 cup canola oil
¼ cup pumpkin purée
2 tsp. vanilla extract
For the Glaze:
¼ cup melted butter
1 tsp. maple extract
2 Tbsp. water
2 ½ cup powdered sugar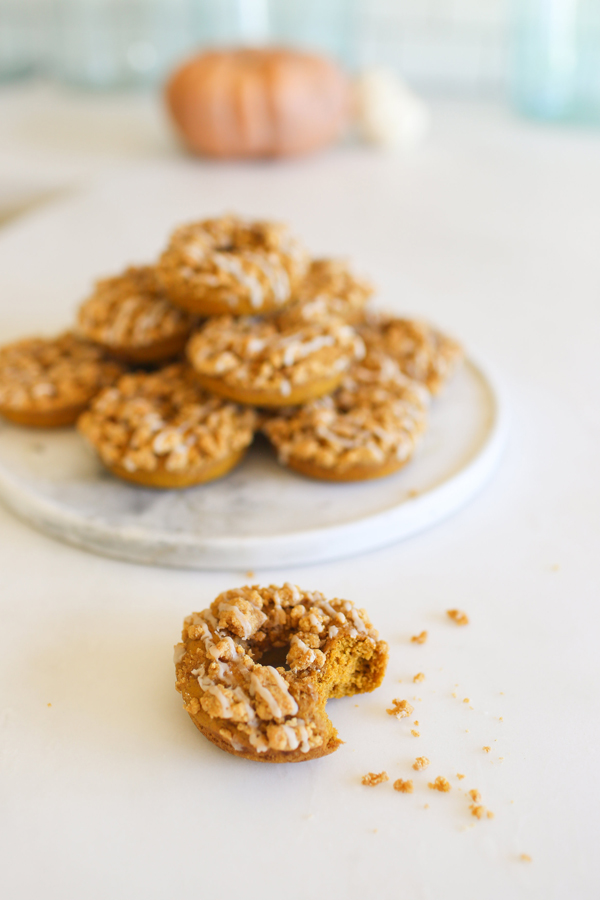 Instructions: 
For the Batter:
In a large bowl, whisk all dry ingredients by hand. In a separate smaller bowl, whisk all wet ingredients by hand. Add the wet to the dry, and mix just until combined with a rubber spatula.
For the Crumble:
In a stand mixer fitted with a paddle attachment, mix the cake flour, brown sugar, sugar, cinnamon, baking powder, and salt. Add the pumpkin purée, vanilla extract and oil. Mix just until little pea size balls form. Do not continue mixing, or you will get one big dough ball. Set aside.
For the Glaze:
In a bowl, whisk all ingredients until there are no more lumps of powdered sugar. Then, cover the bowl with plastic wrap, or your glaze will form a crust on top.
Heavily spray a donut pan with canola oil or butter. Pipe the donut batter (with a piping bag) about ¾ the way up into each cavity. Top the donuts with the crumble. Bake at 350 degrees F for about 8 minutes, until donuts spring back when you touch them (or a toothpick comes out with a few dry crumbs on it).
Leave donuts in the pan for about 3 minutes. Turn your donut pan over so all of the donuts fall out. Flip the donuts right side up, so the crumble is on the top. Once the donuts are cool, add the glaze to a piping bag and drizzle glaze onto the tops of each donut, and enjoy!
If these photos don't show you how mouthwatering the donuts really are, then you just might have to make them for yourself. I promise it's worth it.
What has been your favorite fall recipe we've had on LaurenConrad.com so far this season?
Let me know in the comments below!
xx
Allison
Team LC