Edible Obsession: Marbled Candy Apples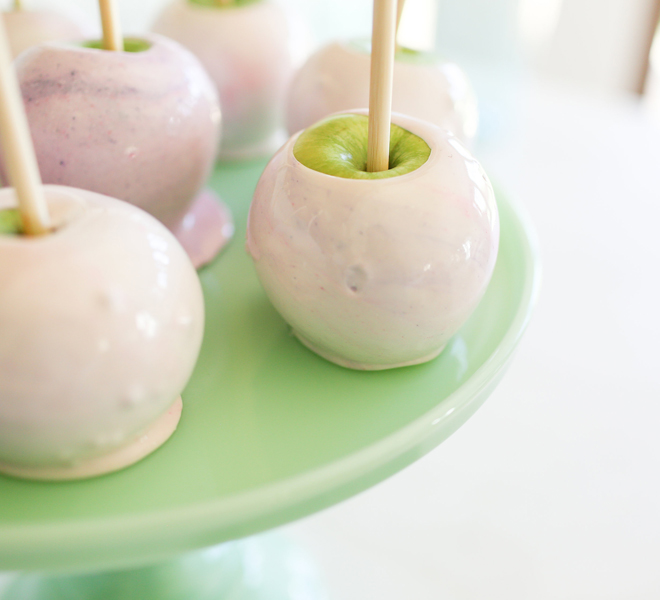 There's no better time of year than autumn. From frequenting the local pumpkin patch to apple picking in the orchards (yes Southern California has those too!), there's always something fun to do. Each year I love baking traditional recipes to get me in the seasonal spirit. While my favorite fall recipes are tried and true, I love mixing it up and creating new spins on old favorites. With that being said, this year I decided to whip up a fall treat that most of you know and love as well:
candy apples
.
For this recipe, my team and I deviated a little bit from the traditional technique. Of course we recruited the help from the amazing Lauren Lowstan, and what she created blew us away! A few drops of food coloring and a pinch of creativity go a long way. Keep scrolling to see how we created picture perfect marbled candy apples…
Marbled Candy Apples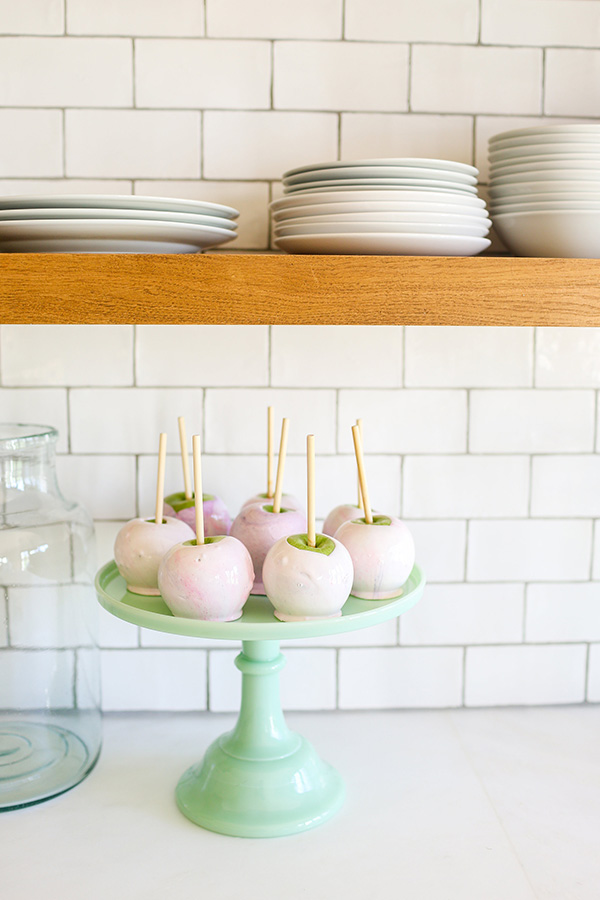 Ingredients:
6 smaller Granny Smith apples
2 cups granulated sugar
3/4 cup water
1/2 cup light corn syrup
unsalted butter or oil spray
2 tablespoons white gel food coloring
2 drops each purple and pink gel food coloring
1 teaspoon clear vanilla extract, or any other favorite flavor clear extract
6 wood apple sticks
candy thermometer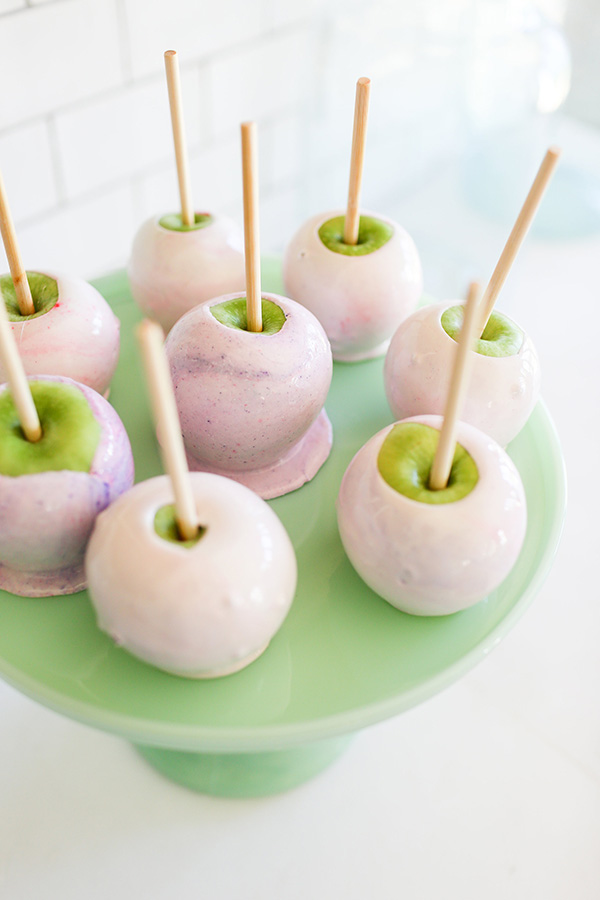 Instructions:
Wash and dry your apples and remove all of the stems. Make sure your apples are very clean and completely dry. Air bubbles tend to form when candying apples, and this will help them to not form as many bubbles.
Line a baking sheet with parchment paper. Make sure to butter or spray the sheet completely and set aside.
Insert wooden sticks about 3/4 of the way down into the apples and set aside. Make sure the rest of your ingredients are next to the stovetop so you can work quickly once the candy mixture is done cooking.
In a small saucepan, combine sugar, water and corn syrup, and whisk until combined. Turn your stove on medium-high heat, and place a candy thermometer into the saucepan. Boil the mixture until it reaches the hard crack stage (300 to 308 degrees). Make sure not to whisk the candy mixture at all while it is cooking! Wait until it is about 308 degrees, and then take it off the heat.
Immediately add in the white food coloring and vanilla extract and stir until combined. Add in 2 drops each of pink and purple food coloring. With a toothpick, slightly swirl the 4 dots (about 4 swoops). If you swirl too much, the colors will just meld together. Let the candy mixture sit for 30 seconds for the air bubbles to slowly calm down.
With your non-dominant hand, tilt the saucepan so the mixture comes to one side. With your other hand, dip and slightly twirl each apple into the candy mixture. Once the apple is completely coated, let the excess candy drip off into the pan for a few seconds. Place the covered apple onto your prepared baking sheet to let harden. Repeat this process until all apples are coated.
You'll then have the prettiest candy apples ever!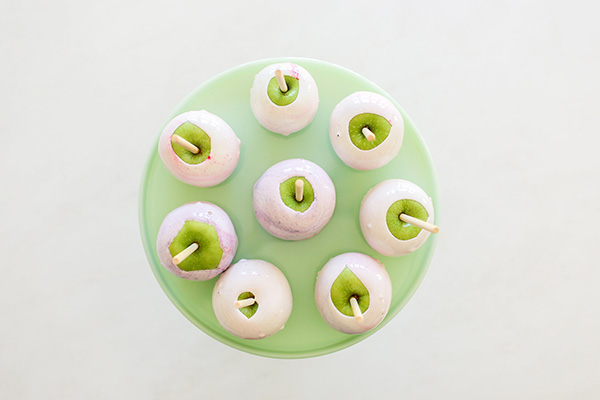 Will you be trying your hand at this recipe? 
I think you should! Another thanks to Lauren Lowstan for this delicious and gorgeous recipe.
XO Lauren