Recipe Box: Guilt-Free Goji Berry Chocolate Bars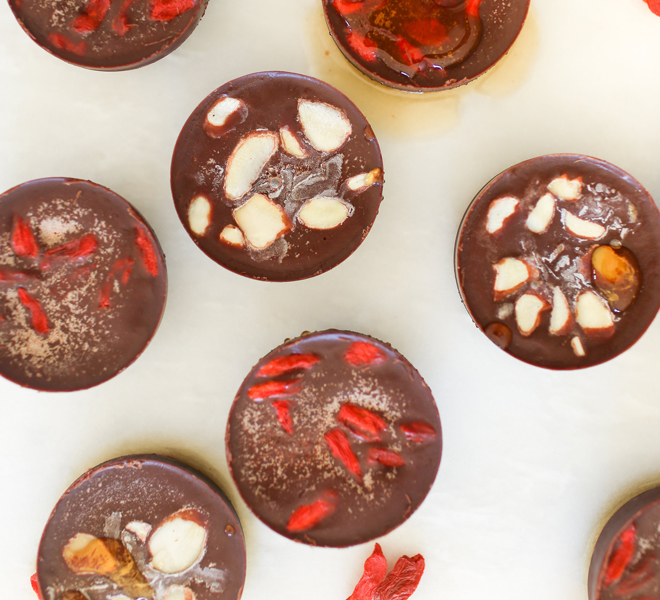 I have a pretty serious sweet tooth, but most of the year I manage to curb my
sugar cravings
quite well. From Halloween through the holiday season however, all bets are off. When you're constantly surrounded by candy and baked goods, it's impossible to be good
all
the time. Or even if it is possible, it's certainly no fun! So instead of staunchly refusing all sweets, I've taken to indulging in healthier versions of my favorite treats. When cookie cravings hit, I usually turn to
these no-bake bites
or my favorite
healthy protein cookie dough
. But until recently, I was still searching for a healthier alternative to my chocolate habit…
Enter my latest creation: Guilt-Free Goji Berry Chocolate Bars. Making homemade chocolate is so much easier than you might think. And unlike most store-bought bars, these chocolates are free from refined sugar and full of the health benefits of raw cacao. Plus, the addition of goji berries packs in loads of antioxidants and essential amino acids.
Here's how to make them…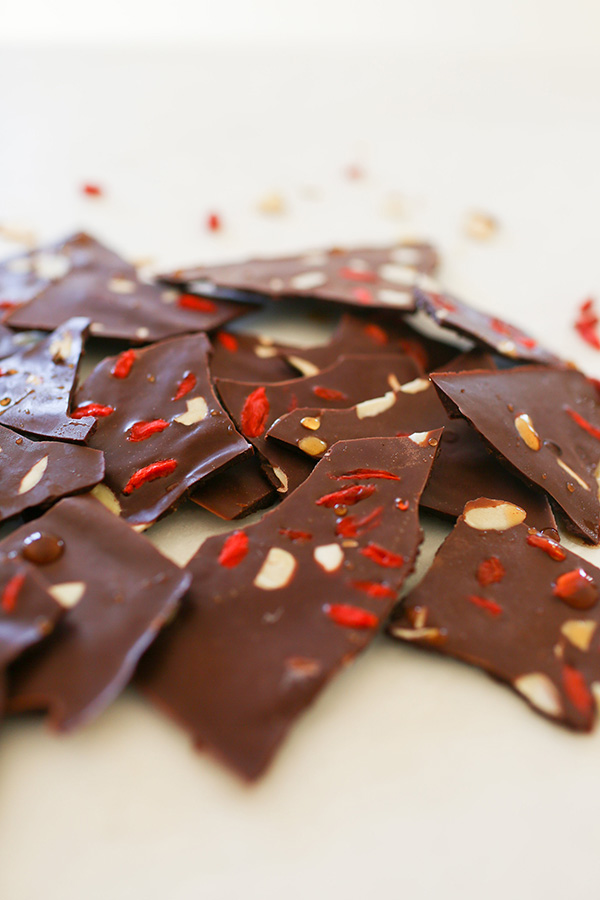 Ingredients:
¾ cup melted coconut oil
½ cup real maple syrup
1 cup cacao powder
1 ½ teaspoons vanilla extract
1 tsp. Himalayan pink salt
goji berries
Instructions:
Combine coconut oil, maple, cacao, vanilla, and Himalayan pink salt in a bowl.
Pour the mixture onto a parchment paper-lined baking sheet to make bars, or into a mold to make bite-size truffles (a silicone ice tray works well).
Sprinkle goji berries or other fillings on top (some of them will sink in on their own).
Allow the chocolate to harden in the fridge for at least two hours. Enjoy!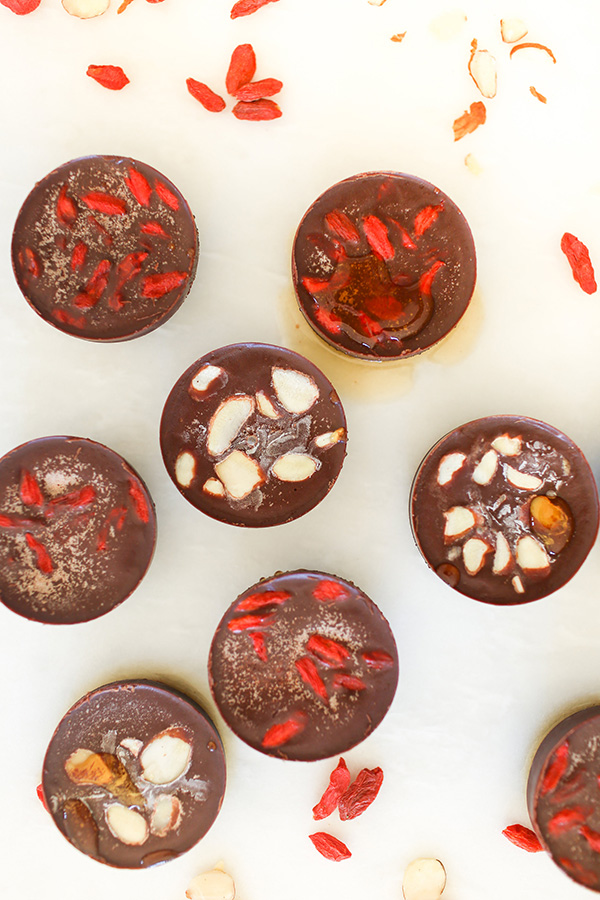 It's that easy! If you don't have goji berries on hand, feel free to experiment with other dried fruit, nuts, or seeds of your choice. I also made some bars with almonds in them, and they were absolutely delicious. You can even break up a homemade bar to be healthier chocolate chips that you can then use in other recipes.
Are you going to give this recipe a try?
Lauren and I could seriously not stop eating them at our photo shoot!
xo Ilana
Team LC