Beauty Beginners: How to Find the Right Foundation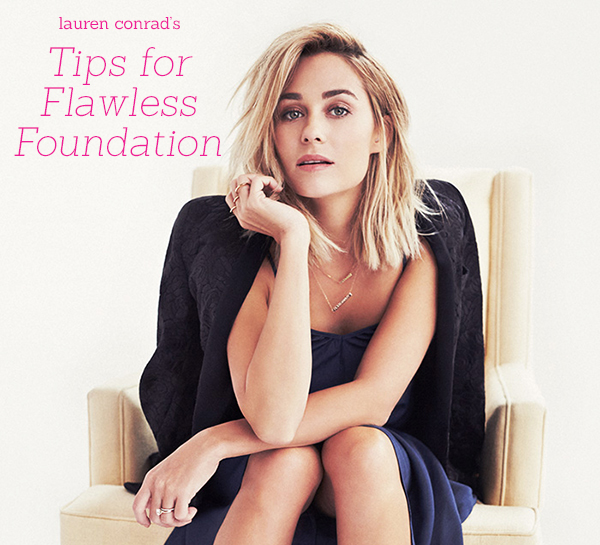 I am very excited to announce my new
Beauty Beginners
series on the site! This series was inspired by
an email
I received from one of our LaurenConrad.com readers. In her message, this reader mentioned that she felt overwhelmed by
hair
and
makeup
tutorials because she had never quite mastered the beauty basics. While I'm sure some of you have been expertly applying
liquid liner
and bold lipstick since you were 12, that message made me think about how important certain basic beauty skills really are. And no matter how advanced makeup skills you have, it never hurts to go back to the fundamentals and reevaluate your technique.
So today, I thought I'd begin with foundation (after all, it's called foundation for a reason…). It's so important to get this step right because it's always obvious when someone is wearing foundation that is cakey or isn't the right color for their skin tone. The point of foundation is not to look like you have layers of makeup on but to help your skin look its best. Here's a good place to start…
Finding The Best Foundation for your Skin Type
The first step is finding a product that is right for your individual skin type. A tinted moisturizer doesn't offer as much coverage as a foundation, but only choose a heavier foundation if your skin truly warrants it. If your skin is oily or the weather near you is particularly hot and humid, an oil-free foundation is your best bet.
Matching a Shade to Your Skin Tone

A good trick for finding the right shade of foundation is to match it to your chest—especially if you're good at protecting your face and neck with SPF. You can also test a color on the back of your hand and then walk outside if you don't trust the store lighting. Either way, leave it on for a few minutes to see how it changes as it is absorbed into your skin. Also, don't be afraid to mix colors. I use two different foundation colors for summer and winter (depending how much sun I've gotten), and mix them together in between those two seasons.
Application Tips 
Never apply foundation to un-moisturized skin. If your skin is on the drier side, you'll also want to exfoliate prior to applying any products. If your moisturizer or foundation doesn't have SPF in it, you'll want to slather on sunscreen pre-makeup too. Then, warm the foundation in the palm of your hand, and then sweep it across your face and neck using clean fingers, a foundation brush or a beauty blender. I actually think that fingers work best for hitting hard-to-reach spots, but that can be a matter of personal preference. When you're applying foundation, don't forget about the spot where your jaw line meets your neck! Make sure your face and neck match by blending the foundation into the top of your neck as well.
Do you have any other questions regarding foundation?
What Beauty Beginners topic should I tackle next?
XO Lauren
Shop This Story…