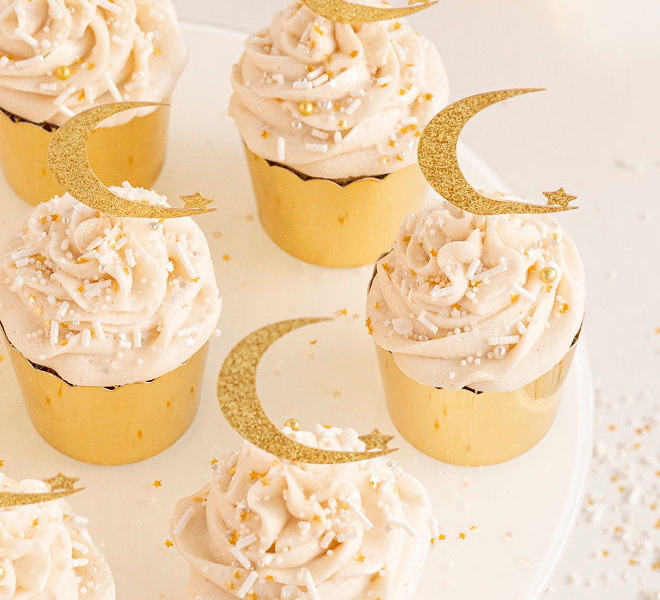 Can you believe that 2021 is almost here? We can't say we're too sad that 2020 is coming to a close. And celebrations are definitely in order for making it through the past year! Usually, we might be celebrating with friends and family, but this year we're at home, so we figured, why not make the most of our time with a few celebratory treats? Our friend and baker, Amanda Wilens, is on the blog to share a new and delectable New Year's Eve treat: Champagne Cupcakes. Nothing screams New Year's like Champagne, and we bet that once you take a bite out of these, you won't be able to put them down…


I love making something special for each holiday. New Year's Eve is all about the glitz, the glamour, and of course champagne (or sparkling cider), so I thought these dressed up cupcakes would be perfect for the occasion. Even if you're sitting in your sweatpants on New Year's Eve, these will still be a hit.


This recipe is made with real Champagne. To fully cook out the alcohol, you would need to cook it for 3+ hours, which this recipe does not. If you would like to make these for the adults and make another batch of kid-friendly cupcakes, try these vanilla cupcakes on my blog.


You'll want to use your favorite Champagne for this recipe because these cupcakes have a Champagne reduction, which really intensifies the flavor of your cupcake. The reduction is used in both the batter and the frosting. If you prefer a sweeter cupcake, try a sweeter Champagne.


For Room Temperature Eggs – I would suggest leaving them on the counter for 1-2 hours to get to room temperature. However, if you forget or run out of time, another option is to place the eggs into a bowl of warm water (not hot) for about 10-15 minutes.
For Room Temperature Butter: I usually leave mine on a plate on the counter for a couple hours. If you are in a hurry you can zap the butter in the microwave in 10 second increments. Just don't melt it.
If you're using a ceramic pan instead of a metal pan, your bake time will go up another 3-6 minutes. Make sure to check it with a toothpick.
If you only have one 12-hole muffin pan, on the second bake, make sure your pan is cooled before adding more batter. You can stick it in the refrigerator for a few minutes, then use the center 6 wells and add about 2 Tbsp of water to empty wells.
Don't have heavy cream? You can use soy heavy whipping cream, coconut cream (will alter flavor), whole milk, or oat milk (has a high fat content).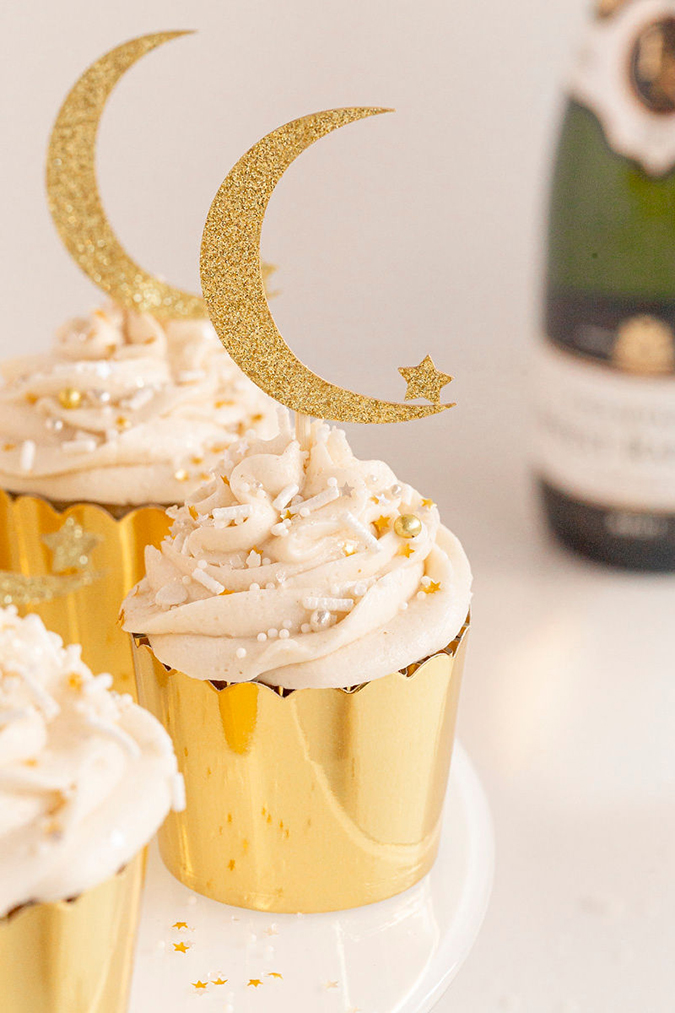 1 cup Champagne, room temperature


1/2 cup unsalted butter, room temperature
1 cup granulated sugar
1 egg, large
2 egg whites, room temperature
1 ½ tsp vanilla extract, can be clear for a whiter cake
1 1/2 Tbsp champagne reduction, room temperature


1 1/2 cup all-purpose flour
1 tsp baking powder
¼ tsp baking soda
½ tsp salt


6 Tbsp Champagne, room temperature
1/2 cup heavy whipping cream


Champagne Buttercream Frosting Ingredients:


1 cup unsalted butter, room temperature
2 2/3 cups powdered sugar sifted 1-2 times
2 Tbsp Champagne reduction
1 tsp vanilla extract


Sprinkles
Toppers
Sparklers


1. Place Champagne into a saucepan on the stove over a medium heat, uncovered (covering won't allow for reduction). Bring the Champagne to a boil. Reduce to a low-medium heat and simmer. Simmer for about 10-15 minutes. This should reduce to about half the size, about 1/3 cup. You may want to remove and put in a heat-safe measuring cup to make sure you've reduced it enough. You can always place it back on the stove for further reduction.


2. Remove from the stove and cool to room temperature before using.


1. Preheat your oven to 350°F and prepare 1-2 muffin or cupcake pans with oil or cupcake liners.


2. In a stand mixer beat your butter and sugar for about 3-4 minutes on a medium-low speed, until fluffy.


3. Add in your eggs one at a time, then add your vanilla and champagne reduction.


4. In a large mixing bowl, mix your dry ingredients together.


5. In 3 batches add your dry mixture into the wet mixture on a low speed, alternating with 2 batches of your milk and Champagne. For example: 1/3 dry ingredients, ½ of the heavy cream. ½ of the Champagne. Again with 1/3 dry ingredients, ½ of the heavy cream. ½ of the Champagne. Then finish with the final 1/3 dry ingredients. Don't over mix.


6. Scoop batter evenly into 18 cupcake liners/wells. Lightly slam the cake pans on the counter to try to get rid of any major air bubbles.


7. Bake each for about 15-18 minutes. Check with a toothpick until clean. Pull cakes out of the oven and let cool in the pan for about 10-15 minutes. Then remove to a cooling rack.


1. Using your mixer's paddle attachment, whip the butter for 8 minutes on a medium speed. The butter will become very creamy!


2. Add the powdered sugar in 3 batches. The frosting should become very light and fluffy.


3. Lastly add in the Champagne reduction and vanilla extract and mix until combined.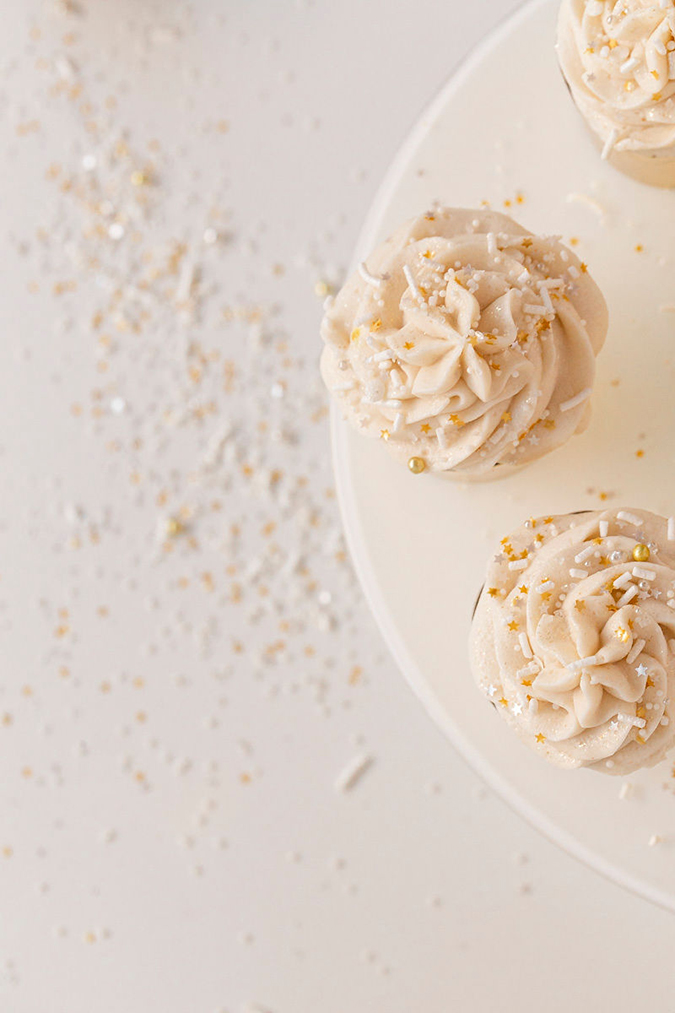 1. Place frosting into a piping bag, using your favorite tip (or the Wilton 2D). Take a cooled cupcake and pipe frosting on top of the cupcake.


2. Sprinkle it with edible glitter, sprinkles, and top with toppers. Decorate how you wish!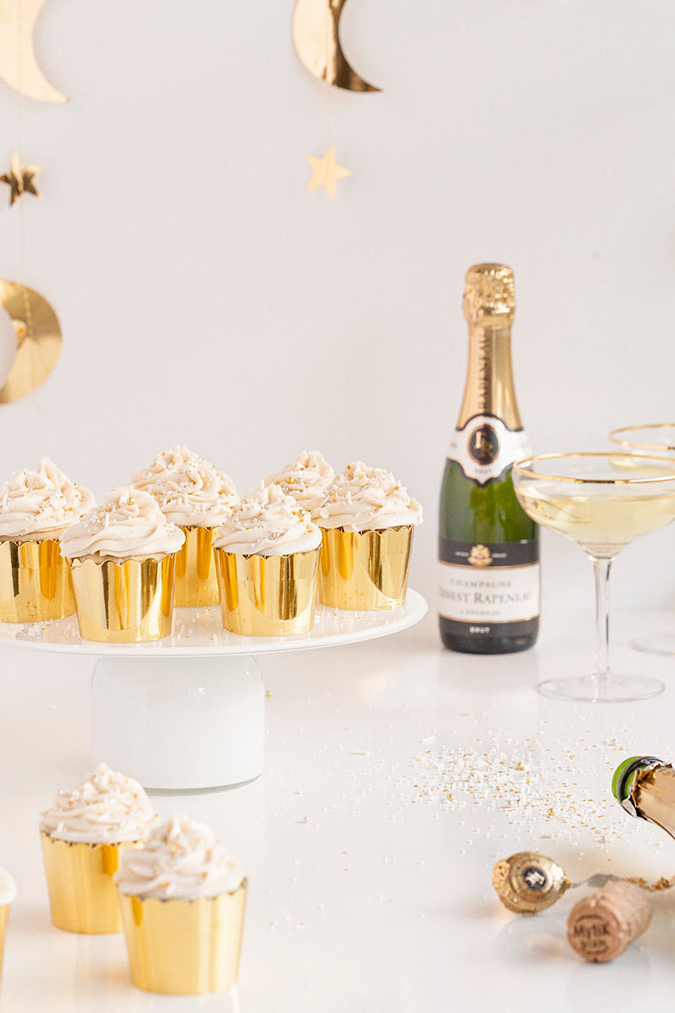 What do you think of Amanda's New Year's Eve Champagne Cupcakes?


Affiliate links may have been used in this post.