This has been a challenging and unprecedented time for all of us, and we hope that you are all staying safe and healthy. With everything going on in the world, we've been wondering a lot about how we can help other people in more vulnerable positions. If you're looking to help out too, we've done a little research and rounded up 10 ways to help others right now. From donations you can make to raising awareness via social media to simple acts of kindness, these 10 ideas are a great place to start. Keep reading to see how you can help others today…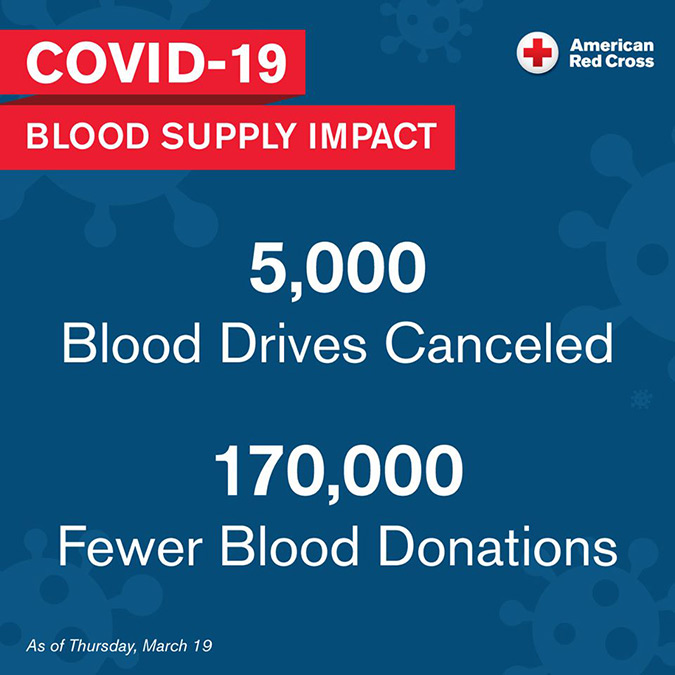 The American Red Cross, which collects 40% of the nation's blood, is currently facing a severe blood shortage. Due to the outbreak, they've had to close down over 5,000 blood drives, equating to 170,000 units of uncollected blood. If you are healthy and able to, you can set up an appointment on RedCrossBlood.org to give blood. However, if you're not able to, you can also spread the word to encourage others to donate by posting on your social channels and tagging @AmericanRedCross.
Click HERE to download the blood donation image.
2. CARE
CARE, a partner of the CDC's Emergency Response and Recovery Brand, which focuses on public health emergency preparedness, is helping communities worldwide gain access to soap, water, and other essentials. They're asking if you can share videos of washing your hands on your social media channels and tagging @CAREorg to promote more donations to their cause. If you'd like to learn more or donate, visit CARE.org.
3. Post Inspiring Art on Your Windows or Write Messages on Your Sidewalk
We all need something to help us smile, and sometimes an inspiring picture or message is just what people should see. Writing messages or quotes on the sidewalks near your home or posting photos, paintings, and quotes on your windows are a great way to spread a message of kindness to others, especially during a time when a lot of people need emotional support.
You can help support Feeding America's nationwide network of 200 food banks by donating to their cause. Feeding America helps support vulnerable populations, such as the elderly, students out of school, low-income families, and those whose jobs have been impacted by the pandemic, have access to food.
5. TIME's UP
There are 32 million workers in the U.S. that do not have paid sick day benefits. While the CDC is recommending that sick individuals stay at home for 14 days, many of these workers, majority of which are women that make lower wages, don't have the ability or means to take time off in this period. You can help support their right to paid leave by participating in TIME'S UP's initiative to demand that your representatives and senators in Congress pass permanent paid sick leave and medical and family leave for all. Click here to learn more.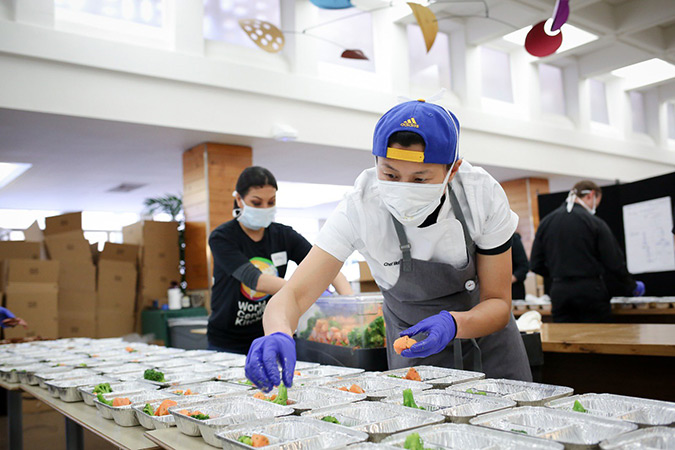 Founded by renowned chef and philanthropist José Andrés, World Central Kitchen is a nonprofit organization that's dedicated to delivering meals to various communities nationwide. They are currently delivering almost 100,000 meals every day. You can donate to their cause or volunteer for their Volunteer Corps program here. If you're not able to donate or volunteer, you can spread the word by tagging @WCKitchen and #ChefsforAmerica and sharing their program to your followers on social media.
7. Google's "Do the Five" & Matching Initiative
You can help share with others how to slow the spread of COVID-19 with Google's "Do the Five" checklist above, which outlines 5 ways to reduce the spread of the disease. They've also unveiled a donation matching initiative with 100% of proceeds going towards the United Nations Foundation in support of WHO's COVID-19 Solidarity Response Fund. For every $1 donated, Google will donate $2 (for up to $5 million). Their donation matching initiative ends April 30th.
Click HERE to download the "Do the Five" image.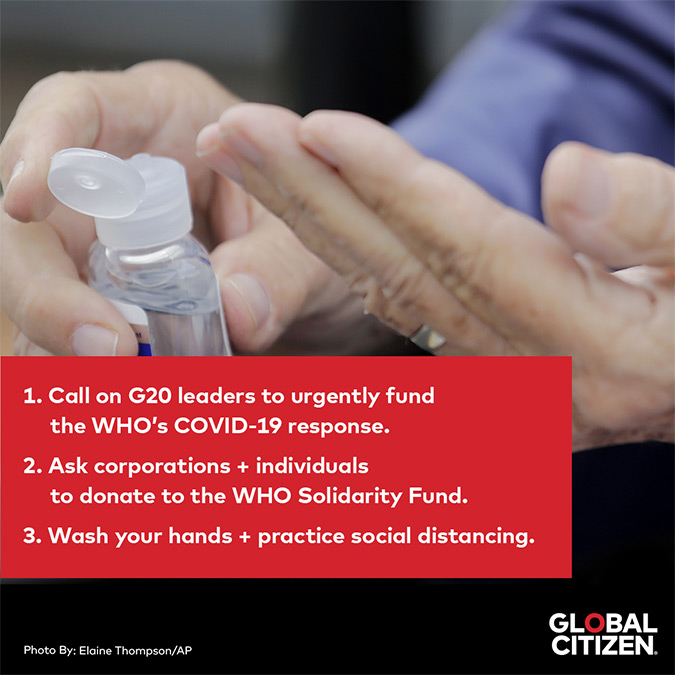 You can help Global Citizen's support of the World Health Organization's  (WHO) fundraising efforts by calling on G20 world leaders, corporations, and individuals via social media to pledge more contributions towards COVID-19 preparedness and response. WHO needs at least $675 million to fight the disease worldwide. To find more information, visit Global Citizen's website.
Help spread the word of 4-H's free learning resources for kids that are now at home from school indefinitely by sharing their activity ideas on social media with the hashtag #InspireKidstoDo. From mindfulness guides to STEM labs, 4-H has a variety of guides to help kids continue learning on their website.
10. Baby2Baby
Baby2Baby provides children, ages of 0-12, living in poverty with basic needs and essentials such as diapers, baby formula, clothing, and hygiene items. They're working around the clock to reach as many children and families as possible. You can donate to their cause on their website here.
What are some of the ways you've been helping others at this time?
Let us know in the comments below. We'd love to hear the different ways you've been supporting our community!
XO Team LC
Affiliate links may have been used in this post.