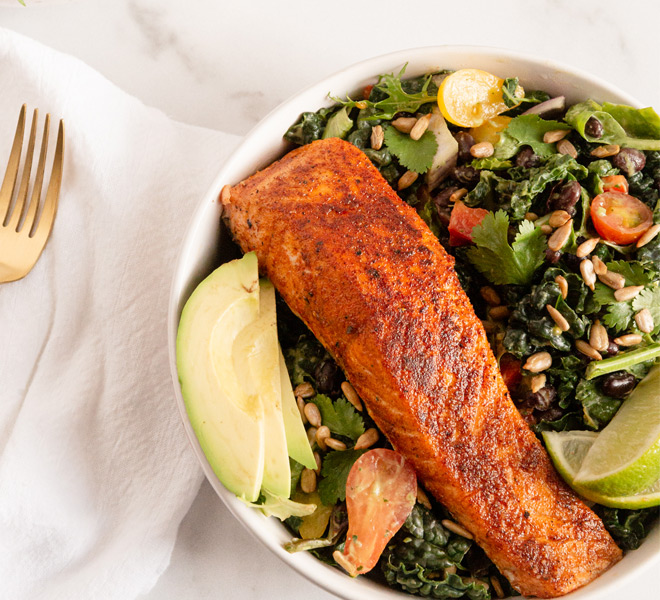 Who said salads can't be filling and tasty? On the blog today, baker Amanda Wilens is back again to share with us a delectable, easy, and nutritious Blackened Salmon Salad recipe that will definitely become your new lunchtime favorite. These salads, which are too delicious, are perfect to plate with the newest LC Lauren Conrad tabletop collection items, so that your salad looks just as good as it tastes.
This recipe has a lot of different components to it, so if you're in a time crunch, it can be made simpler by buying your own dressings and seasonings. This salad is also customizable, so if you want to swap in a few of your favorite vegetables, feel free to do so! This recipe makes 2 servings, however, there will likely be left over dressing and seasoning that you can definitely use for other meals. To read how to make this salad, keep scrolling…
1 Tablespoon chili powder
2 teaspoons salt
2 teaspoons smoked paprika
1 teaspoon black pepper
1 teaspoon cumin
1 teaspoon garlic powder
1 teaspoon onion powder
1/2 teaspoon cayenne
Mix all ingredients together in one bowl. Store in a clean dry container.
Spicy Avocado Cilantro Dressing
2 avocados
1 lime, juiced
1 jalapeno, deseeded
½ cup cilantro, loosely packed
¼ tsp garlic, minced (1-2 cloves)
4 Tablespoons avocado oil
3 Tablespoons apple cider vinegar
½ cup water
½ teaspoon of fajita seasoning
1 tsp salt
Place all ingredients into a food processor or blender. Blend until smooth. Store in a clean container in the refrigerator.
4 cups kale, massaged
2 cups mixed greens
¼ cup cilantro, loosely packed
8 oz cooked black beans
½ bell pepper
8 oz of cherry tomatoes
¼ red onion
½ cup spicy avocado cilantro dressing
1 avocado
2 tablespoon sunflower seeds
Toss greens, beans, pepper, tomatoes, onion, and dressing.
Place onto dishware. Top with sliced avocado and sunflower seeds.
3 tablespoons avocado oil
1 pound fresh salmon, sliced into 2 fillets
1 Tablespoon fajita seasoning
Remove salmon from package onto a plate with a towel to dry the fish off. Allow fish to come to room temperature.
Rub fajita seasoning onto the salmon.
Heat avocado oil in a pan on the stove over medium heat.
Place salmon fillets into the warm pan flesh side down. Cook for about 4 minutes, then flip. And cook skin side down for 4 minutes.
Remove from heat and place on top or next to the salad. Serve and enjoy!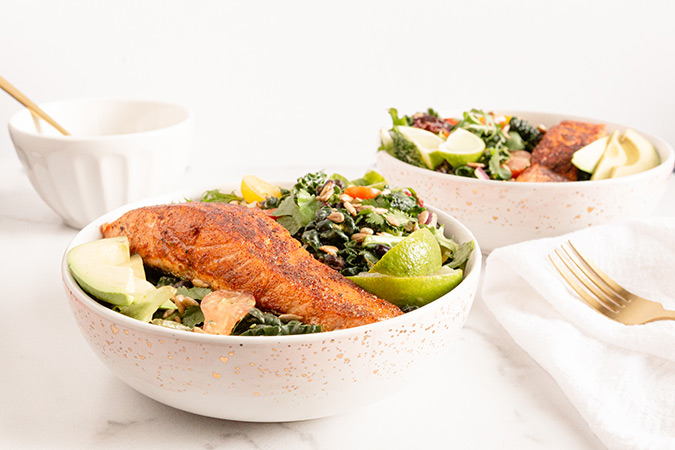 What do you think of this salmon salad recipe?

Affiliate links may have been used in this post.