This post is sponsored by James Allen, an online engagement ring company we love. Keep scrolling to learn more about the pros and cons of each cut of diamond, and how you can easily design your own engagement ring with the cut of your preference at JamesAllen.com…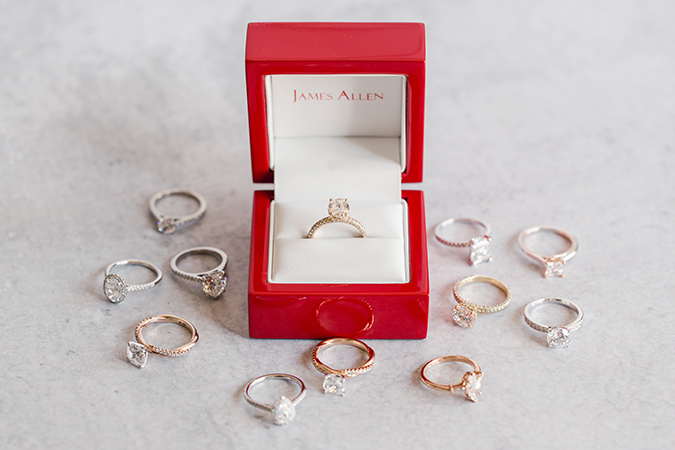 Your engagement ring is not only a symbol of your love story with your partner, but it will be one of your most treasured heirlooms starting from the breathtaking moment you put it on your finger. Whether you're designing your own ring or giving your partner helpful tidbits to lead them in the right direction, finding the ring for you is no small feat. The process should be just as exciting from start to finish, but we know that it can be tricky to navigate the world of diamonds and precious metals.
Thanks to JamesAllen.com, we've been able to share with our readers as many important details as we can, both big and small, when it comes to choosing or designing the ultimate engagement ring. From learning about the four C's to the different settings, and even choosing metal colors, no feature has gone untouched in our quest to provide you with as much information as possible. And we're about to share even more! Today's post is dedicated to the unique diamond shapes available on JamesAllen.com and their pros and cons. That way you can confidently decide which shape is worthy of your dream engagement ring. Let's get started…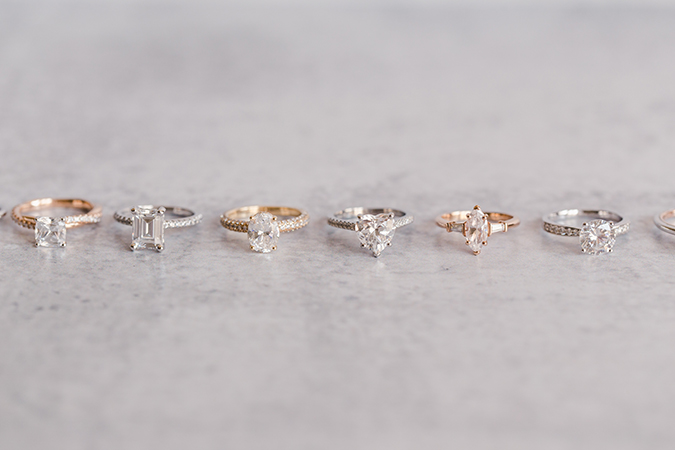 Getting to Know the Diamond Shape 
 When it comes to choosing your preferred diamond shape, there are specific vocabulary words, if you will, to familiarize yourself with before making the final decision. Each diamond shape has its own standout features, and some are even similar enough to get confused. Keep reading for our easy-to-follow breakdown of each shape and their pros and cons…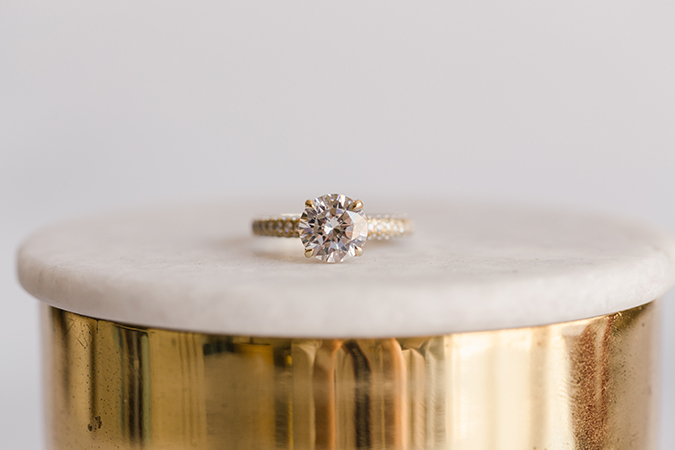 Round 
Round cut diamonds are known for being the most brilliant and sparkly.
Pros: This particular shape is known for its one-of-a-kind sparkle. No other diamond shines like it.
Cons: With all that sparkle comes a heftier price tag. Don't be scared—JamesAllen.com has a conflict-free diamond for every budget!
Shop more round cut diamonds here…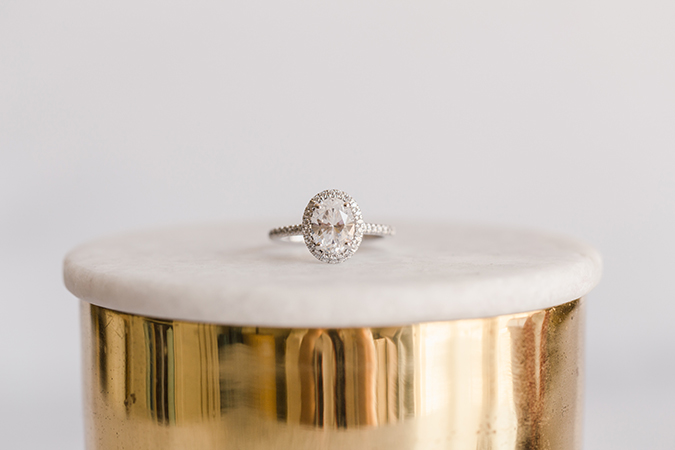 Oval 
Oval cut diamonds are an elegant way to give fingers an elongated look.
Pros: Nothing complements a ring finger quite like an oval cut diamond. They're a modified version of the round diamond, giving you similar sparkle, but are great for someone looking for a more unique shape.
Cons: Oval cuts can have uneven light distribution. To combat this, choose a diamond from JamesAllen.com that has enough depth so that light can reflect into it more.
Shop more oval cut diamonds here…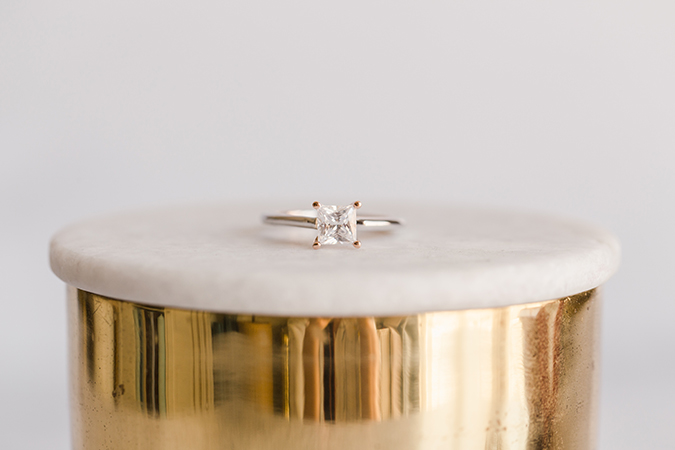 Princess 
Princess cut diamonds are known to be a traditional shape. Similar to round cut diamonds, they're designed to give optimum brilliance.
Pros: Princess cut diamonds are almost as brilliant as round diamonds and are cut to maximize sparkle.
Cons: If your setting doesn't protect the stone as much as possible, princess cut diamonds have been known to chip at the corners. Choose a setting from JamesAllen.com that protects the four corners to ensure the safety of your diamond.
Shop more princess cut diamonds here…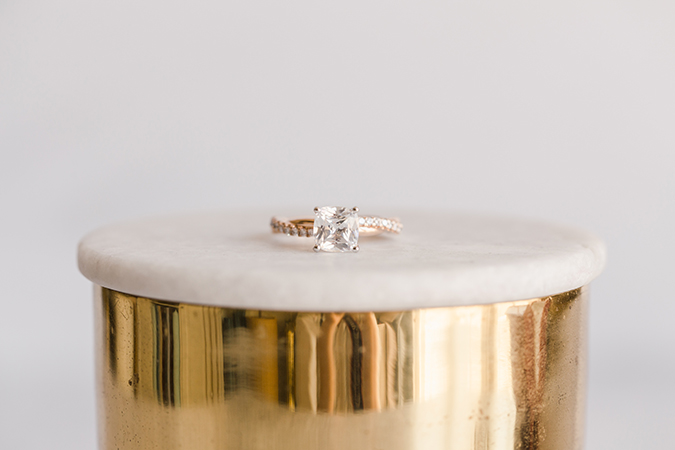 Cushion
A cushion cut diamond looks like a pillow and is known to have a more antique or vintage appeal.
Pros: Cushion cut diamonds are the perfect blend of classic and trendy.
Cons: This diamond shape has the ability to be poorly cut. If you choose a diamond from JamesAllen.com, you can expect high quality for the best price!
Shop more cushion cut diamonds here…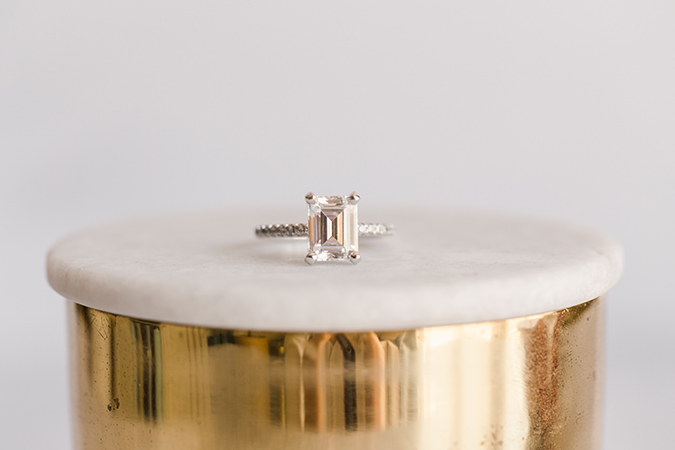 Emerald 
An emerald diamond is one of the more elegant shapes. These diamonds are cut with long, sophisticated lines.
Pros: Emerald cut diamonds look larger than many other shapes, even if the carat weight is less.
Cons: Because emerald cut diamonds have a larger surface area and an intense clarity, it can be easy to find imperfections if there are any. On JamesAllen.com, you can get the best view of your diamond using their 360° Diamond Display Technology. It's even better than looking through a jeweler's loupe!
Shop more emerald cut diamonds here…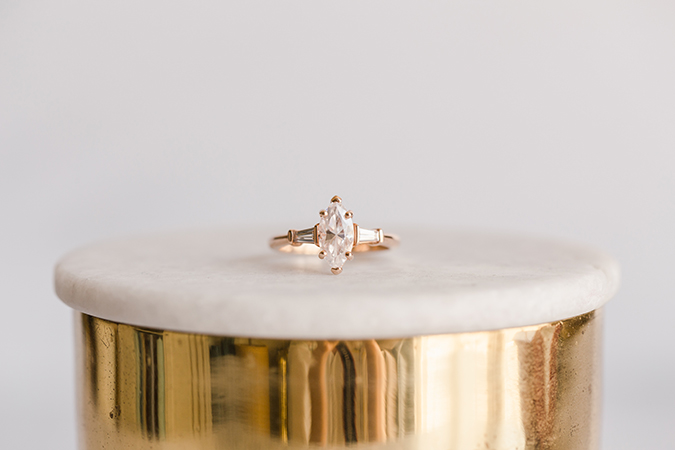 Marquise
A marquise cut diamond is considered a classic choice for an engagement ring. These diamonds have a boat-shape and are very brilliant.
Pros: Similar to emerald cut diamonds, the marquise shape is one of the largest-looking diamonds.
Cons: Marquise diamonds can seem outdated. We disagree, however. These diamonds are great for the vintage lovers out there, and all diamonds can be updated with the right setting. We recommend spending time browsing JamesAllen.com's collection of marquise diamonds and settings to find the perfect fit for you.
Shop more marquise cut diamonds here…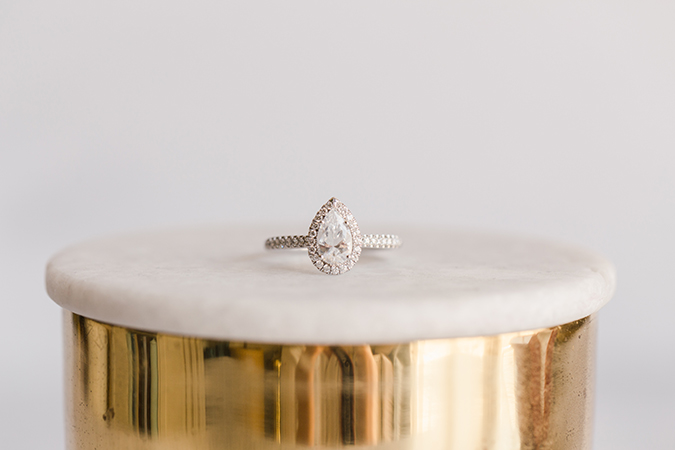 Pear 
Pear cut diamonds are designed to make light dance through them. They are both traditional and brilliant.
Pros: Pear cut diamonds share some of their best qualities with other diamonds. They elongate your finger similar to oval diamonds and make light 'dance' similar to round cut diamonds.
Cons: The sharp tip of a pear cut diamond can chip if not set properly. However, JamesAllen.com has an extensive variety of gorgeous settings that will protect even the pointiest of pear cut diamonds.
Shop more pear cut diamonds here…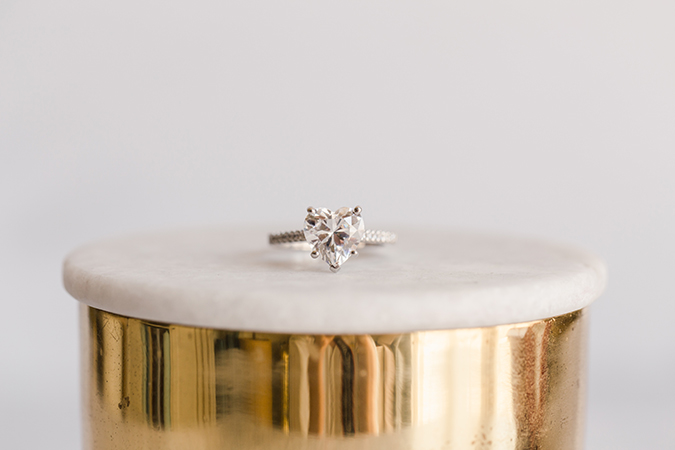 Heart 
Hearts symbolize love, therefore making a heart shaped diamond the ultimate symbol of romance.
Pros: Heart shaped diamonds have a strong sparkle and are cut to maximize the carat weight. That's a win-win in our book!
Cons: Heart shaped diamonds can vary in size and the shape can get lost if the carat size isn't large enough. All of the heart cut diamonds we've seen on JamesAllen.com are expertly shaped and are incredibly brilliant.
Now that we've given you some visuals and have weighed the pros and cons, let's help you narrow down which diamond shape is right for you…
Shop more heart shaped diamonds here…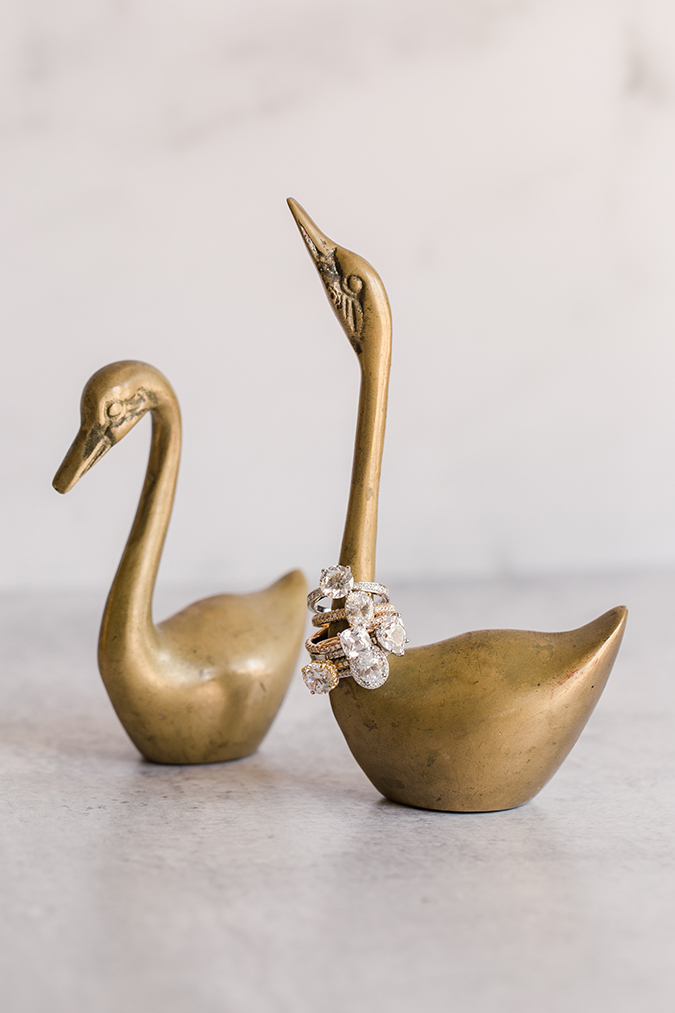 If You're Traditional: 
Don't be fooled, traditional is in no way boring. If you tend to lean towards vintage, antique, or timeless jewelry, then you should consider either a round, cushion, or marquise cut. Why? These three shapes are considered classics and complement an old soul just like you. With JamesAllen.com's vast collection, you're guaranteed to find the perfect conflict-free diamond for your engagement ring.
If You're Modern: 
 Raise your hand if you consider yourself more on the contemporary side. We suggest choosing either an emerald, oval, or princess cut diamond for your engagement ring. While these shapes aren't considered modern in the sense of being new, they all have a contemporary flair about them. Lucky for you, JamesAllen.com has an exceptional array of each waiting for your customization on their website.
 If You're Against the Grain: 
If you tend to wander off the beaten path, a heart or pear-shaped diamond could be the shape for you. Both lean toward unconventionality but are equally as stunning. On JamesAllen.com, you can start with a loose diamond or one of their hundreds of setting styles to build your own ring, (all of which can be customized!).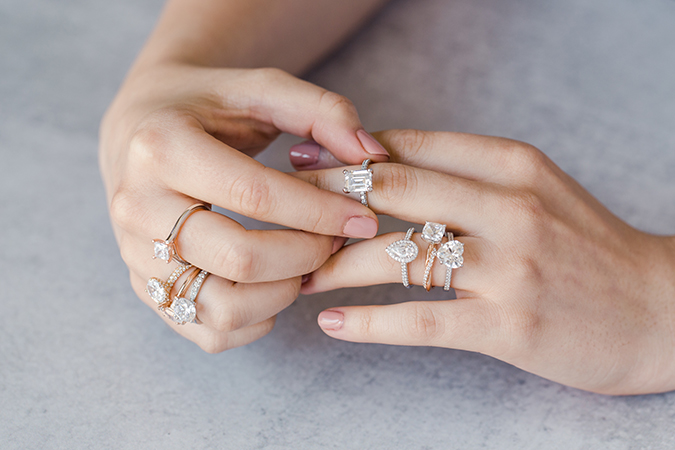 Now all we want to know is…
Which diamond shape is your absolute favorite?
 Let us know which shape catches your eye and why in the comments below!
XO Team LC
Photos: Jessi Burrone for LaurenConrad.com
Affiliate links may have been used in this post.