Dads—they're notoriously hard to shop for and they seem to have everything you could think of… but we guarantee you'll find something they'll love on this list. From craft beer sets to the sweetest pet portraits to the ultimate chair for relaxation at the beach, shopping for the dads in your life just got a whole lot easier. Our main motto when it comes time to shop for the guys in our lives? Look for gifts that will share something you love about them. Whether it's their incredible cooking or the way they read to your little ones at night, Father's Day is about celebrating everything they do for their loved ones. Keep reading to see our favorite picks for all the dads in our lives this Father's Day…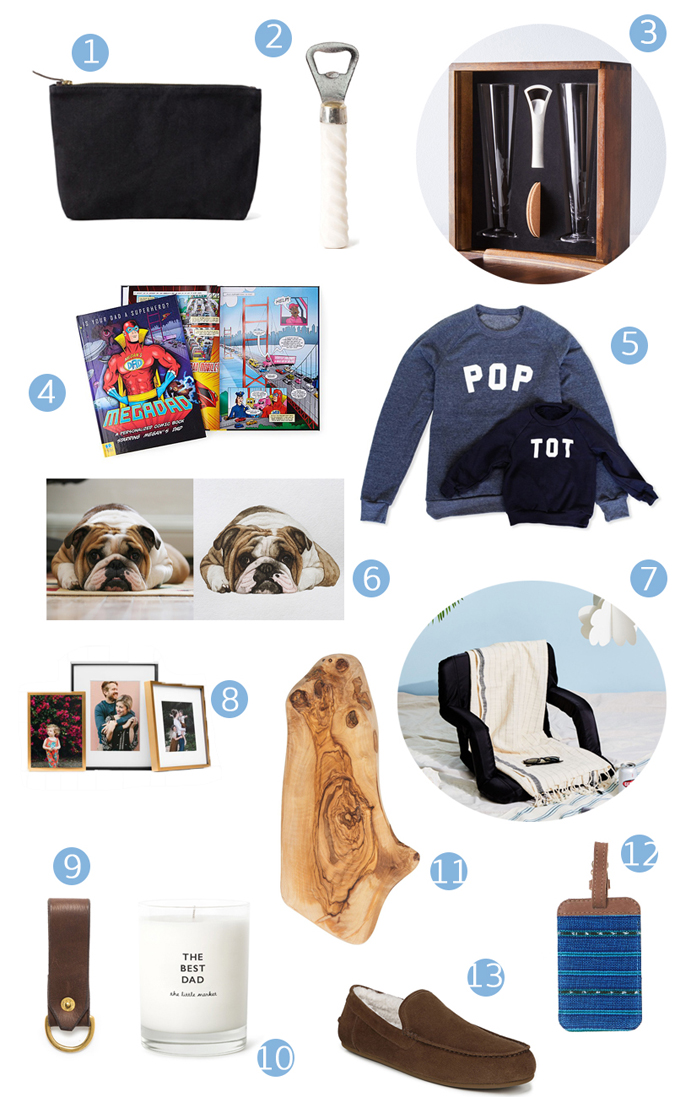 1. The Little Market Canvas Toiletry Bag, $28
Help the dads in your life keep all their essentials in one place with this sleek toiletries bag.
2. The Little Market Bone Bottle Opener, $28
Pop open a drink to celebrate Father's Day with this elegant carved bottle opener, made from sustainably sourced bone.
3. FOOD 52 Beer For 2 Gift Set, $80
The best kind of gift is one you can share… and this drink set is perfect to split with your favorite dad. Just add in his favorite craft beer!
 4. Uncommon Goods Personalized Comic Book, $35
This one is perfect for new dads, because sharing a personalized story together is a memory both he and his little ones will look back on for years.
5. Tosan Pop And Tot Fleece Set, $80
How cute is this matching set of cozy sweatshirts? Scoop these up for your favorite pop/tot duo this Father's Day.
6. Alexzandra Marie Art Custom Pup Portrait, $200-$270
It's Father's Day for dog dads too, and there's no better way to commemorate it than with a custom pet portrait by one of our favorite artists. And if he's more of a cat lover? These portraits cover all furry friends, just send in your favorite shot.
 7. FOOD52 The Backpack Beach Recliner, $68
Give the gift of total relaxation with this foldable beach recliner. Not only is it easy to store, but he'll be able to use it right away with a family trip to the beach or the lake.
 8. Artifact Uprising Metal Tabletop Frames, $59
These frames are sleek enough to display in an office, and with a few special photos, they make a perfectly personalized gift for your own dad or your partner.
 9. The Little Market Leather Keyring, $18
If your dad veers towards the practical side, he'll appreciate this sturdy leather key ring from The Little Market. He'll never lose his keys again!
 10. The Little Market The Best Dad Candle, $34
This candle is simple and straight to the point. Give this one to the man you think is the best dad.
11. The Little Market Olive Wood Rustic Cutting Board, $38
Know a dad who's looking to up his culinary game? This sophisticated wood cutting board will make everything from apps to entrees look restaurant-ready. And if he needs some inspiration, try out this recipe for a summery steak dinner.
12. The Little Market Luggage Tag, $18
Whether you have a trip planned or are gifting this to a man who's always on the move, this hand-crafted luggage tag is a sweet way to show your love wherever he is in the world.
13. Vince Genuine Shearling Slipper, $125
Make Father's Day a time to rest and relax with these cozy shearling slippers. We guarantee he'll never want to take them off.
What are you buying for the dads in your life this Father's Day?
 Tell us below!
XO Team LC
Affiliate links may have been used in this post.