Office Space: A Tour of the New Barefoot Blonde Hair Offices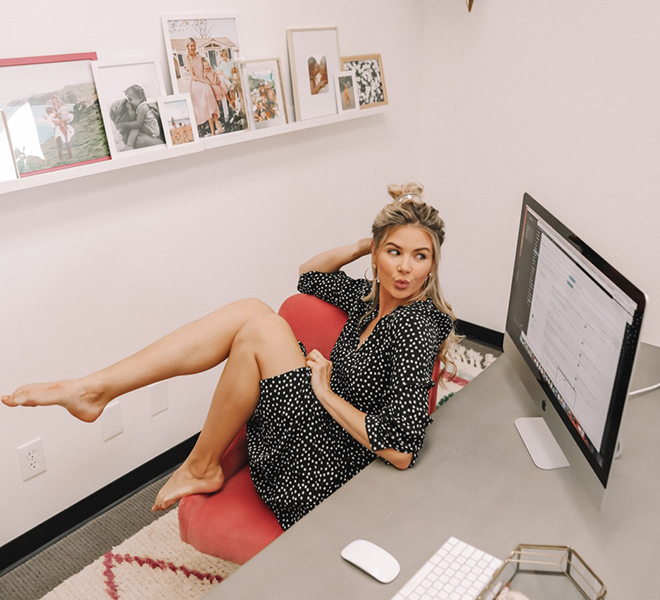 We've featured some jaw-droppingly gorgeous homes here on the site, but it's less often that an office space stops us in our tracks. But every once in a while, we come across a creative workspace that looks lovely enough to live in. Such was the case when our beauty contributor Amber Fillerup Clark shared photos of the new Barefoot Blonde Hair offices. Between the pink velvet sofa, gold tone accents, and gorgeous gallery wall, it has us asking, So when can we move in? Keep scrolling for more photos and a Q&A with Amber about the design process…
Barefoot Blonde Hair collaborative meeting space and color matching station
Q: What was the inspiration behind the color palette and overall design?
A: When I envisioned our office space I just wanted it to be bright and colorful. I wanted it to feel fun and energizing. You want to be in spaces that make you feel happy and creative. I have always loved a lot of color and wanted to have a lot of yellow, gold, green, turquoise and of course, pink. I chose all of the big pieces that I wanted throughout the space, then we had a local designer, Jade Bennett of Finders Keepers Design, come put the finishing touches on everything. We had a small budget since we are a start-up, so Jade found a lot of the decorative accents at thrift stores, Home Goods and Ikea. We gave Jade free rein to put it all together and make it come to life, and we love how it turned out!
Barefoot Blonde Hair collaborative meeting space and color matching station
Q: How many people work out of the office at a time? What creative benefits do you find to having an open workspace?
A: We have both private offices and an open workspace, which I really like. We have eight employees that work for BFB Hair. Five of us, including me, have private offices that we use the majority of the time. We have a team meeting every Monday where we meet in the collaborative space. We catch up, and talk about plans and goals for the week. Team members will use the collaborative space throughout the week, too. We also have our color matching station in this space. People can book an appointment to come in and get color matched if they are in the Phoenix area. We love meeting our customers and having them come into our office.
Barefoot Blonde Hair open workspace
Q: What is your best advice for any aspiring beauty blogger or entrepreneur in five words or less?
A: Be consistent and be patient.
Barefoot Blonde Hair open workspace
Q: What was it like making the leap from blogger to running your own beauty business? Did it happen naturally or was there a learning curve?
A: [My husband] David and I were doing a lot for my blog and at the same time starting BFB Hair, so everything was quite gradual. We had been working on BFB Hair for so long [before it launched]. There was a lot to figure out in the beginning. It was so exciting when we launched because it had taken a lot of work, but it did feel pretty natural. I had wanted to launch a hair extension line for a long time. There were definitely some learning curves though. It had just been David and I for so long, so we had to learn how to interview and build a team. It also changed our roles because we had a lot more responsibility. We couldn't take off for two months to travel, for example. So it has changed things a bit, but I love it. There are principles from blogging that I had learned before starting BFB Hair that really helped in the whole process. I had so much practice meeting deadlines, creating content, being organized, and working with companies, which helped in starting BFB Hair.
Barefoot Blonde Hair open workspace and gallery wall
Q: How often are you in the office? Do you have set office hours for yourself everyday or does it vary?
A: It honestly varies each week. I always come into the office on Mondays for multiple meetings with the team. I then try to be in the office a couple times through the rest of the week. A lot of it depends on the kids' schedules. That is one perk of being the owner—it does give me some flexibility, especially with my kids. Work and home balance is something I am always working on.
Amber's private office space
Q: Any tips for creating a beautiful photo ledge or gallery wall?
A: I have to give all of the credit to Jade on this! She printed all of the photos, picked out frames, and hung them. My biggest piece of advice is to not spend too much. Utilize places like thrift stores and Ikea to find frames. When you have a lot of frames on a wall or ledge, they don't have to be super expensive or fancy, because once it all goes on the wall it will look great. Another tip is to get a variety of frame styles. Put together different colors, sizes, materials and finishes. It will add a lot to the wall.
How dreamy is this space?
You can see the shopping credits below…

Affiliate links may have been used in this post.