Recipe Box: Pomegranate Tarts and Muffin Tin Apple Pear Pies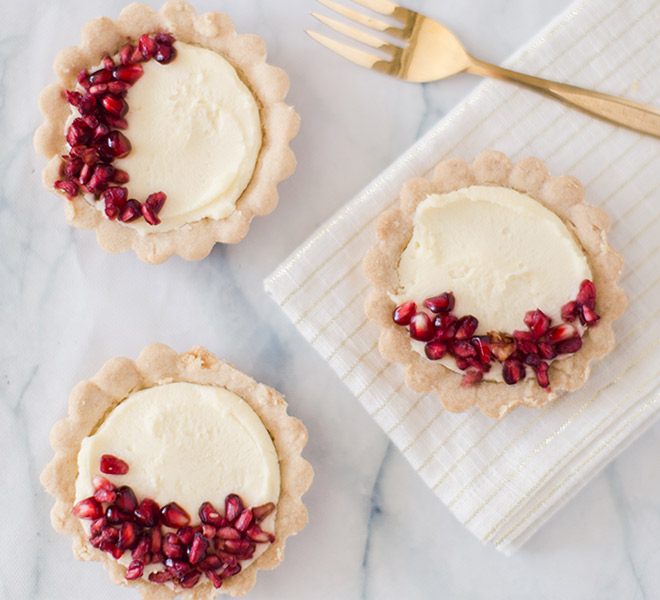 'Tis the season for a little holiday baking! Since we're in the midst of the most festive month of the year, we're whipping up treats left and right for parties, cookie plates, and Secret Santa deliveries. After all, there's nothing we love more than filling our homes with the fresh aroma of homemade desserts and sharing them with those we love. While classic gingerbread will always be a crowd pleaser, we've decided to call upon our friend Lauren Lowstan to spruce up our go-to holiday sweets. What she came up with definitely did not disappoint.
Instead of sharing just one of Lauren's confections with you today, we've doubled up on the goodness. On the menu, we have sweet and fruity pomegranate tarts and an adorable miniature spin on apple pear pies. So if you're in the market for a new recipe or two, keep scrolling to learn how to whip up these mouth-watering desserts…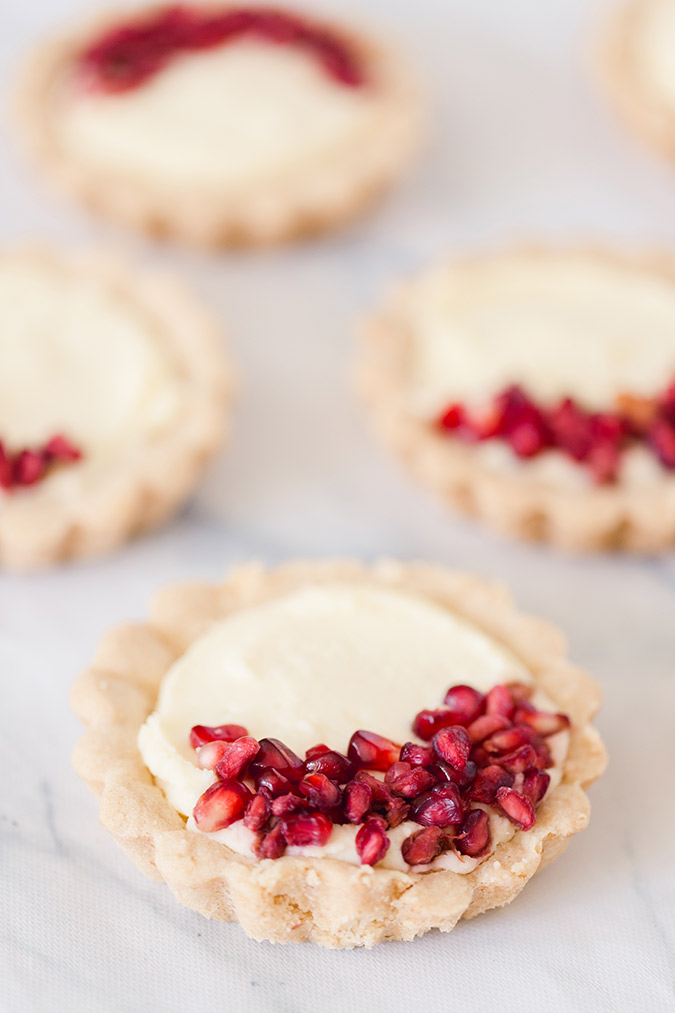 There's something about mini desserts that make them that much more appetizing. These cute and delicious pomegranate tarts incorporate seasonal flavors and would make the perfect finishing touch to any dessert tray. Here's how to master them on your next baking marathon
1 cup butter
½ cup powdered sugar
2 cups flour
mini tart pan
For the chocolate ganache:
3 oz. chocolate
3 oz. cream
2 tsp butter
1 cup mascarpone cheese
2/3 cup sour cream
1/3 cup honey
1 tsp vanilla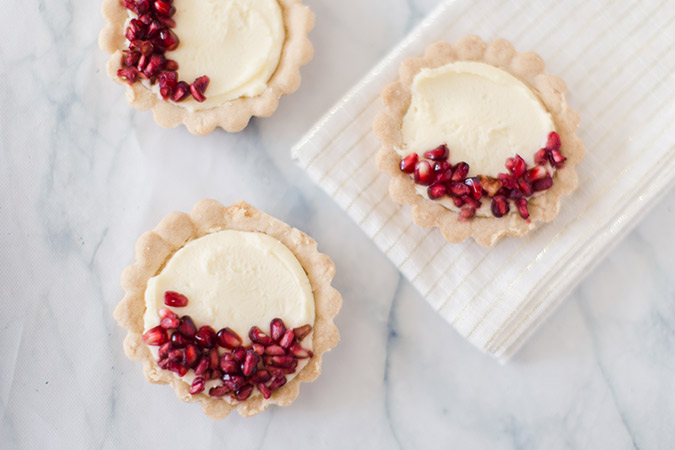 1. Melt butter in a glass bowl in the microwave.
2. Add the flour and powdered sugar to the melted butter and stir with a wooden spoon until you get a cohesive dough. It will look runny at first but keep stirring until the dough thickens up.
3. Preheat your oven to 350 degrees F.
4. Spray mini tart pans with cooking spray. Press about ¼ cup of crust into each tart shell. You want to make sure you get a good enough amount along the bottom and sides of the tart pan. Add or take away as needed.
5. Bake tart crusts in your preheated oven for 15-20 minutes. You want them to be lightly golden in spots.
6. The crusts should puff up a bit during baking. If this happens, you can lightly press down the middle of the crusts with the back of a measuring cup. Let them cool to room temperature or pop them in the freezer to help them chill faster.
7. Once the crusts are completely cooled, pop them out with a paring knife and place them on a parchment paper lined baking sheet.
1. Heat the heavy cream either on the stovetop or in the microwave until bubbles start to form around the edge and it is just about to boil.
2. Add to a bowl filled with the chocolate and butter.
3. Let sit for a minute and then start to whisk until the chocolate and butter are completely melted. If you have any bits of chocolate that are not melted, pop the mixture into the microwave for 15 seconds.
4. Set aside until you're ready to assemble.
1. Beat together the mascarpone and sour cream in the bowl of an electric mixer fitted with the paddle attachment. Beat for 1 minute, making sure to scrape down the sides of the bowl with a rubber spatula.
2. Add the honey and vanilla, and mix on medium for 30 seconds, or until all ingredients are combined.
1. Spoon a small amount, about 1 tablespoon, of ganache into the center of each tart.
2. Top with the mascarpone filling and even out the tops of each tart.
3. Add pomegranate seeds to the border of each tart, creating a crescent moon shape.
Muffin Tin Apple Pear Pies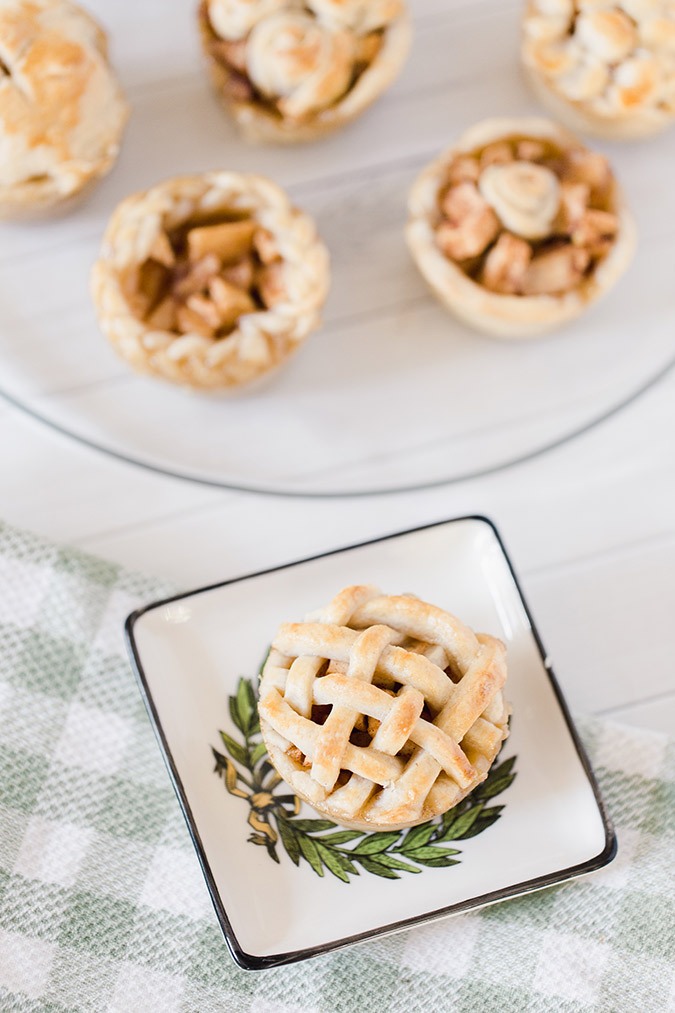 We never met a pie we didn't like, and these mini masterpieces are no exception! Not only are these apple pear pies exceptionally tasty, but our favorite part is how Lauren Lowstan added edible artwork to the tops of each one. We hope you're feeling creative! Here's how to make them…
½ recipe pie dough (we love this one from Martha Stewart!)
1 granny smith apple
1 pear
2 tablespoons granulated sugar
2 tablespoons brown sugar
½ teaspoon cinnamon
a pinch of nutmeg
a pinch of salt
cooking spray
standard muffin tin
2 ½ inch circle cookie cutter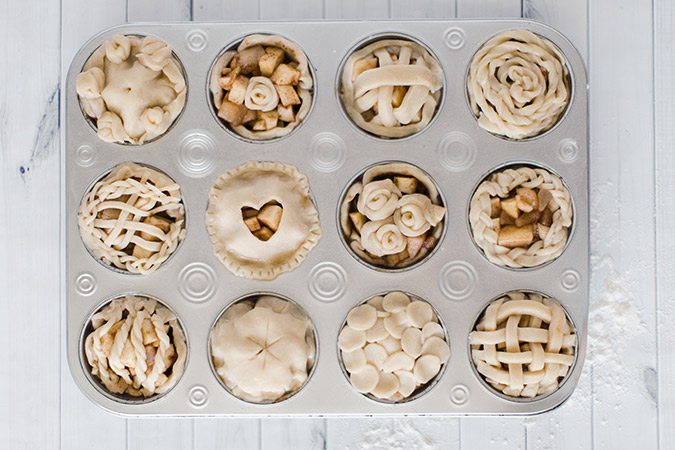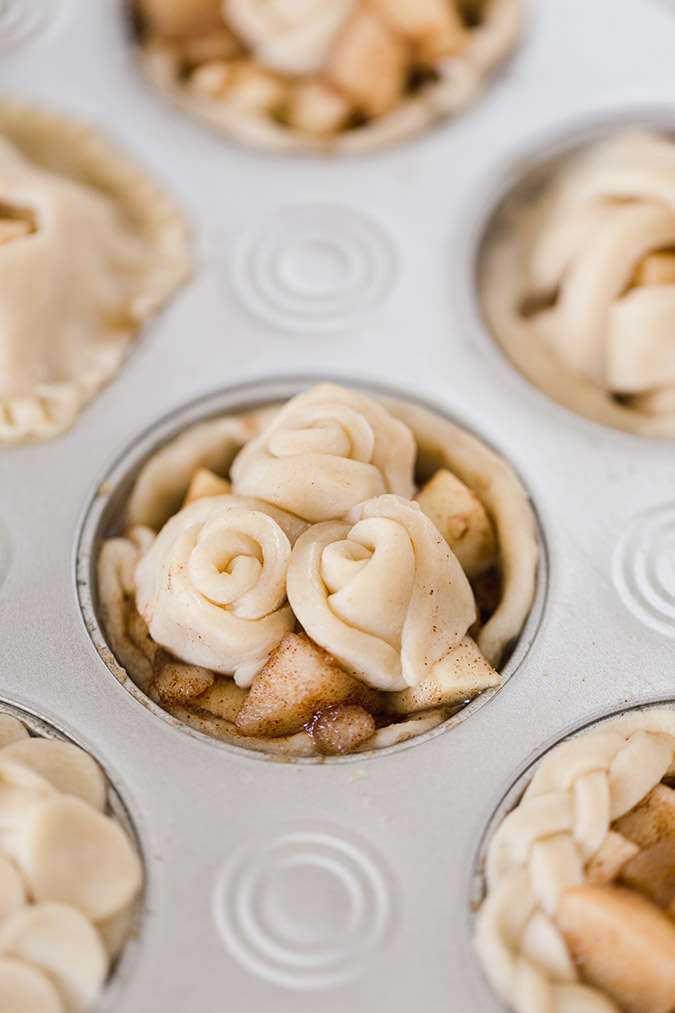 1. Preheat your over to 375 degrees.
2. Spray your muffin tin with cooking spray and set aside until ready to use.
3. Instead of making the pie dough into two circles as suggested in step 3 of this recipe, roll out your dough on a lightly floured surface.
4. Cut out 12 2 ½ inch circles and place each one into a muffin cavity. Press the dough lightly down and up the sides so that the crust is stuck to the inside of the pan.
5. Peel, core, and dice your apples and pears.
6. Place fruit into a bowl and add the sugars and spices. Mix together until every piece of the fruit is covered in sugar. Set the mixture aside for a couple of minutes to let the juices start to form. You will notice a little sugar pool at the bottom of your bowl.
7. Add the fruit to your pies, letting it overflow from the top. You want each pie to be completely filled.
8. Top each mini pie with crust option of your choice! Tip: If you cover the entire top of a pie with crust, make sure to make a slit in the top to let steam out.
9. Bake the pies in your preheated oven for 35 to 40 minutes, or until you can see the juices bubbling under the crust.
10. Remove from the oven and let cool for at least 20 minutes. Pop your pies out of the muffin tin, serve, and enjoy!
Which one of these desserts are you going to whip up first?
Affiliate links may have been used in this post.