Recipe Box: Grain-Free Gingerbread Crumb Pumpkin Caramel Cake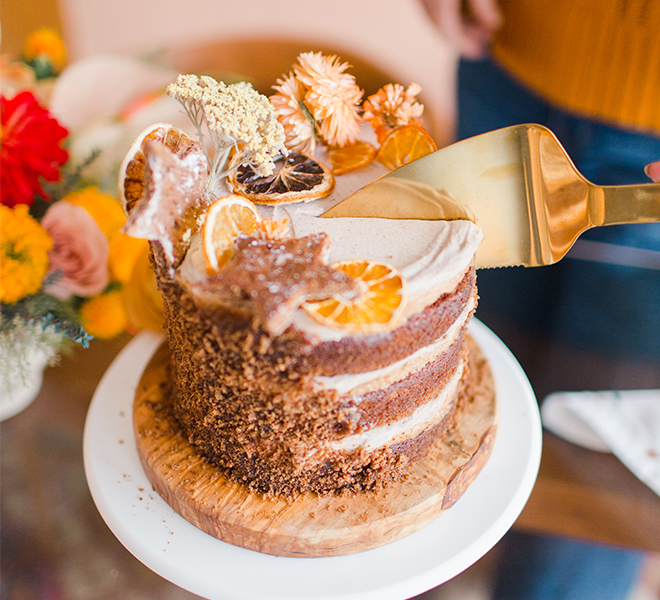 Whether you have family flying in from out of town or a Friendsgiving planned with all your besties, Thanksgiving is all about gathering with loved ones. But when you have so many people sharing a meal together, chances are you will have at least a few guests with dietary restrictions. That's where today's dessert recipe comes in! This Gingerbread Crumb Pumpkin Caramel Cake is grain-free, dairy-free, and refined sugar-free, just like all of Sweet Laurel's recipes. It tastes just as indulgent as any other dessert, but it's made with all clean and wholesome ingredients. That way you can accommodate guests who are gluten-free or don't eat dairy, while giving everyone at the table a delicious treat full of fall flavor. Plus, Thanksgiving is often synonymous with stretchy pants and eating yourself into a food coma. So if you find you barely have room for dessert after feasting on five other courses, it's nice to have a lighter option to finish off the meal. Keep on scrolling to get the recipe…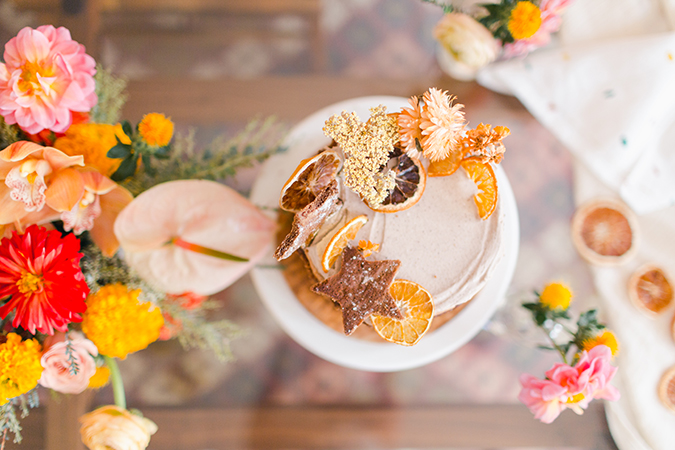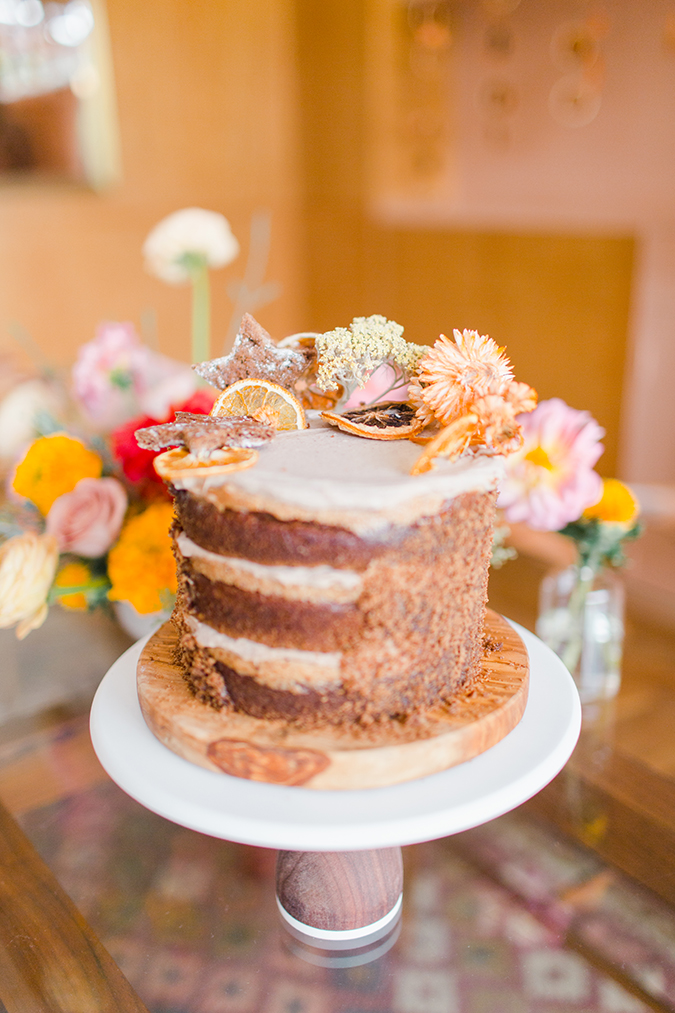 Grain-Free Gingerbread Crumb Pumpkin Caramel Cake From Sweet Laurel Bakery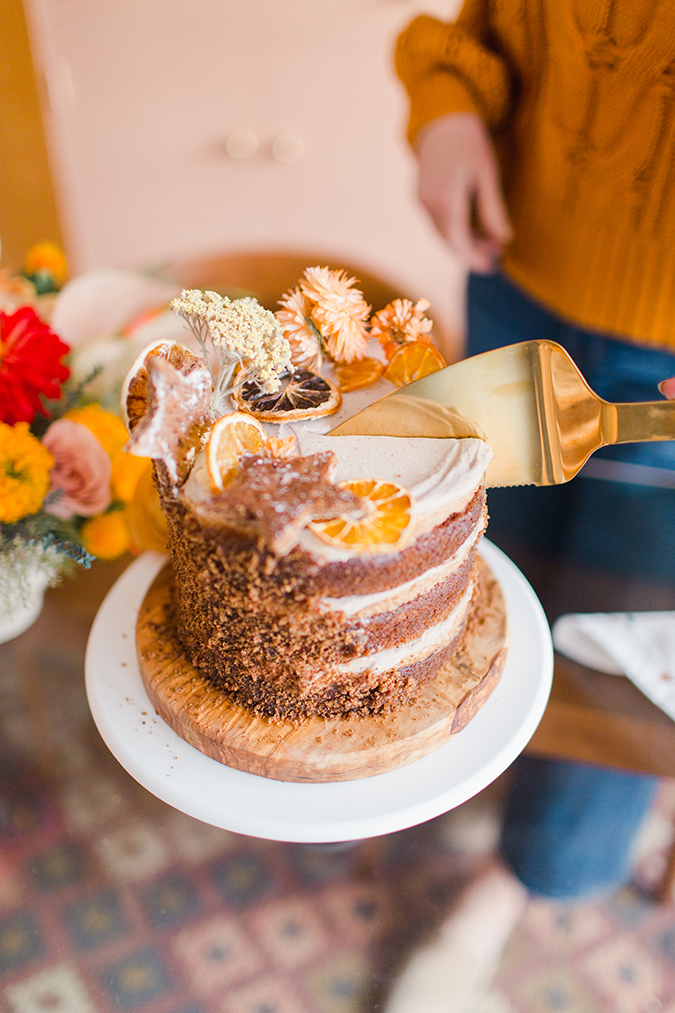 Even though Claire put her foot down and said, "No pumpkin bread. Every gluten free bakery has one!" Laurel persisted. She snuck some onto the spread at a Sweet Laurel workshop and Claire literally ate her words, with vegan caramel on top. Now, every fall, people go nuts for our Sweet Laurel pumpkin bread. We knew we had to turn it into a cake. Just as moist as our bread, but spread with Chai Whipped Cream, this cake especially perfect for the holidays. And if you want to turn this pumpkin/chai combo into a pumpkin spice latte-inspired one, simply switch out the chai spices for espresso.
1 cup pumpkin puree
1/2 cup maple syrup
3 Tbsp coconut oil, melted, plus more for greasing
2 eggs
1 Tbsp vanilla extract
2 cups almond flour
1 Tbsp cinnamon
1 teaspoon ground ginger
1 teaspoon baking soda
1/2 teaspoon Himalayan pink salt
2 cups coconut whipped cream, chai variation (recipe below)
1. Preheat the oven to 350°F. Line two 6-inch cake pans with parchment paper rounds, then grease with coconut oil.
2. Whisk together the pumpkin, maple syrup, oil, eggs and vanilla in a large bowl. In a separate large bowl, combine the flour, spices, baking soda, and salt. A little at a time, add the dry mixture to the wet ingredients, stirring until a batter forms.
3. Divide the batter evenly between the prepared pans bake for about 30 minutes, or until a toothpick comes out clean. Remove the cakes from the pans, and allow to cool completely on a rack.
4. Place one cake on a cake plate and top with 1/2 cup of whipped cream, smoothing it evenly over the entire surface. Add the second cake layer and top with another 1/2 cup of whipped cream and smooth. One tablespoon at a time, add whipped cream to the sides, smoothing with an offset spatula. Refrigerate until ready to serve.
For the chai coconut whipped cream:
two 13.5-oz cans full-fat coconut milk, refrigerated overnight
2 Tbsp maple syrup
1 Tbsp vanilla extract
¼ teaspoon ground cinnamon
¼ teaspoon ground ginger
1/8 teaspoon ground cloves
1/8 teaspoon ground cardamom
1. Remove the solid coconut cream that has risen to the top of the can, and spoon it into a stand mixer fitted with the whisk attachment. While processing, add ground cinnamon, ginger, cloves, and cardamom.
2. Beat the coconut cream on high speed until it begins to thicken and peaks form. The remaining coconut water can be added, a teaspoon at a time, if the whipped cream is too thick. Otherwise, discard it.
3. Using a rubber spatula, slowly fold in the maple syrup and vanilla. Transfer the whipped cream to a metal or glass bowl, cover, and refrigerate until ready to use.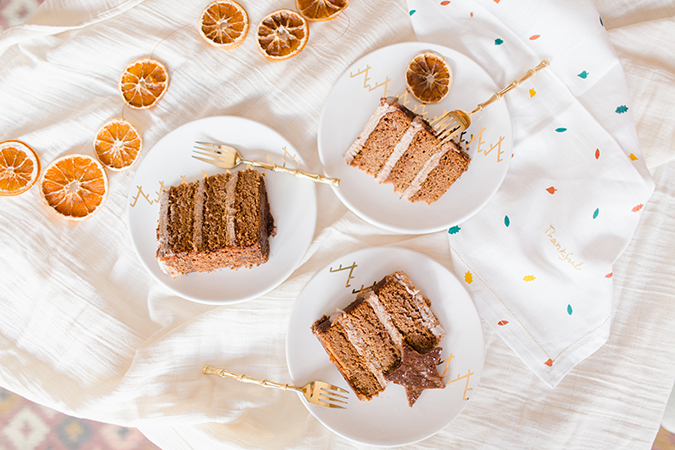 The Sweet Laurel Pumpkin Caramel Spice Cake gets our gingerbread cookies as a crumb coat and decoration. Spicy, rich, and grain free, it's perfect for the holidays.
For the gingerbread decorations:
3/4 cups almond flour
1 Tbsp arrowroot powder
½ teaspoon baking soda
¼ teaspoon Himalayan pink salt
¾ Tbsp cinnamon
1 Tbsp freshly grated ginger
2 Tbsp coconut oil, melted
2 Tbsp maple syrup
1 tsp vanilla extract
1. Preheat the oven to 350°F. Line a baking sheet with parchment paper.
2. Whisk together the flour, arrowroot powder, baking soda, salt, and cinnamon in a medium bowl. In a separate medium bowl, combine the ginger, coconut oil, maple syrup, and vanilla. A little at a time, add the wet ingredients to the dry mixture, stirring until a dough comes together. Gently shape the dough into a ball, cover with plastic wrap, and refrigerate for about 20 minutes.
3. Roll out the dough to about 1/4 inch thickness, then cut out desired shapes with cookie cutters and arrange on the baking sheet. Bake for 10-15 minutes. Transfer the cookies to a rack to cool completely.
4. Crush a few cookies by hand, or place in a food processor, for crumb coating. Place 2-3 whole cookies on top as decoration.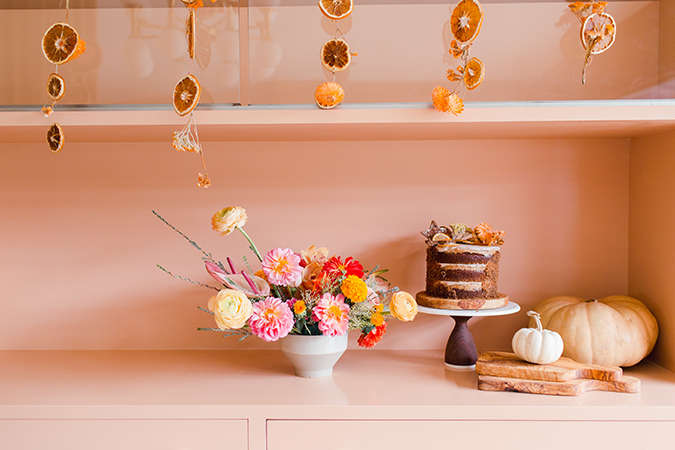 Trust us when we say you need to try this one!
Affiliate links may have been used in this post.