Tuesday Ten: Reasons to Rescue a Pet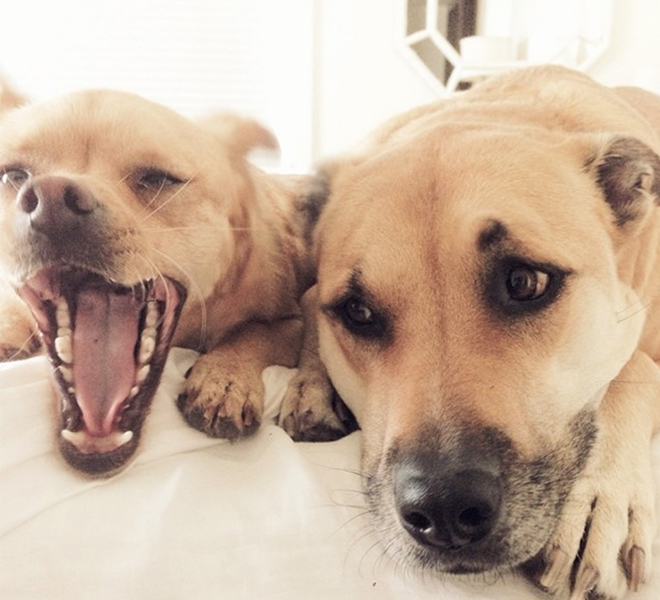 Most of you know by now how much I love my dogs Chloe and Fitz. I rescued both of them from animal shelters in Los Angeles, and they've added so much happiness to my life. I know that we have a lot of dog (and cat) lovers who follow the blog, so today I wanted to share why rescuing is so important to me, and give all of you potential pet owners a little bit of information as to why adopting is the best option. There are so many reasons to rescue a pet (from the endless cuddles to the adorable Instagram opportunities to always having a hiking buddy), but I've narrowed it down to my top 10. Take a look…
1. When you rescue, you save a life.
According to The Humane Society, 2.7 million dogs and cats are euthanized in the U.S., simply because our shelters don't have enough space, and not enough people choose to adopt when looking for a pet. By adopting your next pet from your local animal shelter or rescue organization, you're not only adding a new member to your family, but you're saving that animal's life.
2. The love of a rescue animal is life-changing.
When you save an animal's life, they thank you every single day with endless, unconditional love. There's nothing quite like the love of a rescued dog or cat—it will truly change your life!
3. It's less expensive!
When you adopt a pet from a shelter or rescue organization you're not only saving a life; you're saving money, too! Rescue pets can cost hundreds or even thousands of dollars less than a dog from a breeder. Plus, rescue pets usually have already been spayed or neutered, microchipped, and had their first vaccinations—all costs you don't have to pay for when you rescue!
4. Adopting helps to end the animal cruelty of puppy mills.
Did you know that buying a dog from a pet store means that your dog is likely coming from a puppy mill? I won't get into the details of why puppy mills are so terrible because it's too heartbreaking, but if you don't already know, click here and find out. When you adopt an animal, you're creating less demand for pet stores, which in turn creates less demand for puppy mills.
5. Because all animals deserve a second chance.
One common misconception is that dogs and cats that end up in shelters are there because they are bad. That is simply not true. A lot of animals end up as strays, and subsequently in shelters, because of no fault of their own. A lot of animals are in shelters because their previous owners didn't have enough time for them, had to move unexpectedly, or couldn't afford to care for them anymore. And don't you think those dogs deserve a second chance at a happy life?
6. Getting involved in the animal rescue community is extremely rewarding.
When you adopt an animal, you're getting a whole lot more than just a new pet. Becoming part of your local rescue community is an incredible way to meet likeminded people, and gives you the opportunity to get involved in helping to find homes for more dogs and cats.
7. Pets are good for your health!
There have been tons of studies that have proved that having a pet is good for you… both mentally and physically. Whether it's having a dependable hiking buddy or always having a furry animal to cuddle with, a rescue pet is just what the doctor ordered.
8. Rescuing makes space in shelters for more homeless dogs and cats.
When you rescue, you're not only saving the life of the animal you just adopted; you're also making room for another stray dog or cat who can now take your pet's place in the shelter.
9. You can choose to adopt an older animal.
Don't have time to potty train a brand new puppy? Adopt an older dog! There are dogs of all different ages and breeds in shelters and rescues, so you can decide if you're ready for the challenges of raising a brand new puppy, or if you'd rather adopt an older animal who might already be house-trained and know their basic commands.
10. Rescues are one-of-a-kind!
While you can absolutely find purebred animals in shelters, the beauty of most rescue animals is that they have a look and personality all their own! Each rescue is completely unique, and there's nothing cuter than that.
If you have a rescue pet of your own, let me know why you decided to adopt in the comments!
Photos: @LaurenConrad on Instagram