Style Guide: How to Build the Perfect Ring Stack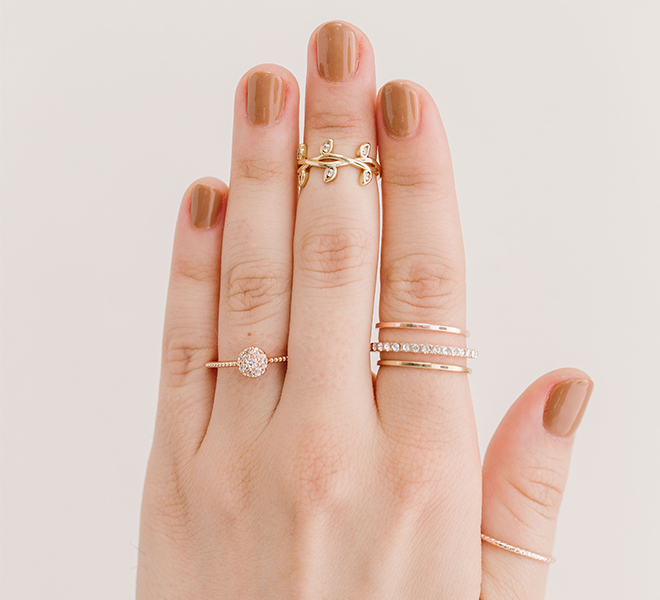 Anyone that knows me is aware that I have a serious jewelry obsession. I always seem to be searching for the next necklace, bracelet, or ring to add to my collection. (Can't stop, won't stop, right?) With so many good LC Lauren Conrad rings floating around our office and sitting pretty in our jewelry boxes, I couldn't help but mix and match a few for a stacked look I can't stop thinking about. And that's not all—I'm sharing some tips on how to build the perfect ring stack from start to finish below, so read on to create your own and consider this your lesson in Ring Stacking 101…
1. Mix and match metals.
An all-yellow, rose, or white gold stack is always chic, and is an easy way to play it safe if you're unsure about how to mix metals. But if you do decide to mix and match, a foolproof way to pull off the look is by sticking to only two metals. Pick a dominant color, then incorporate 2-3 pieces of your second metal color throughout your stack.
2. Leave at least one finger bare.
Piling on several rings can go from "just enough" to "too much" real quick, so an easy tip to avoid going overboard is to stick to stacking on only four fingers at a time. Leaving at least one finger bare creates a more balanced and cohesive look, instead of an overwhelming one. I prefer to keep either my pinky or thumb bare, but this one's ultimately up to you.
3. Vary weights and shapes.
A surefire way to create visual balance in your ring stack is to mix different kinds of weights and shapes. Thick bands, chain rings, eternity bands… you name it. Just make sure that if you incorporate a statement ring, the rest of your rings remain relatively simple so they don't compete.
Now, on to the fun part (a.k.a. creating your perfect combo)…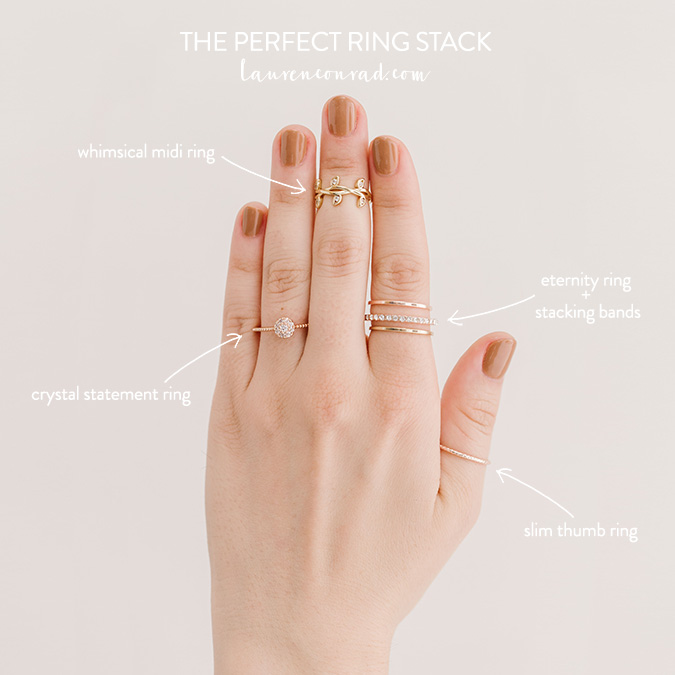 This is where I personally like to begin my own stack. Starting with a bold ring on your ring finger—or even a solitaire style, like an engagement ring—means it can remain the center of attention as you build around it. If you choose one that is especially oversized (like a signet ring), make sure the rest of your stack is relatively understated to avoid a combination that looks too heavy.
Next up is one of the most fun parts of creating the perfect stack—midi rings! These tiny-sized rings look right at home on the middle finger, and are an easy way to add some personality to your stack while simultaneously balancing out your look. It can be a bit tricky to find just the right size, but as a rule of thumb (no pun intended!), midi rings are generally size three and smaller. By the way, I'm a little bit obsessed with this LC Lauren Conrad twig midi ring I'm wearing in the photo above…
In my opinion, eternity rings are quite possibly the dreamiest part of any stack. They always catch the eye, and there are so many different variations to choose from—no need to limit yourself to simple CZ or diamond eternity bands! I've included some of my favorites here so you can shop them below, and if you want to really make a statement, don't be afraid to stack two or three on one finger.
No stack is complete without a few simple, gold bands. Whether you go for uber-affordable stacking rings or solid gold bands you can keep for years, these styles are essential for the perfect ring stack. Tip: If you want to keep things interesting, mix and match a few smooth bands with textured options. A twisted, beaded, or hammered gold stacking ring always looks stunning on either side of an eternity band, or worn alone on the thumb.
Do you have your own formula for nailing the perfect ring stack?
Share your suggestions with me in the comments!
Affiliate links may have been used in this post.