We spent the summer avoiding our ovens (because who wants to bake in 90-degree heat?). But now that it's officially fall we'll be spending a lot more time in the kitchen. In a few days it will be October, which means two months straight of pumpkin-flavored everything (and we're not mad about it either). But while it's still September, we thought we'd kick off baking season with a delicious banana bread that also happens to be gluten-free, dairy-free, and refined sugar-free. You may already have a banana bread recipe in your repertoire, but chances are it's nothing like this one. This banana bread comes to us courtesy of our go-to nutritionist, Kelly LeVeque of Be Well By Kelly, which means it's as healthy and clean as it gets. The muffin tin also makes it easier to practice portion control and eat just one or two at a time instead of a huge slice. Trust us when we say that you have to try it. Keep reading to get the recipe…
Oh and P.S… If you noticed the pretty ceramic plate and that cute pom pom napkin in the photos, they are from Lauren's fair trade shop The Little Market!
Gluten-Free Be Well By Kelly Banana Bread Muffins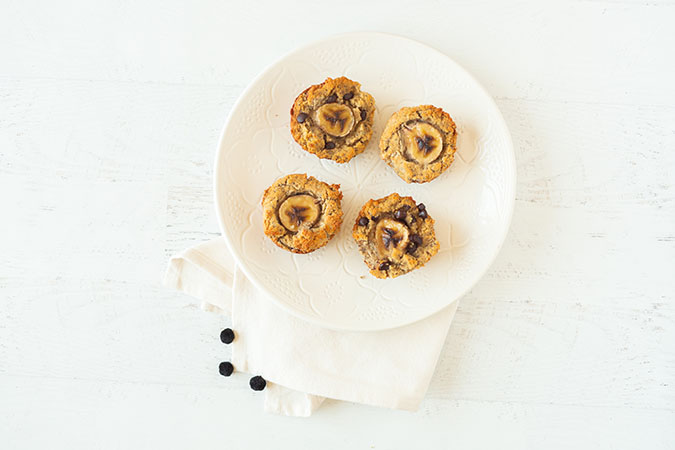 Ingredients:
⅓ cup liquid coconut oil (not melted coconut oil) or algae oil 
½ cup monk fruit sweetener or monk fruit maple syrup
2 eggs
1 ½ cup mashed extra ripe bananas (about 3 large bananas)
1 ripe banana for muffin tops
¼ cup vanilla unsweetened almond milk
1 tsp vanilla extract
1 tsp baking soda
½ tsp salt
½ tsp ground cinnamon
1 ¾ cups gluten-free all purpose flour or 50/50 fine almond flour and coconut flour
½ cup no sugar added vegan chocolate chips (such as Lily's)
Instructions:
1. Preheat oven to 325 degrees Fahrenheit. In a large bowl, mix all wet ingredients: oil, maple syrup (or monk fruit sugar), bananas, vanilla and almond milk. Note: Do not melt coconut oil or use warm coconut oil. This will cook the eggs! You can find 100% liquid coconut oil at your local grocery store.
2. In a medium bowl, mix dry ingredients: flour, baking soda, salt and cinnamon.
3. Slowly fold dry ingredients into wet batter (some lumps are OK). Mix in chocolate chips and pour batter into a coconut oil greased muffin tin. Top each muffin with a ½-inch to 1-inch thick slice of banana.
4. Bake muffins for 25 minutes or until toothpick comes out of bread clean. Enjoy!
Have you been doing any baking lately?
Let us know below!
XO Team LC
Affiliate links may have been used in this post.