Chic Peek: My New LC Lauren Conrad Denim Collection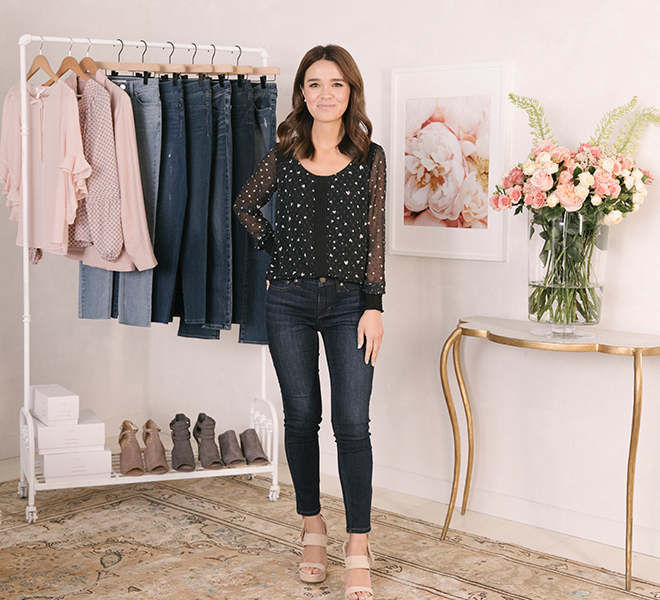 I could not be more excited about my new line that is launching at Kohl's today… say hello to the brand new (and completely redesigned) LC Lauren Conrad Denim Collection! And it's all because of you, my customers. You asked for updates to our jeans, and we listened. As I have mentioned, I am always reading product reviews on Kohls.com and listening to your comments on social media. I also know from personal experience how hard jeans shopping can be so I wanted to design the perfect pair. Starting today, you can shop the full line of LC Lauren Conrad denim at Kohl's, which includes plus sizes, petite sizes, and so many new styles, fits and washes.
Gavyn Taylor wearing LC Lauren Conrad Skinny Jeans
Finding the perfect pair of jeans can be really hard, so we took another look at our signature fits from the last five years and made revisions to make them feel better than ever. And because this line is all about comfort, our denim will now include Lycra, and our slimmest fits (like the super skinny and jegging) will be made in our 4-way stretch fabric. I think you will agree that they are our most comfortable jeans yet.
Claire of The Kitchy Kitchen wearing the LC Lauren Conrad Straight Ankle Jeans
My favorite styles are The Skinny Jean, The Super Skinny, and The Jegging. I'm also loving the The Barely Boot and The Straight Ankle… there are so many good pairs of jeans, it's really hard to pick favorites! As far as the washes go, this season will be all about our range of indigo from dark to light and from clean to destructed to raw hem. Something for everyone…
Hanh of The Hanh Solo wearing my LC Lauren Conrad Super Skinny Jeans
Denim is such a staple for every wardrobe and it's essential to find a pair that flatters your figure. So for my Kohl's line, it was really important to for us to expand our sizes to offer cute styles for any shape, without compromising on comfort. In order to find the perfect fit, you want to make sure it's flattering to your body shape and pairs well with your style… which is why all of the new denim comes in plus and petite sizes.
Head to your local Kohl's store or Kohls.com to shop, and let me know how you like the new jeans! I can't wait to hear what you think.
Photos: LC Lauren Conrad for Kohl's
Affiliate links may have been used in this post.