Party Planning: A Bee-Themed First Birthday Party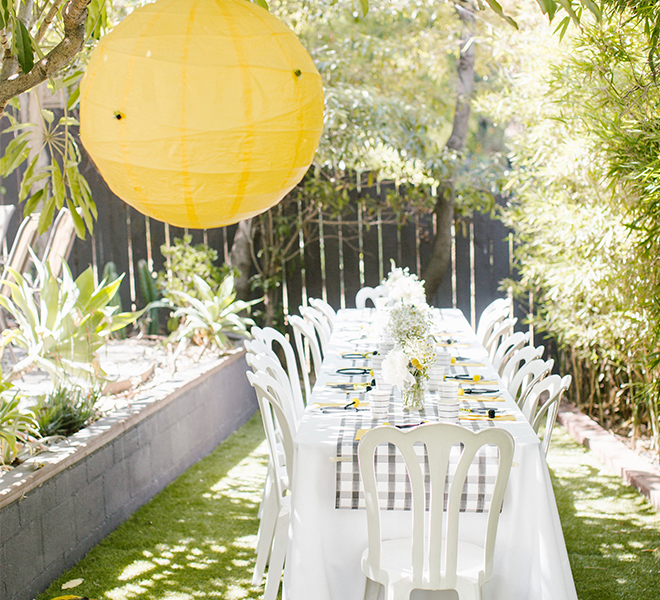 First birthday parties are a big deal in my opinion. Sure, you could say that the baby won't remember them, which is a very valid point. But if you enjoy entertaining, a first birthday is a great opportunity for the parents to gather all their loved ones and celebrate making it through the first year. Since I'm someone who loves planning parties, I also wanted to take advantage of what may be the only year that I have final say on the theme before my little one is old enough to voice his own opinion.
My baby boy Arlo just turned one, and we had a bee-themed backyard bash to celebrate. The theme was actually my older kiddo's idea! (Of course, she also suggested several other silly themes that I had to veto…). The party was a joint birthday celebration with one of Arlo's best baby buddies, Jaxson. Jax's mama Lauren has been a friend of mine for several years (we met through Lauren Conrad), and then our baby boys were born just five days apart. We missed each other in the hospital by only a few hours!
Since we have a ton of mutual friends in common, having a joint birthday party worked out perfectly. We were able to save on budget by splitting the costs, and not overwhelm our friends with two birthday party invites in one weekend. We've also bonded a lot in the past year over the shared experience of watching our babies grow, and it was really special to share this celebration for our boys as well. Keep scrolling if you'd like to see all the pics and details…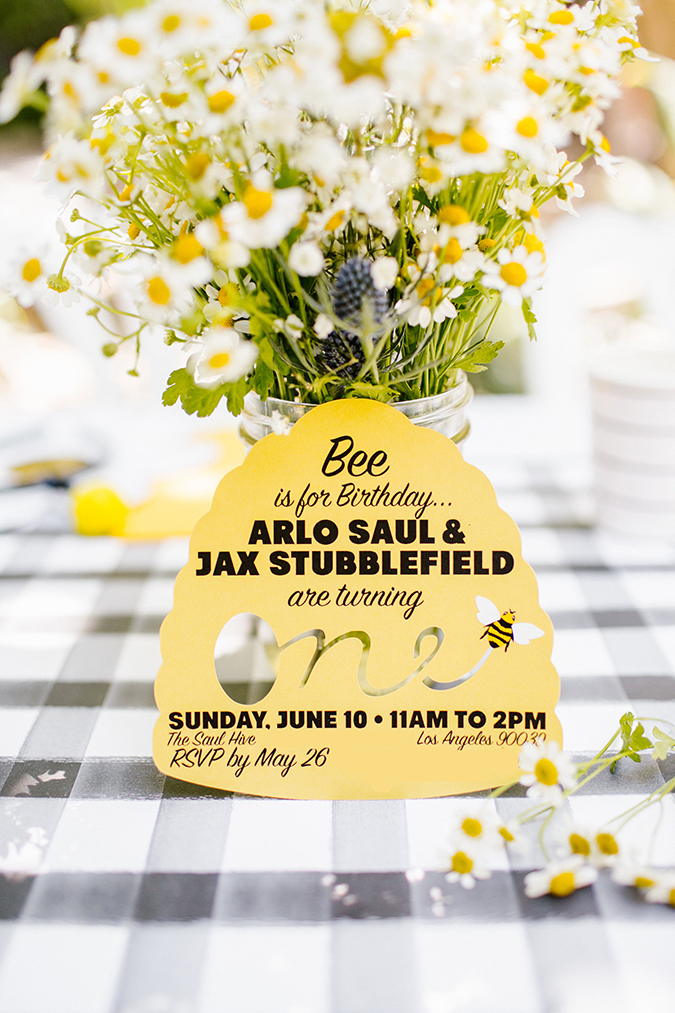 For most occasions, Paperless Post is my go-to. But there's something I love about having paper invites for a milestone occasion like a first birthday party. They become a memento that can go in a baby book or keepsake box. My husband Mark designed these ones and cut them out using a Cricut machine. It was a fun way to let guests in on the bee theme right off the bat!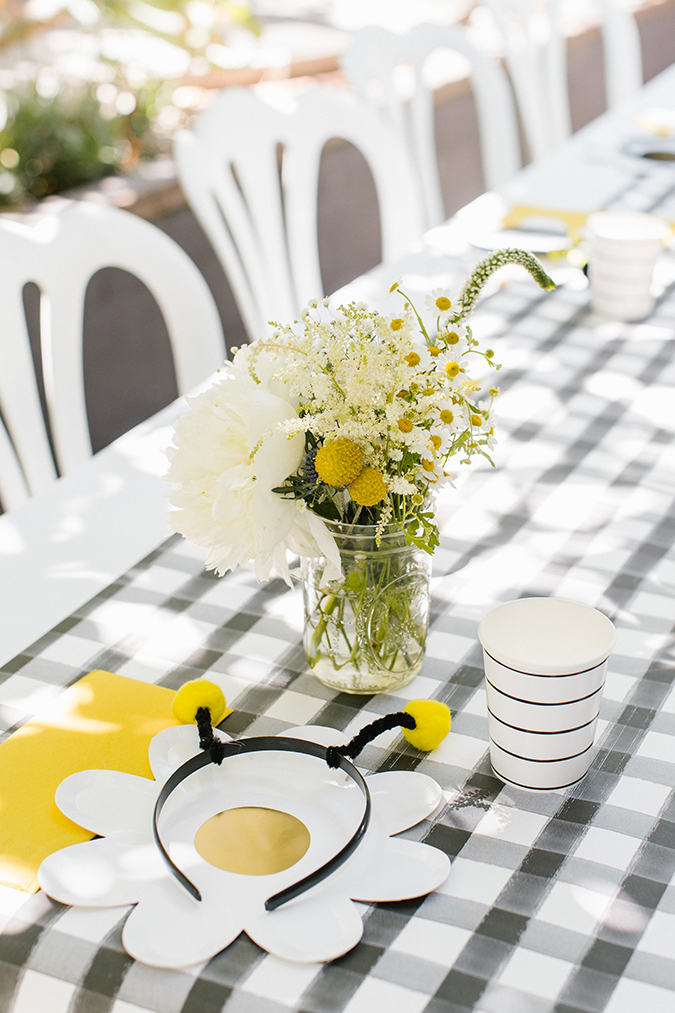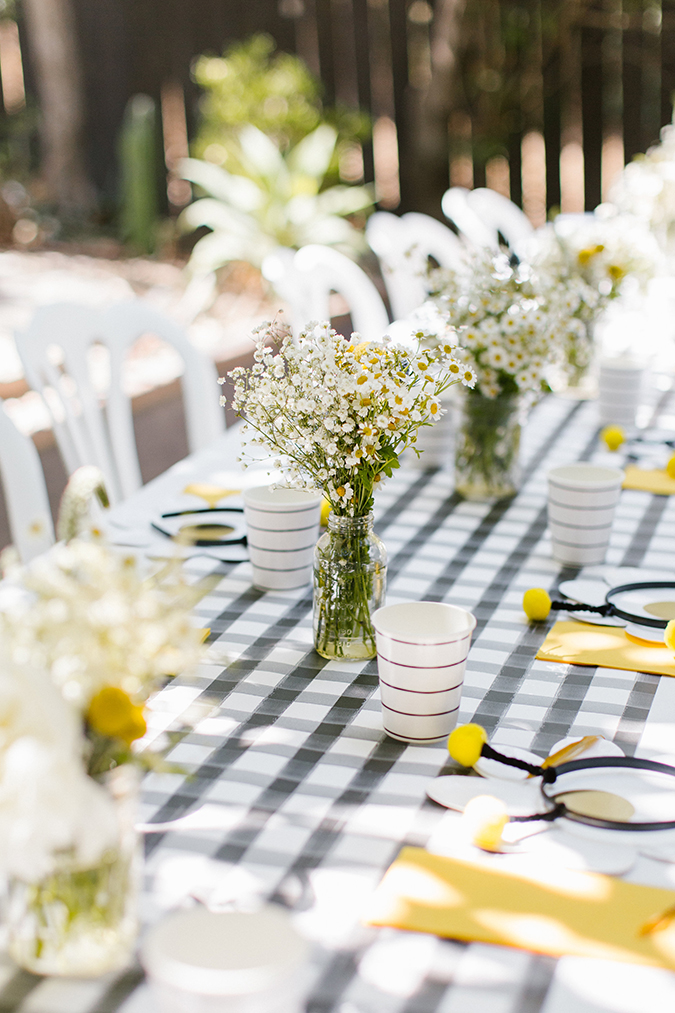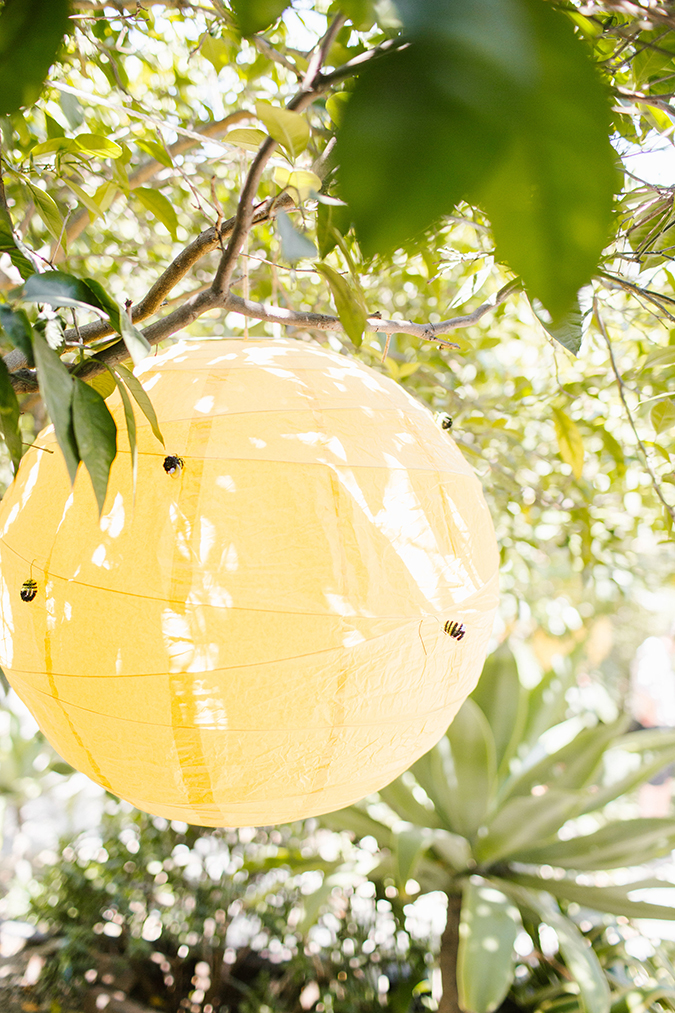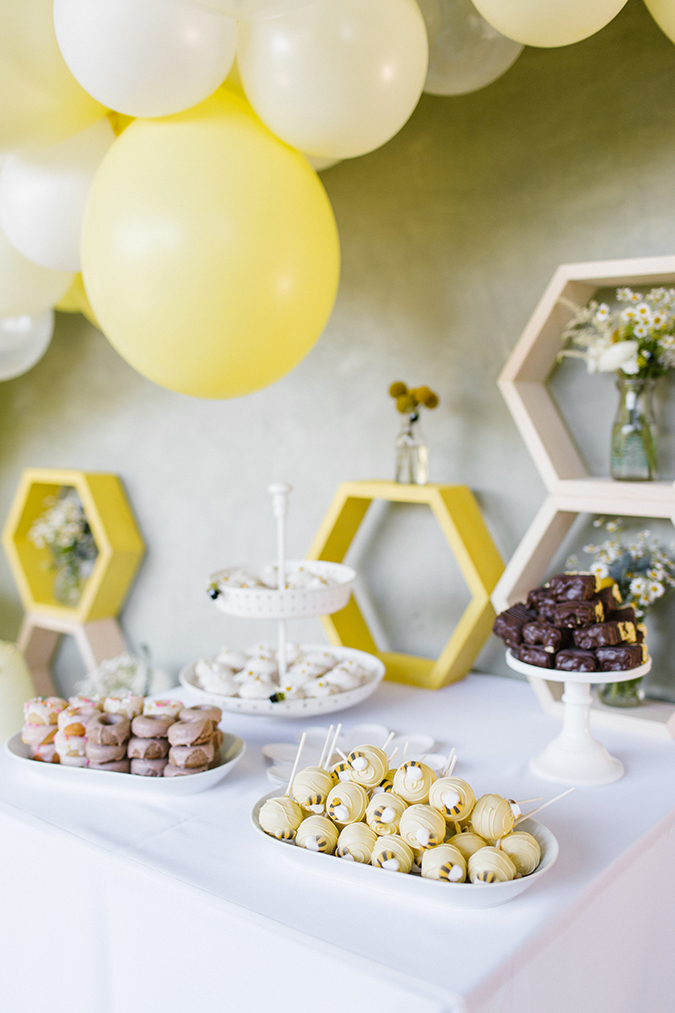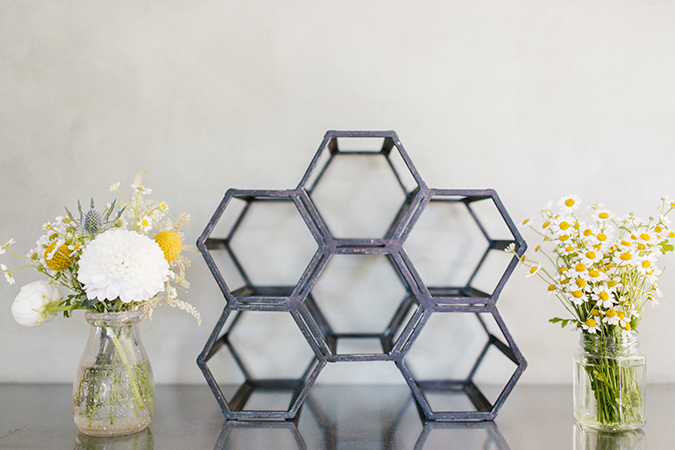 The fun thing about kids' parties is that you can really run wild with a theme. With our honeybee theme in mind, we used a color palette of black, white, and yellow. One of the first things we designed was the tablescape, which featured a black and white gingham table runner, these white daisy paper plates, black and white striped cups, and bright yellow napkins. Lauren crafted all the bee antennae headbands to go at each place setting, and they also made for many perfect photo opps throughout the party! For the centerpieces, I made all the floral arrangements using baby's breath, chamomile, billy balls, white peonies, ranunculus, veronica, astilbe, and blue thistle. We hung yellow paper lanterns in the trees as beehives, with these cute little guys to go on them.
We also had a photo backdrop for the babies that featured a big balloon garland by our pal Rachel at Bonjour Fete and a custom wooden "Happy Bee Day" sign Lauren had made on Etsy.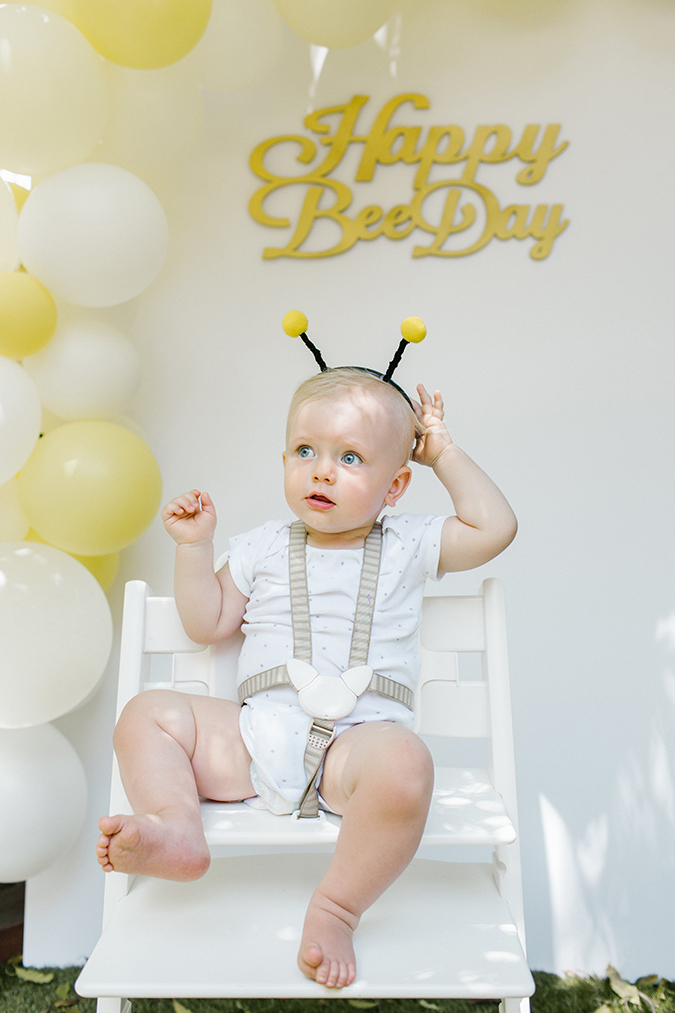 For the dessert table, Lauren sourced the wooden hexagons from Etsy, and we then painted a couple of them yellow to add a pop of color. All of the serving ware is from Ikea. If you like to entertain, one of my biggest tips is to invest in a set of plain white Ikea platters. I've used them again and again for every party we've hosted at our home.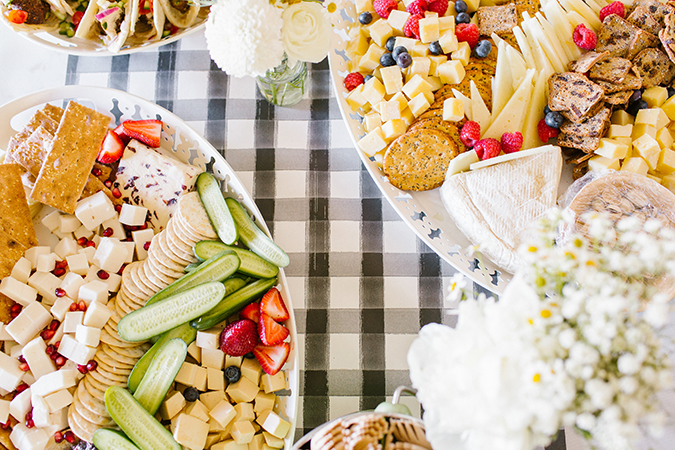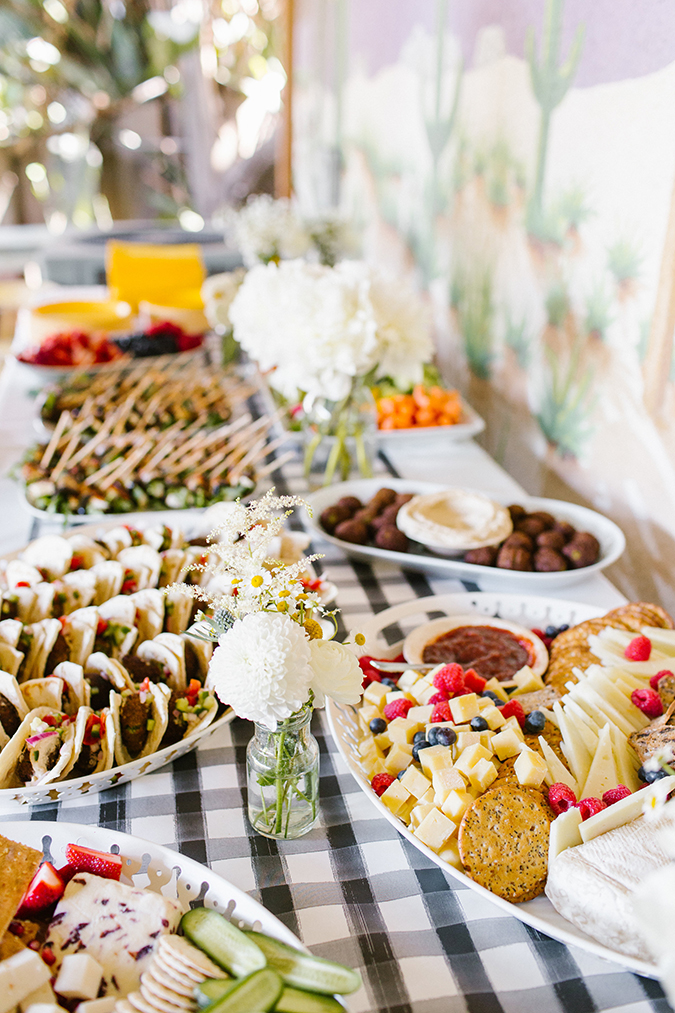 All of the guests kept commenting on how delicious the food was! We had former LaurenConrad.com contributor and chef Marlene Bernstein whip up a menu that included a cheese platter; roasted eggplant, mozzarella, and arugula wraps; and falafel flatbread wraps. To stick within our budget, we supplemented Marlene's incredible menu with homemade fruit and veggie platters, store-bought quiches, and peanut butter and jelly sandwiches cut into honeycomb-esque hexagons to go with the bee theme. We also had puffs and pouches on hand for the babies, and wine and Casamigos margaritas for the adults to sip on.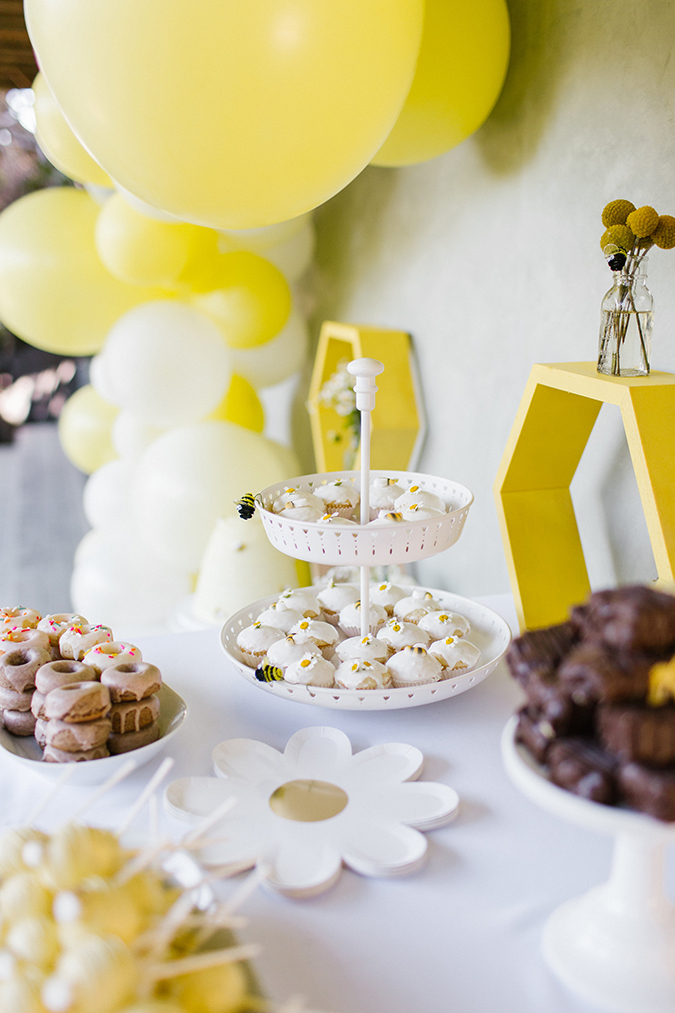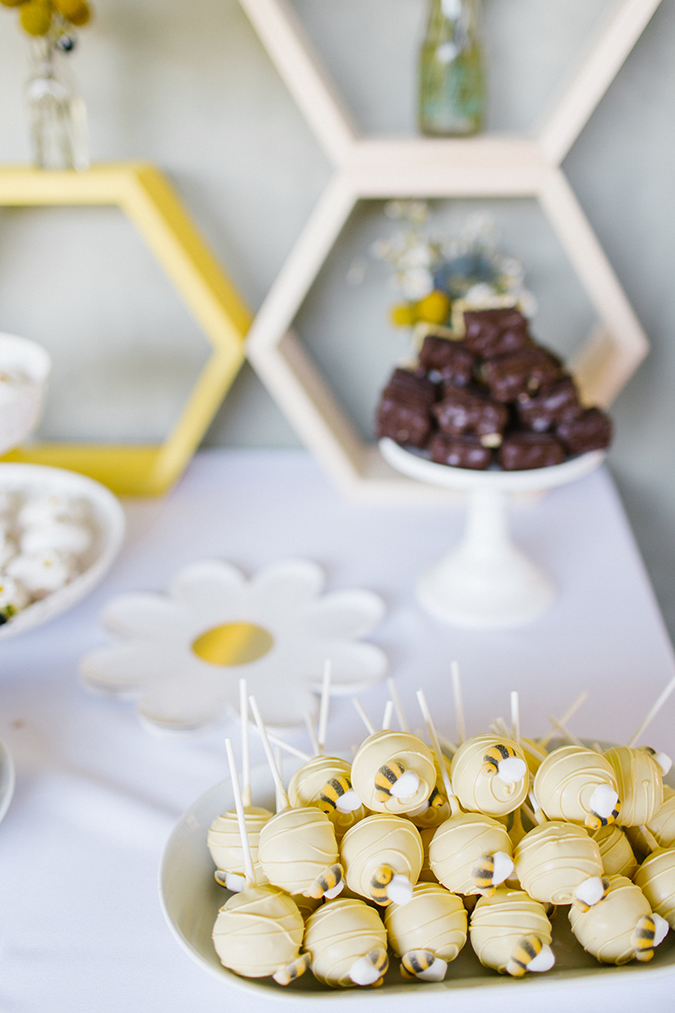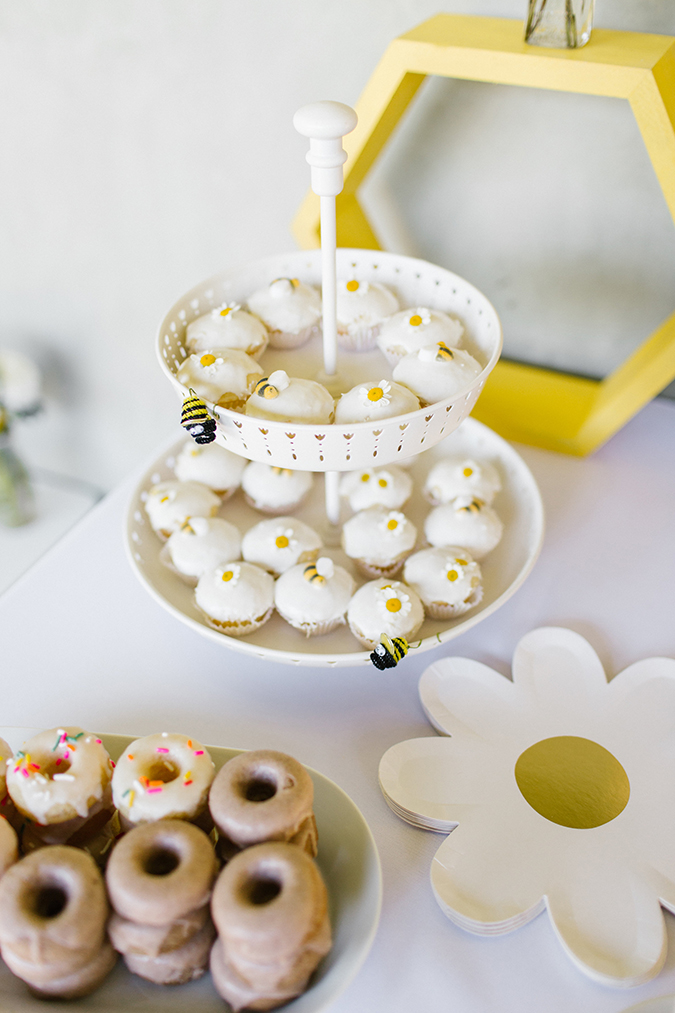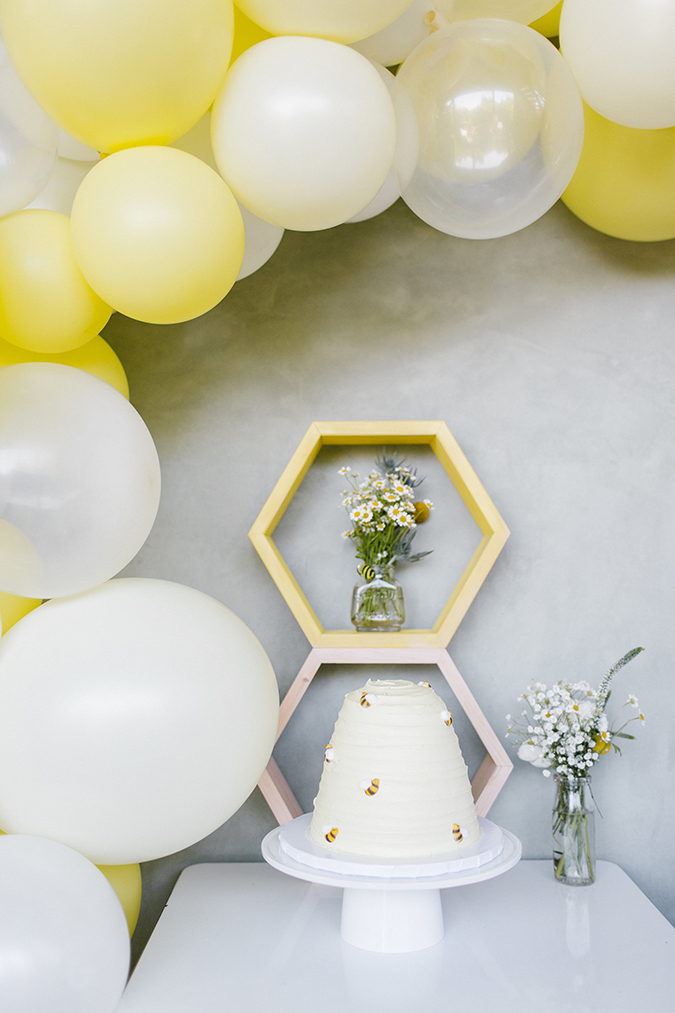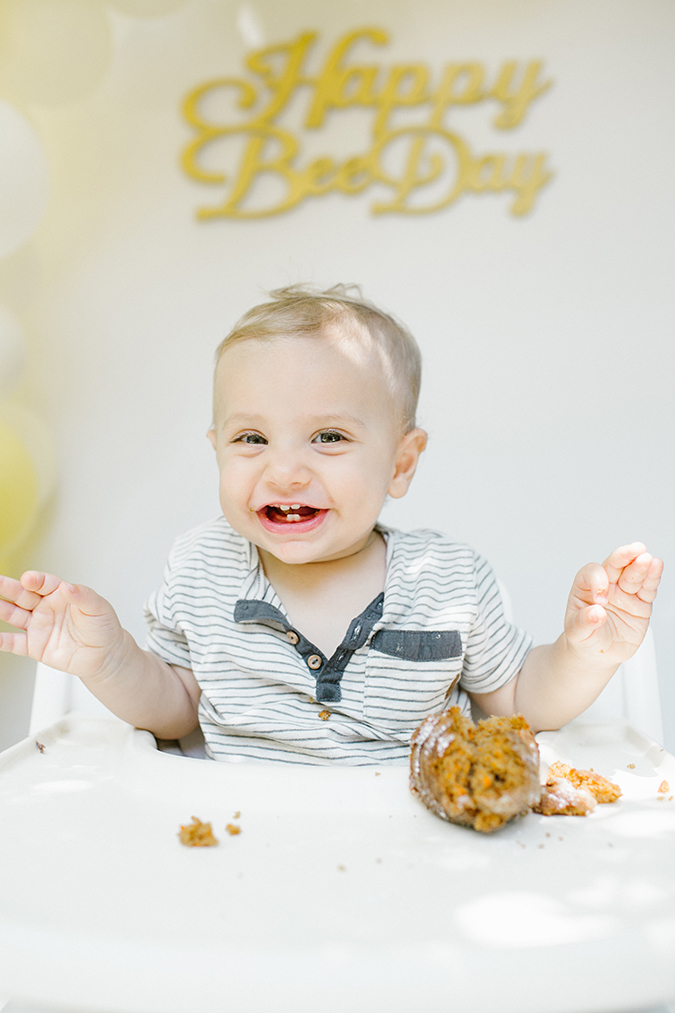 Neither of us could resist the opportunity to have resident LC.com baker Lauren Lowstan whip up some sweet treats for our babes' birthdays. Lauren made mini cupcakes that we topped with chamomile, beehive cake pops, and honeycomb cereal marshmallow treats dipped in chocolate. And of course the piece de resistance was a beehive-shaped layer cake. Yum!
We decided that it was special to have a homemade smash cake for a first birthday, and that way we could also make it a little less sugary for the babies. Lauren's mom made her favorite carrot cake recipe using this completely adorable beehive cupcake pan.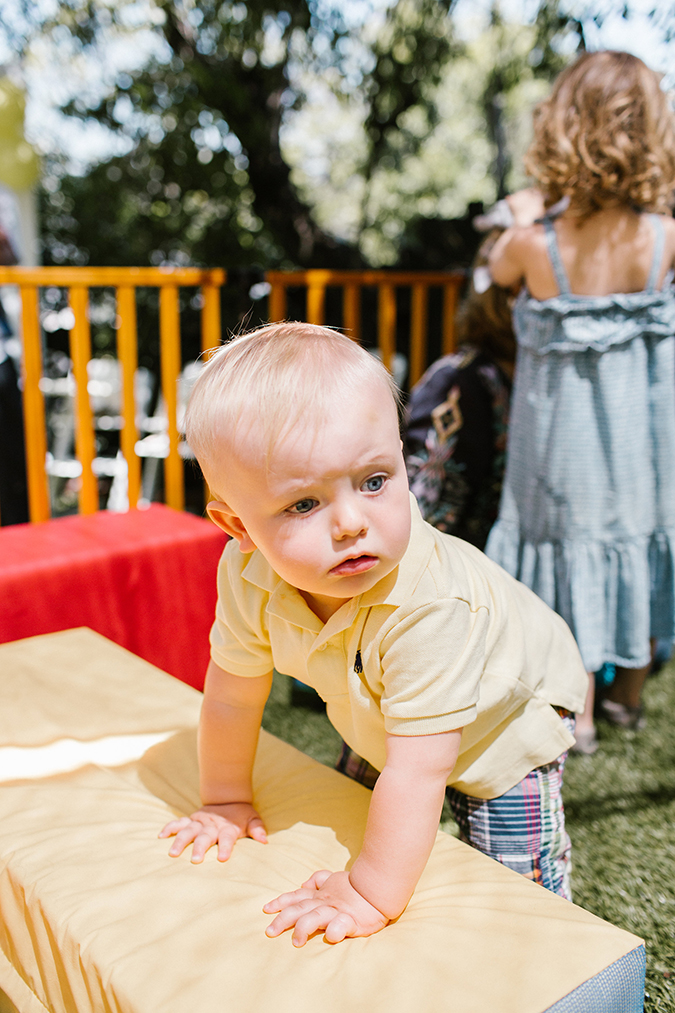 We rented giant foam building blocks from Joymode, and also put out a ton of toys for the babies. We had a bubble maker going, and kid-friendly tunes playing throughout the party. The water table was also a big hit with all the little ones. It was a hot day, so they had fun splashing around. It was nice for parents to be able to relax and chat a little while their babies had plenty of things to entertain them.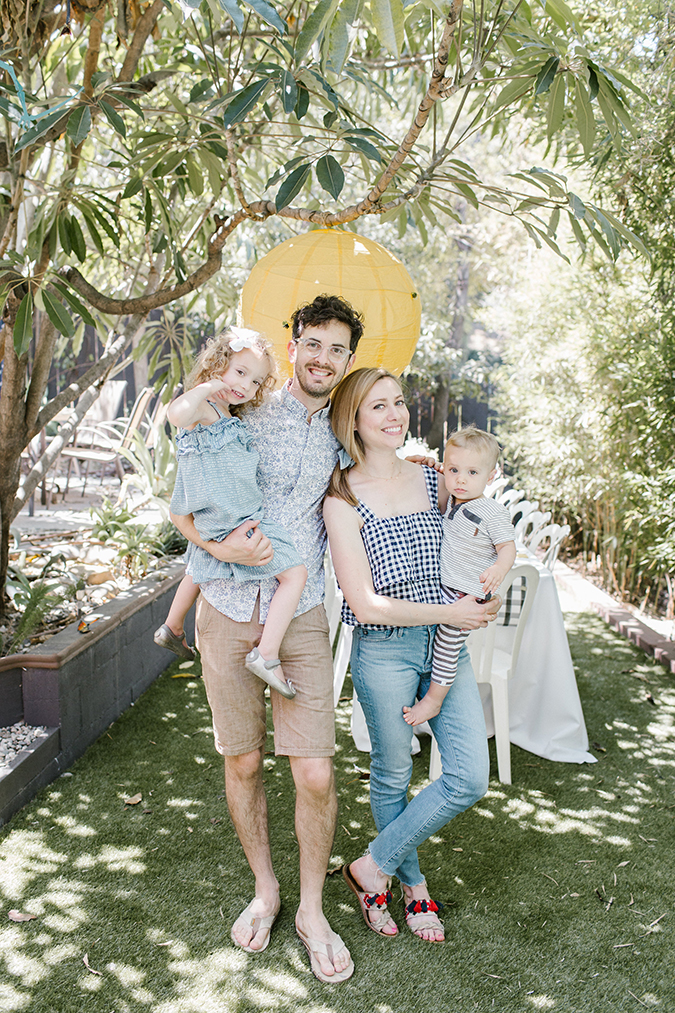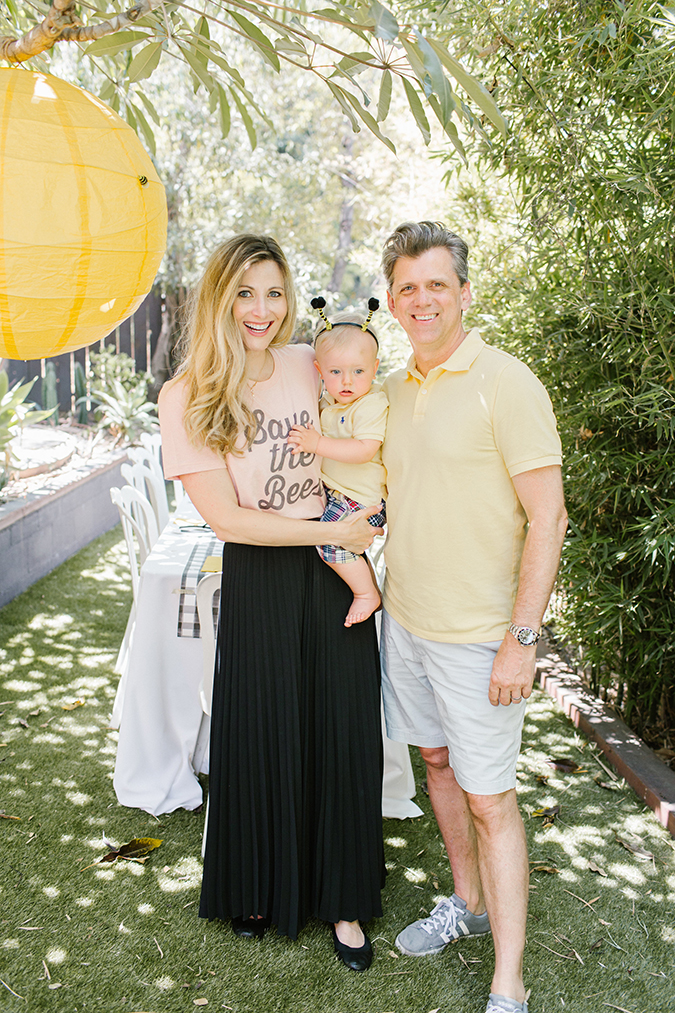 Whether you go all out like we did or prefer a smaller celebration, I truly believe that hiring a photographer is the best gift you can give yourself as a parent. I loved being able to leave my iPhone inside and just enjoy the celebrations without having to worry about snapping photos. We hired LC.com's own Jessi Burrone to capture the party, and we have so many beautiful, professional photos that we can now print out and frame.
Have you thrown a party for your little one?
I'd love to hear about the theme below.
Affiliate links may have been used in this post.