To us, summertime means soaking up as much sun and free time as possible. It's right around the time that the weather gets almost too hot to handle that we start daydreaming of a tropical retreat. Since running off on a vacation isn't always in the cards, a summer soiree over the weekend usually does the trick. We wanted our latest party to emanate everything good that this season has to offer, so we called up our friend and hostess extraordinaire, Royale Ziegler of But First, Party!, to create the tropical celebration of our dreams.
Setup in WildFlora's dreamy flower shop in L.A., Royale outfitted the space to replicate a tropical paradise. We showed you the entire palm leaf and flamingo-themed party in this post, so today we're sharing a delicious recipe that made the dessert menu, whipped up by none other than Lauren Lowstan. Allow us to introduce you to strawberry basil cheesecake bars—a gluten-free, vegan-friendly, and totally delectable treat. Now this is one recipe worth replicating! Keep scrolling to learn how to make them at home in your own kitchen…
Vegan Strawberry Basil Cheesecake Bars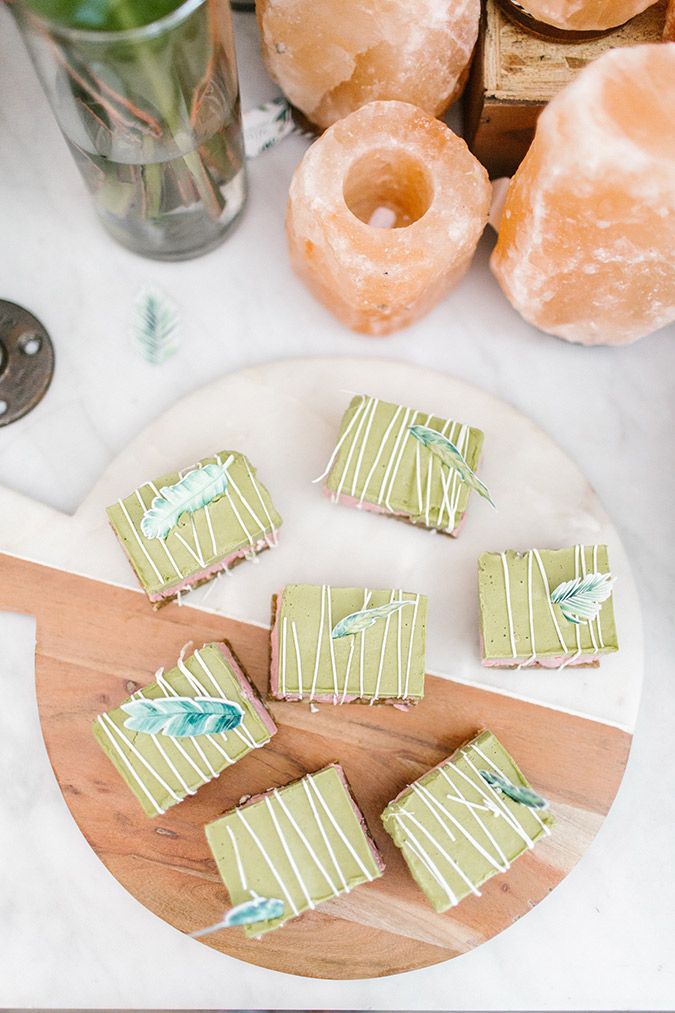 Ingredients:
For the crust:
1 cup dates, packed
½ cup walnuts
¼ teaspoon salt
For the strawberry layer:
2 cups strawberries
1 cup cashews, soaked overnight
juice and zest from 1/2 lemon
3 tablespoons maple syrup
1/2 teaspoon vanilla
1/2 cup coconut butter, melted
2 tablespoons coconut oil, melted
pinch of salt
For the basil layer:
1 cup fresh basil, packed
1 cup cashews, soaked overnight
juice and zest from 1/2 lemon
3 tablespoons maple syrup
1/2 teaspoon vanilla
2 tablespoon full fat coconut milk
1/4 cup coconut oil, melted
pinch of salt
For the topping: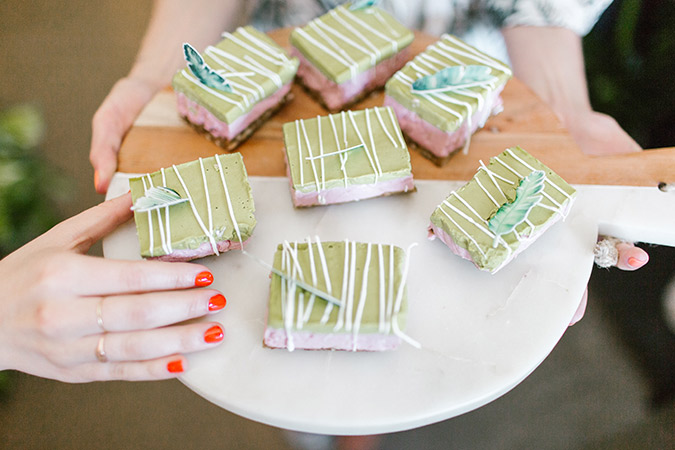 Instructions:
1. Spray a 9" square baking pan with cooking oil. Completely line the bottom and sides with aluminum foil, letting excess overhang over the pan. Spray a little more cooking oil on the bottom and set aside until ready to use.
2. Making the crust first, drain the cashews from the water. In a food processor, add the dates, walnuts and salt. Process until pretty smooth and paste-like.
3. Press the crust into the bottom of the cake pan, making sure to create a smooth and even bottom. Set in the freezer while you make your filling.
4. In the same food processor, add all of the strawberry layer ingredients. Let this mixture purée for a few minutes to get it as smooth as possible. Tip: To get it even smoother, add it to a blender.
5. Pour the filling into the cake pan on top of the crust. Set in your freezer for 3 hours, or until completely hard.
6. Once the strawberry layer is hardened, make the basil layer. In a food processor or blender, blend all of the basil ingredients until as smooth as possible. Pour on top of the strawberry layer and smooth the top out.
7. Place back into the freezer for at least 3 hours, or until completely solid.
8. Once your cheesecake has hardened, take out of the freezer. Pull the cheesecake out of the pan with the excess foil overhang. Lightly peel the foil off the bottom and sides, and cut into small rectangles.
9. (Optional) drizzle the tops with coconut yogurt.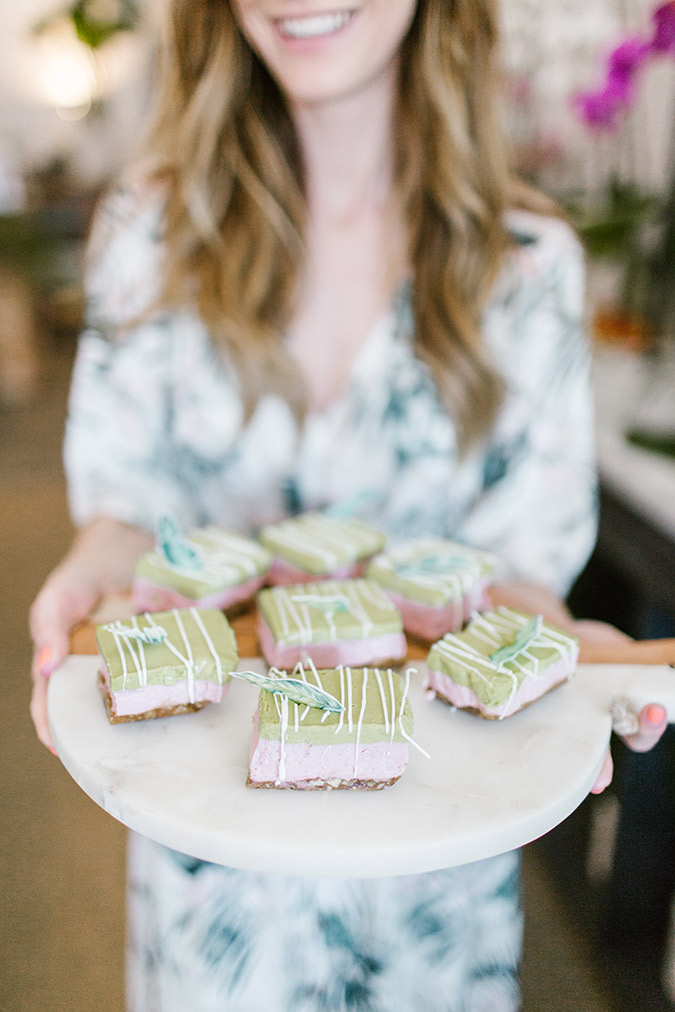 Strawberry and basil are a truly winning combo. These cheesecake bars were not only gorgeous, but insanely delicious!
What are some of your favorite dessert recipes?
Let us know in the comments!
XO Team LC
Photos: Jessi Burrone for LaurenConrad.com
Affiliate links may have been used in this post.