Today Selena from Find Us Lost is back with a brand new travel installment. This time she is sharing a travel diary for Kauai, Hawaii. Check out all the photos and tips below…
Hi everyone, Selena here from Find Us Lost! I moved from Los Angeles to Europe a couple years back and now I run a travel blog full-time with my husband and photographer partner-in-crime, Jacob. You might remember me most recently from my Lapland, Finland travel guide. Now that we're heading into summer, I thought it would be the perfect time to share a guide to one of my favorite places in the world: Kauai, Hawaii. We love it so much that we even chose to have our wedding there last year!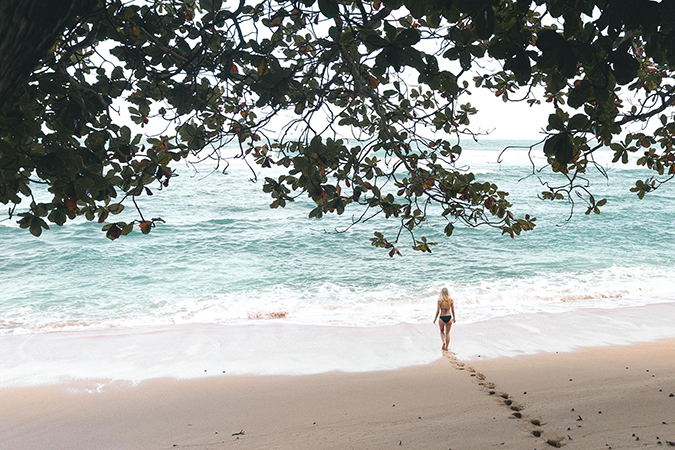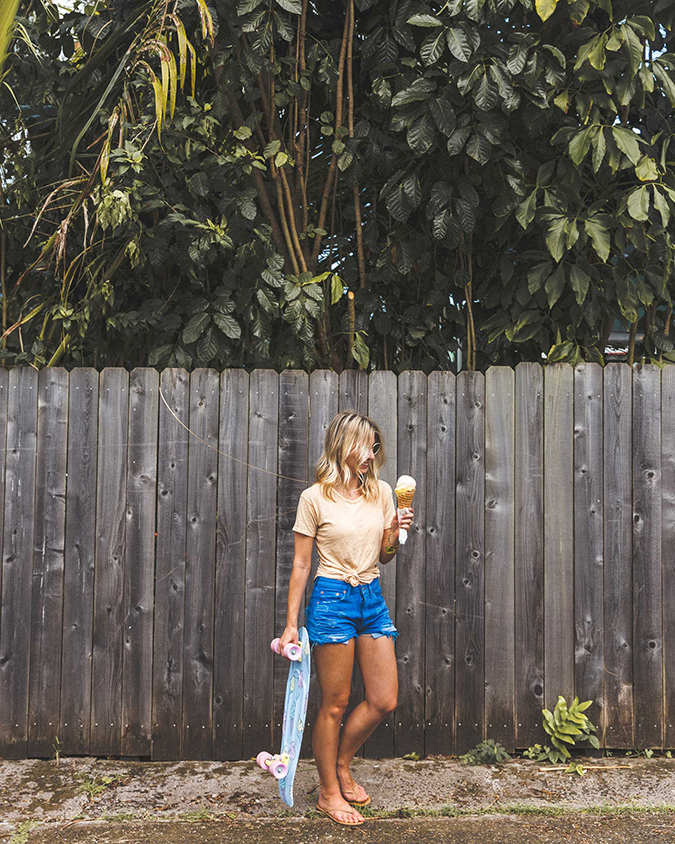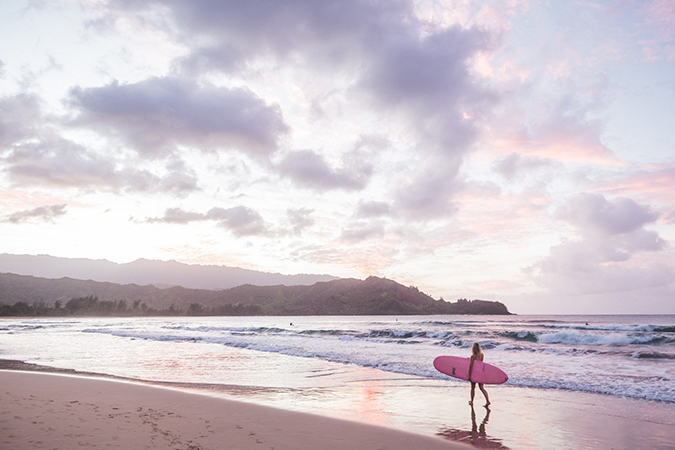 Kauai boasts incredible mountain landscapes, crystal-clear water, quaint restaurants, and beautiful waterfalls. The locals are friendly and tourists don't seem to linger around on the beaches as much as on Maui or the Big Island, which makes it seem a bit more untouched. This Kauai travel guide has a little bit of something for everyone: whether you are looking for something adventurous, family-friendly, or simply relaxing!
Where to Stay
Kauai's North Shore is my favorite part of the island—it has beautiful beaches, mountains, and is much less crowded than other parts of the island. Tip: This part of the island gets more tropical rain, but if you drive over to the southern side it's usually sunny!
Hanalei Colony Resort – If you want to be steps away from the ocean, stay here. It's located on a quieter part of the North Shore and close to Hanalei Town.
House Rentals – There are plenty of homes for rent on Kauai and they often have a better view than the hotels. I recommend doing a quick Google search or perusing Airbnb homes near Hanalei, my favorite area in the North Shore.
Taro fields outside our rental house in Hanalei Town.
Regis Princeville

– If you want to splurge, this is the place to do it! The views are breathtaking and the location right on Hanalei Bay is unbeatable.
Where to Eat
Tege Tege Shave Ice – A must if you like shave ice. Tege Tege uses only organic fruit, and they have unique flavors like green tea and passionfruit.
Strawberry shave ice from the Tege Tege Truck.
Verde – A cozy Mexican restaurant right off the main road in Kapa'a. I recommend their spicy pineapple margarita and tacos.
Mermaids Café – A great café in Kapa'a to stop and sit outside for lunch. My favorite is their Ahi Cilantro Wrap.
Ahi Burritos from Mermaids Café.
Bar Acuda – For fine dining, this tapas bar has it all. Atmosphere and a variety of dishes for every taste will make you want to return again and again.
Sushi Girl – A local's favorite hole-in-the-wall, Sushi Girl is perfect to grab lunch to-go if you're heading north to swim or hike. They have delicious poké and daily specials.
Eating fresh poké at Sushi Girl.
Dolphin Fish Market – A small kitchen in the back offers tasty to-go options, like crab sushi rolls and poké by the pound. Stop by at night for a sit-down dinner and views of the river.
Pono Market – The locals love this spot for traditional Hawaiian food. My tip: go early, the Park Lau Lau is a must-try and often sells out before noon!
Where to Swim
Hanalei Bay – The long stretches of beach and beautiful mountain views make Hanalei Bay an easy favorite. When the weather is good, you'll find surfers at every skill level here.
A sunset surf session at Hanalei Bay.
Hideaways Beach – If you don't mind a trek down, Hideaways Beach is often quieter than most beaches on Kauai and has beautiful views. Tip: Park for free at the St. Regis or the lot in front of the path.
Views of Hideaways Beach.
Tunnels Beach – This beach gets its name from the lava tubes which lie just below the surface of the water. It's a great beach to watch experienced surfers, and also has a nearby cave you can explore.
Polihale State Beach – This beach is located on the west side of the island, and you'll need a four-wheel drive to get there since it requires driving on a dirt road. Once you arrive, sunset views and a long stretch of beach awaits. Beware though: it's easy to get your car stuck if you drive on the sand (I know from experience!).
Sunset at Polihale State Park.
Poipu Beach – When the North Shore is rainy, chances are Poipu Beach on the South Shore is getting hit with sun. It's a great family-friendly beach and you'll often see people snorkeling here.
Secret Falls – This hidden waterfall is a trek, but so worth it. Prepare to traverse some muddy paths and cross a river to visit this spot!
Ke'e Beach – When the water conditions permit, Ke'e Beach is great for snorkeling. In the evening, grab a beach towel and watch the sunset along the Na Pali coastline.
Views of the Na Pali Coast from Ke'e Beach.
Where to Go
Queen's Bath – This natural pool fills up with water from the ocean throughout the day and is a beautiful spot to swim when the surf isn't high. My tip: wear sneakers for the hike down and go early to avoid the crowds.
Ho'opi'I Falls – It's a short hike through the jungle to get to Ho'opi'i. You can jump into the lower falls and swim in the river when the water is calm—it's one of my favorite things to do!
Overlooking Ho'opi'I Falls.
Waimea Canyon – For incredible views of Kauai's mountainous landscape, drive to Waimea. You can also hike the Waimea Canyon Trail.
Hanapepe Town – Hanapepe is a sleepy little town with quaint shops and restaurants on the South side of the island.
Wailua Falls – A scenic overlook lets you view Wailua Falls from above. You might also catch a glimpse of some wild warthogs here!
What to Do
Ride in a helicopter – There are a few companies that offer tours on the island, but if you're feeling extra adventurous I'd book an open door tour.
The Nā Pali Coast by helicopter.
Go on a hike – Some of my favorites include the Nā Pali Coast Kalalau Trail, Waimea Canyon Trail, and the Sleeping Giant Trail.
Take surf lessons – Kauai is a great place to learn! I suggest taking lessons from a local.
Go paddle boarding – I recommend renting paddle boards in Hanalei Town (try Hanalei Surf Co Back Door) and taking them out on the Hanalei River.
Paddle boarding in Hanalei.
What to Bring
Plenty of swimsuits – My go-to outfit in Kauai is a swimsuit and maxi dress. The relaxed island vibe is the way to go.
A hat – You'll need it here!
A beach bag – A must for beach days or carrying a change of clothes and hiking shoes.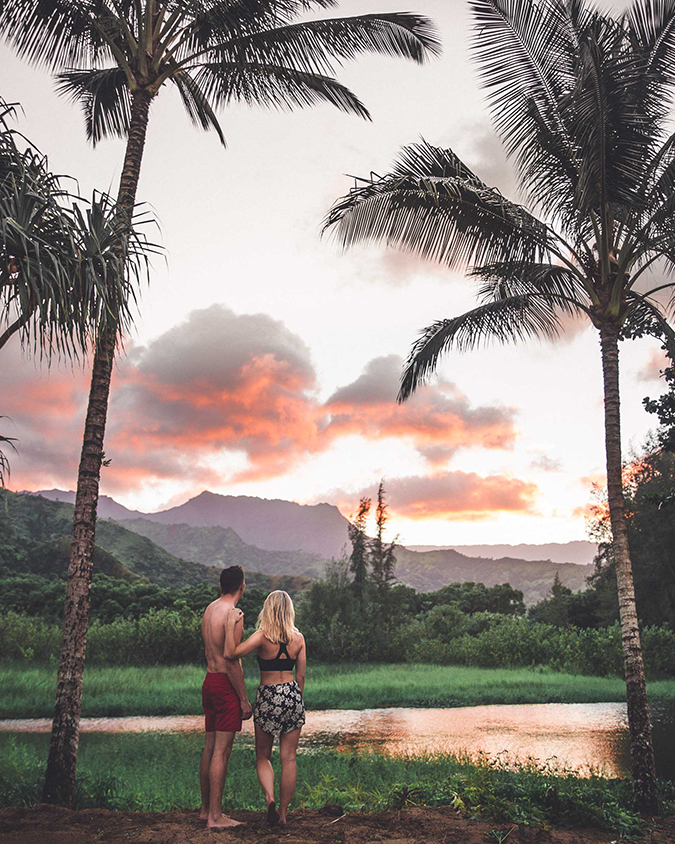 I hope this guide convinced you to visit Kauai! For more guides and unique destinations around the world, visit Find Us Lost or follow our day-to-day travels on Instagram. We're always on the move and can't wait for warm weather.
Selena wants to know, where are you headed this summer?
Let us know in the comments!
XO Team LC
Affiliate links may have been used in this post.