Recipe Box: Overnight Oats, Two Ways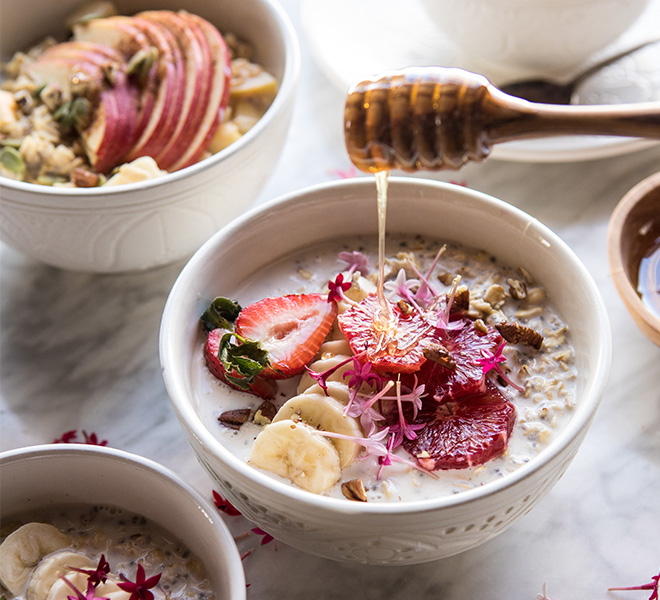 Hey everyone! It's Tieghan here. Let me start by saying I think oatmeal gets such a bad rap. We all know oats are good for us, but that doesn't mean they have to be boring. Enter these two crazy-easy oat recipes. They're perfect to make ahead the night before, then just grab and go in the morning. There are two ways to make them. The first method is to combine the oats in a jar or bowl and allow them to sit in the fridge overnight. The second method is to combine everything in your slow cooker the night before and let it cook low and slow—when you wake up, your kitchen will smell amazing. What I love about this recipe is that you can change up the flavors depending on the seasons. In the fall, I'll top my oats with apples; in the winter, fresh citrus; in the spring, strawberries; and in the summer, stone fruits. Here are two of my favorite variations below…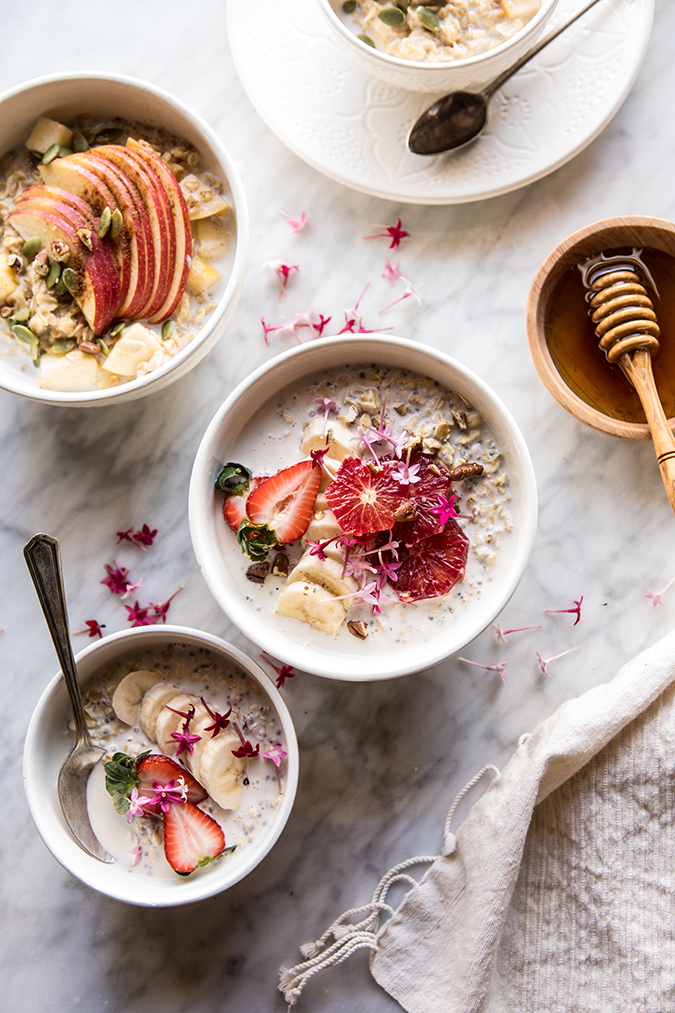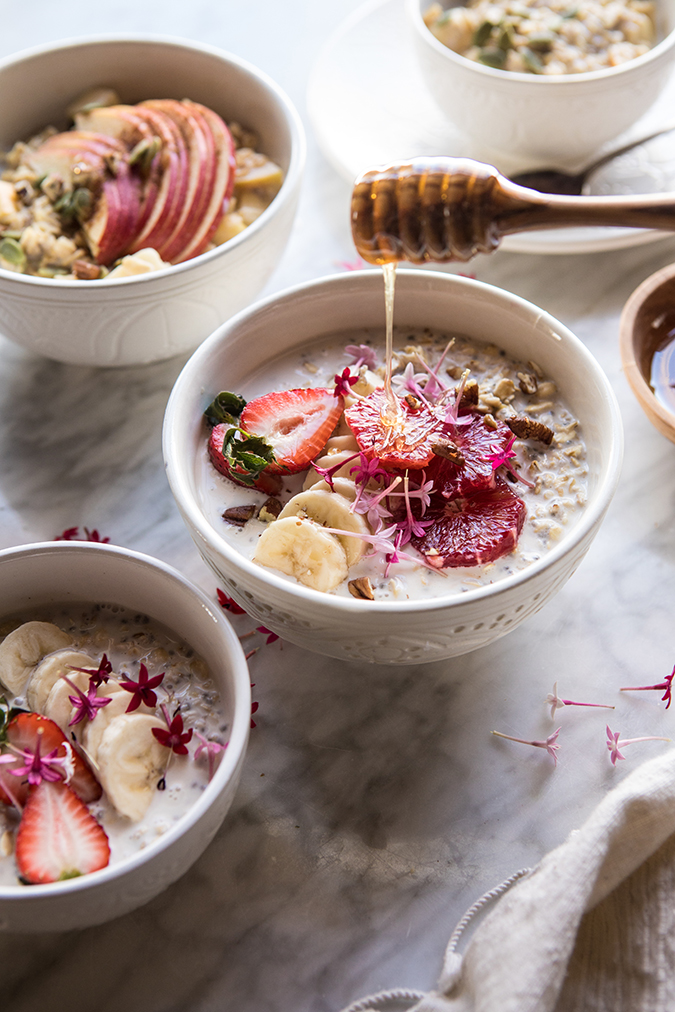 Pecan Banana Bread Overnight Oats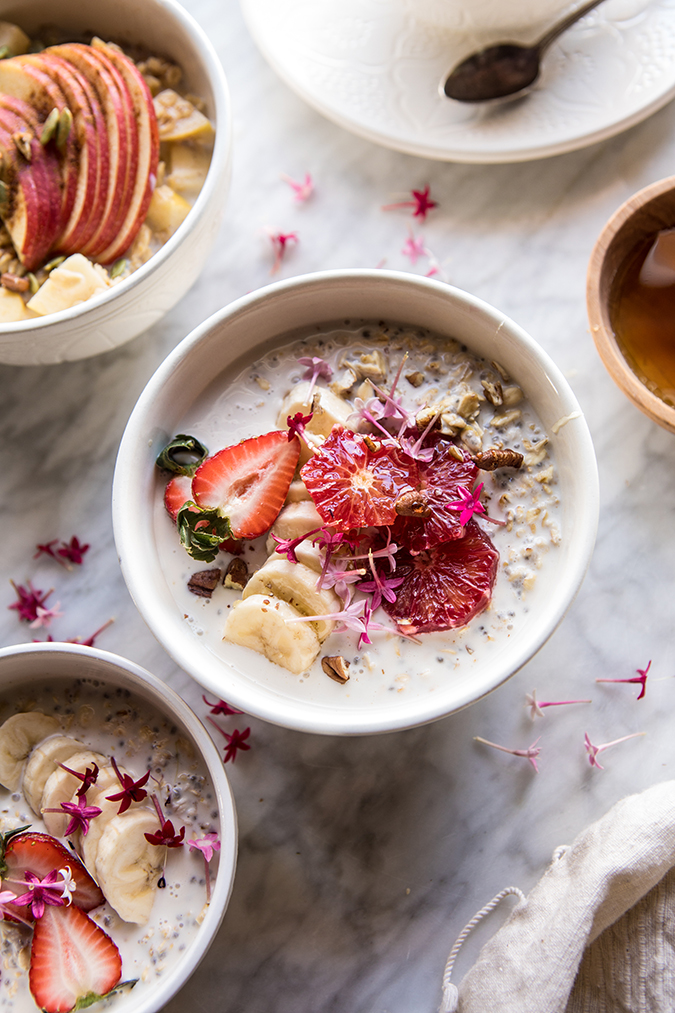 1 cup old-fashioned rolled oats
1½ cups milk of your choice (I like canned coconut milk)
2 very ripe bananas, mashed; plus sliced banana for topping
¼ cup plain Greek yogurt
2 Tbsp. unsweetened coconut flakes, toasted
2 Tbsp. honey, plus more for serving
1 Tbsp. chia seeds
2 tsp pure vanilla extract
¼ teaspoon flaky sea salt
½ cup pecans, toasted
blood oranges, peeled and sliced, for serving (optional)
strawberries, halved, for serving (optional)


1. In a medium bowl, stir together the oats, milk, mashed banana, yogurt, coconut, honey, chia seeds, vanilla, and salt until well combined. Divide the mixture evenly between two bowls or two 8-to 12-ounce glass jars. Cover and refrigerate for at least 6 hours or overnight.


2. In the morning, stir the oats, then top with sliced banana, toasted pecans, and figs. Drizzle with honey and sprinkle with pomegranate seeds.


Warm Cranberry Apple Overnight Oats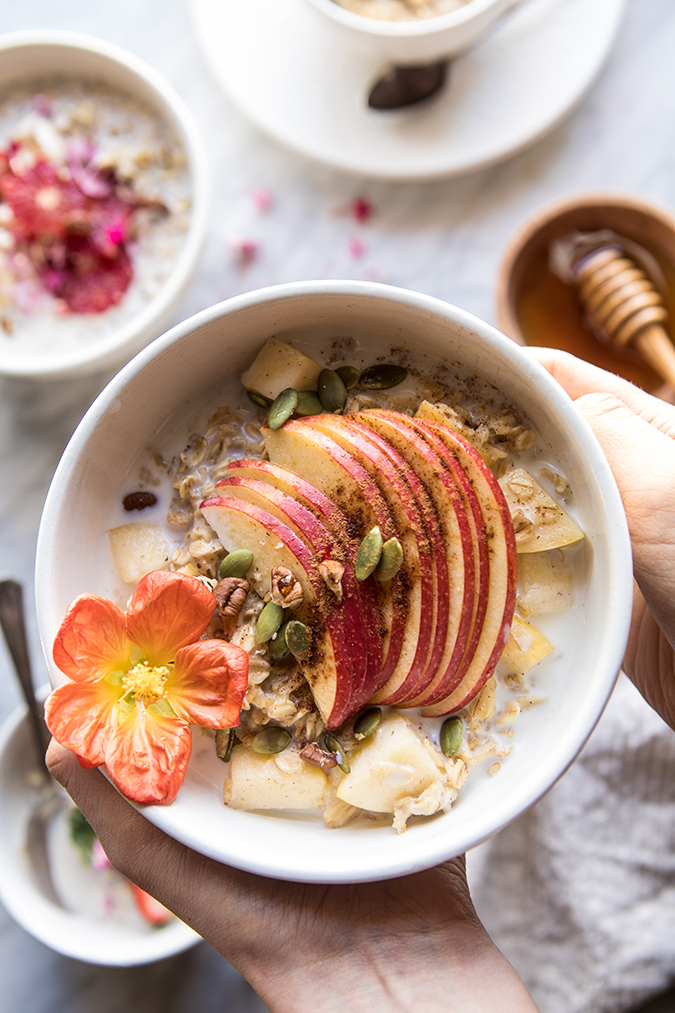 butter or nonstick cooking spray, for greasing
1¼ cups steel-cut oats
1½ cups milk of your choice (I like canned coconut milk)
1 cup apple cider
2 apples (I like Honeycrisp), cored and chopped, plus more for serving
½ cup dried cranberries, plus more for serving
2 Tbsp. pure maple syrup, plus more, if desired, for serving
2 tsp pure vanilla extract
½ tsp ground cinnamon, plus more for serving
¼ tsp flaky sea salt
toasted pecans, for serving
toasted pumpkin seeds (pepitas), for serving


1. Lightly grease your slow cooker with cooking spray or butter. In the slow cooker, combine the oats, milk, cider, apples, cranberries, maple syrup, vanilla, cinnamon, salt, and 1 cup of water and stir to combine. Cover and cook on Low for 6 to 9 hours.


2. In the morning, stir the oats, then serve warm, topped with apple, cranberries, cinnamon, pecans, and pumpkin seeds. Drizzle with additional maple syrup, if desired.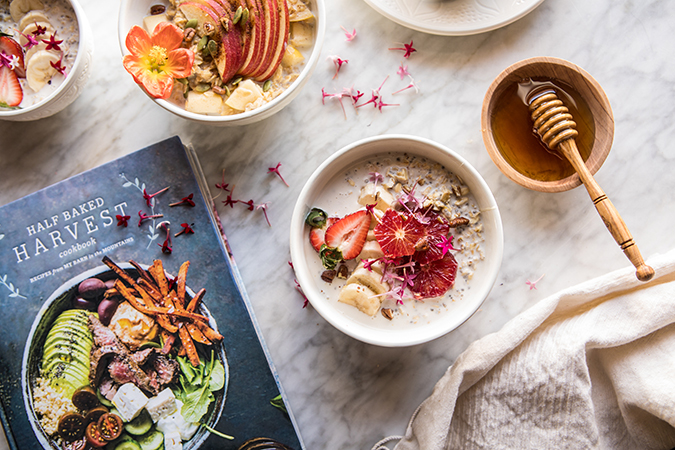 Are you going to give these recipes a try?


Let me know below, and stay tuned for more of my recipes coming soon!


Affiliate links may have been used in this post.