Style Guide: The Perfect White T-Shirt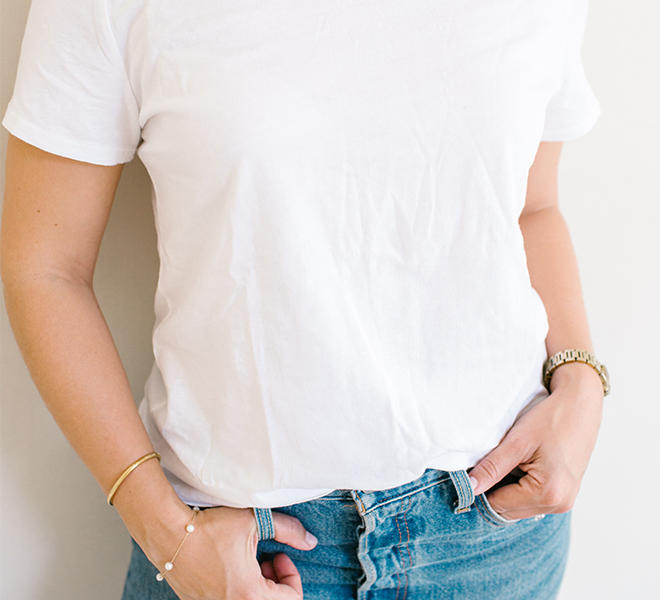 When it comes to the top wardrobe basics that every girl should own, a white T-shirt probably takes the No. 1 spot. And it seems like it should be easy to shop for one, right? But when it comes to white tees, there are so many different fits and materials, at a wide range of price points. So how different are all the white T-shirt options out there? And is it ever worth splurging on an expensive version of such a simple wardrobe basic? In an effort to answer those questions, we had two of our editors, Ilana and Allison, try on six different white tees. We evaluated them, rated them, and in the end had some clear favorites. Follow along with our T-shirt test drive below…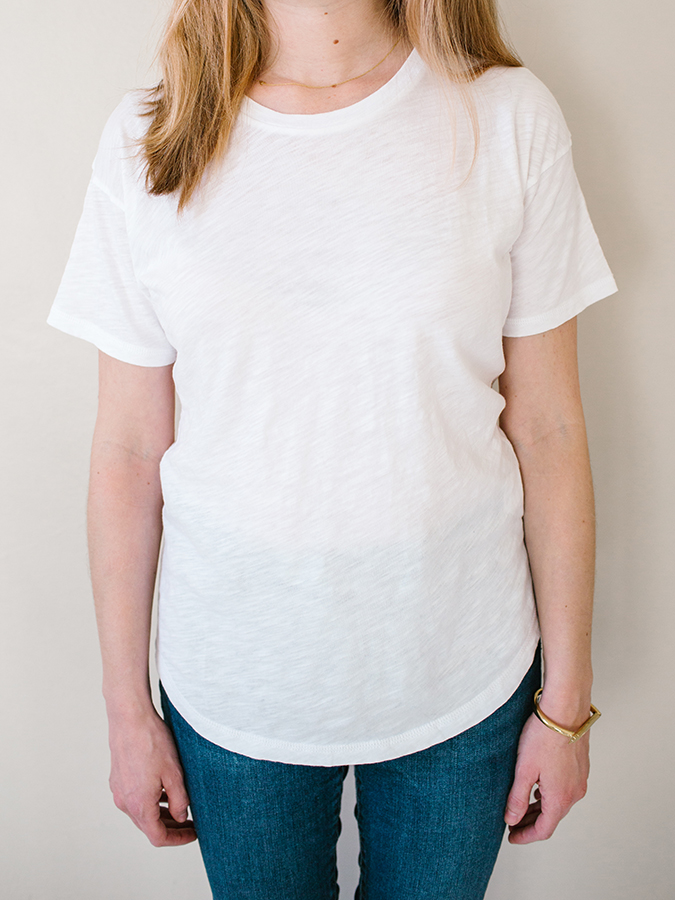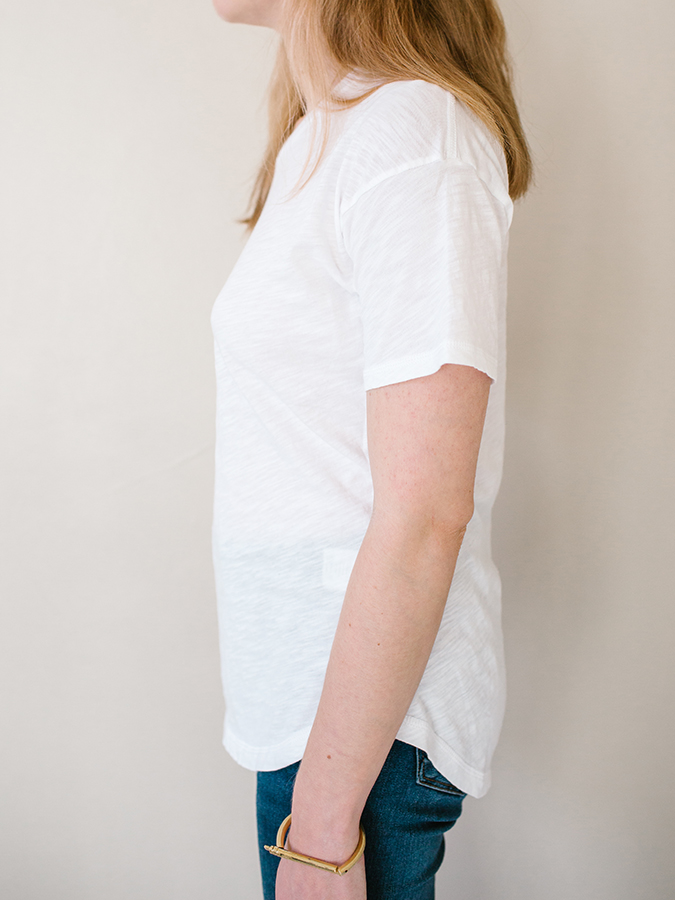 Ilana says: This Madewell shirt is a major steal at only $20. The soft, slightly sheer material both looks and feels expensive. If someone told me this tee came from a high-end boutique and cost three times as much, I would totally believe it. As far as silhouette goes, this T-shirt is relatively fitted, so if you're in between sizes or want a looser fit, I recommend sizing up. There are two reasons this T-shirt earned only three stars though: One is the sheerness—I do prefer a tee that isn't somewhat see-through. The second reason is that I've owned a few Madewell Whisper Cotton tees in other colors and I must disclose that they all ended up with little holes in them after a few months. Because the material is so soft and thin, it doesn't hold up very well over time in my experience. But since these tees are so affordable and fit well, I keep buying them anyway.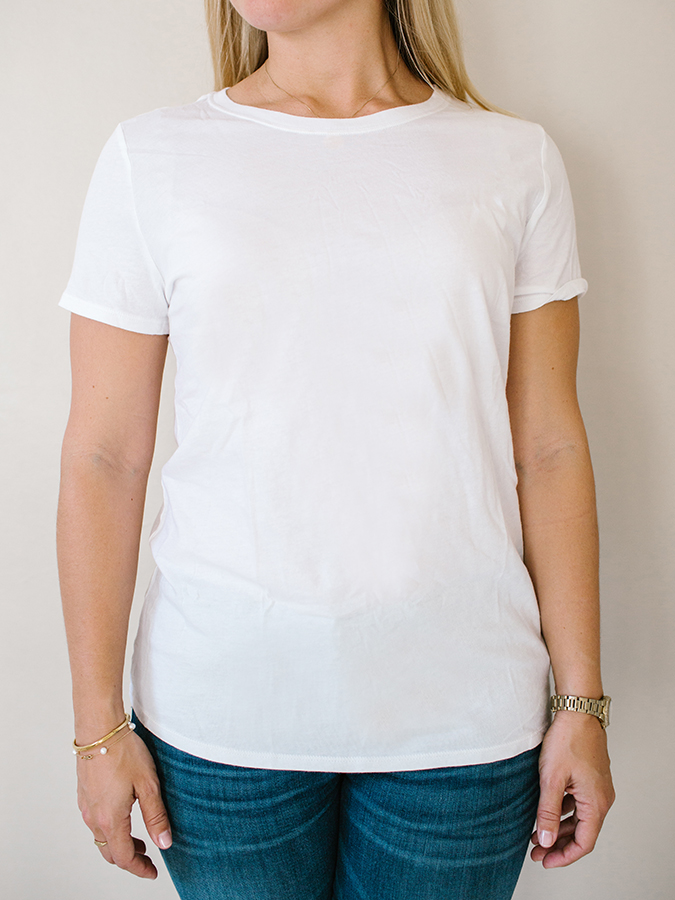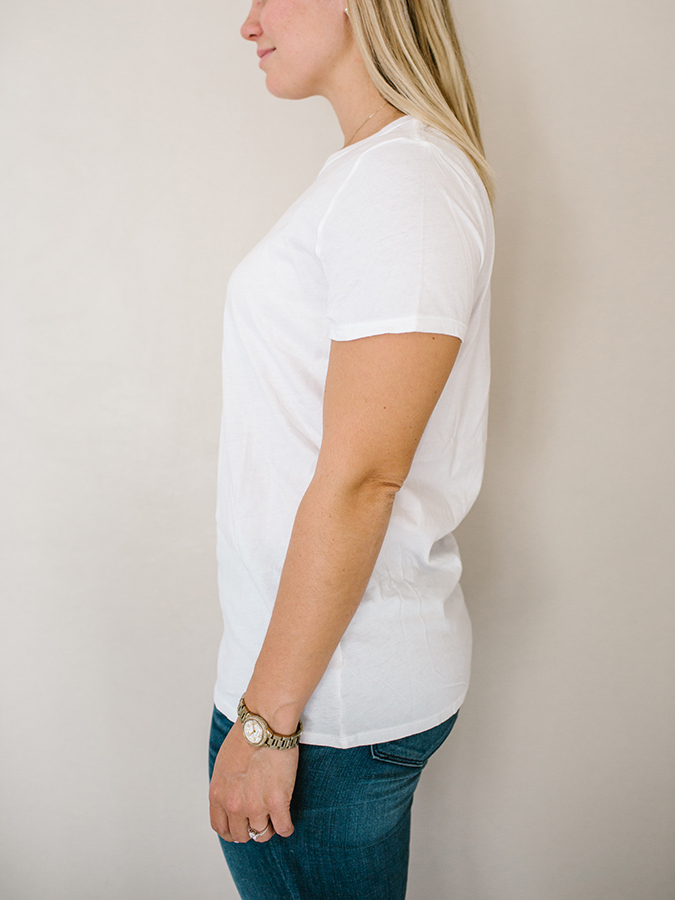 Allison says: This shirt from Gap was my third favorite, not only because of the affordable price point, but also because of how soft it was. The fabric is that super soft cotton, which is so comfortable to wear. I am wearing mine here in a size medium (a size up from my usual size) because I like my T-shirts on the roomier side so that I can tuck them in and blouse them out when I want to.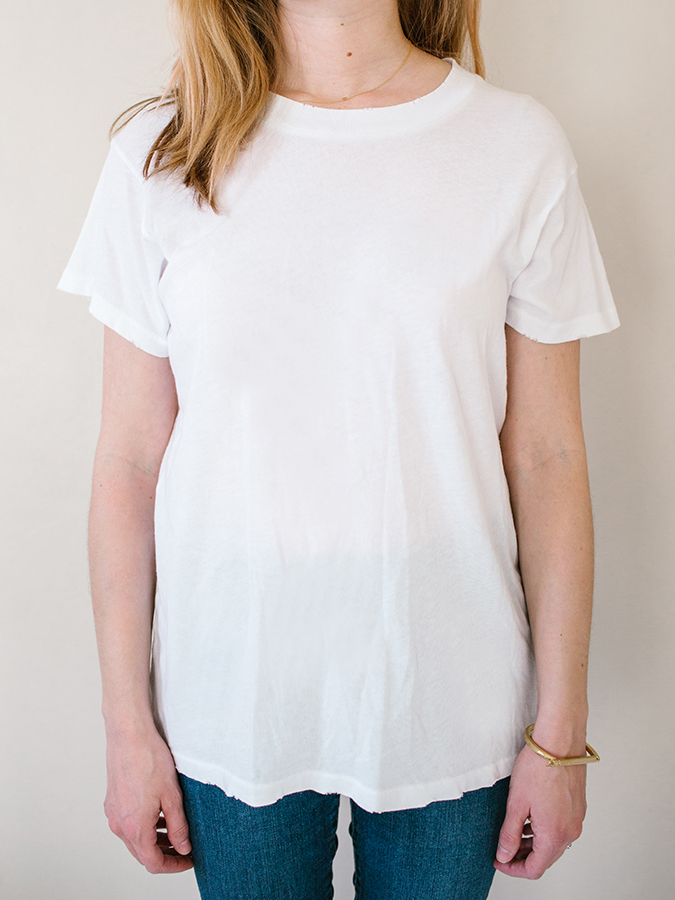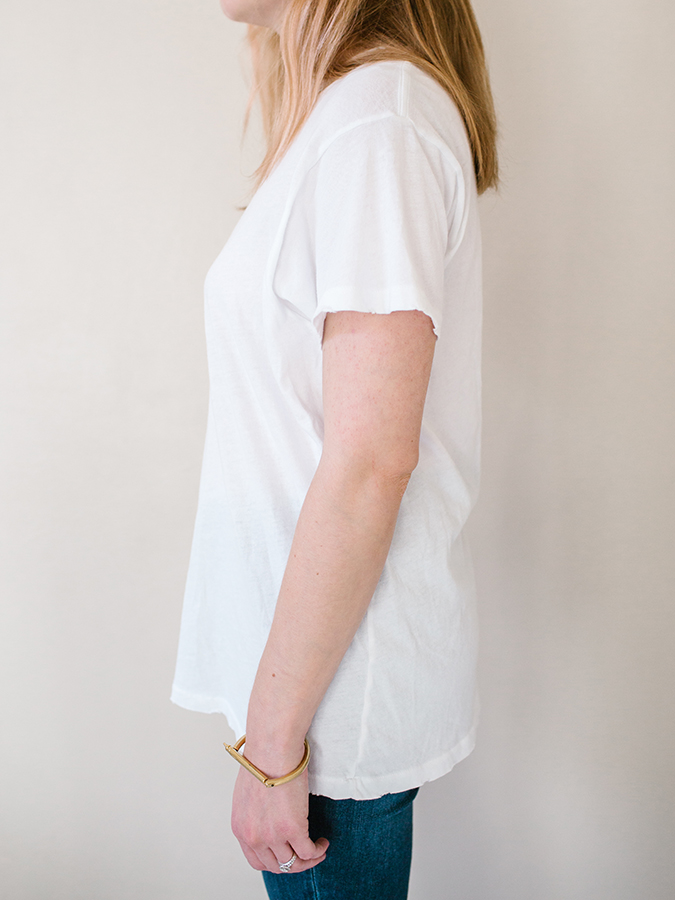 Ilana says: Both Allison and I agreed that this shirt was hands-down our favorite. It has a classic, flattering fit; it's made from super soft yet durable cotton; and the slight distressing adds a vintage-inspired vibe. Independent of the price, this shirt definitely earned five stars in my book. Even considering the price, we still had to give it five stars. Yes, it might seem crazy to some to spend $100 on a T-shirt, but it was the most perfect tee of all the ones we tried on, and seems like it would hold up quite well and only get softer with time. We borrowed a sample to photograph for this post, but in my ongoing effort to invest in a few really great basics, I'll probably be buying one.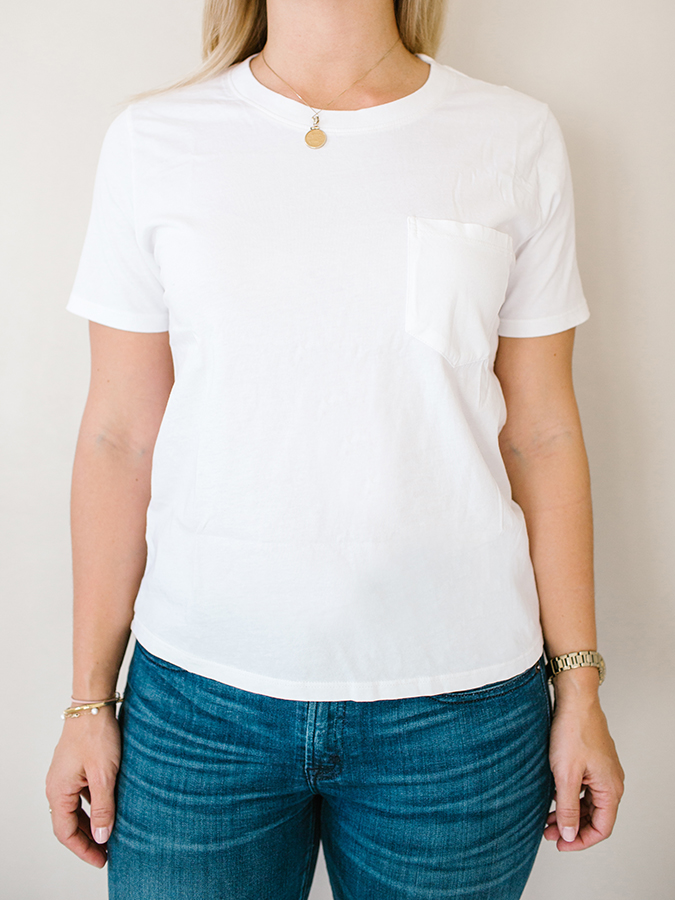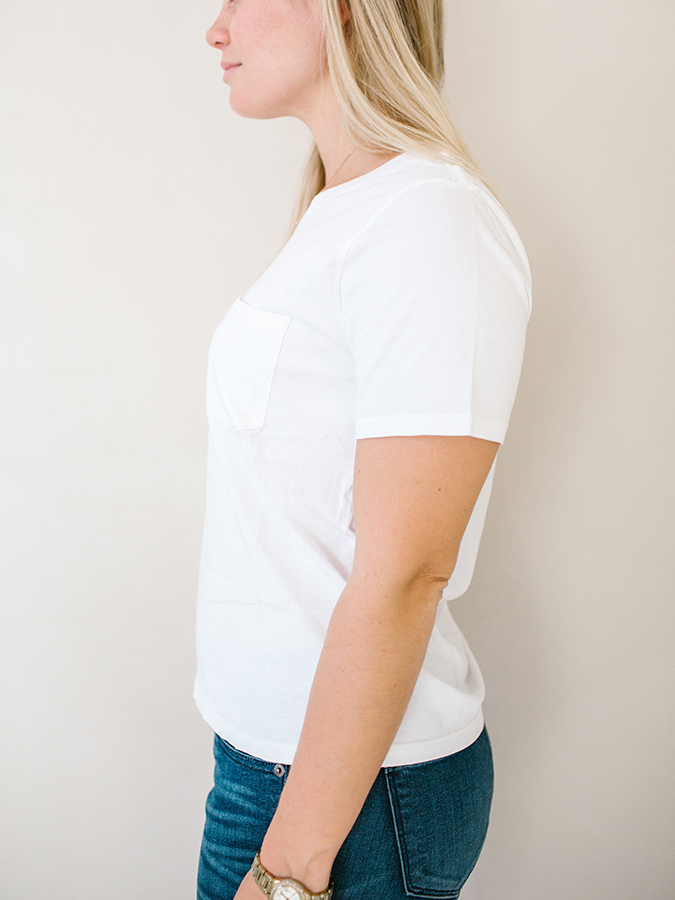 Allison says: To be perfectly honest, I went into this T-shirt test drive hoping the Everlane tee would be my very favorite. The price is unbeatable, and I love everything else I've ever purchased from Everlane, so I had high hopes. I bought a size small since the name advertises a boxy fit, and I wished I had gotten a medium. It fits a bit cropped, and was a bit too fitted in the shoulders for me. This shirt would be perfect to wear as a more cropped style with high-waisted jeans, but I wouldn't say it would be my go-to shirt—more like a great secondary white T-shirt to have on hand to wear with a select few items in my closet. I give it 3 out of 5 stars because I tend to like my T-shirts looser and more versatile.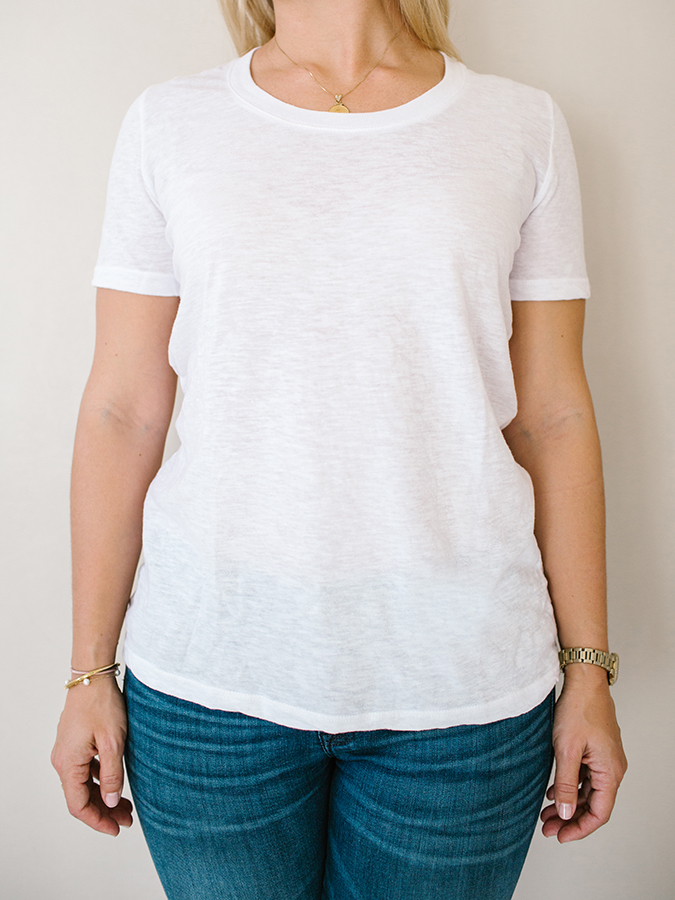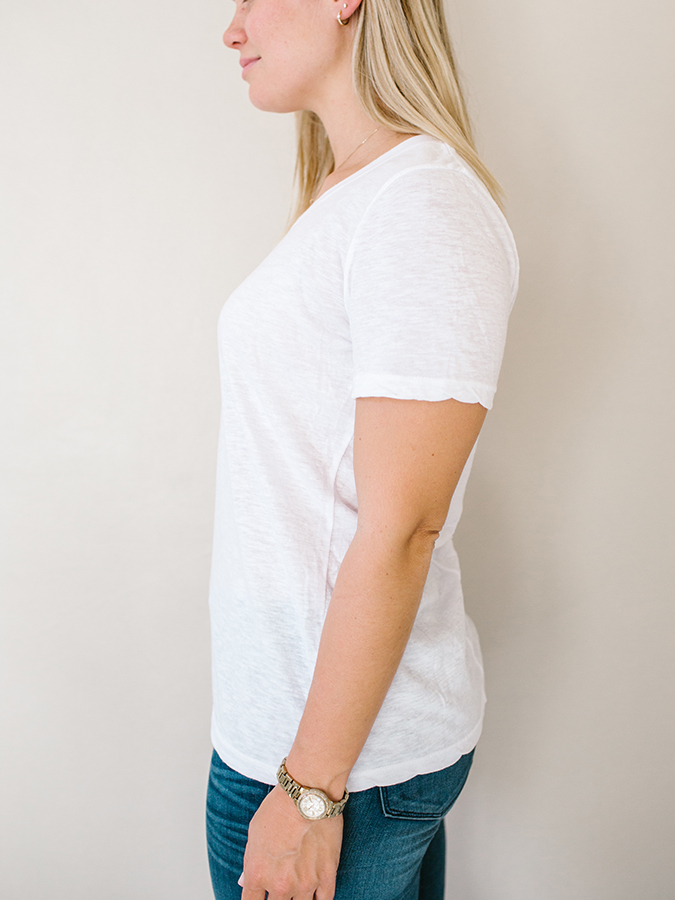 Allison says: This MONROW shirt, along with THE GREAT T-shirt, was my favorite! I loved the heathered texture that had a small hint of see-through specks, and I loved the loose and flowy fit (I ordered a size small—my usual size—and it was still perfectly flowy). The fit was my favorite thing about it, but my second favorite aspect was a subtle stitched line going down the middle of the back of the shirt. I loved this detail. It was also the perfect silhouette for a crew neck in my opinion—not too high on the neck, but still a structured crew. I only wish that the price point looked a bit more like the Gap or Everlane tee, but I guess quality comes with the price tag. I'll be buying this shirt again when I'm in need of a new white tee!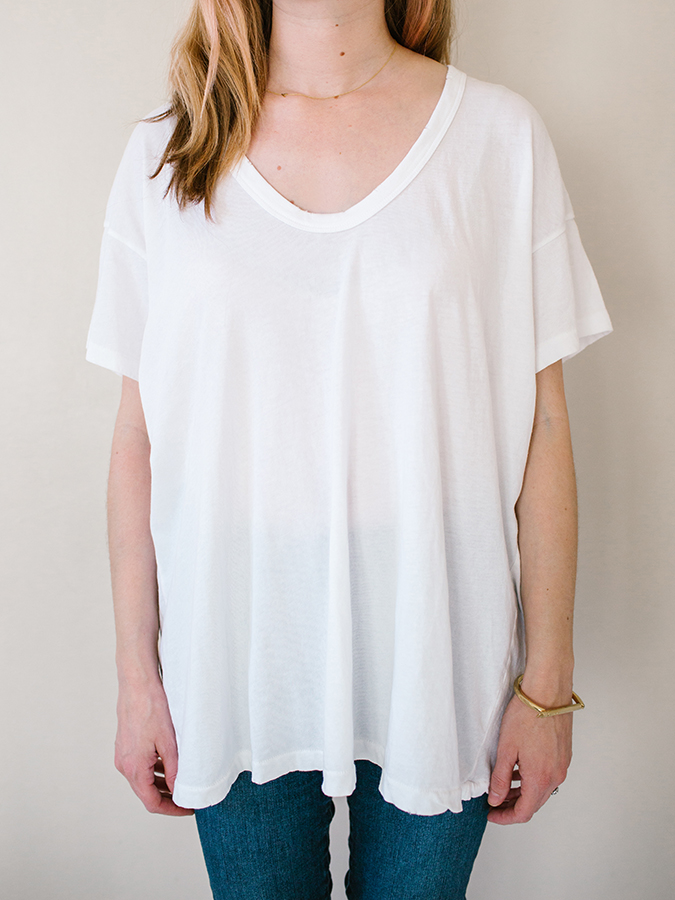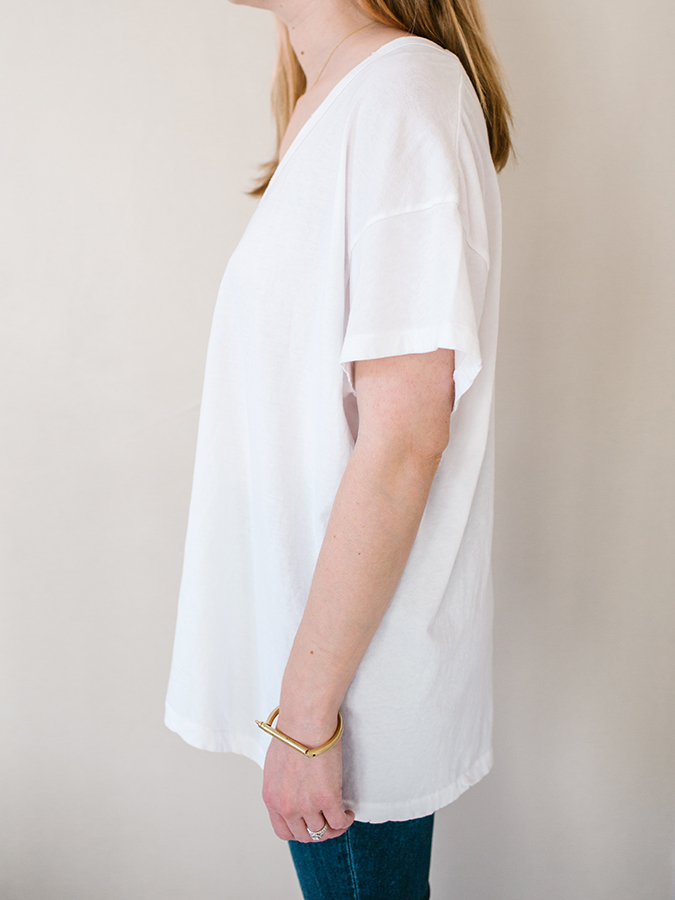 Ilana says: Since we loved THE GREAT.'s Boxy Crew so much, we had to try on one of their other styles as well. I liked this shirt in theory, but when I tried it on, it swallowed me whole. THE GREAT. is known for doing oversized fits so well, but this was still a bit much for me. That said, I tried on the size 1 (small), so I might have done better with a 0 (extra small). But either way, this tee may not be right for petite ladies. However, I did love the neckline and that it was made of the same super soft cotton as the other tee from THE GREAT.






Do you have another favorite white T-shirt we should try?


Please share it in the comments!


Photos: Jessi Burrone Photography for LaurenConrad.com
Affiliate links may have been used in this post.