Cupid's Corner: Baked Conversation Heart Donuts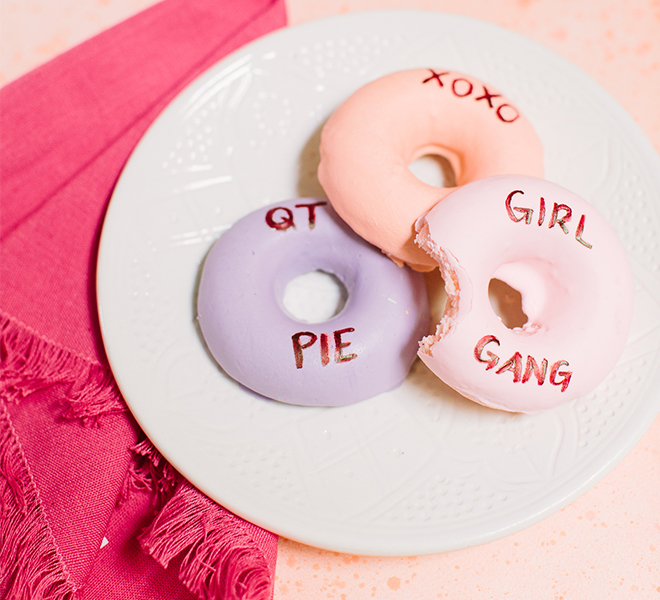 It always feels like February has officially begun when we start seeing conversation heart candies in grocery stores. We don't know about you but seeing those little sayings in their red and pink boxes just make us happy. And, these sweets happen to incorporate our favorite color palette (pastels all day, every day please). So, what's not to love? With these signature Valentine's Day candies on the brain lately, we enlisted our friend and resident LaurenConrad.com baker, Lauren Lowstan, to whip up a conversation heart-inspired treat. Enter: Baked White Chocolate Conversation Heart Donuts. These bites are delicious, easy to make, and obviously so fun to decorate.
Just in case you were considering throwing a donut decorating party to celebrate your galentines this year, this recipe serves as the final piece of persuasion you needed…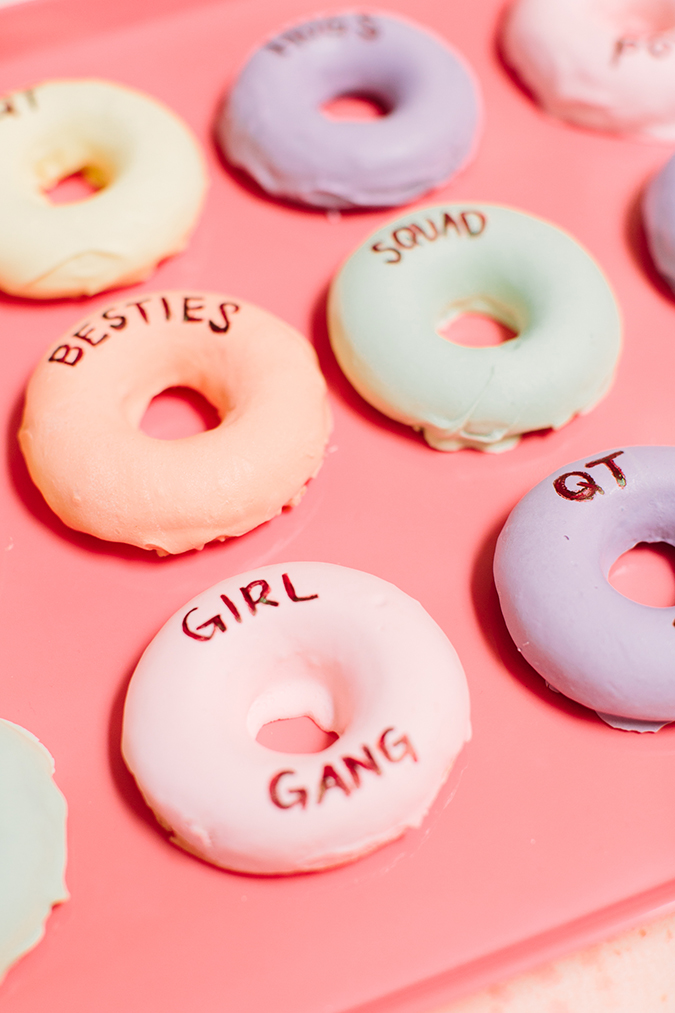 Baked White Chocolate Conversation Heart Donuts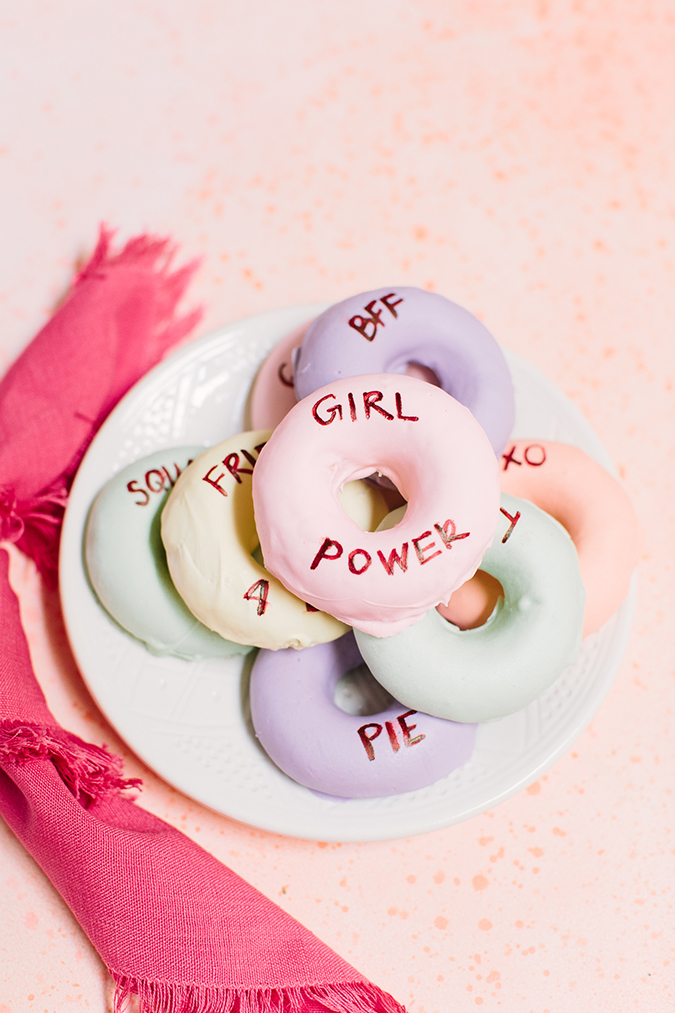 Makes about 15 regular size donuts


donut pan
2 cups cake flour
2 tsp baking powder
1 tsp salt
¾ cup sugar
3 Tbsp melted butter
¾ cup buttermilk
2 eggs
1 tsp vanilla
gel food coloring (red, yellow, green, orange, purple, pink)
8 ounces coating white chocolate
candy coloring (yellow, green, orange, purple, pink)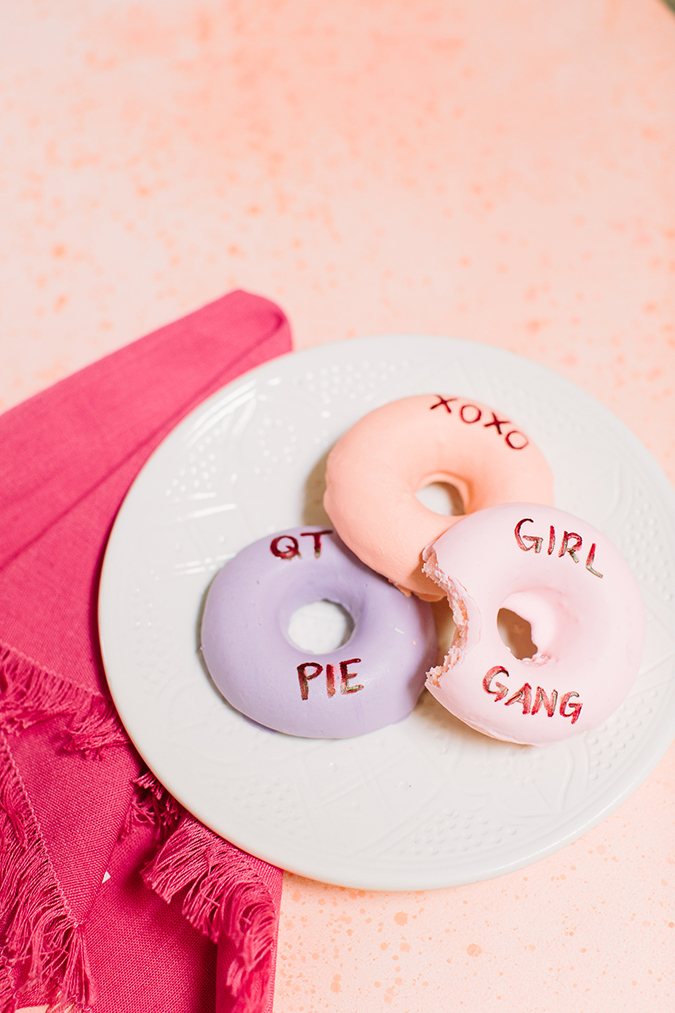 1. Whisk cake flour, baking powder and salt in a medium bowl. In a separate large bowl, whisk melted butter, sugar, buttermilk, eggs, and vanilla. Add your dry ingredients into your wet and whisk just until combined. Try not to over mix or else your batter will be tough.


2. Butter or spray your donut pan and preheat oven to 350 degrees.


3. Divide the batter into 5 small bowls. Color each bowl, with the gel food coloring, into pastel colors.


4. Add the donut batter into a large piping bag and fill each donut cavity until ¾ of the way full. If you don't have piping bags, don't worry—use a spoon instead. Piping bags just give you a more even distribution. Bake the donuts for about 7 minutes, or until a toothpick comes out clean when inserted.


5. Let the donuts cool in the pan for about a minute, then flip onto your work surface and let cool. Repeat until all of your batter is baked.


6. Melt the coating white chocolate in the microwave, in 30 second intervals, stirring in between.


7. Divide the chocolate into 5 small glass bowls. Color each bowl with the candy color. Try to match the chocolate to the pastel color donuts.


8. Dip the tops of each donut into the chocolate. Place the donuts on a piece of parchment paper and let harden.


9. Put a couple of drops of the red food coloring onto a small piece of parchment paper/aluminum foil/wax paper.


10. Dip a small paintbrush into the red food coloring and write the sayings onto the tops of the donuts.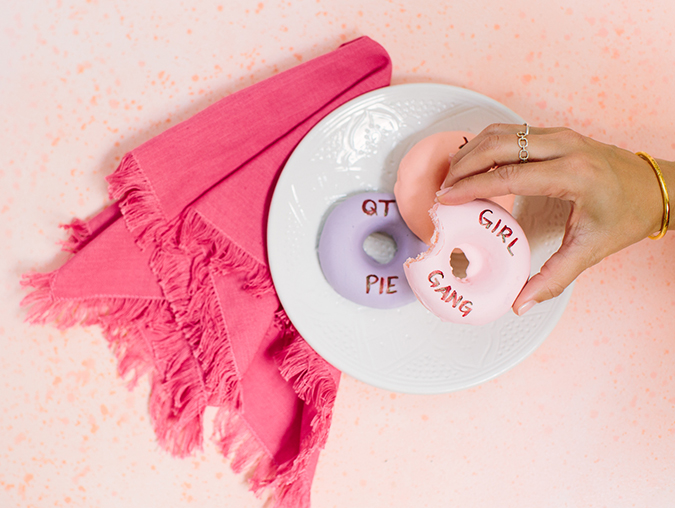 What catchy phrases will you write on your conversation heart donuts?


Let us know if you give them a try in the comments below!


Affiliate links may have been used in this post.