Operation Organize: How I Cleared My Clutter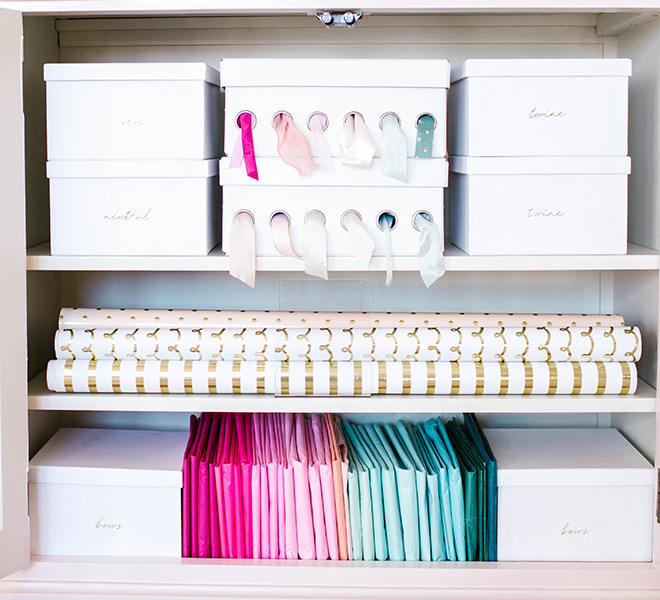 I've always admired people who are true minimalists when it comes to their possessions. But if I'm being honest with myself, I'm just not one of those people. Instead, I'm that girl with a vintage teacup collection, a closet full of craft supplies, seven different cake stands, and it's literally my job to stay on top of trends when it comes to clothing. So since I do tend to amass a lot of stuff, it's become imperative that I stay organized all year round (and clear out and donate things that I am no longer using). I recently met with professional organizers Clea Shearer and Joanna Teplin of The Home Edit, and they provided a few home organization tips that I found particularly useful. Since getting organized is one of the top New Year's resolutions people make every year, I figured some of you might benefit from this advice as well. From your closet to your pantry to your powder room and beyond, check out their advice for clearing the clutter, one room at a time…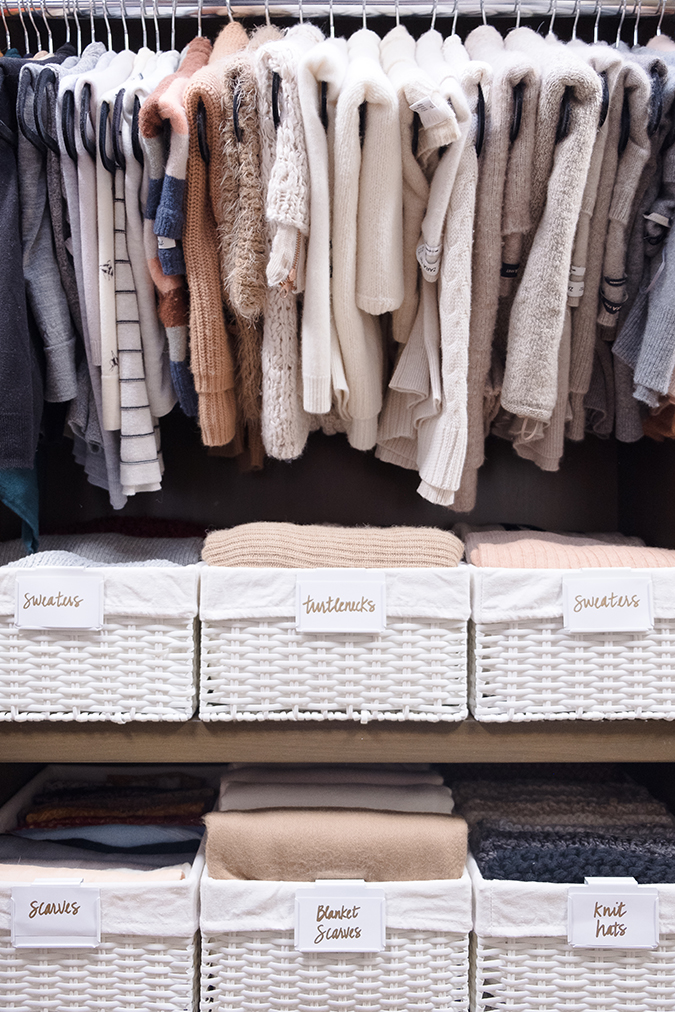 Stack your shoes. Stackable shoe storage is a great way to optimize your closet shelves. Not only can you increase the number of shoes each shelf can hold, but you will also keep your shoes protected from scuff marks and dust.
Bring on the baskets. If your closet doesn't have drawers, create your own by using baskets! We suggest folding shorts, workout clothes, pajamas, T-shirts, and even socks and underwear.
Swap with the seasons. Create seasonal closet bins for summer and winter. Place one on a high shelf, and one within reach, and rotate them as the weather changes.
Abide by the one-year rule. We follow by the one-year rule—and we suggest everyone else do the same. If you haven't worn something in the past year, there's a good chance you never will. Donate it, give it away, or store it in a sentimental box for safekeeping—but never let an item you don't wear take space away from the items you do wear.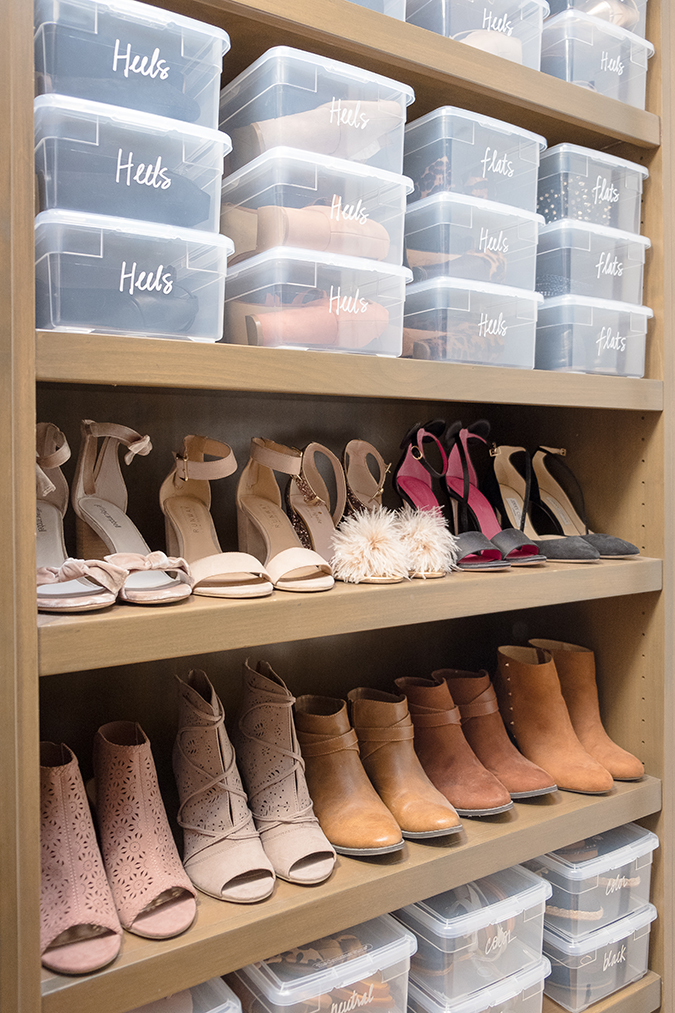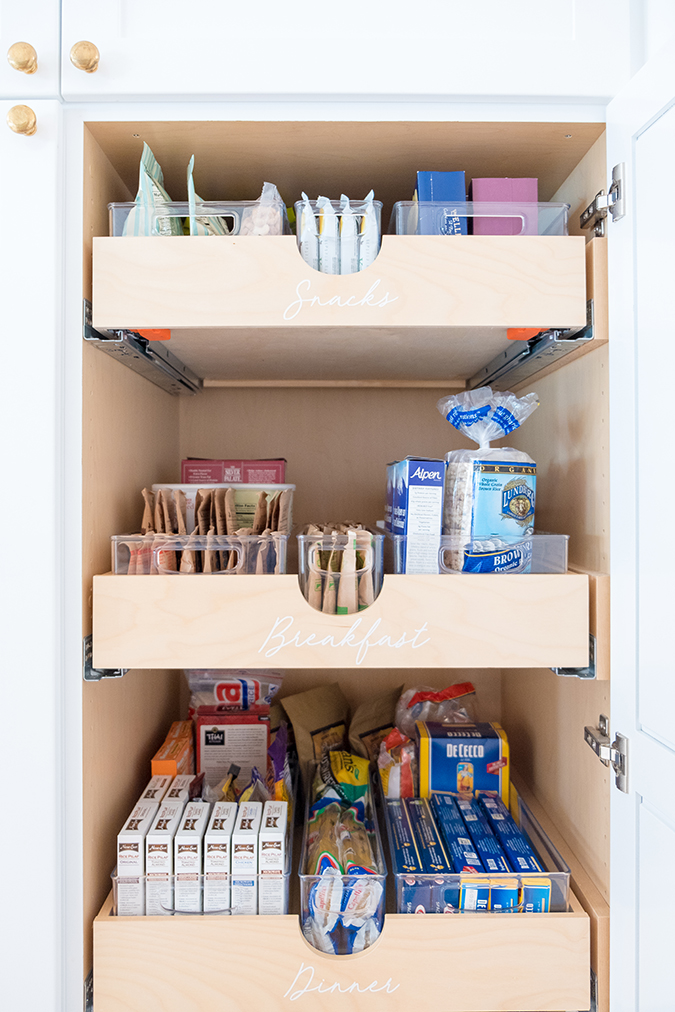 Divide and conquer. Almost every single pantry can be divided into Breakfast, Dinner, Snacks, Sweet Snacks, Baking, and Cooking. For Lauren's pantry, we made oversized labels for her pull-out shelves instead of labeling the bins themselves.
Embrace open bins. Be realistic with your time and lifestyle. If you're a busy parent, or have a time consuming job, you're not going to want to come home from the grocery store and empty everything into canisters. Open bins are much easier to manage, and require no extra work.
Spend 15 minutes a month. A quick 15-minute pass through each month to weed out expired or nearly finished items goes a long way in long-term maintenance.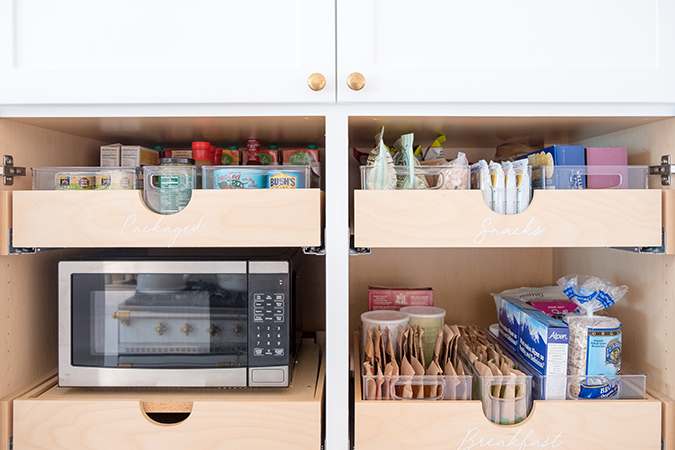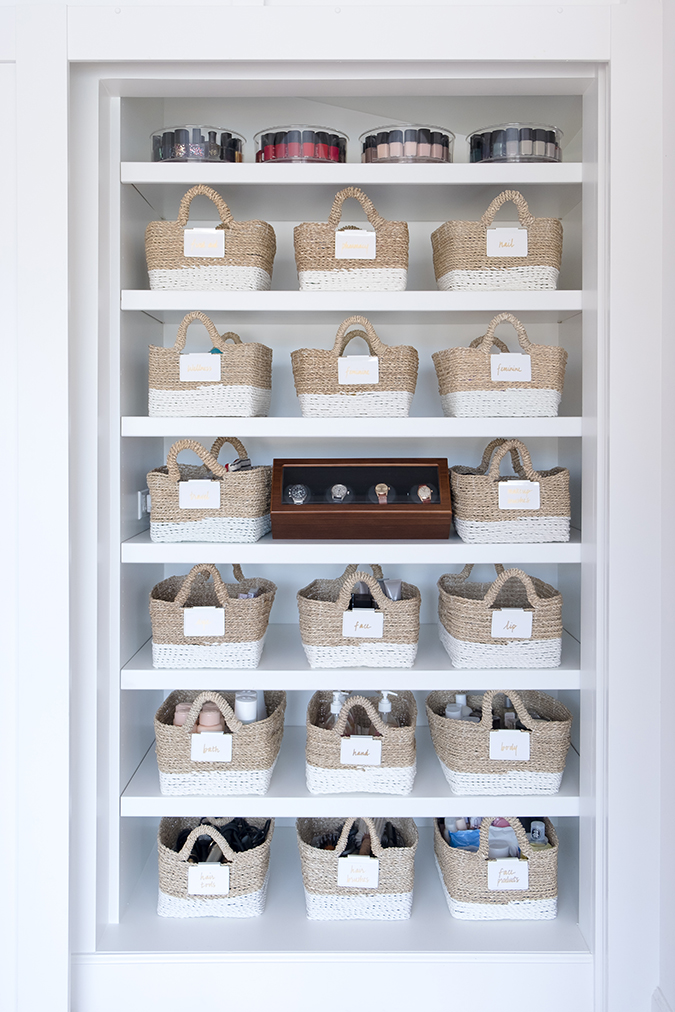 Pare down your products. People tend to over-collect makeup and beauty products, so it's essential to go through your cabinets and drawers and remove the ones you don't like and won't use.
Create categories. Sort your items into general categories to account for ALL your items. Try not to get overly specific since you want everything to have a home. For instance: Nails, Hair, Face, and Body.
Have a daily drawer. Create a daily drawer or bin that holds all of the items you use on an everyday basis. It will save you time in the morning since everything will be at your fingertips.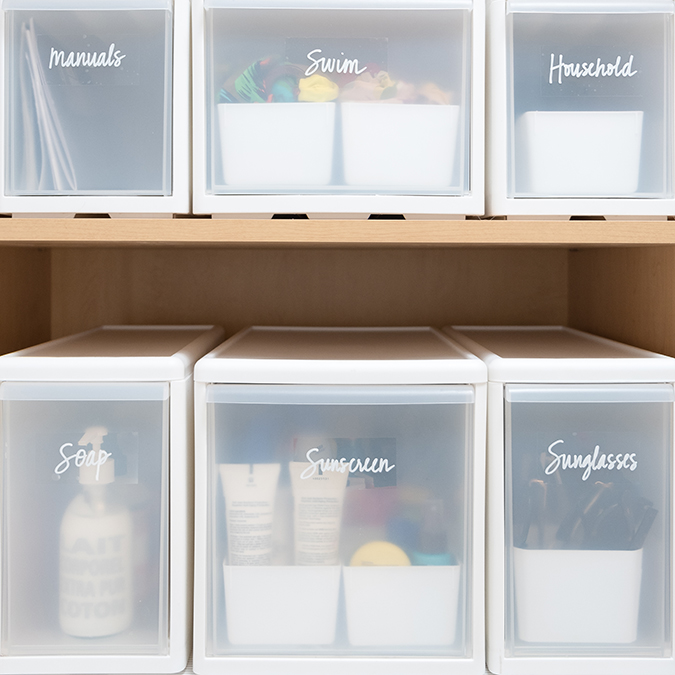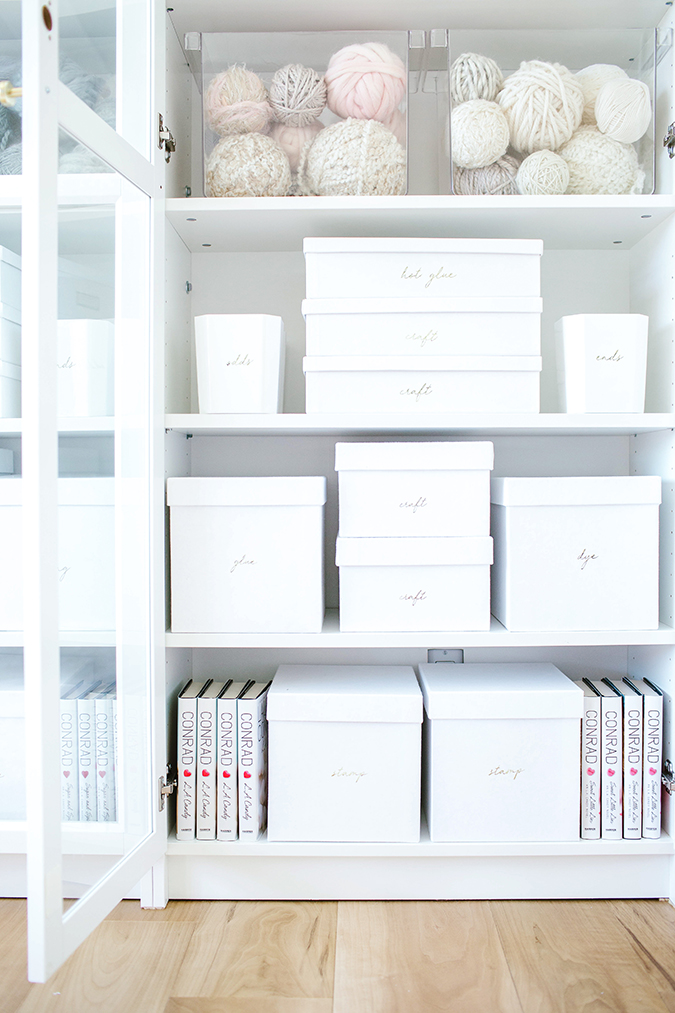 Go for easy access. Consider which items you need within your immediate reach and make sure they remain visible and accessible. Items that you need to hold on to, but don't need constant access to, can be stored (we used white cube gift boxes from The Little Market).
Highlight your happy items. Highlight the items that make you happy on a daily basis. Whether it's a jar of colored pencils on your desk, your sewing supplies, or in Lauren's case—her balls of yarn! Keeping them in clear view helps inspire creativity and adds a personal touch.
Have a specific spot. Create a spot for current, ongoing, or pending projects. Having a specific spot will decrease piles of clutter that can otherwise accumulate.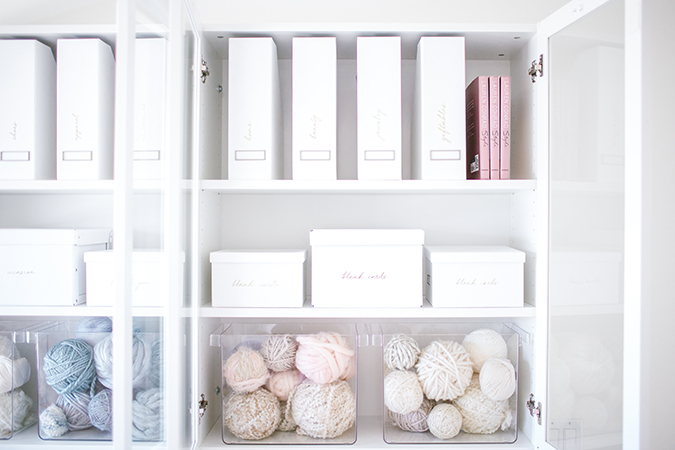 It's amazing what a difference those tips and tricks made in my space, and I hope they help you too.


What are your tricks for staying organized and clutter-free?


Affiliate links may have been used in this post.