In case you haven't already noticed, here at Team LC, we are huge fans of taking any traditional holiday and putting a feminine, all-pink twist on it. So based on this fact alone, you can imagine how excited we were when we decided to collaborate with our girls Rachel of Bonjour Fête and Royale of But First, Party! on a pink Candyland-themed holiday get together. Warning: What you are about to scroll through is an explosion of pink, sparkles, sugary sweets, and all things girly (aka our holiday party dream)…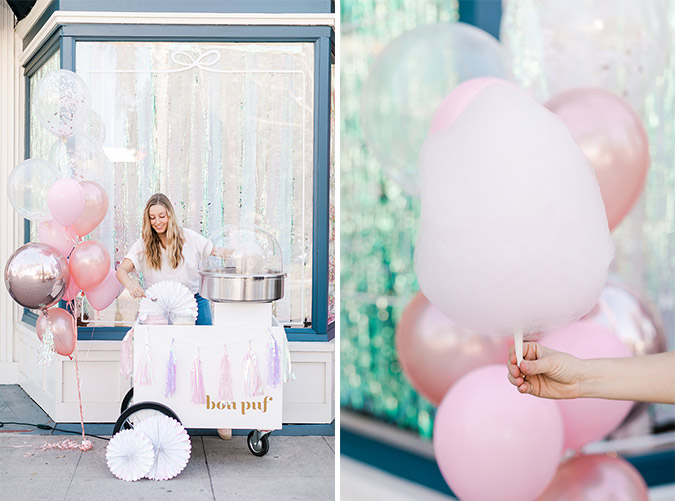 We got together at Rachel's adorable party supply store, Bonjour Fête, where the magic was happening. We're talking about a flower and ornament-adorned doorway, Cloë of Bon Puf spinning melt-in-your-mouth cotton candy, a dripping pastel Christmas cake, and beautiful décor and party ware to top everything off, of course. We'll hand it off to Rachel and Royale from here, who will tell you all of the details behind this fun-filled afternoon!
Hey everyone! It's Rachel and Royale here. We're excited to walk you through the steps we took to put together this fabulous afternoon…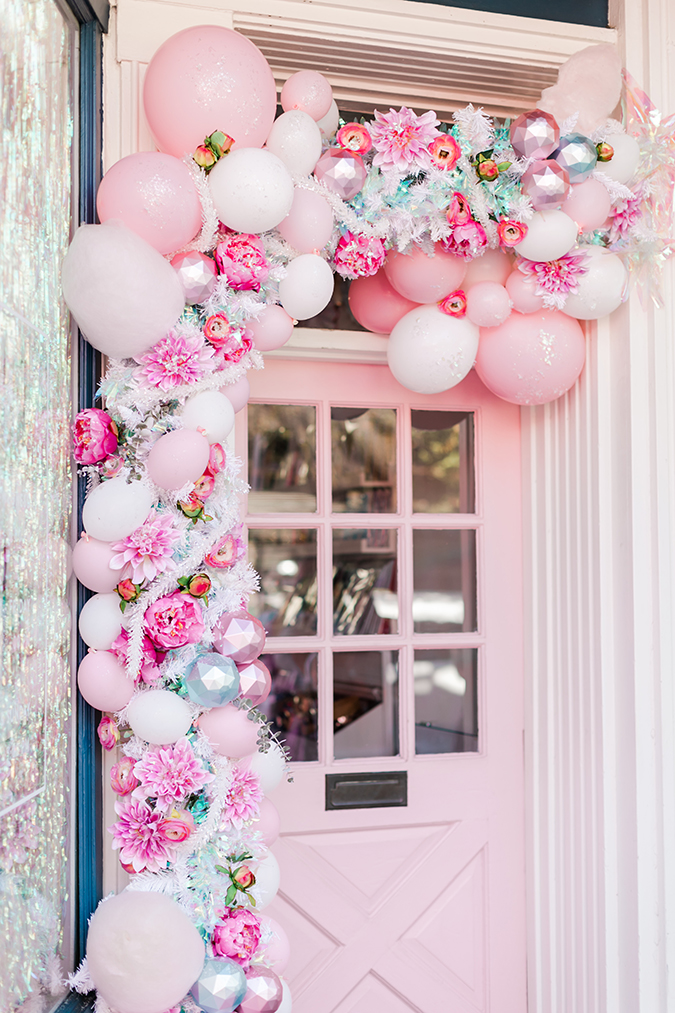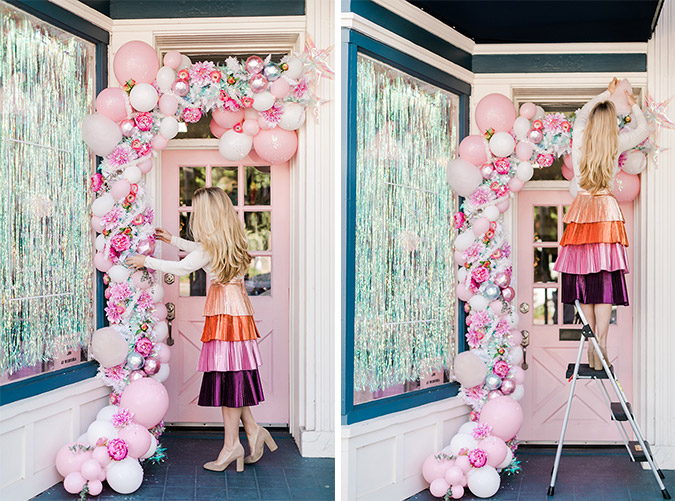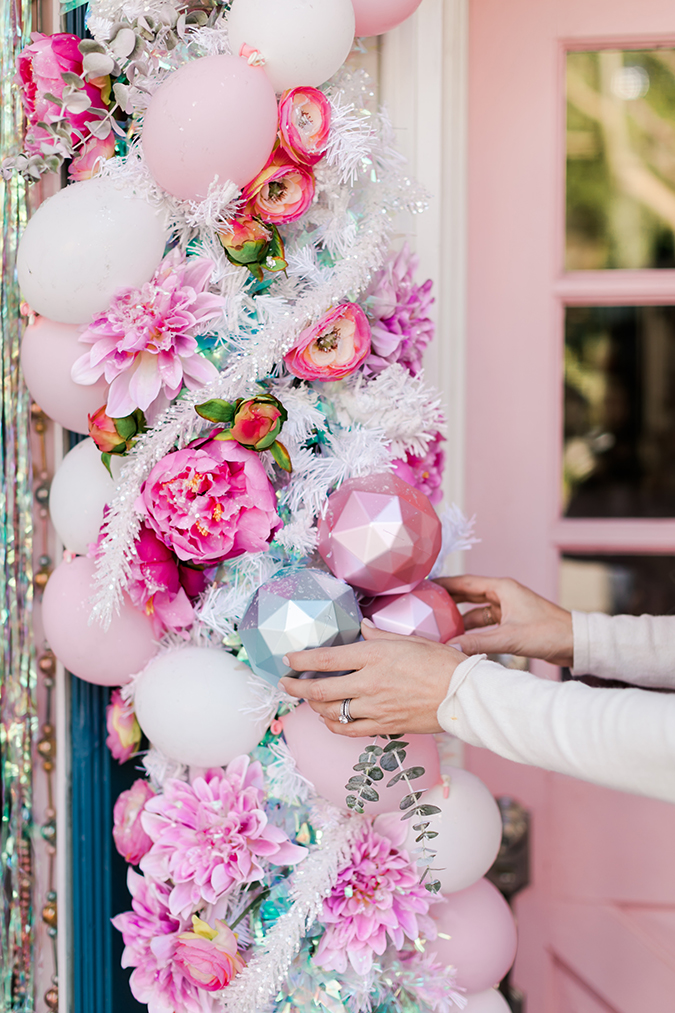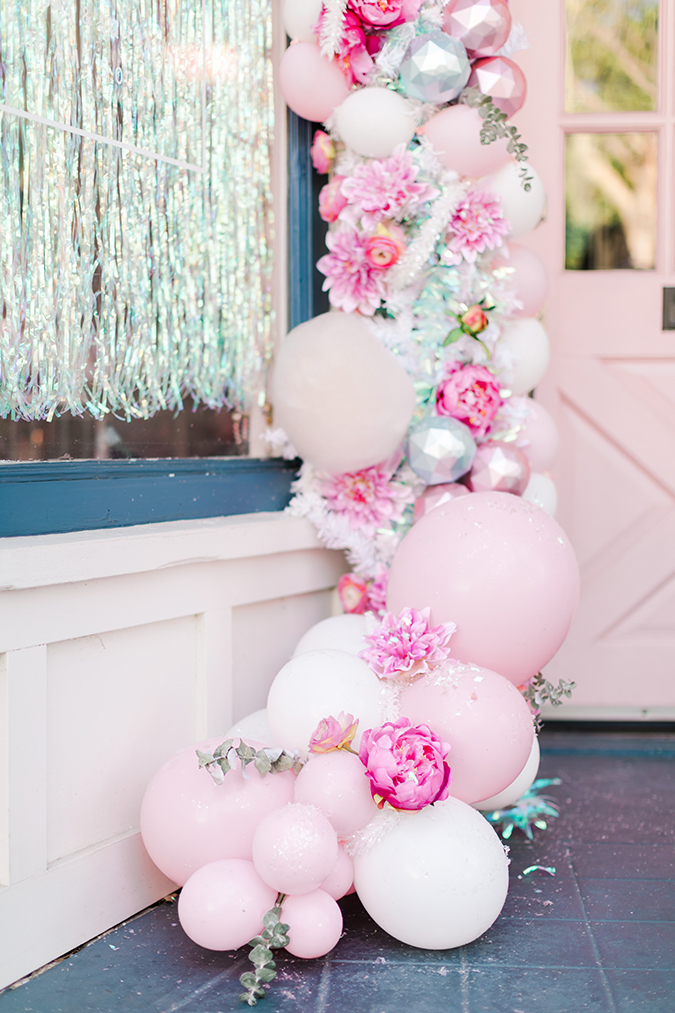 Like the rest of Instagram, we were dying over the holiday installations at Peggy Porschen! So, since Bonjour Fête already has a pink door, we decided to create our own version and candy-fy it! Our florist friends at WildFlora built out the backbone for the archway installation using iridescent foil garland, and then decked it out with silk peonies, ranunculus and oversized ornaments. Last but not least, we popped in pink and white balloons and dusted them with faux snow for a peppermint forest feel.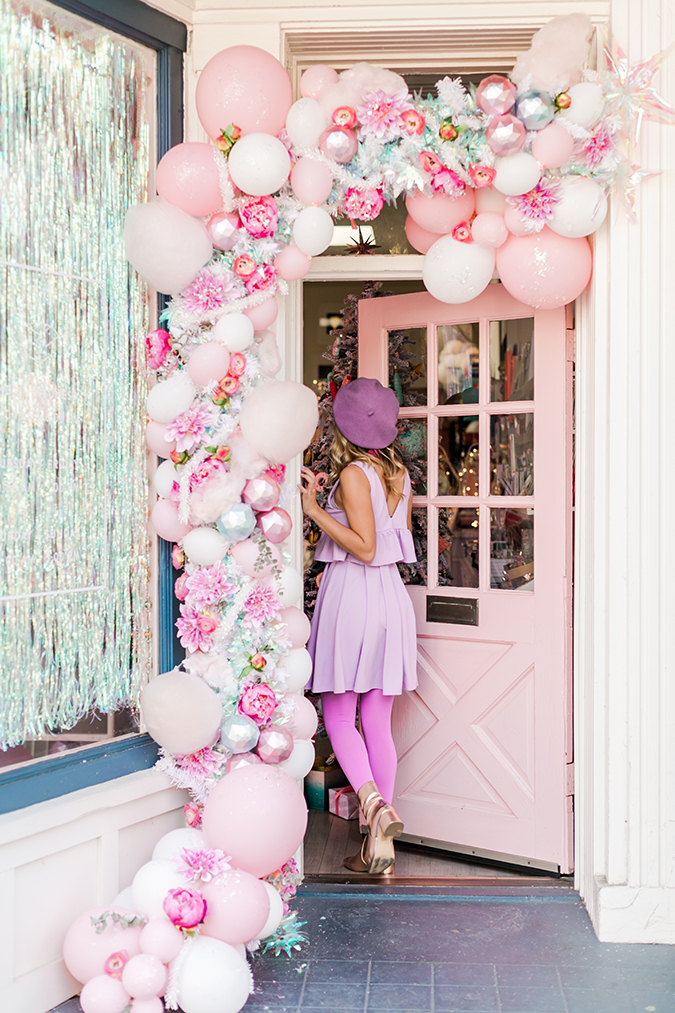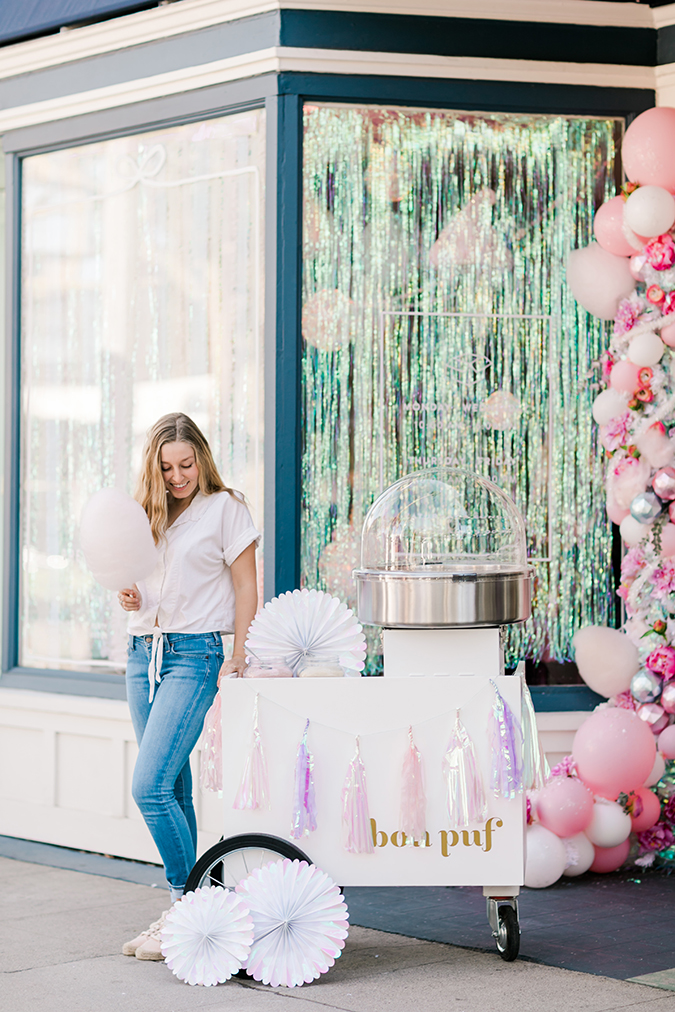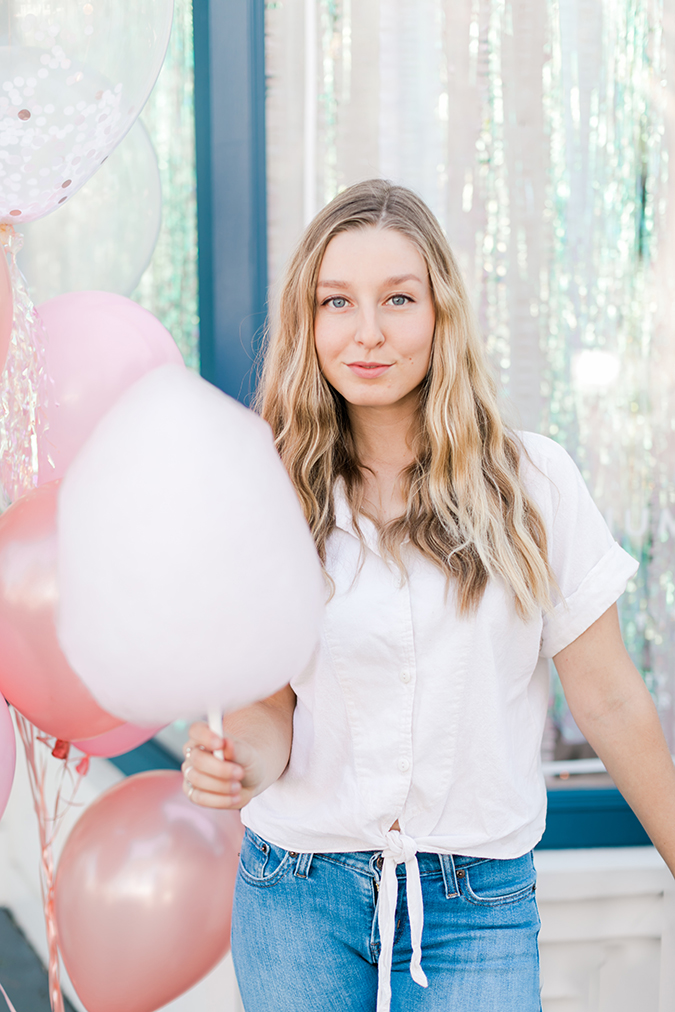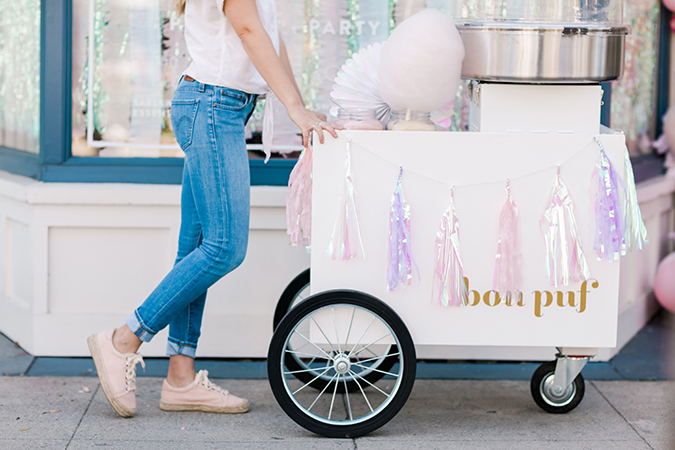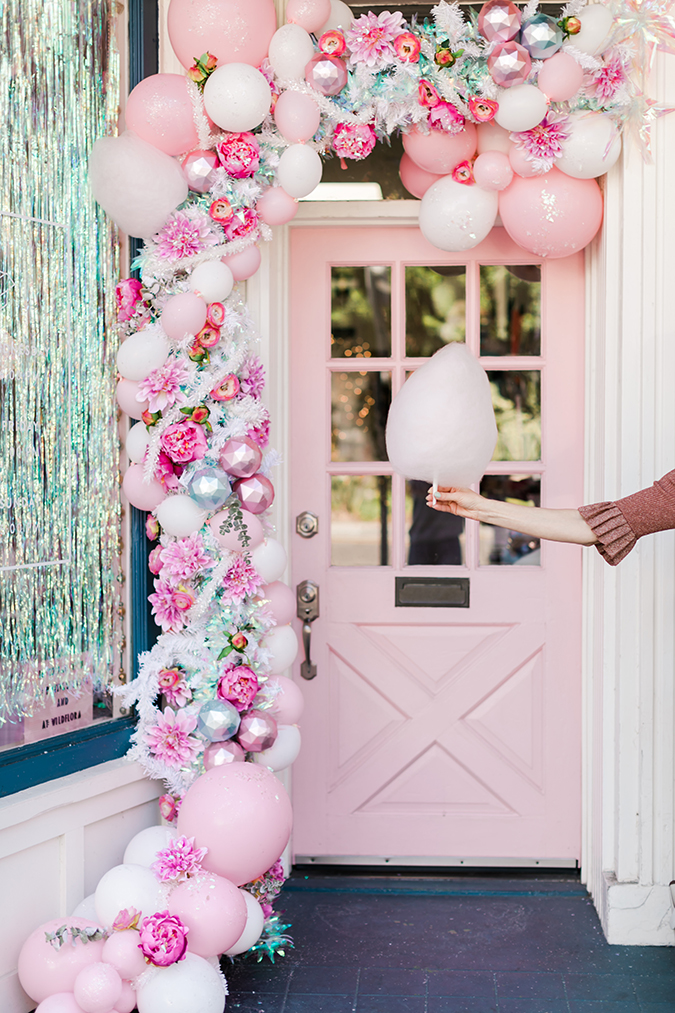 You can't throw a winter Candyland party without pink candy snow! Thank goodness Cloë of Bon Pouf was on hand to spin plenty of pastel pink candy trees that even Cindy Lou Who would covet. We even popped pieces of cotton candy into the floral installation in the doorway! We also used fun iridescent pinwheel decorations and tassels to add some flair to Cloë's cart. Now, let us take you into the shop for even more pink Candyland magic!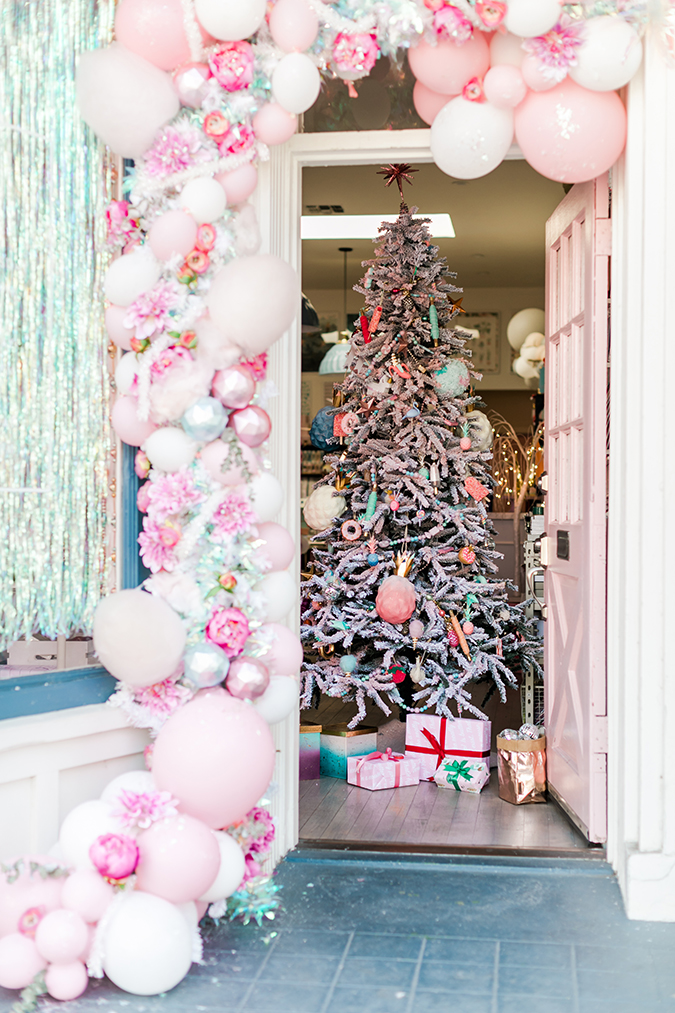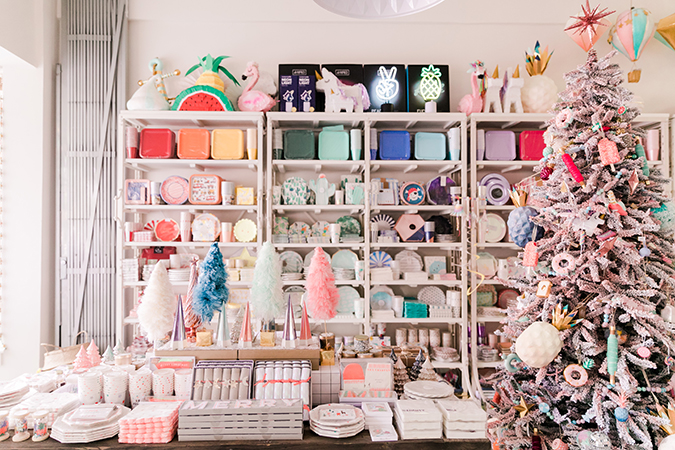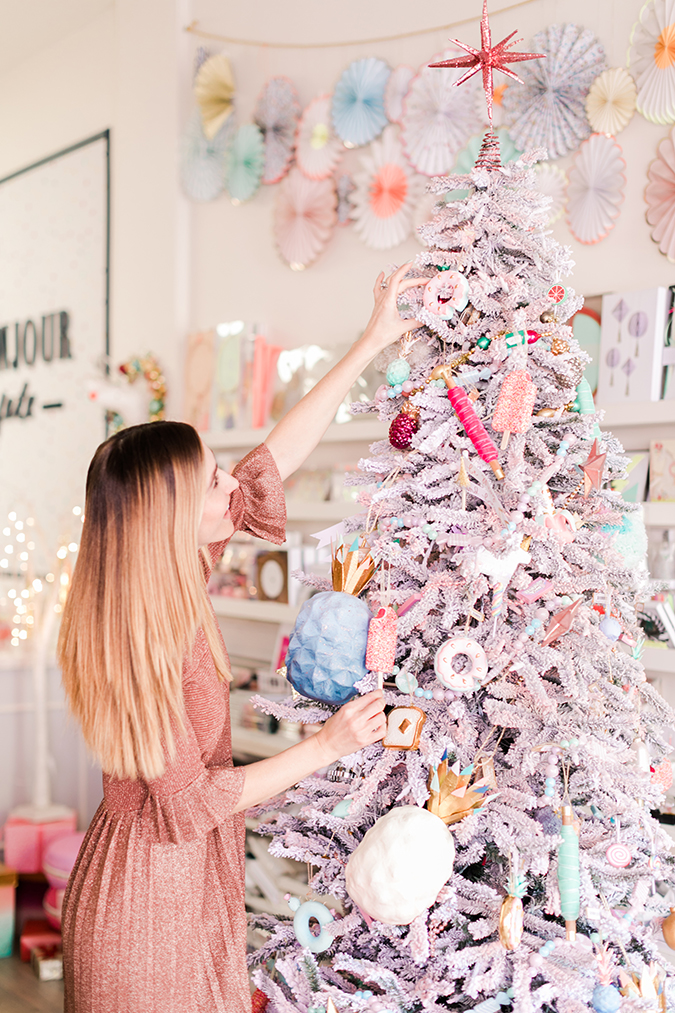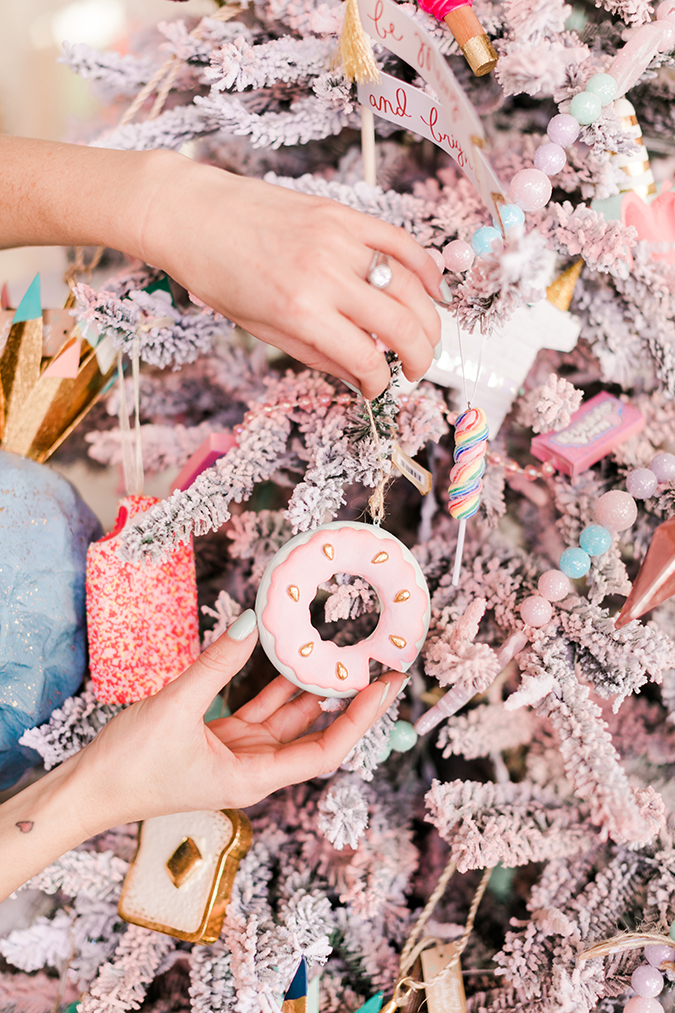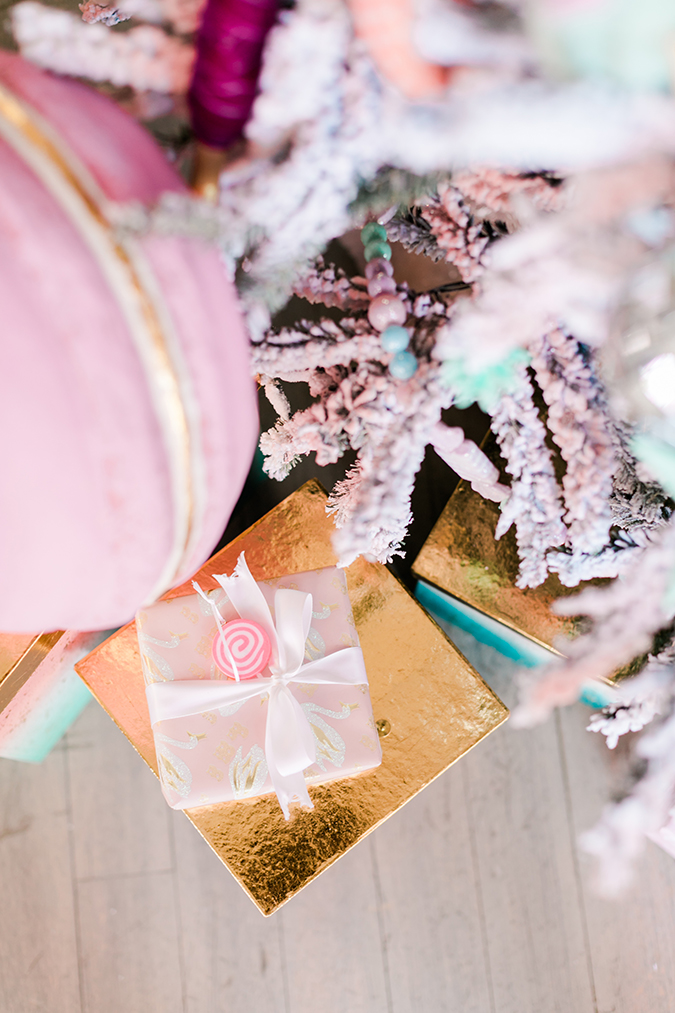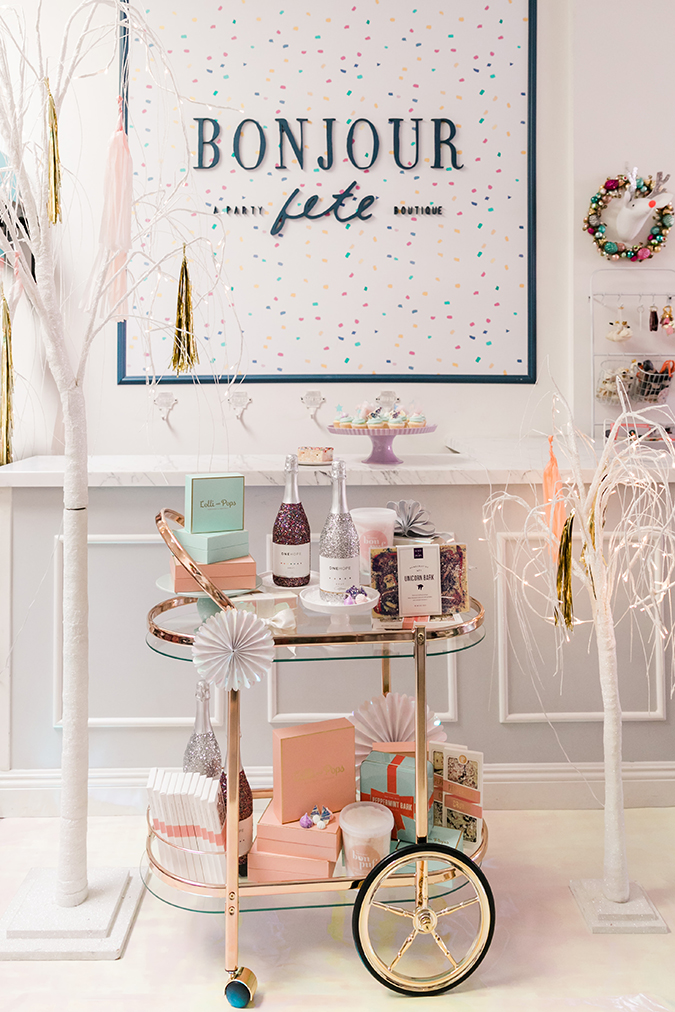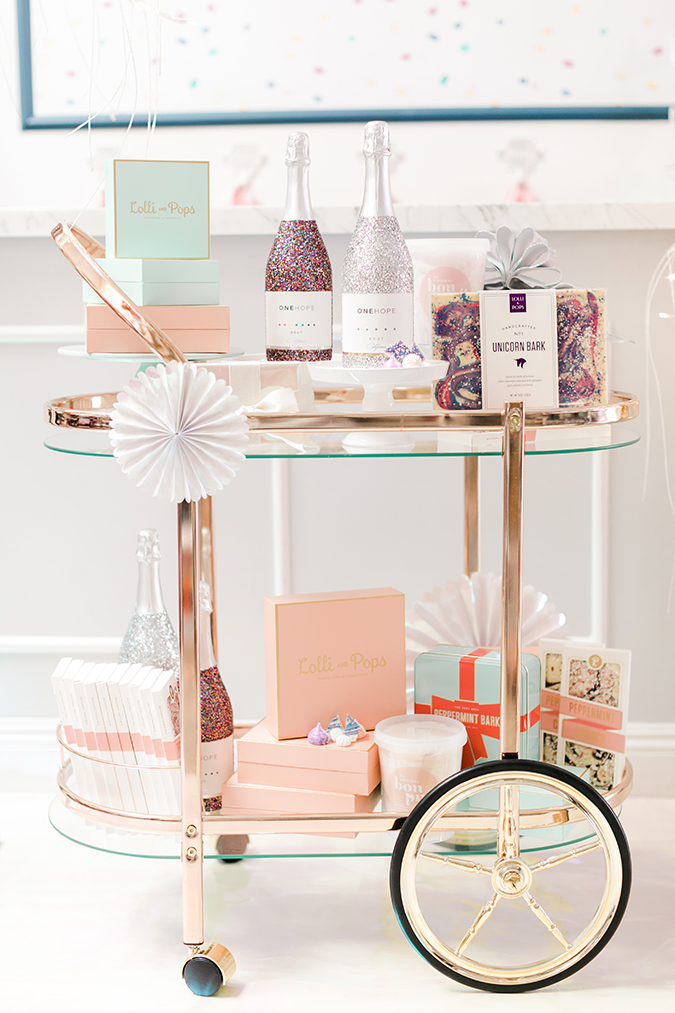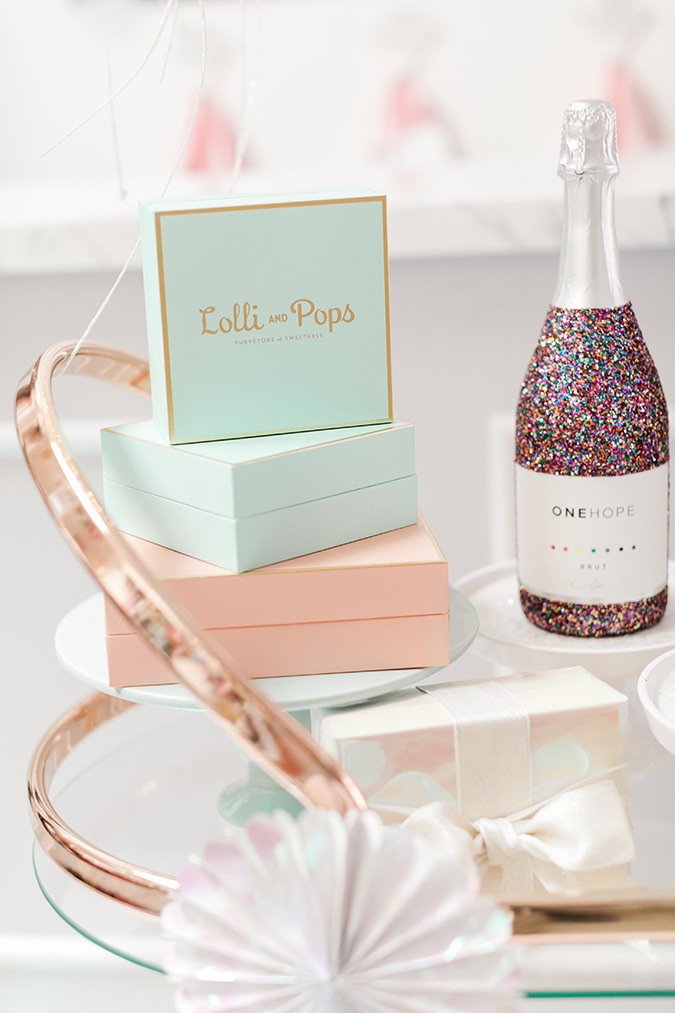 For the bar cart we knew we wanted to showcase candy, but also wanted to bring in some bubbly. The mint and blush boxes of Lolli & Pops candy were perfectly on point as far as palette and filled with tasty treats like peppermint bark, Champagne truffles, peppermint crunch bars and of course, that magical, glittering unicorn bark! And when it comes to a winter wonderland, you can never have too much glitter. Pink or silver, the One Hope blinged out bottles of champagne are fa-la-la-la-la, la-la-la-labulous!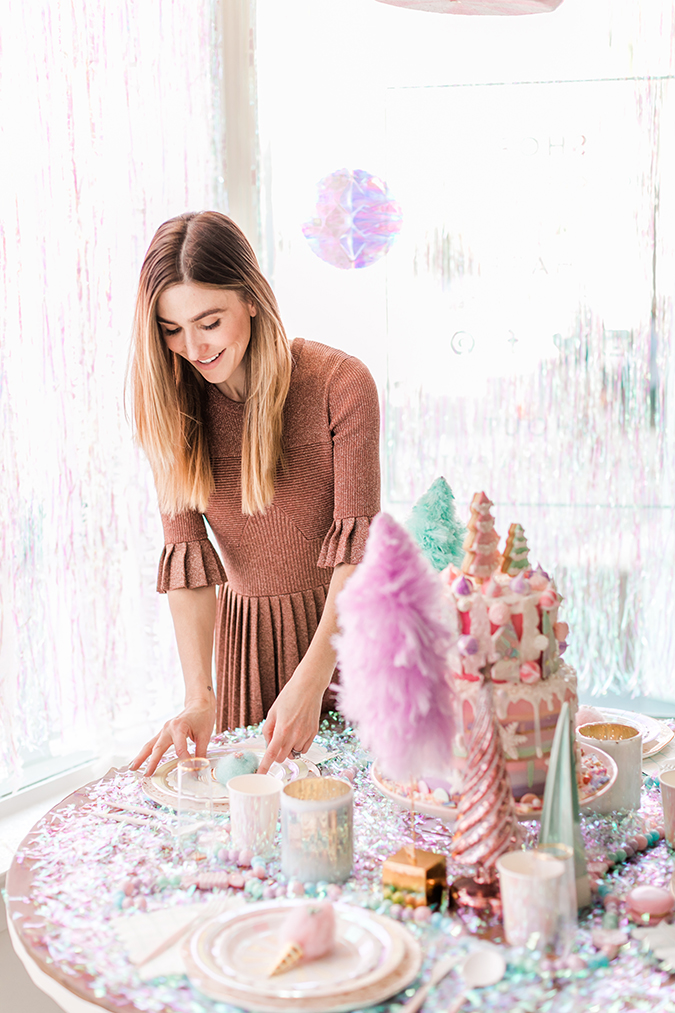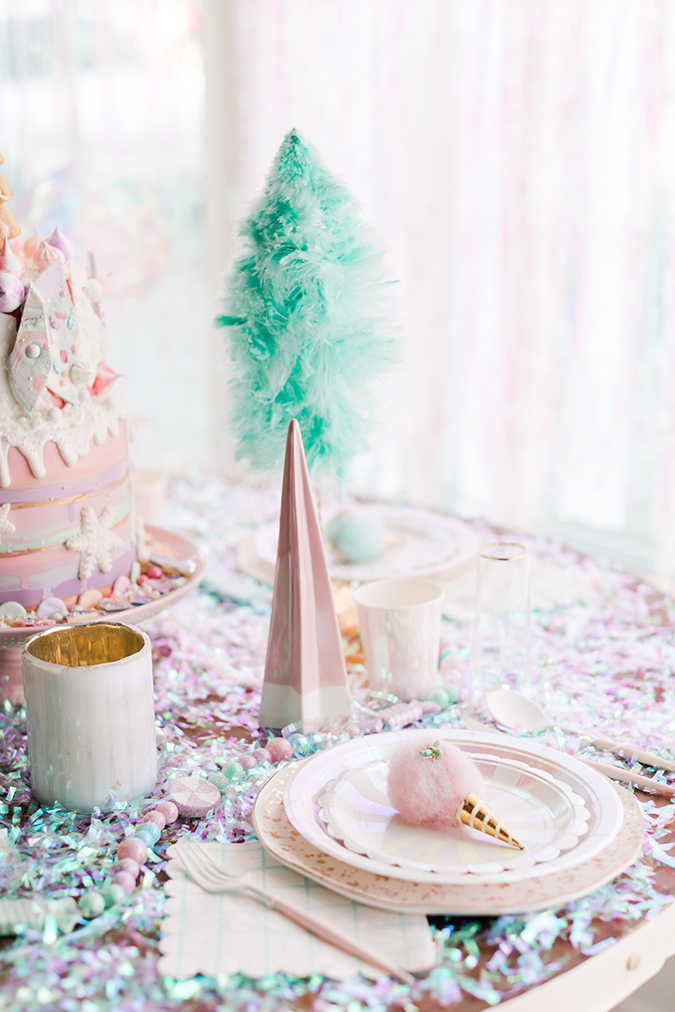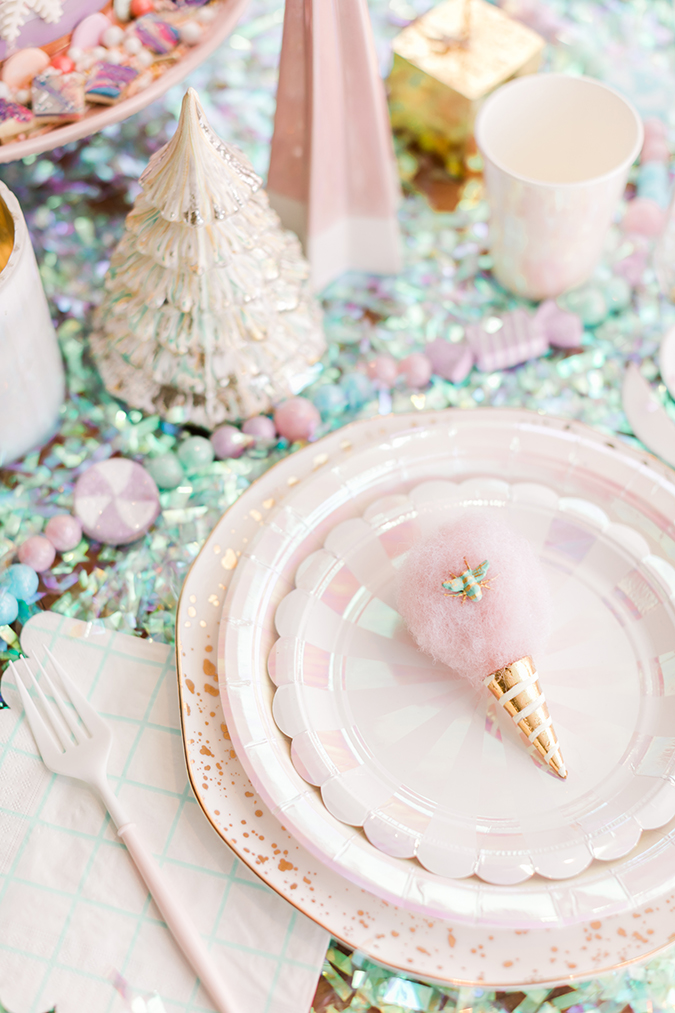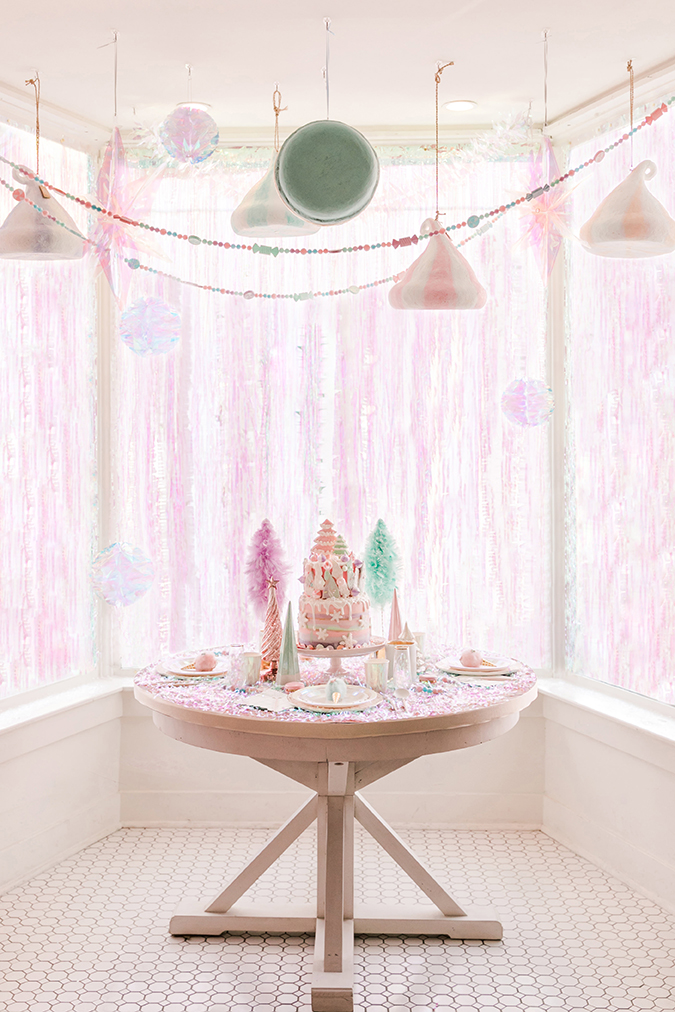 For the table, we wanted to create a super dramatic backdrop and layered iridescent fringe curtain on top of blush fringed garlands to create a super shimmery vibe. We also hung various iridescent decorations like honeycomb and stars, candy garland and giant Glitterville papier-mâché macarons and meringues! On the table we paired peppermint candy-like iridescent plates with mint grid napkins and blush cutlery for a modern edge. As a little gift for guests, cotton candy ornaments ornamented the plates. We used shredded iridescent curtains to add some shine to the tabletop and to fill the diamond-shaped champagne flutes (until the bubbles started flowing!).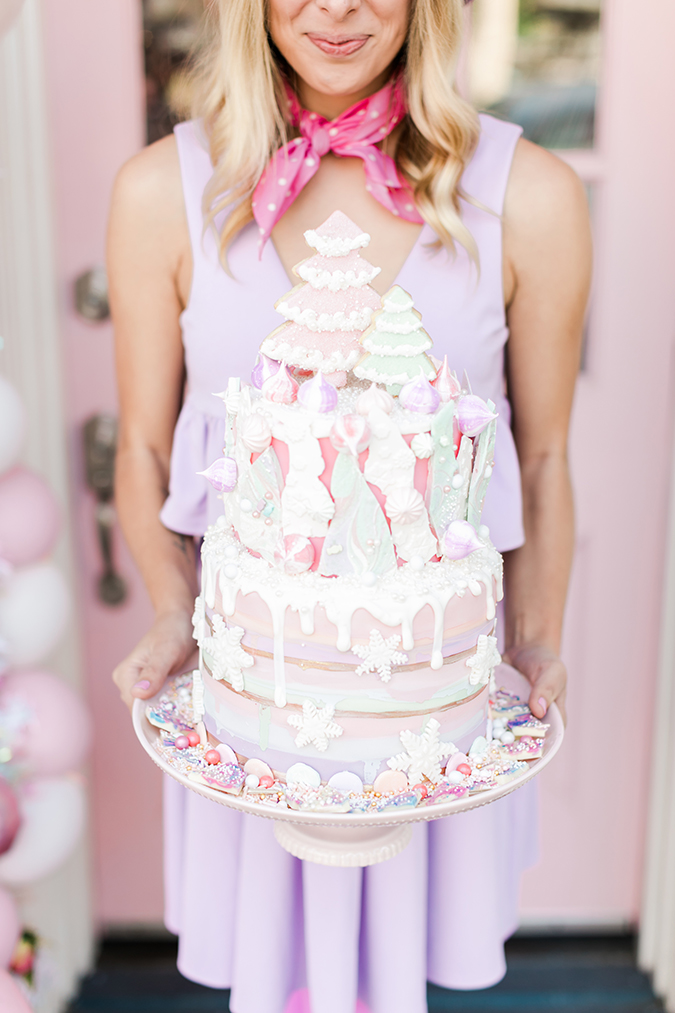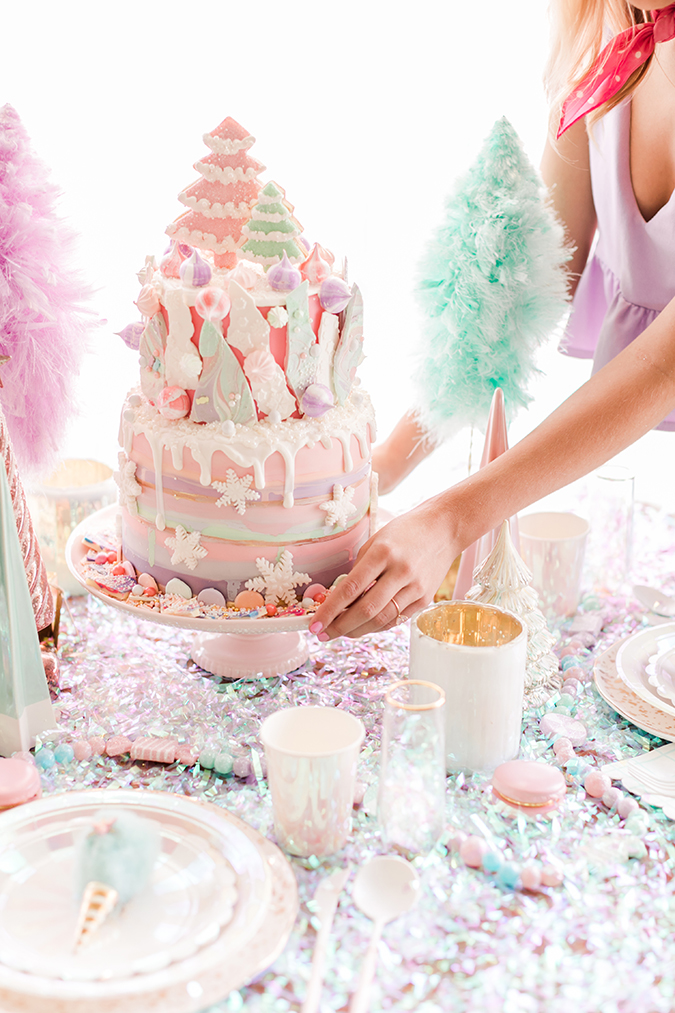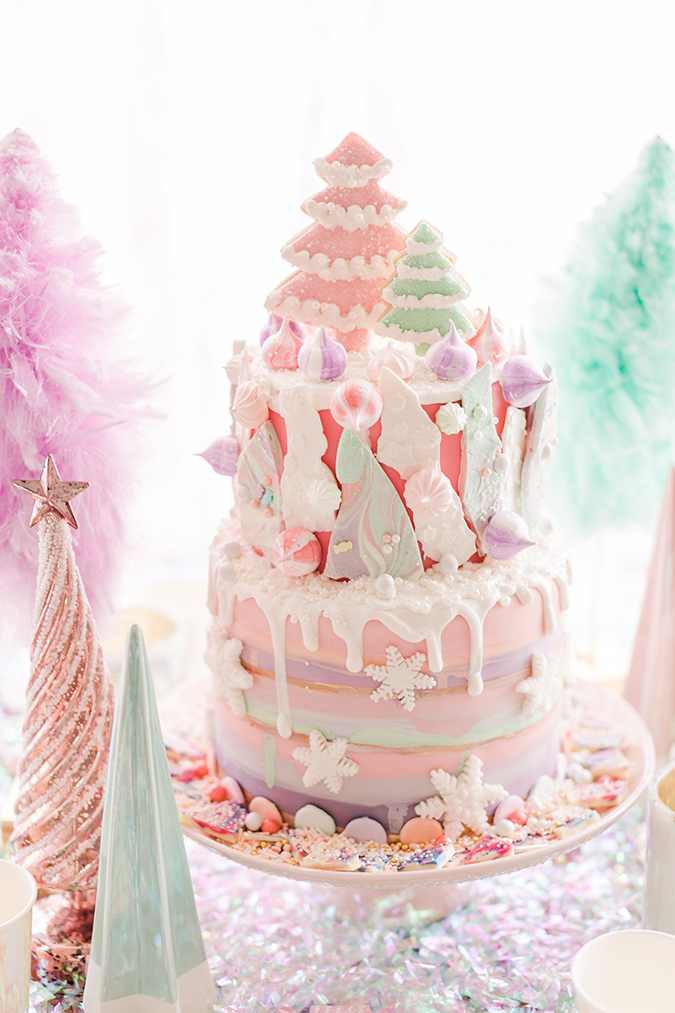 And, for the final touch, Inspired to Taste baked up the dreamiest pastel Candyland cake we have ever seen—complete with white chocolate snowflakes, unicorn bark, fancy sprinkles and mini meringues.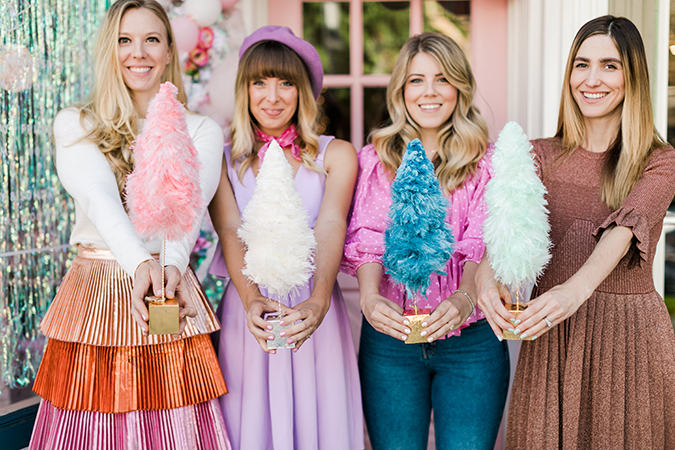 We hope you liked seeing a sneak peek into our candy-filled pink holiday afternoon!
What kind of parties would you like to see us plan next here on LaurenConrad.com?
A big thanks to Rachel and Royale for throwing this beautiful party for us! We can't wait to see what they have in store next.
XO Team LC
Photos: Valorie Darling for LaurenConrad.com
Concept and design: Royale Ziegler of But First, Party!
Party shoppe and goods: Bonjour Fête
Floral installation: WildFlora
Cake: Liz Joy of Inspired to Taste
Iridescent partyware courtesy of Talking Tables
Champagne courtesy of One Hope
Candy courtesy of Lolli & Pops
Courtney of @AWhimsyWonderland
Affiliate links may have been used in this post.