Edible Obsession: Caramel Apple Donuts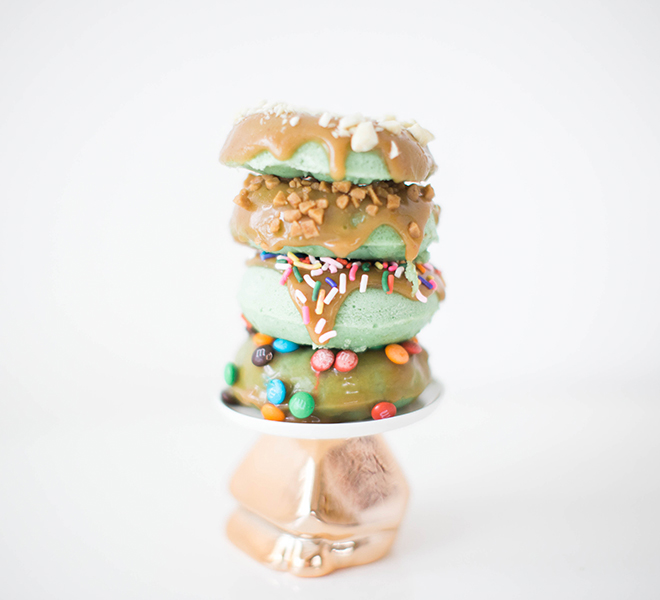 Not only does fall hold some of the best festivities this time of year, but the treats are pretty unbeatable too. Harvest is in full swing and that means that my favorite autumn fare is in abundance. Can you say apples, pumpkins, and butternut squash everything? One fall food staple that I particularly love has to be gooey and delicious caramel apples. Nothing beats the sweet to tart ratio, except maybe this next seasonal dessert. Allow me to introduce you to caramel apple donuts, courtesy of Team LC's resident baker extraordinaire, Lauren Lowstan.
If you're partial to caramel apples too, you'll want to keep this recipe on hand every year once fall rolls around. I've had my fair share of donuts, but nothing quite like these delectable treats. Topped with your choice of candy and other decorations, there's no wrong way to devour these homemade caramel apple donuts. Keep scrolling to snag the recipe for yourself…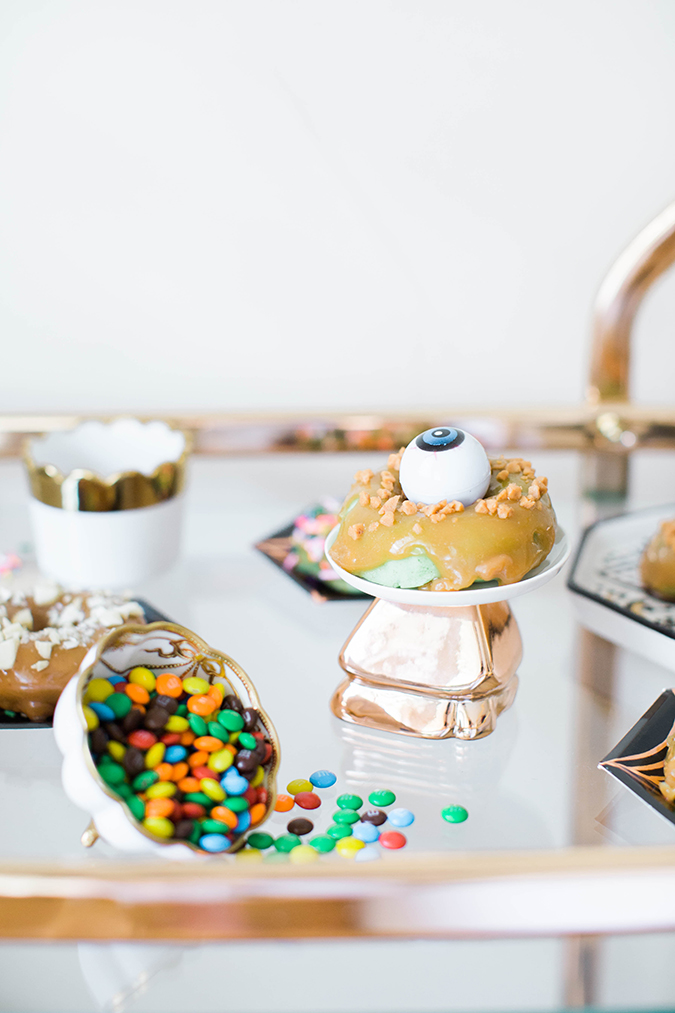 2 cups cake flour
2 teaspoons baking powder
1 teaspoon salt
½ teaspoon cinnamon
¾ cup sugar
¾ cup buttermilk
2 eggs
1 tablespoon vanilla
1 drop green gel food coloring
1 apple, diced


1 bag of caramel bits or wrapped caramels
2 tablespoons milk


mini M&Ms
toffee bits
crushed peanuts or almonds
rainbow sprinkles


1. Whisk flour, baking powder, salt, and cinnamon in a medium bowl. In a separate large bowl, whisk sugar, buttermilk, eggs, vanilla and food coloring. Add your dry ingredients into your wet, and whisk just until combined. Try not to over mix or else your batter will be tough. Mix in the diced apples.


2. Butter or spray your donut pan and preheat oven to 350 degrees. Add some donut batter into a large piping bag and fill each donut cavity until they're ¾ of the way full. If you don't have piping bags, don't worry—use a spoon instead. Piping bags just give you a more even distribution. Bake the donuts for about 8-10 minutes, or until a toothpick comes out clean when inserted. (I like to under bake mine by a minute or two, since they continue to cook when you take them out of the oven).


3. Let the donuts cool in the pan for about a minute, then flip onto your work surface and let cool. Repeat until all your batter is baked.


4. Add your toppings to their own individual bowls so decorating can be as quick as possible.


5. Add the caramel bits or wrapped caramels (make sure to take off the wrapping) and milk to a small saucepan and cook on medium low heat, stirring occasionally until all of the caramels are nice and melted. Turn the heat to the lowest it can go and leave the saucepan over the heat. This helps the caramel not to harden while dipping donuts.


6. Once your caramel is melted, start to dip your donuts into the caramel, one at a time. After dipping each one, QUICKLY sprinkle your topping of choice. Repeat until all donuts are topped.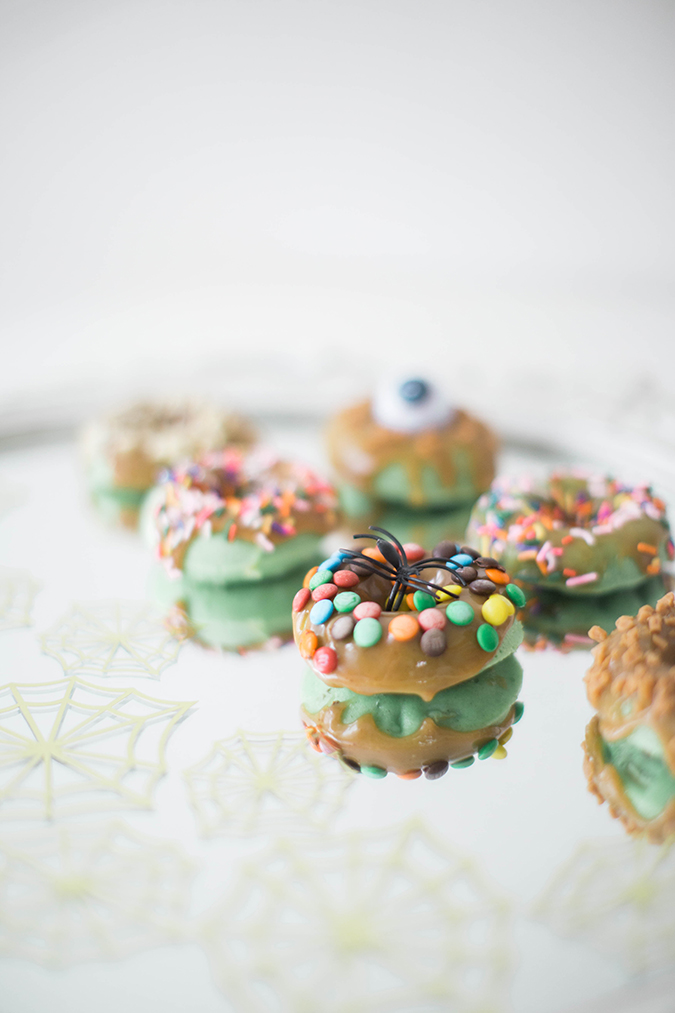 I encourage you to get even more festive with some festive Halloween garnishes like spooky eyeballs and spiders. Anyone would be silly to pass up these incredible donuts.


Will you be trying these homemade Halloween treats?


Let me know if you do in the comments!


Affiliate links may have been used in this post.