Odds and Ends: How to Properly Care for Fine Jewelry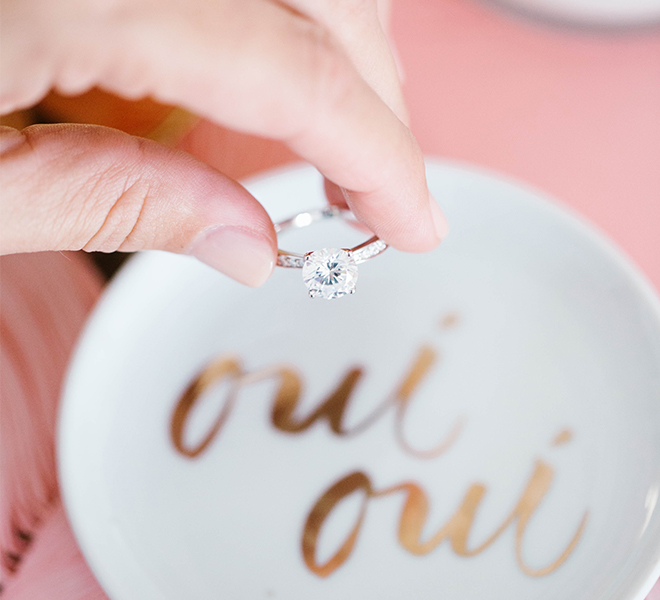 As much as we adore our fun and trendy costume jewelry, we're also firm believers is building a collection of timeless investment pieces to last you throughout your lifetime. Perhaps you treasure a family heirloom, your engagement ring, a well-loved keepsake or any other piece of precious metal. Whatever it is, it's very important to take good care of your delicate and high-quality pieces. Not sure how? No problem… This guide has got you (and your favorite jewels) covered!


First things first; it's important to have a safe place to store each piece of fine jewelry. As a general rule, each piece should be kept in a controlled temperature without humidity. Within that controlled climate, each piece should be kept separate and in a soft-lined container. Avoid allowing the pieces to touch each other, as they can scratch or tarnish each other. A great option is to store rings and bracelets in soft, cushioned boxes in a clean and dry location. Hang necklaces individually to avoid scratching and tangling.


To clean your nicest jewelry, it's important to use gentle, quality soap. Invest in a jewelry cleaner from your favorite jeweler, or use an ingredient you probably already have in your home: gentle dish soap. After rubbing gently with your dish soap and cool water, rinse and pat dry with a soft, lint-free cloth (Avoid paper toweling, as that can scratch your jewelry.). Then, lay your pieces to dry to avoid excess moisture transferring back into your jewelry storage unit. This method will work for simple cleaning of all your nice jewelry, but certain pieces require certain additional care.


Silver: To reduce tarnishing on silver pieces, go the homemade route by mixing three parts baking soda with one part water. This paste mixture will eliminate tarnish, so only use when necessary. Rinse with cool water, then rub or pat dry with a soft, lint-free cloth.
Gold and Jewels: To clean your favorite gold pieces and your most precious gems, use a method similar to the basic one listed above. Mix mild dish soap with a bit of club soda or seltzer water, then rub gently (try lightly scrubbing with an unused toothbrush). Why use a carbonated beverage instead of plain flat water? According to studies, the carbonation helps loosen the tiny debris that cause your jewels to appear dirty or clogged.
Pearls: Pearls are incredibly porous, so it's easy for them to lose their beauty. To fix this problem, clean them gently with shampoo or another mild soap-and-water solution. Be sure to lay them flat to dry, as pearl strands are often prone to unwanted expansion when wet.


Bonus tip: Want to keep your finest jewelry in good condition for longer? Avoid wearing these pieces while washing hands, while showering, while applying lotion, and while exercising. Instead, store them as mentioned above, then put them back on when you're all clean and dry!


How do you care for your fine jewelry?


Share your best tips and tricks in the comments!