Ladylike Laws: Wedding Social Media Etiquette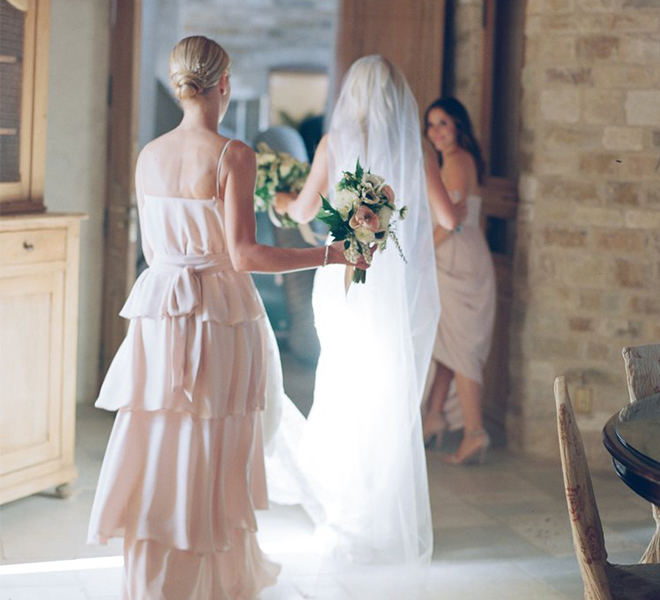 The dos and don'ts of wedding etiquette have taken on a whole new form in recent years, and a lot of it is thanks to the rise of social media. Just five years ago, guests most likely viewed the entire reception and ceremony through their own eyes. But now, it seems that the majority of attendees at a wedding are seeing the big event through the screens of their phones. If you've ever been a bridesmaid standing up at the altar supporting a friend during their ceremony, one look out at the crowd proves this to be true.
On the one hand, it can be a shame that we aren't as present as we used to be. However, any bride or groom whose nuptials have come and gone will probably tell you how much fun it is to scroll through their wedding hashtag days later and relive the memories instantly (without having to wait weeks for their professional photos to be released). So, not all wedding social media is bad! What it really comes down to are a few social media rules that attendees should keep in mind when attending the celebration. Which brings me to my topic for today's Ladylike Laws post…
Simply remember these four tips and you can consider yourself on your best social media behavior…


Wait until after the ceremony to post photos of the bride.
Listen up, because breaking this rule is a major wedding social media faux pas: When a bride walks down the aisle, it is a special, emotional, and dramatic moment. It's the first time her family and friends, and often her groom, will see her in her wedding dress on the day of her wedding. So, if you're snapping photos of the bride getting ready in her dressing room and posting them before the ceremony, it essentially ruins the entire moment… In a big way. Let the bride-to-be have some social-media-free time in the dressing room before the ceremony, and wait to post behind-the-scenes bridal photos until after the big day. It's called a "reveal" for a reason!


I know how tempting it can be to have your phone out snapping photos during the entire wedding (or even going through your email inbox during lulls throughout the evening). But there is a reason the bride and groom spent so much time and money picking out a wedding photographer. Let the professional do their job, and try to keep your phone tucked away most of the night. Of course you will want to capture special moments here and there, but remember to be present. No bride wants to look out into the crowd after saying "I do" to see a sea of cell phones where there should be familiar faces of her nearest and dearest. 


When you are snapping away at a wedding, be sure to take note of and include the couple's hashtag before posting any photos on social media. Not every couple will have a hashtag, but these days, many do. And, the bride and groom probably put some thought into creating it and making it personal to them, so it's nice to show that you're including it. Plus, the whole point of using a wedding hashtag is so that guests and the bride and groom themselves can see all the photos from the event in one destination. So hashtag away when posting… Just be sure you're using the right one!


Be mindful of your captions and photos.
You might think this one goes without saying, but you would be surprised to see how many guests post inappropriate content after a wedding. If the bride's uncle got extremely inebriated and you have a hilarious photo, keep it to yourself. It might not come across as funny to the bride and groom who thought their day was as perfect as can be. As far as captions go, keep the inside jokes you might think are hilarious to yourself and stick to straightforward and sentimental captions. Jokes might not translate the way you intend them to, to an audience who doesn't know the couple. Of course if you know the couple well, you will have a better gauge of what feels appropriate to post and what doesn't. But my advice is to always err on the side of sharing less if you're on the fence.
And of course, some couples these days will specifically request that guests do not take photos on their phones or post pictures on social media at all. If the couple goes out of their way to make this announcement, it goes without saying that you should respect their wishes. 


Do you have any social media dos or don'ts to add to this list?


I know everyone has their own opinions about this topic, and I'd love to hear what you have to say! Leave your two cents in the comments below.