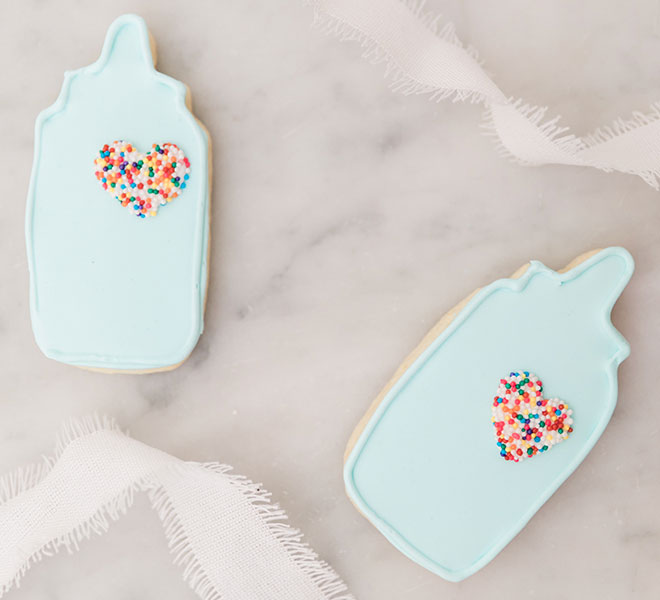 Here at Team LC, we have a serious case of baby fever! With two babies making an appearance in the office this year, it's difficult to contain our excitement. 2017 has already proven to be the year of the baby shower and we couldn't love it more if we tried. Thanks to Lauren's latest book Celebrate, we consider ourselves well-versed in the way of party planning. That being said, one of the most important aspects of a perfectly planned event is the menu (or dessert bar!). If you're in the stages of planning a shower for yourself or a loved one, this next Edible Obsession is for you!
No party is complete without some sweet treats. In preparation for our LaurenConrad.com babies, we called on our friend and professional baker Lauren Lowstan to whip up the cutest desserts. So, what do you get when you combine sprinkles with a onesie and baby bottles? You get the most adorable sugar cookies we've ever laid eyes on! These baby-themed cookies are not only guaranteed crowd pleasers, but they're super simple to recreate in your own kitchen. Keep scrolling to see how you can add these duckling, baby bottle and onesie sugar cookies to your next baby shower dessert table…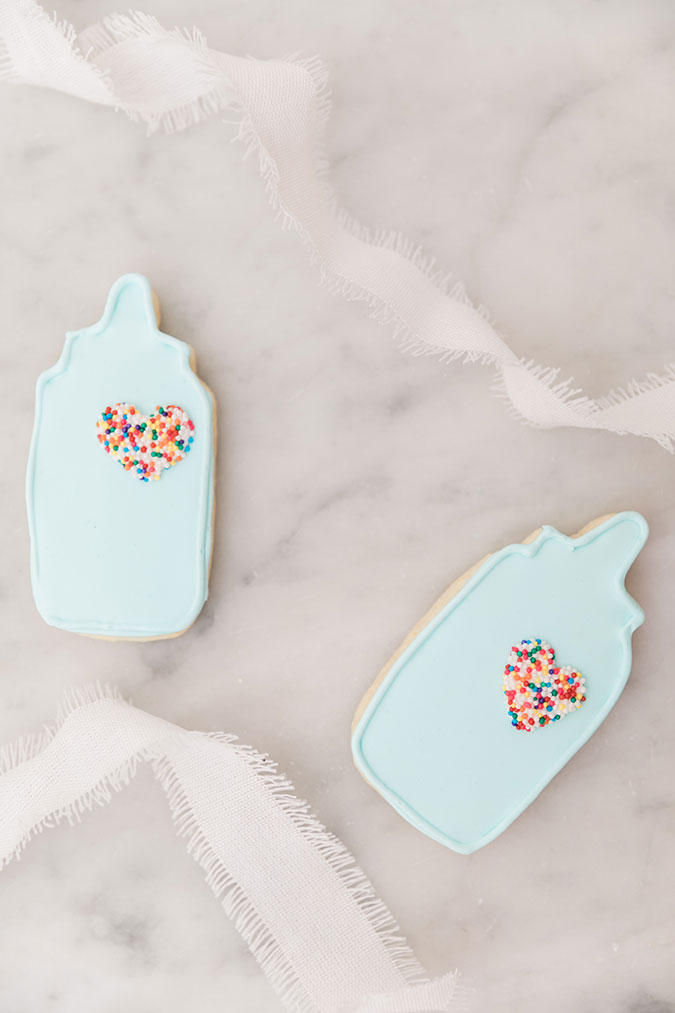 2 cups butter, softened
2 ¼ cup sugar
2 tablespoons vanilla
1 teaspoon lemon zest
2 eggs
4 teaspoons baking powder
6 cups flour
1 teaspoon salt
2 tablespoons meringue powder
7 tablespoons water, plus a little bit more
4 cups powdered sugar
teal gel food coloring
blue gel food coloring
pink gel food coloring
rainbow nonpareils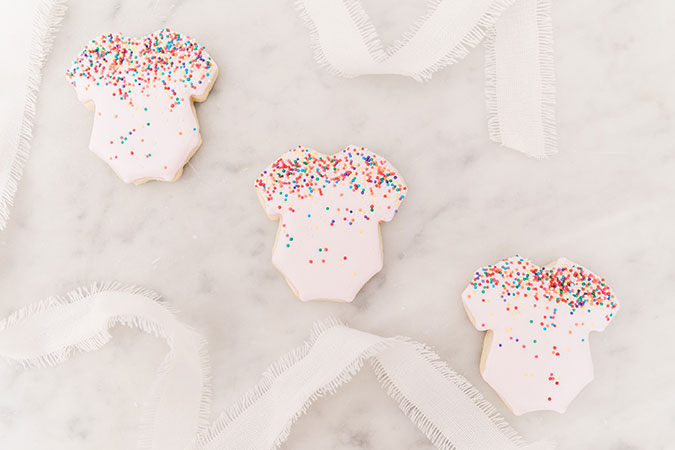 1. In a mixer with a paddle attachment, cream together the butter, sugar, lemon zest, and vanilla for about 3 minutes, until well mixed and creamy.


2. Add the eggs and mix until incorporated.


3. Sift the flour, baking powder, and salt in a separate bowl.


4. With the mixer on low, slowly add the dry ingredients into the sugar-butter mixture and beat just until incorporated.


5. Chill the dough for about 20 minutes in the refrigerator. Once the dough is chilled, roll it out on a lightly floured work surface until the dough is about ¼-inch thick.


6. Cut out cookies with your baby shower themed cookie cutters and place them on a parchment-lined baking sheet. Chill in the freezer until the cookies are rock solid.


7. Once your cookies have hardened, immediately bake them in a 350-degree oven for about 6-10 minutes. You don't want the cookies to turn golden at all.


8. Let the cookies cool completely before icing.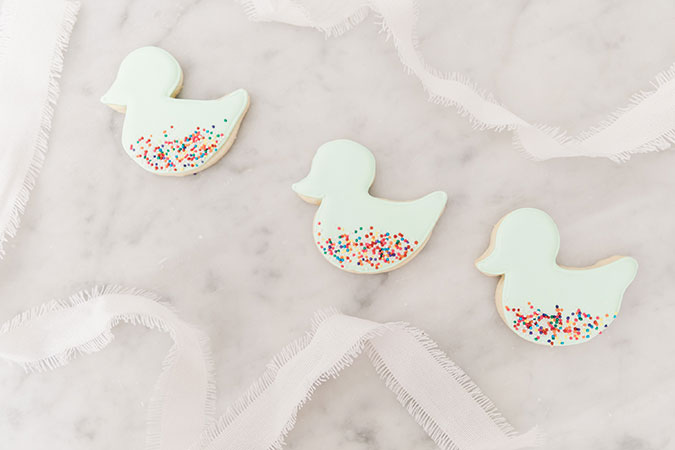 1. In a bowl of a stand mixer, whisk the meringue powder and 7 tablespoons of water until frothy.


2. Add in all of the powdered sugar and beat with a paddle attachment for a couple of minutes, until thick and fluffy. Tip: Don't skimp on this step! The longer you beat it, the fluffier it will become. At first it may look too thin, but it will thicken up the longer you beat it. This will be for your piping and outlining.


3. Once thick and fluffy, divide between three bowls and color with teal, pink, and blue. Add a small amount of each color to their own piping bags fitted with a #3 or #4 piping tip. Set aside.


4. Now, make the rest of your icing a tad thinner to flood your cookies by adding a couple more tablespoons of water and beating for a couple more minutes. Add in more water if need be. Add this to a large piping bag without a tip and set aside. Tip: Make sure to keep your royal icing covered with plastic wrap at all times. If it sits out, air will harden it. You'll need to do this three times with each color.


5. Take your thicker royal icing (the first batch) and outline all of your cookies. This will create a dam and trap in the thinner icing.


6. Once you're finished outlining all of your cookies, flood them with the thinner icing. Cut a small tip off of the end of your piping bag and start to fill in with the icing. Once each cookie is finished, hold onto the sides of each cookie and lightly tap it down on your work surface. This helps to bring all of the air bubbles to the surface of the cookie. Tip: If you see a major air bubble you can pop it with a toothpick!


7. With the ducks and onesies, sprinkle the nonpareils into the wet icing.


8. Let your cookies harden until the royal icing is completely dry, at least 12 hours. Yes you read that correctly…the longer the better!


9. Once your bottle cookies are hardened, pipe in a little heart with your stiff icing and dip the cookie into the sprinkles to completely cover the heart.


These pastel little cookies are bound to be the first treat devoured at your next shower! And they're sprinkled to perfection—what's not to love?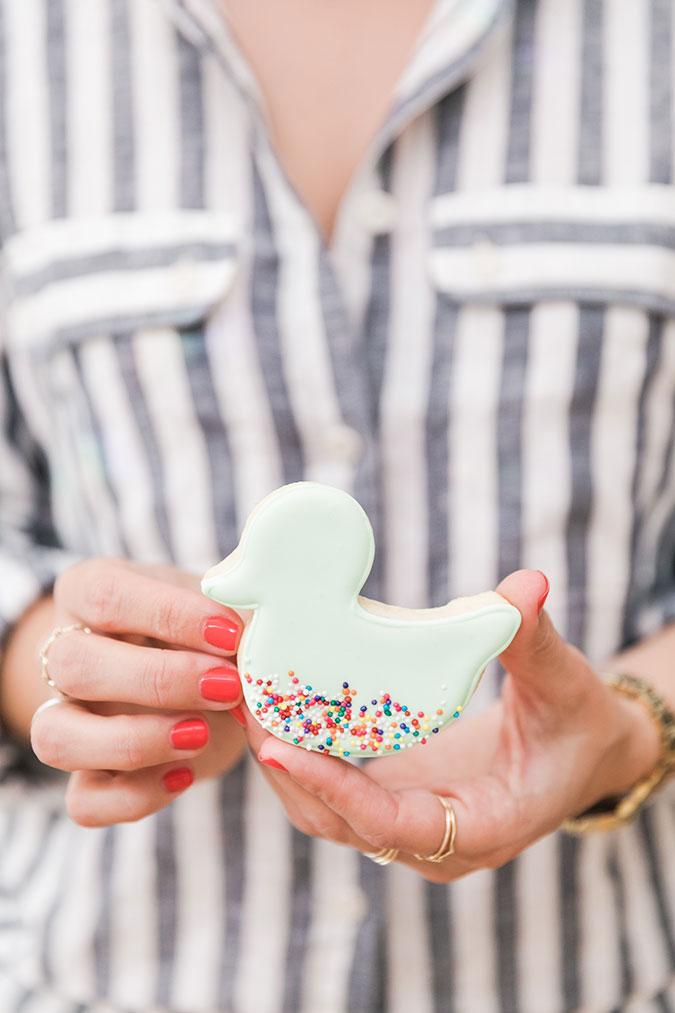 Will you be mixing up a batch of these sugar cookies anytime soon? 


Let us know if you do! We'd love to see how they turn out!