Dress Coding: A Guide to Office Dress Codes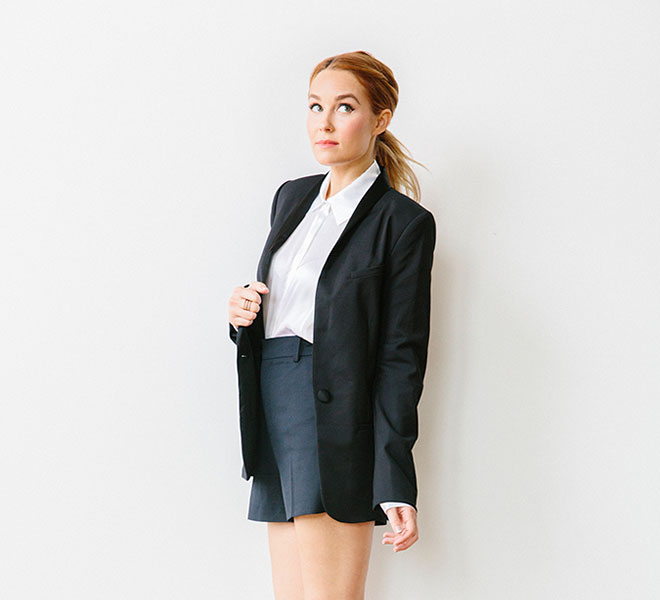 The working world looks a little different nowadays. Office environments aren't only found in buildings downtown, but also take the form of at-home offices, coffee shops, and most places that offer free Wi-Fi. But not all workplaces have shifted over to the new casual that we so often see in the blogosphere or on our TV screens. The art of dressing for the office is still alive and well, but unfortunately the dress code handbook has become a little dusty. Whether you're entering your first job, updating your current workwear, or are preparing to impress during an interview, proper office attire etiquette can only help you, not hurt you.
If you're feeling unsure about what is and isn't appropriate, then these office dress code tips will come in handy. Keep them in your pocket for a rainy day or step into the office tomorrow morning feeling like a new woman. Either way you can't go wrong…


1. Great lengths.
When it comes to office attire, too long is almost as bad as too short. You don't want to be drowning in your trousers, yet you don't want to seem like a flood is on its way either. Be sure to hem anything too long and save your short dresses, skirts and shorts for the weekend.


2. Don't take the plunge.
Not all trends are meant for inside the office walls. If it has a deep plunge, bares skin in the wrong places, or is cropped just a little bit too short, it's best to leave it at home. Just because office attire warrants more conservative outfits, it doesn't mean that you have to sacrifice your style altogether.


3. Be prepared.
Over the years I've learned that it's best to expect the unexpected. Little things like keeping a sweater on hand for when the office AC kicks on, carrying flats or walking shoes when your heels get uncomfortable, or placing clear nail polish in your desk drawer if your tights snag can save you a world of trouble and discomfort.


4. Less is more.
I love makeup and perfume as much as any woman, but keeping it simple at the office or during an interview is key. Let your personality shine brighter than the highlighter I know that you're dying to pull out of your makeup drawer. Before you leave the house, opt for one spritz of your favorite fragrance rather than three. Strong scents might bother or distract coworkers.


5. Keep your bits and baubles in check.
When it comes to jewelry, you don't want to be jangling around the office. Don't layer on the arm candy—this can cause some serious distraction, especially if they clank together and make noise.


6. Such great heights.
Let's talk about heels, ladies. If you can't walk in them, you probably can't walk around the office in them either. Treat your feet to lower, more comfortable heels or flats. That way your poor toes won't be sore by the time you walk through your front door at the end of the day.
Following these simple rules will help you avoid any office fashion faux pas. Although these are basic guidelines and the rules can vary from office to office, especially if you're in marketing or fashion. If you're looking for specific styles that are chic and workplace friendly, I've included some of my favorite pieces below:



Do you have any helpful tips when it comes to dressing for the office?


Share your thoughts below!