Recipe Box: Homemade New York Style Pretzels and Dipping Sauces
Every time February rolls around, we begin to get a craving to head east to the streets of New York for… Drumroll… New York Fashion Week. If fashion is your thing, NYFW is one of the most exciting weeks of the year. When we attend the shows, we find ourselves flying from venue to venue trying to catch as many shows as possible each day. As a result, that means we usually eat breakfast, lunch and dinner on the run (a.k.a. in the backseat of one of New York's finest taxi cabs). Lucky for us, the Big Apple boasts some of the most iconic street food in American history—from hot dogs to pizza slices to big doughy pretzels, you can't find better on-the-go fare.
Team LC won't be making it out to the NYFW shows this season. But to help us feel as though we are there in spirit, at our most recent photoshoot we enlisted our resident baker Lauren Lowstan to create a classic New York-style pretzel recipe comparable to the authentic East Coast original, complete with three savory dipping sauces. (Psst! These make a great snack if you're planning on hosting an awards ceremony viewing party this month!). Without further ado, it's time to dig in…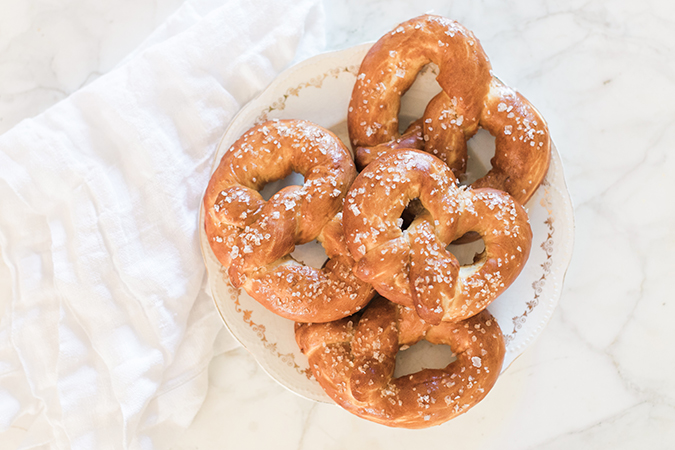 Homemade New York Style Pretzels
2 ½ cups all purpose flour
2 ¼ tsp. active dry yeast
¼ cup light brown sugar
1 tsp salt
1 cup whole milk
2 tbsp. butter, softened to room temp


large pot of water
¼ cup baking soda


1 egg
1 tbsp. water
Maldon sea salt (or any other chunky salt)


1. In the bowl of a stand mixer that is fitted with a dough hook, add the flour, yeast, brown sugar, and salt. Mix for a few seconds until combined.


2. Heat the milk in the microwave or over stove, until it is no hotter than 110 degrees. Important: If you heat your milk too much, it can kill the yeast. To be safe, just heat until milk is warm to the touch.


3. Add the milk and softened butter to the dry ingredients and mix on medium speed with the dough hook, for about 5 minutes, or until it comes into a nice soft dough.


4. Shape into a ball, and place into a well-greased large bowl. Cover with plastic wrap and let the dough double in size (this will take about one hour). You can also add it to the fridge immediately if you want to make overnight.


5. Once your dough has doubled in size, it's ready to shape into pretzels!


6. Preheat your oven to 400 degrees and line your baking sheet with parchment paper coated in cooking spray.


7. Lightly oil your work surface. This will help with rolling your dough. Divide the dough into 6 equal pieces. Roll and stretch each piece, with the palms of your hands, into a 25″-30″ rope. Now form your rope into pretzel shape. Expert Tip: To make the pretzel shape, form into the letter U. Now fold the top right side of U over the left side, so it crisscrosses. Take the tops of the U, and fold down into a pretzel shape, and tuck the ends under.


8. Set each pretzel aside, until you've finished shaping them all.


9. Then, heat a small saucepan with water filled ¾ of the way full and add the baking soda. The water just needs to be warm, not boiling hot.


10. Add one pretzel at a time for about 20-30 seconds (this helps puff them up a bit, as well as get a nice brown coating on the outside).


11. Add your pretzels onto your lined baking sheet, and brush each pretzel with egg wash (just mix the egg and water together with a fork until foamy). Sprinkle generously with salt.


12. Bake in your preheated oven for 8-10 minutes, or until tops are golden brown.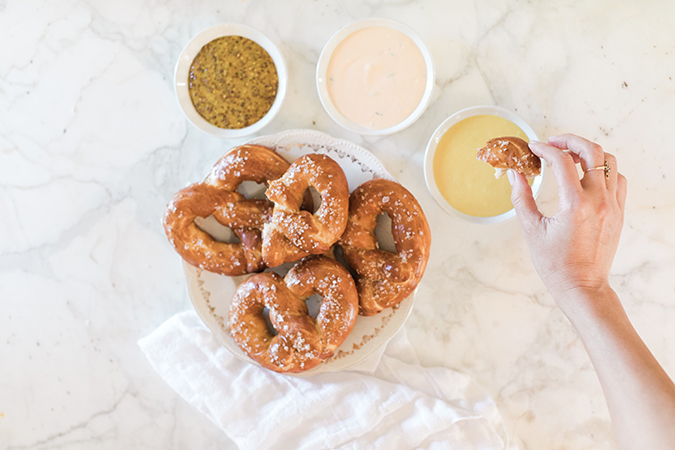 For the spicy maple mustard sauce:
1 ¼ cup whole grain Dijon mustard
2 tbsp. yellow mustard
¼ tsp. ground cayenne pepper
2 tbsp. maple syrup


Mix everything together in a small bowl.


For the cheesy beer sauce:
2 tbsp. butter
1 tbsp. flour
½ cup milk
½ cup heavy cream
¼ cup beer (I used Kona longboard because that's what I had in my fridge!)
3 tbsp. cream cheese
1 cup cheddar cheese
½ tsp. salt
1 tsp. mustard
6 drops Tabasco
2 tsp. chopped parsley, plus more for sprinkling on top


1. Heat butter, on medium heat, in saucepan. Once melted, add in the flour and stir until thoroughly mixed together. Add in the heavy cream, milk and beer, and whisk to combined. Add the cream cheese and cheddar cheese.


2. Whisk until the cheese is completely melted (this took me a few minutes to get completely melted). Take off the heat and add in the salt, mustard, Tabasco sauce and parsley.



3 tbsp. honey
3 tbsp. yellow mustard
½ cup mayo


Whisk all ingredients until combined.


…And there you have it! Thank you to Lauren Lowstan for creating yet another delicious recipe.


Will you be whipping up these homemade pretzels for your awards season viewing parties this month?


I highly recommend that you do. Enjoy!