Recipe Box: Homemade Heart Pop Tarts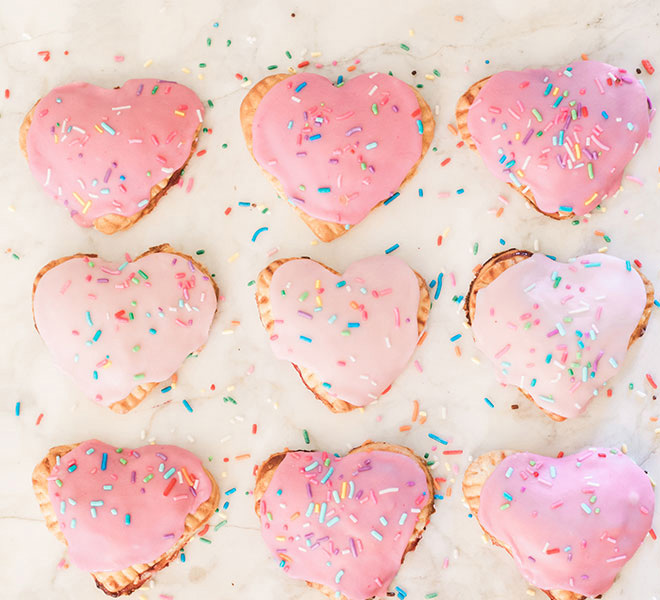 It's February and we all know what that means… It's time to break out the conversation hearts and boxes of chocolate. While we're all for heading to our local grocery store for holiday-themed treats, there's something about a homemade dessert that really does it for us. Thanks to our favorite baker Lauren Lowstan, we found the perfect way to woo our Valentine right in our own kitchens. We now introduce you to these homemade heart pop tarts, our new favorite take on a classic childhood breakfast staple.
These sweets are packed with rich chocolate chunks and sweet cherry jam, making them an irresistible breakfast in bed or Sunday brunch treat. We won't tell if you steal a couple of these heart pop tarts for yourself… Keep scrolling to get the recipe!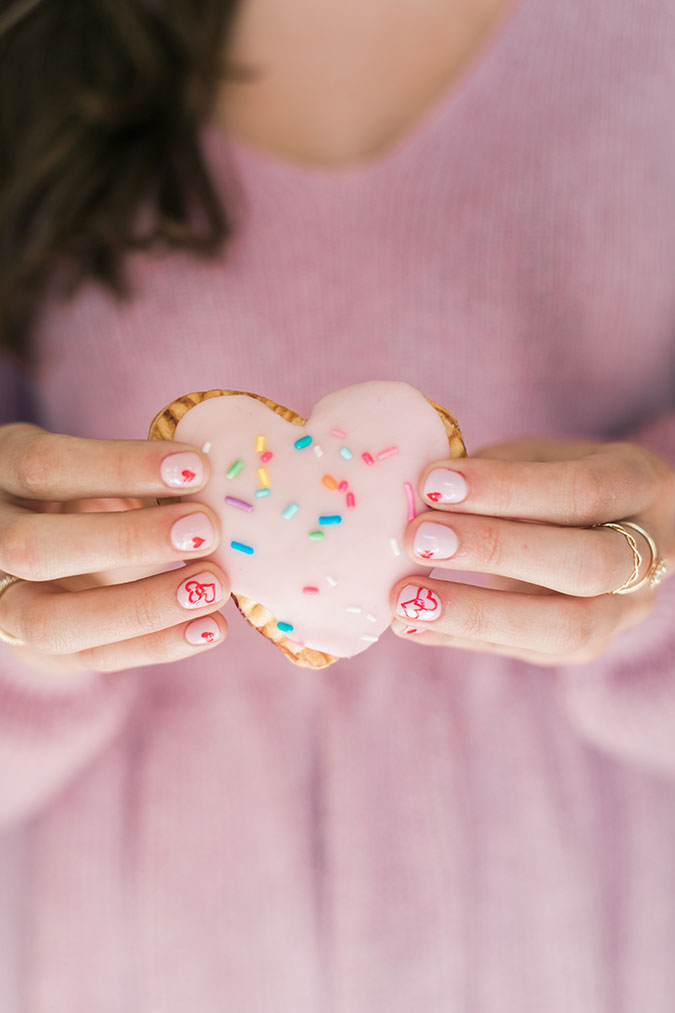 4 cups flour
3 tablespoons granulated sugar
2 teaspoons salt
1 ½ cup vegetable shortening
1 egg
½ cup cold water


1 jar of cherry jam
1 cup dark chocolate chunks


1 cup powdered sugar
2-4 tablespoons milk
¼ teaspoon vanilla
pink and fuchsia food coloring
rainbow sprinkles


1. In a food processor, pulse the flour, sugar, and salt until blended. Add the shortening and pulse just until the mix is crumbly. Add the egg and cold water and pulse just until blended.


2. Divide the dough into one flat disc. Wrap the disc in plastic wrap and place in the refrigerator until cold (or about 30 minutes).


3. Once your dough is chilled, roll out on a lightly floured surface until about 1/8 inch thick. Take a large heart shaped cookie cutter and pop out pieces of dough hearts. Place them onto a parchment lined baking sheet.


4. Preheat your oven to 375 degrees.


5. To make the egg wash, just whisk the egg and water together until foamy. Brush half of the hearts on your sheet with the egg wash.


6. Fill a piping bag with cherry jam and pipe a small amount of the jam (about 1 tablespoon worth) onto the tops of each egg-wash-brushed heart. Add a few pieces of chocolate chunks on top of the jam. Remember not to overfill the tarts, you want them more flat than round.


7. Top each filled heart with a dough heart that has not been egg washed. Seal the edges together with your fingers. With a fork, crimp the edges together along the entire heart. Repeat with remaining hearts.


8. Bake the pop tarts in your preheated oven for 15-18 minutes until the tops are golden brown and you can see the fruit jam bubbling out of the sides.


9. Make your icing while the tarts cool. In a small bowl, mix together the powdered sugar, 2 tablespoons milk, and vanilla. Add in more milk if needed. Separate the glaze into 2 small bowls and color with pink and fuchsia food coloring.


10. Add both glazes to piping bags immediately or cover with plastic wrap. If left out, the air will harden the glaze!


11. Pipe the glaze onto each pop tart and top with sprinkles. Then, enjoy!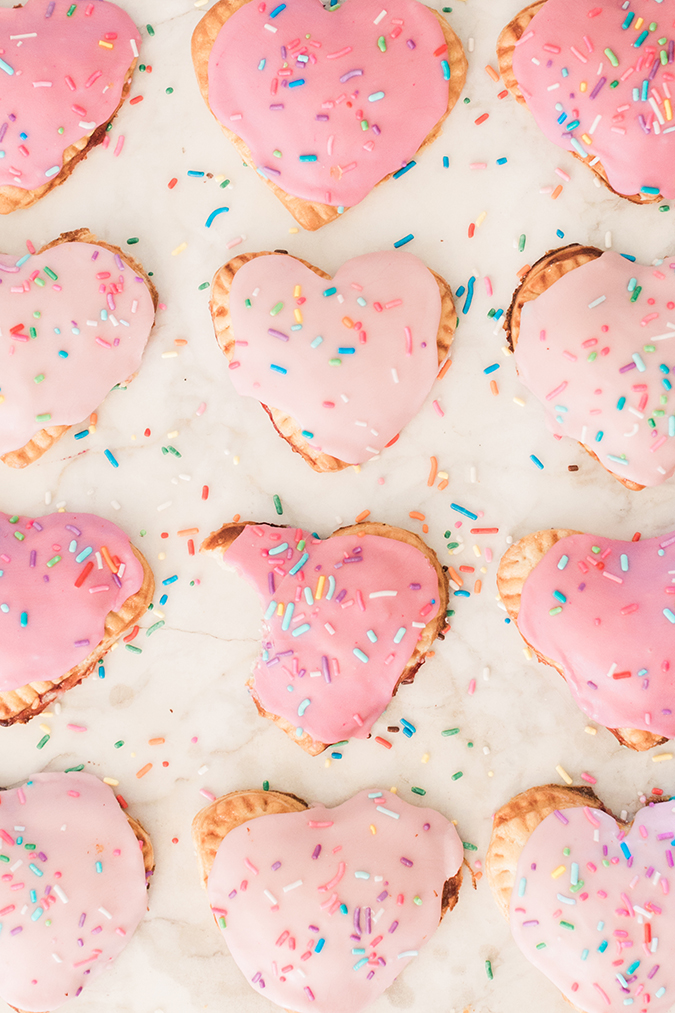 Did we mention that these homemade pop tarts go hand in hand with a warm mug of coffee? Yum.


Will you be serving these homemade pop tarts to your Valentine?


Let us know if you whip up a batch in the comments!