Recipe Box: Fruity Pebbles Desserts, 2 Ways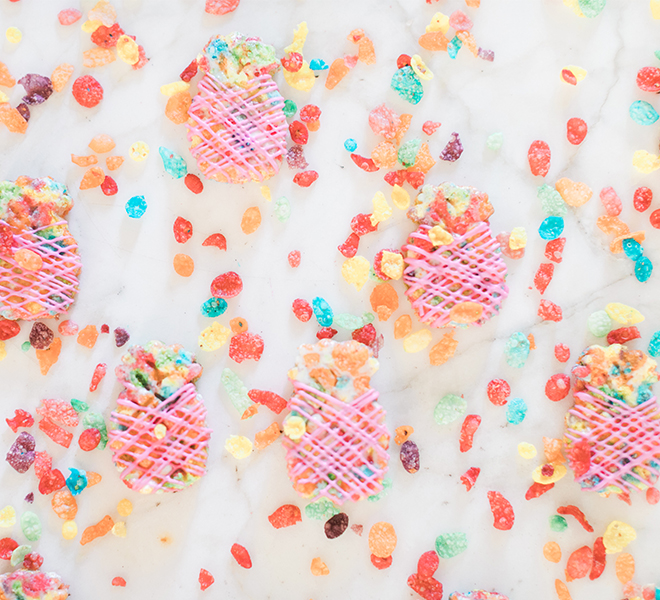 Did you have a favorite cereal as a kid? We sure did… Several, in fact. From Cinnamon Toast Crunch to Cocoa Puffs, we're sure that some of you share the same memory of starting off your childhood mornings with a bowl of delicious breakfast cereal (albeit a sugary one!). Well, now that we've grown up a bit and changed our first meal of the day to something a little healthier (like these energy breakfasts we love), we tend to view sugary breakfast cereals as a treat, not a staple. And that said, they're the perfect ingredient to add to a fun nostalgic dessert, which brings us to today's post…
Our dear friend and resident baker Lauren Lowstan created not one but two cheerful and deliciously sweet Fruit Pebbles desserts for us today: Fruity Pebbles Cinnamon Rolls and Fruity Pebbles Rice Krispies Treats. We taste-tested both and have our personal favorite, but you will just have to make them to decide for yourself…


Fruity Pebbles Cinnamon Rolls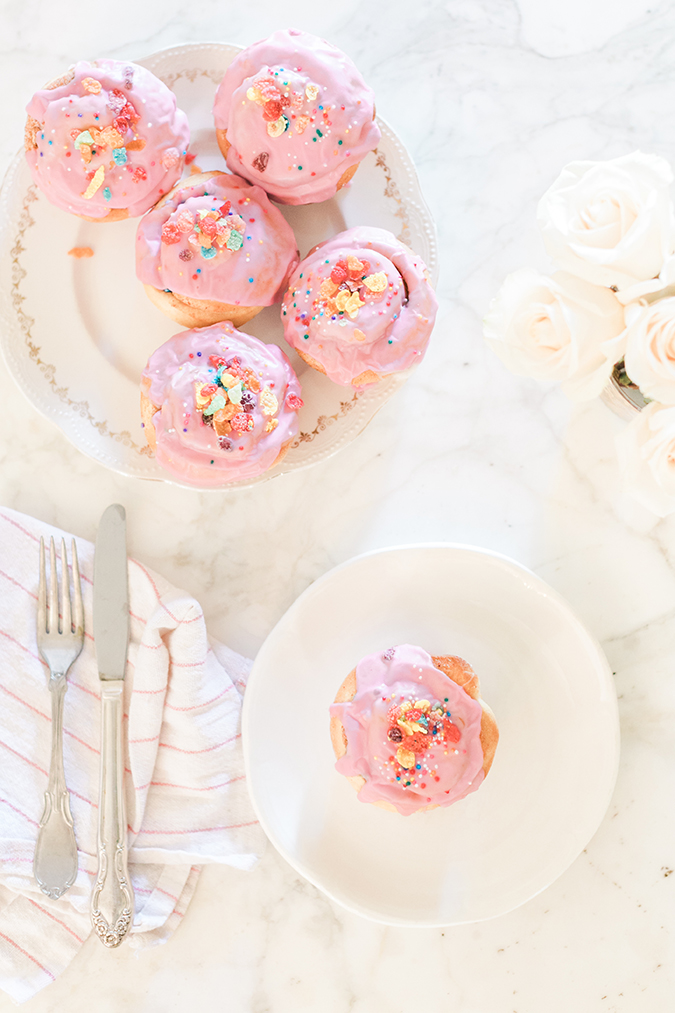 ¾ cup milk
¼ cup butter, softened
3 ¼ cups flour
0.25 ounces of instant yeast
¼ cup white sugar
½ teaspoon salt
1 teaspoon imitation vanilla extract
¼ cup water
1 egg
1 cup crushed up fruity pebbles (Lauren used a food processor)
½ cup rainbow sprinkles
¼ cup melted butter
1 tablespoon cinnamon, optional
3 cups powdered sugar
6 tablespoon whole milk
1 tablespoon imitation vanilla extract
pink or fuchsia gel food coloring
fruity pebbles for topping
rainbow nonpareils for topping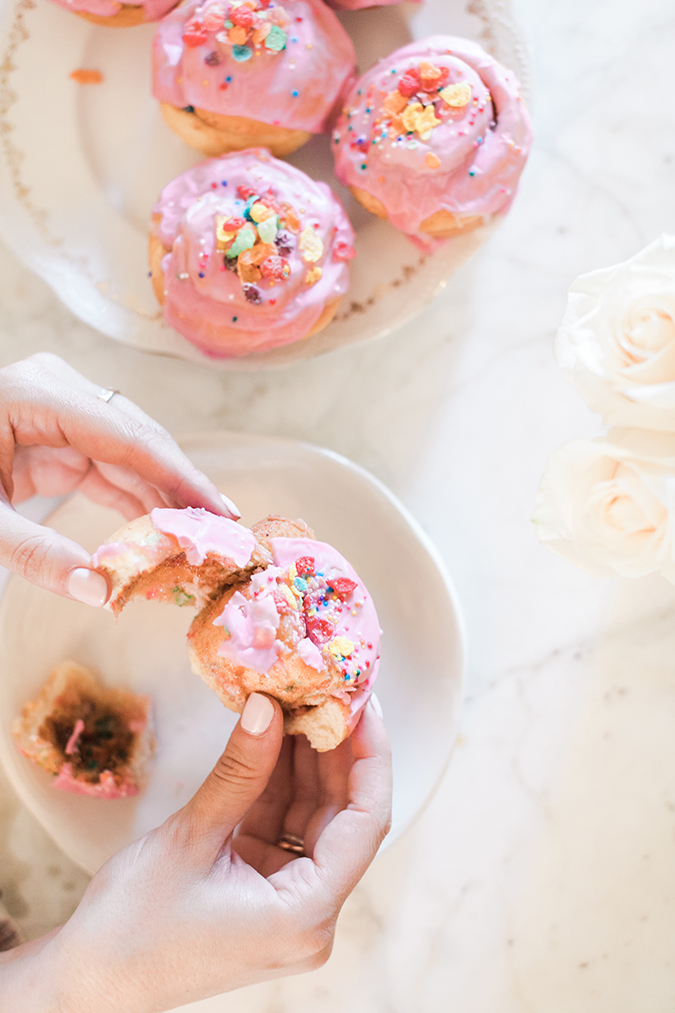 1. Heat the milk and butter in a small saucepan or in the microwave until hot or at a temperature of 110 degrees.


2. In a large mixing bowl fitted with a dough hook attachment, combine flour, yeast, sugar, sprinkles and salt. Add water, vanilla, egg and the milk mixture; beat well. Knead dough on high for 5 minutes until the dough is smooth and elastic.


3. Cover the dough with a plastic wrap and let rest for 1 hour, until the dough doubles in size. Meanwhile, if using cinnamon, whisk it together with the crushed fruity pebbles.


4. Roll out dough into a 12×9-inch rectangle. Spread dough by kneading with melted butter, then sprinkle with rainbow sprinkles and crushed up fruity pebbles.


5. Roll up dough and pinch seam to seal. Cut into 12 equal-size rolls and place cut side up in 12 greased muffin cups. Cover with plastic wrap and let rise until doubled, about 30 minutes. Preheat oven to 350 degrees.


6. Bake in the preheated oven for 8-10 minutes, or until lightly browned. Remove from muffin cups to cool.


7. While cinnamon rolls are baking, make the glaze: Whisk together vanilla, milk, food coloring and powdered sugar until smooth and fully combined. Drizzle on warm cinnamon rolls with a piping bag and sprinkle with fruity pebbles and rainbow nonpareils.


Fruity Pebbles Rice Krispies Treats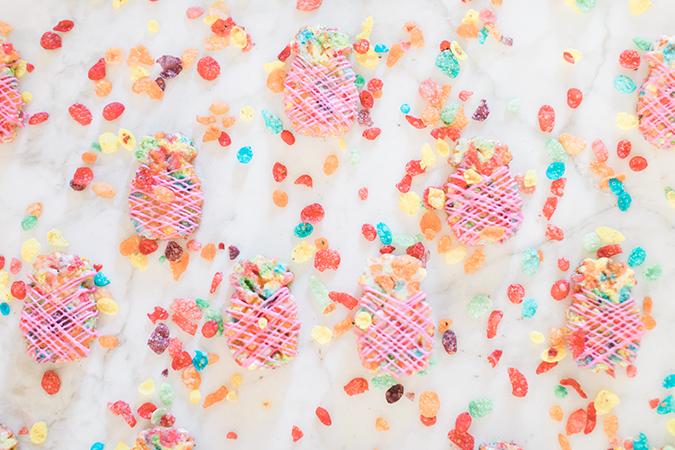 0.25 oz. kosher gelatin
¼ cup cold water
¼ cup water
1 cup granulated sugar
¼ cup corn syrup
1 teaspoon vanilla
pinch salt
2 tablespoon butter, room temp
6 cup fruity pebble cereal
4 ounces hot pink melting candy (or white coating chocolate with pink candy coloring)
pineapple cookie cutter
1. Generously spray a 9×13-inch pan. Line with parchment paper, and generously spray the parchment paper. Set aside until ready to use.


2. Add the cold water to the bowl of an electric mixer. Sprinkle the gelatin on top and swirl the bowl around so the gelatin gets mixed in. Set aside to harden.


3. In a medium saucepan, add the water, sugar, and corn syrup. Whisk just once and turn the heat to medium high. Let it come to boil, and boil until it reaches 240 degrees.


4. Once its hit 240 degrees, take it off the heat and slowly add it into the bowl of gelatin, while the mixer (fitted with a whisk attachment) is on low.


5. Once all your hot liquid is added, turn the mixer up to medium-high and beat for 5 minutes, until it is light and fluffy and looks like melted marshmallows. Note: This process takes time!


6. Once its fluffy and bright white, add in the vanilla, salt, and softened butter. Whisk until everything comes together, and add the marshmallow into a big bowl with the fruity pebbles. Mix everything together with a rubber spatula (use a little elbow grease!) and add it to your pan. Press down on the bars firmly, until the bars feel very compacted and are even on top.


7. Pop into the freezer until completely chilled and hard. Carefully lift the fruity pebble block out with the edges of the parchment paper. Cut out with your pineapple cutter, and place each one onto a parchment lined baking sheet.


8. Melt your chocolate or candy melts in the microwave on 30-second intervals, stirring in between each one. Add the chocolate to a small piping bag and drizzle chocolate over the bars.


Will you be making one of these Fruity Pebbles desserts this weekend?


We highly recommend it. Yum!