Recipe Box: My Perfect Pumpkin Pie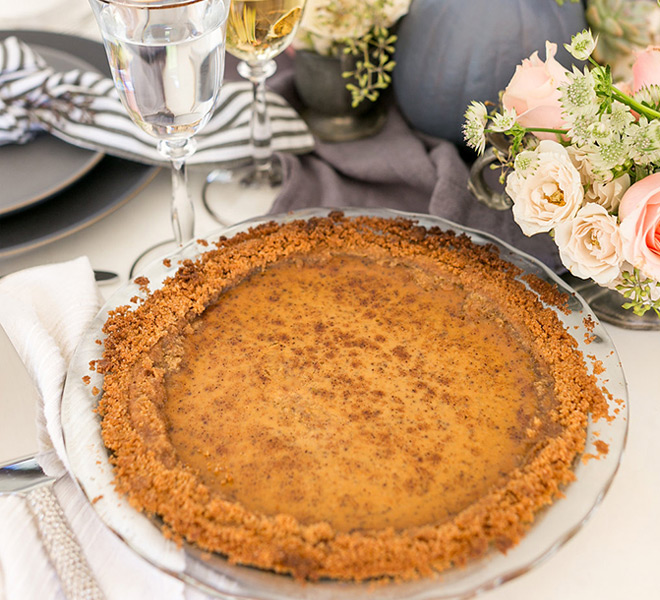 When it comes to baking, pies are my specialty. It's always been my dessert of choice when asked to bring something to a celebration. I even assembled and froze over 50 apple pies (with help from my friends Lauren Lowstan and Hannah Skvarla) to be served in place of cake at my wedding. From apple to peach and every berry in between, I love experimenting with new recipes that put my pie making skills to the test. But when it comes to pies, sometimes the simple ones are best and that's why I love pumpkin pie.
This perfect pumpkin pie is pretty foolproof, even if you are new to baking. (The graham cracker crust has a grand total of three ingredients if that tells you anything.) If you have a copy of my book, Celebrate, this recipe can be found in there too. But with Thanksgiving coming up on Thursday, I figured it was fitting to share with everyone here on the site. This recipe is actually based on the one on the back of the Libby's Pumpkin can, with a couple little tweaks that I stole from my co-writer on the book, Leslie Bruce. If you're looking for a last minute contribution to your family's Turkey Day dinner, let this be it! It's pretty hard to mess up, but tastes way better than any store-bought dessert. Check it out below…


1 ½ cups finely ground graham cracker crumbs
1/3 cup granulated sugar
8 tablespoons (1 stick) unsalted butter, melted


¾ cup packed brown sugar
1 teaspoon ground cinnamon
½ teaspoon salt
½ teaspoon ground ginger
¼ teaspoon ground cloves
2 large eggs
1 (15-ounce) can pumpkin puree
1 (12-ounce) can evaporated milk
1⁄4 teaspoon ground nutmeg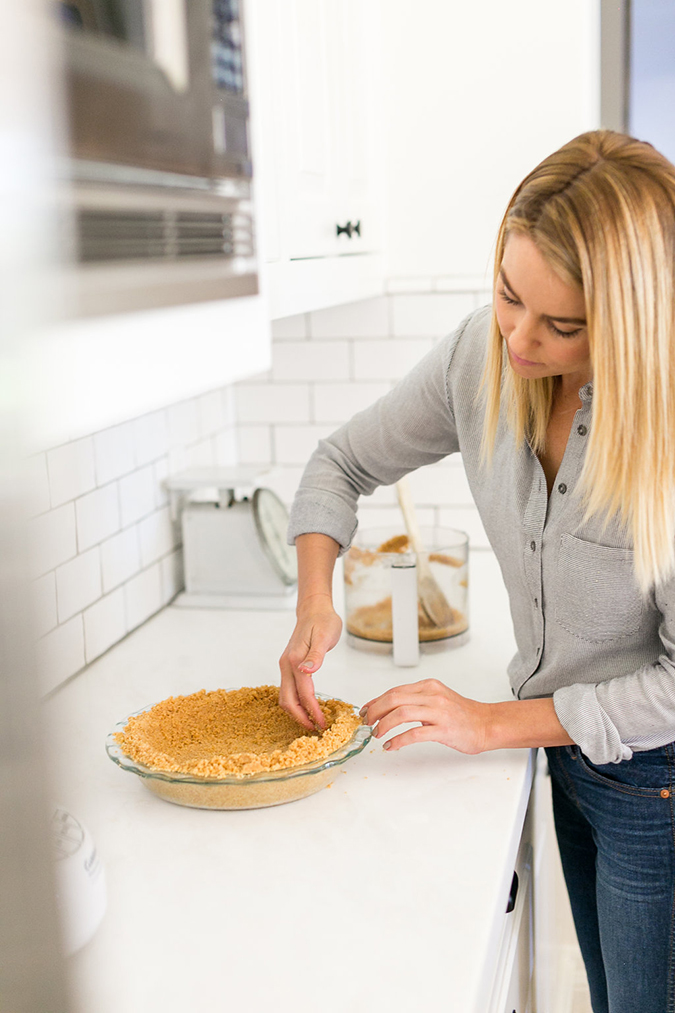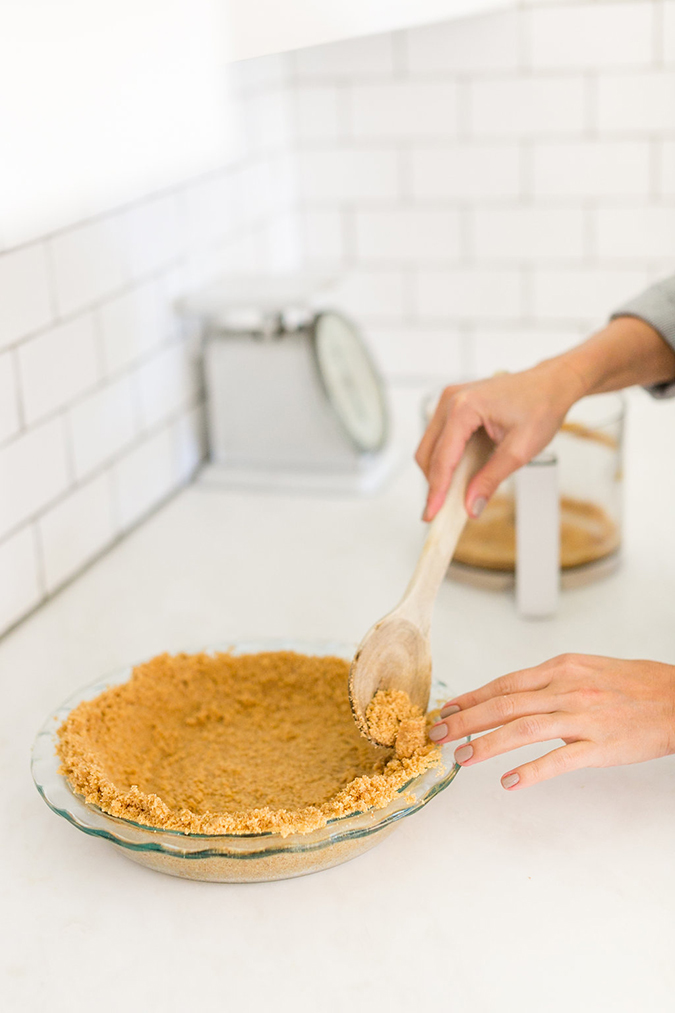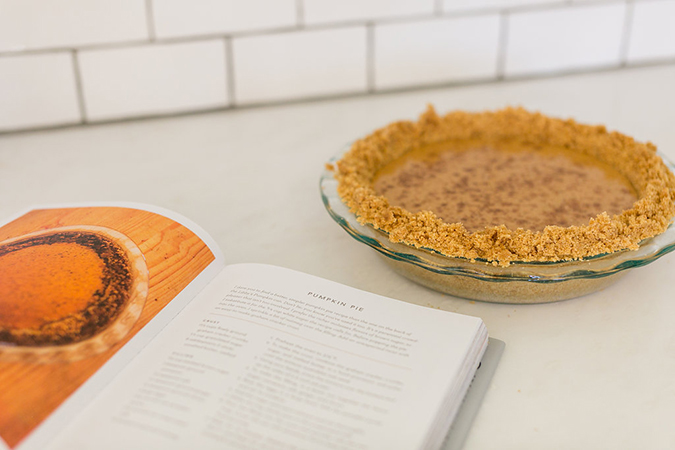 1. Preheat the oven to 375 ̊F.


2. To make the crust, combine the graham cracker crumbs, sugar, and melted butter in a food processor and pulse until the mixture resembles wet sand.


3. Using your hands, press the mixture over the bottom and up the sides of a 9-inch pie pan.


4. To make the filling, in a bowl, mix together the brown sugar, cinnamon, salt, ginger, and cloves.


5. Beat the eggs in a large bowl. Add the pumpkin puree and stir to combine.


6. Add the sugar-and-spice mixture and stir thoroughly.


7. While stirring, slowly pour in the evaporated milk.


8. Pour the filling into the crust and sprinkle with the nut- meg. Cover the pie with aluminum foil to keep the crust from burning.


9. Bake for 15 minutes. Reduce the oven temperature to 350 ̊F and bake for 40 to 50 minutes more, or until a toothpick inserted into the center comes out clean.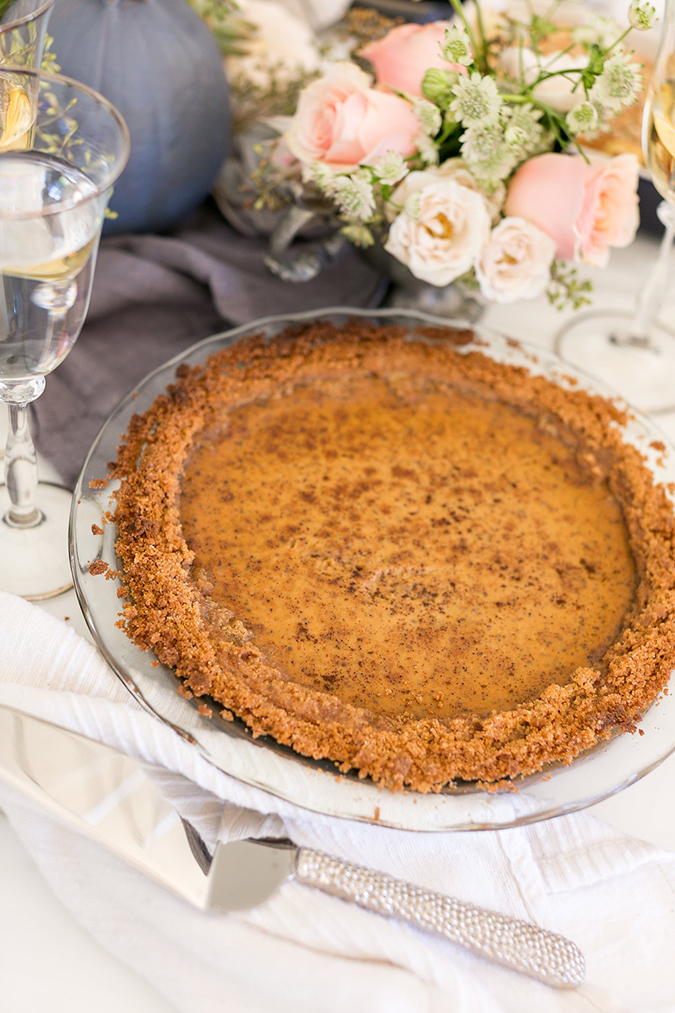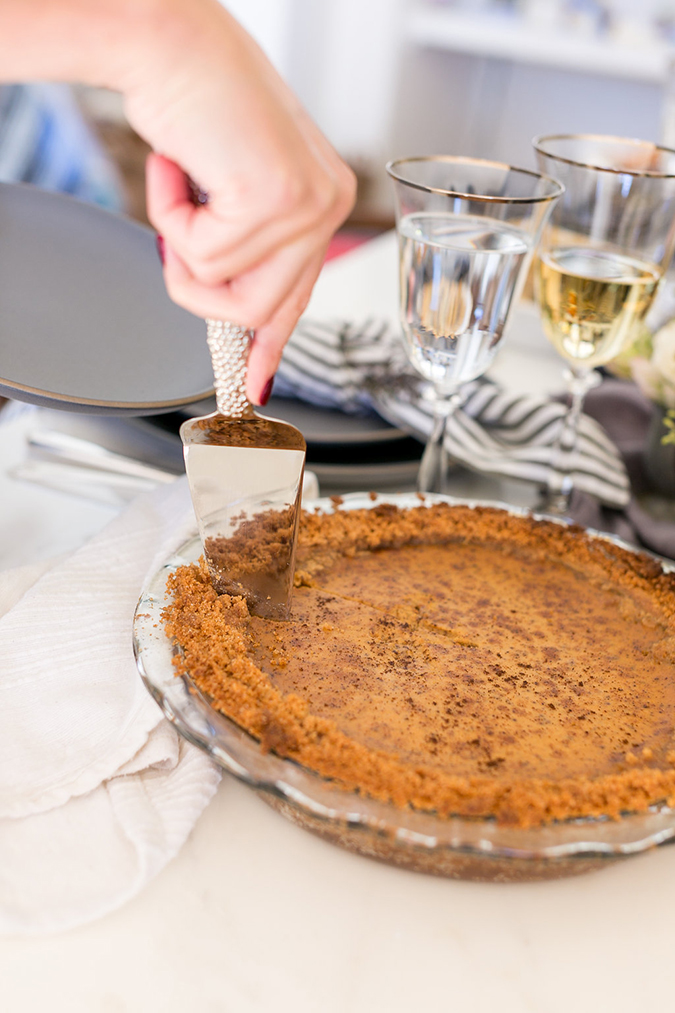 Will you be whipping up my favorite pumpkin pie recipe this Thanksgiving?


I hope you enjoy every last bite!